Leeds Gay Pride
Gay pride Leeds is one of the best festivals in the country and here at Manplay.com we want to tell you all you need to know about its history and future. Manplay.com is not only a place to meet guys and hook up, but it also a site that stimulate your mind. There is plenty of information right here for you to get a good idea what you can do for pride and also how pride has changed over time. You will get a chance to see what events were big hits a couple years ago and you will get an idea of what will be rocking the stage this year. We know you don't want to just go into any type of festival without knowing what to expect and considering how you will probably be taking a look at some hot guys online you can find out what will be going on at pride near you. Learn everything you need to know about Gay Pride UK through us and while you're at it, why not peruse some of our other articles relative to Gay Pride?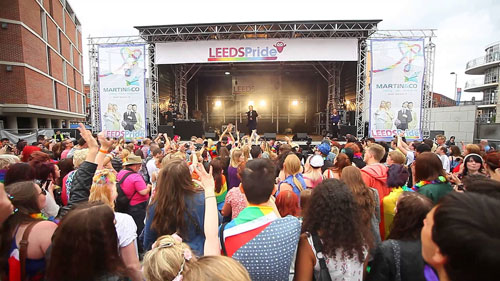 Some Gay Pride Background
Leeds is a city of variety of different people and that is what makes it such a special place for gay pride events. Often we imagine that gay pride festivals are more a celebration and a wild party with drag queens, drinking, parades, sexy men and loud music. That is what it has become and we all accept it. More often than not cities long for a gay pride parade because it offers the city a huge amount of revenue and a way to receive funding for bigger events. However, gay pride hasn't always been welcomed with open arms and it hasn't always been as easy as it is these days to simply walk to a pride march and take part. The concept of gay pride emerged out of how many homosexuals were disgusted by how they were being treated and how often many of the felt that they were not regular human beings. Gay pride was born out of telling the world that gay people exist and that they are just as human as everyone else. Gay pride emerged out of a way for homosexuals to express themselves and be able to live to the fullest. The first pride march in the UK took place in London in '72 and was quickly followed by a brief and hastily conceived march in Birmingham. Leeds first pride event took place in 2006 - this might be considered a late grab on the idea of a pride parade, but it certainly has been a massive hit. More often than not people in the marches and who attend the festival, go because they simply can. Pride marches represent a way of life as well as a way to speak up and show solidarity with those who have the freedom to be who they want to be. Marchers, organizers and festival goers remember the people who couldn't show their gay pride in countries where it is illegal. Gay pride festivals are also a huge source of revenue for many of the cities that host them.
What Makes Leeds Pride So Great
Leeds is one of the coolest cities in northern England and gay pride Leeds celebrations are some of the most attended in the country. It is one of the newest festivals in the UK. It has been in existence since 2006 and has been a wildly popular attraction for the city. In 2015 over 32,000 people attended where they watched musical guests, stage acts, community outreach and health programs. Due to the inclusive nature of the festival itself, there is plenty of action for everyone.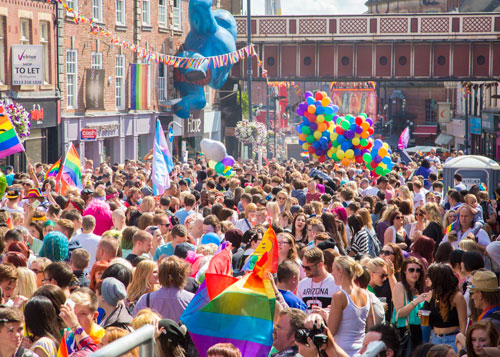 Location and What Happens At Gay Pride Leeds
The Leeds pride festival is largely held in The Calls, the famed converted warehouse district that now serves much of the gay village of Leeds. After suffering from being rundown, the city council redeveloped the area and it became an entertainment district. Today it serves as the centre of the gay pride afterparty and it has one of the oldest gay pubs in the country called The New Penny. Organizers have aimed to include local businesses as well as various school groups in order for it take on the community feel that many gay pride festivals aim to mimic. Gay pride Leeds has also taken a huge initiative to promote proper sexual health and safe sex awareness. Organizations such as MESMAC have had a big hand in maintaining the Leeds pride festival and ensuring that all gay men (in particular) who attend have safe access to contraception. This is one of the milestones of many pride festivals round the world, but Leeds makes it one of their key themes year by year, specifically to encourage younger people to practise safe sex. Leeds University is one of the most diverse and inclusive universities in England and their LGBT student union has had a huge hand in setting up the pride festival, but also ensuring that their presence is felt at pride.
Gay Pride Leeds Statistics
Like we said, the incredible turnout since its inception has made gay pride Leeds a celebration worth attending. In 2015 over 32,000 people showed up. Organizers hope that the numbers will continue to grow int he next couple years. Leeds get all of their funds through their fundraising and last years raised over 35,000 pounds to help fund the show.
Gay Events For Pride
There is plenty to do at gay pride Leeds from listening to music acts to finding what's on offer from the huge amount of vendors that attend the festival. Local radio station, theatre groups and comedians are all on call at the pride festival and are ready to entertain you.
Open Meetings To Improve Gay Pride Leeds
The inclusive nature of gay pride Leeds has lead it to involve members of the public told determine the future of the pride festival in the city. This democratic forum has had a success in the past and organizers continue to aim to expand the audience so that there can be a discussion relative to improving and helping Leeds' pride festival. Expansion, commercialization and charity are some of the topics discussed.
Mesmac And Gay Pride Leeds
As always, health and sexual health awareness are such important features of gay pride festivals, Mesmac continues to try and support bring positive spin to sexual health and safe sex awareness. Their Having The Best Sex series gives people and youth in particular all the tools to ensure that their sex life is not only safe and fun. Mesmac aims to remove any sort of stigma from having sex and instead encourages a lifestyle of totally safe sex. Their innovative Testing Times service and the Leeds Sexual Health Centers across the city provide attendees with a free HIV testing kit that can be used before pride. What is so special about this is that you are able to test yourself for free at home or at work or anywhere and you will receive your results within the week.

Gay Anthems For All Of Pride
Gaydio is live radio that will be playing all throughout the festival. Gay anthems will play all day and give you a chance to sit back and not worry about that playlist. In 2015, Kriss Herbert lead the charge and MC'd the whole festival.
Cabaret!
In 2015, there was a fun cabaret show from the Viaduct Showteam, that gave people a taste of the wild side. It proved to be a massive hit and left all spectators in awe. Due to high demand, they will certainly be staples at every pride event to come.
Comedy
Comedians from all over England have made a splash at the gay pride Leeds. In 2015, from Blackpool, Kitty Litter made people laugh with their wild antics and dry humour as well as their amazing singing voice. More often than not comedians play at the Viaduct shower.
GAYTMS
Lloyds Bank decorates all of their ATMS in celebration of pride, so that when you're taking out your money you can do it with pride. This has been a facet of many festivals around the world and has been a fun addition to the streets at gay pride Leeds.
Free Photos
Even though we have plenty of selfies of ourselves online and we love to take pictures of everything we see, there is nothing more fun and celebratory than getting physical photos from a little private photo booth. Take home your photos and ensure that your bit of fun can be stuck on your fridge and not just on your social media wall.
The Service Industry And Gay Pride
Various hotels, restaurants and much more in the past dressed up some of their employees in drag, which always spices up the scene for visitors to gay pride. One of the most memorable was a hotel concierge who was stressed in drag. Plenty of attendees found the concierge was a hug hit.
Music!
Musical guests such as Ray Quinn have heated up the stage at gay pride Leeds every year. In 2015, Ray Quinn made a splash, along wit folk/r&b diva Lucy Spraggan, and Kym Mazzelle. Other acts have included the famed Italian dance group Livin' Joy and DeltAmour. Eurovision stars have also made appearances such as Nicki French and many more. Union J have always made appearances. Sophie Ellis Baxter, an icon for the gay club scene made an appearance in 2013. The music has always been throbbing and the beats have always made attendees go totally crazy!
Yorskshire Police Brass Band
To show their solidarity with gay pride Leeds, the Yorkshire police brass band has performed year after year to entertain locals and it has always been a big hit. This event is a display of solidarity with gay people in Leeds. This fixture at the festival is representation of how law and order can survive hand in and with the gay community. Many people in other countries cannot afford this luxury and police support and presence at many gay festival events around the world is relaxed and at times hostile.
Children's Area
Families have always been a fixture at Leeds gay pride and each year organizers have aimed to be as inclusive as possible by setting up a children's area where you can let the little ones run wild and celebrate diversity in the 21st century. Organizers and families have been constantly determined to ensure that education about sexuality and diversity are as important as maths and science. Many of these children's areas are educational and filled with fun activities that promote being inclusive and accepting. Anti-bullying campaigns are always carefully planned and set up by organizers to ensure that children know what bullying is and how to deal with it.
Flash Mobs!
During the pride festival, organizers and attendees have the chance to perform in flash mobs that celebrate diversity and LGBT culture. No, the flash mobs aren't flash protests, but instead a way to have fun and do something other than just march!
Ticket Giveaways!
Win a raffle and get the chance to take a vacation for free - honeymoon style!
Talent Competitions
Every year, Leeds gay pride reaches out to find a pride star who can headline the festival and show their singing, dancing or comedic chops. Festival organizers have always aimed to find the most stellar performer who will not only make the crowd go wild, but who is also a proud member of gay pride Leeds.
External Links For Gay Pride Leeds
There are plenty of links about gay pride Leeds:
1.
The Gay Pride Leeds Homepage With All The Info You Need For Gay Pride In The City
2.
The Always Comprehensive Gayleeds Webpage With Everything You Need To Know About Pride Events
3.
The Euro Region For The LGBT Population Has A Comprehensive Guide To Events Around England And Europe
4.
Some Info On The History Of The LGBT Culture In Leeds
5.
The TimeOut Guide To Gay Bars In Leeds With Suggestions For The Best Pride Bars
Other Links To Gay Pride Info In The UK
-
Bristol
-
Edinburgh