SALT LAKE CITY PRIDE
When people think of gay pride, Salt Lake City isn't the first city that usually comes to mind. Yet that doesn't mean that this western state isn't capable of great community and acceptance. Salt Lake City is actually home to the Utah Pride Festival.
Home to both deserts and mountains, Utah knows all about diversity. It shouldn't be one to be left behind when it comes to the festivities surrounding the anniversary of the Stonewall Riots. Salt Lake City has its own share of history and community, so why not have its share of pride?
Utah isn't as large or as populated Washington or Pennsylvania, so instead of having a region wide Pride festival, participants from all across the state come together to celebrate Gay Pride Salt Lake City. Because many have to travel in, it's usually a very lively event, visited by only the most passionate, proud and loud.
Manplay.com doesn't want you to underestimate it as a small town event, but seen as a statewide extravaganza of new and expressive perspectives and experiences. Salt Lake City Pride will inevitably a learning experience for people from all different backgrounds.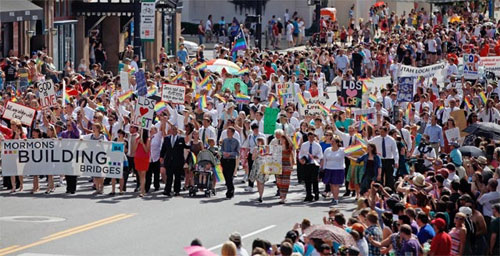 What's the History Behind Salt Lake City and Gay Pride?
As with any event, there is a historical and often political context that leads to its development. Gay Pride Salt Lake City and thus Utah Pride Festival also have a historical context that is rooted in adversity and in a climate of social activism of a generation.
What Triggered Gay Pride?
As always there is a triggering event that sets off a chain reaction that results in some of the greatest social changes our society has experienced. With Gay Pride, that triggering event would be what is now called the Stonewall Riots.
All across the country the gay community was facing harassment, violence and legal persecution. Aside from the ostracization of homosexuals on a social level, the LGBTQ community also had to deal with having any of the spaces they claimed being banned or shut down on a purely discriminatory basis. This led to regular raids of gay bars and bathhouses all across the country.
The future seemed bleak for gay and lesbian men and women until finally the police went on one too many raids. On June 28 1969, the police raided an inn in Manhattan called the Stonewall Inn. This was a gathering place for many gay, lesbian, bisexual and transgender people to socialize, mingle and express their sexuality openly. Many who visited this establishment were often not out to family or friends and considered it part of a separate secret life. When the raid started however, the choice of having their safe and secret space was torn away from them.
Years of oppression finally exhausted the desire for civility. Unable to stand to see such violence continually being perpetuated against their small community for wanting nothing than to have a place to have a drink together and be themselves, they began to fight back. The community rioted back in the streets and took to marching because they would not stand for it anymore.
This led to the first ever Gay Pride parade and kick-started the rise in visibility the community was about to accomplish.
How The Riots Turned Into Utah's First Gay Pride
After the riots in Manhattan, parades, festivals and rallies began to pop up all over the country. There was a range of reactions to the riots, some cities facing more resistance than others. The early seventies created a turbulent climate of social change and activism.
Though we currently don't see Utah as the most progressive state on the western limits of the United States, that doesn't mean that Salt Lake City was far behind in recognizing a political issue and raising their voices to be heard. Salt Lake City saw its first Pride Festival in 1974, the same time Seattle organized their first Pride Festival.
Utah Gay Pride Festival started as a small informal gathering in Salt Lake City. It began as many activist festivals do, as a rally in the park to incite the voices of the angry and the community that was tired of being ashamed of being who they were. True their hopes, it sparked a conversation in the state and got the ball rolling on the fight for gay rights.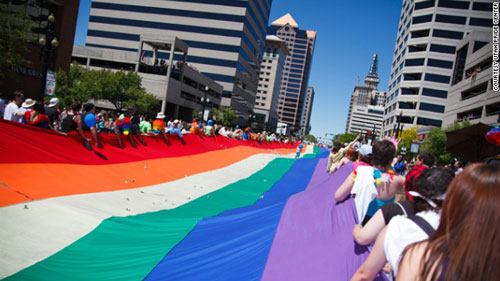 Salt Lake City Hosts Its First Gay Pride Festival
A few years later, the Utah Pride Festival was founded. It was 1977 and the Salt Lake Coalition for Human Rights commissioned a three day conference that would lead to the formation of Gay Mormons United which is now called Affirmation: Gay & Lesbian Mormons.
It isn't surprising that Utah's history with gay rights included a conversation around religion and sexuality. Utah was infamous for its religious citizens. However, it is surprising that religion was so readily incorporated into their Pride Festival. For many other communities across the country, Pride and religion were practically irreconcilable. This conversation about religion and sexuality would not be touched in some communities for many years.
On June 1st 1978, the first keynote speaker was the first NFL player to come out of the closet, David Kopay, and the first openly gay person to appear on the cover of Time Magazine, ex-Mormon Sgt. Leonard Matlovich.
There was a while where there were no major celebrations to commemorate Gay Pride, except for gathering in the park to remember Stonewall. Between 1979-1989 Utah remained a quiet somber voice in the Gay Rights Movement. In 1989 Utah Pride Inc., which is now called Pride of Utah, was founded; it was a project of the Gay and Lesbian Community Council of Utah.
Utah's First Pride Parade
The next year in 1990, Utah Pride Inc. put on the first pride parade in Salt Lake City. The procession of 270 started on the steps of the capitol building and marched along Main St. and ended on South Temple at the Salt Lake Art Center. This Center is now called the Utah Museum of Contemporary Art.
The following year the Utah Stonewall Center opened up and that became the new location for the pride parade. While this did boost the popularity of the event and there was greater participation than ever, there also became an issue in that increased visibility inevitably led to greater opposition as members of the 'Aryan Nation' began to attend the event.
How Big Does the Salt Lake City Pride Festival Get?
The largest the Utah Pride Festival ever got was in 2004 with an estimated 50,000 participants. It's worth noting that the following year, 2005, the Utah Pride Festival began charging for admission and the numbers have diminished to roughly 15 ,00 to 20,000.
While this doesn't appear to be a smaller number than back in the early 'aughts', these admission numbers rival the admissions of communities like the Philadelphia Pride Festival. While being a Republican dominated state, it still proves a strength in the face of adversity and their Pride grows larger with time as they overcome more and more.
What Events Will Be Happening to Celebrate the Utah Pride Festival?
The Utah Gay Pride Festival begins during the first week of June in the tradition of commemorating Stonewall. The week is full of entertainment and performances and provocative experiences. There is sure to be something that ignites your interest and captivates the Pride you feel for the community.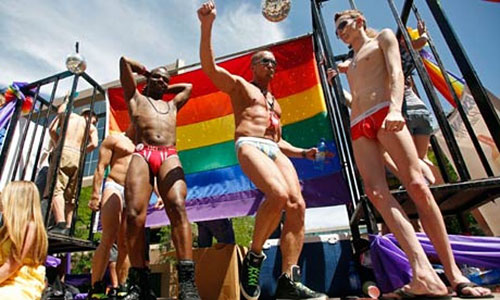 Sapphire Spectacular
The Utah Pride Festival describes the Sapphire Spectacular as:
'Formerly the Grand Marshal Reception, the SAPPHIRE SPECTACULAR will help ring in the 2016 Utah Gay Pride Festival! Join the Utah Pride Center as we celebrate the past, present, and future of our beautifully diverse community, and as we recognize the recipients of the 2016 Dr. Kristen Ries Community Service Award & the Pete Suazo Political Action Award.'
The Sapphire Spectacular will happen on June 1st. This is a ticketed event so be sure to buy your tickets sooner rather than later. If you're worried about funds, they do offer scholarships. Of course be as prompt as possible as there are limited funds available.
Pride Festival Opening Ceremonies
To kick off the official Utah Pride Festival, they have put together an exceptional line up of entertainment to get the energy flowing. Happening on Friday June 3rd, they will have food vendors and food trucks, spirits, as well as entertainment, various activities and much more is being planned.
There is a small cover charge for the event to pay for the all the performers and fees. More information about the night's line up and other activities that will be planned, check out their Facebook event page to stay in the loop. Be sure to check this night out as there are bound to be some extra surprises once you get there.
There's no better way to start the celebration of Pride than a giant party to celebrate ourselves.
Utah Pride Parade
The most iconic part of a Pride Festival is the parade to mark the end of a celebratory week or weekend. On Sunday June 5th, Utah will turn that theme on its head. Instead of doing a parade, Salt Lake City is promoting good health by doing a Pride Day 5K run.
You can come on down and cheer on the participants as they lap around grounds and shed their literal sweat for the cause. There is something very dedicated about sweating it out in the summer heat, running for the actual goal of equal gay rights.
Utah definitely makes up for its lack of size in its dedication to visibility and change, especially in a state where you wouldn't always expect a warm welcome.
Pride Day 5K
If you're not one to stand around while everyone else gets in on the action, don't be afraid to throw your hat into the ring and volunteer to participate in the Pride Day 5K. Dress up in unconventional and wacky costumes as you lap around the grounds and get your heart racing for the movement.
Not only will you burn with the flame of Pride you'll be burning the calories away from indulging on delicious festival foods.
Utah Pride Rallies and Marches 2016
As a recent edition to the Utah Gay Pride Festival, the festival will include a rally dedicated to different parts of the LGBTQ community. These different groups will include representation for: Dyke, Trans, Sexually Fluid, and Poly people.
This event will happen on Friday June 3rd from 5:30PM. You can find it at the Utah State Capitol.
Some of the terms might seem new or irrelevant to Pride but here is a brief explanation of each of the terms:
Dyke Community- This community should be familiar: a part of the gay community, the dyke community is centered around queer female identified folk. While they are just as loud as the rest of the gay community, they often don't get as much attention so they should be offered support and allyship from the outside communities.
Trans Community - If a person identifies as trans it means they do not identify with the gender they were assigned at birth. Because gender is a result of social constructs, gender and reproductive organs do not always match up. This sub-community is often not acknowledged in the LGBTQ spaces, so they receive priority in conversations around sexuality.
Because a person may be trans, it doesn't mean that they are gay, but they do traverse a queer space because their gender is not usually recognized in mainstream society. They often find a safe place within the queer community because sexuality is already a concept that has been bent and transformed.
It's very important that these constructs are also broken down because if these binaries about sex and gender are not, they can be used to perpetuate transphobic ideas. The gay community knows firsthand how traumatic it is to be the subject of ignorant discourse, so they should welcome the opportunity to support another sub-community within the LGBTQ framework.
Sexually Fluid Community - Sexually fluid individuals are people who identify along the middle of the sexuality spectrum. Sexologists like Alfred Kinsey believed that sexuality wasn't a rigid binary where you are either gay or straight. He believed there were middle points along the spectrum and further theories suggest that people's attractions to different genders can fluctuate on the spectrum.
This term accounts for bisexual, pansexual, omnisexual and other polysexual identities. Not all sexually fluid people like the same gender as much as the opposite gender, and the strengths of their desire may not remain constant.
Poly Community - Poly isn't so much a sexual orientation as it is a relationship orientation. Many scientists theorize that humans are inherently non-monogamous. Polyamorous or non-monogamous people just practise those theories.
Polyamory isn't about having sex with multiple people, but remaining open to other connections in your life and embracing limitless possibilities for romance, connections and friendships. Some poly folk will have very rigid boundaries and rules, while others may not. This practice is often adopted in queer communities, most likely because if the queer community is already going to be breaking relationship traditions, then why not break all of them?
These different sub-communities make up a huge portion of the queer community. It's important to attend rallies and marches like these for them to learn more about them and to add to their volume and make the just as visible as the gay community. It's important to build community.
Utah Pride Festival Presents Sister Sledge
There are many associations to the gay community for Sister Sledge, so they'll be performing for the Utah Pride Festival. A portion of the proceeds from the tickets from this event will go to fund more programs and maintenance of the Utah Pride Center. This event is likely to be popular so you'll be sure to want to get those tickets as fast as possible before they all run out!
Sister Sledge is known for their iconic song 'We Are Family'. This song became the anthem for a lot of marginalized groups as they began to find their communities. The Gay Rights Movement sparked a strong sense of community and standing up for each other. This song exemplified that and became a national gay anthem for many in the gay community.
This event will be happening at the Depot on June 2nd at 8 pm. There will be no better or more immersive way to get pumped up for the rest of the Pride Festival than to jam out to the tunes of Sister Sledge.
If you want to learn more about any of the events mentioned above, check out the links below. Be sure to check in regularly as Pride approaches, as more events are likely to pop up, some by smaller spin-off events hosted by other organizations.
June 1st - Sapphire Spectacular
June 2nd - Utah Pride Festival Presents Sister Sledge
June 3rd - Pride Festival Opening Ceremonies
June 3rd - Utah Pride Rallies and Marches 2016
June 5th - Pride Day 5K
June 5th - Utah Pride Parade