Canada Gay Marriage History & Information
Manplay.com has the scoop on gay marriage with Canada gay marriage facts and info. Find out more about this progressive country and its same-sex stance. Canada was the 4th country in the world to make gay marriage legal. Out of 196 countries overall, being the 4th is an extreme win for the citizens living in Canada. What a great way to be remembered in history by pushing the equality ball forward, and thinking of its people and what they represent. There have been some push backs, some mishaps, and some leaders who do not share a progressive view, but overall, the support and activism for same-sex unions has been unanimous and has shown through the new laws of the country. Millions of same-sex couples have rejoiced in the new laws and have celebrated their unions in the best way they can think of; through marriage. July 20th, 2005 was the most important date for Canada. It meant that all provinces were bound under bill C-38 to recognize same-sex marriage, and to issue marriage licenses to those couples who were married. The process had begun dating back to 2003, and some provinces were ahead of the game, but the federal government took control and enforced the new law to hold all provinces accountable, and to make sure that everyone living in the country was treated equally when it came to who they chose to marry. Ontario was the first province to legalize same-sex marriage and thus, set the bar high for other provinces to follow. BC wasn't far behind and within the next month, had also legalized same-sex marriage in the province. With court case after court case from same-sex couples pleading for equality, it was only a matter of time before the federal government did what was necessary for its people. In the end, same-sex couples were finally able to celebrate their love for each other through more than just the odd civil union that they were allowed, and could now make their unions official through marriage.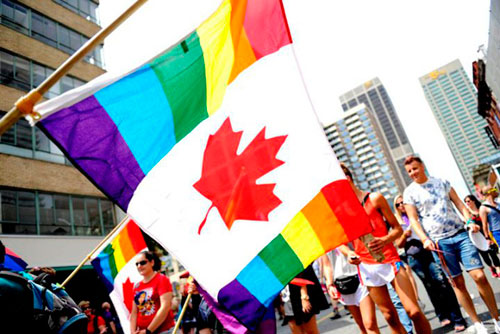 Canada Gay Marriage Statistics
In the 6 years following the legalization of gay marriage, same-sex couple families rose by 42.4%. There were over 21,000 same-sex married couples, and close to 50,000 common-law couples. That's huge! That shows just how many same-sex couples were sitting on the side lines waiting for their turn to be equal and make the same commitments as opposite-sex couples. There are more same-sex couples (45.6%) living in the metropolises of Toronto, Montreal and Vancouver than the proportion of opposite-sex couples (33.4%) living in the same cities. If that doesn't speak volumes to the need to update the laws, what does? The voices of the advocates for same-sex marriage were heard a thousand times over, and it shows in the numbers just how significant those voices were.
Gay Marriage In All Canadian Provinces
Find out about each provinces history with same-sex marriage, and what victories and difficulties they face today. Find out how well the country is fairing when it comes to equality, and how citizens are feeling like they belong more and more every day. There have been major strides made to accommodate the growing number of same-sex couples, and each provincial government is taking steps to enforce stricter same-sex laws. Making sure that the people of the country feel welcomed and understood has definitely been on the forefront of the government agenda.
Ontario Gay Marriage
"When 'the Michaels' became the first same-sex couple to get married in Canada, it changed the history books forever. The rest of the country would soon legalize gay marriage from coast to coast, and it only took a few years before gay couples were enjoying the freedom of marrying their significant others."read more
British Columbia Gay Marriage
"British Columbia gay marriage is a beautiful thing. Manplay.com shares the facts on how BC got where it is today, and the rocky road it took to get there. One month after Ontario ruled in favour of gay marriage, BC followed suit, and on July 8th, 2003 Antony Porcino and Tom Graff became the first two men to be legally wed in British Columbia. "read more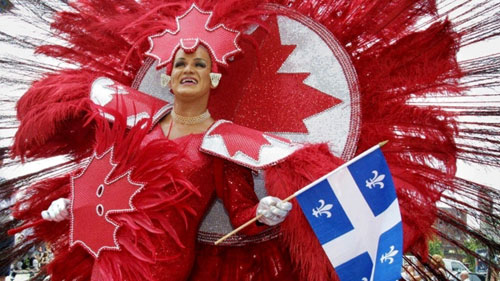 Quebec Gay Marriage
"Read what Manplay.com has learned about Quebec gay marriage, and the impact it had on Canadian citizens. Quebec made huge strides for Canadian gay marriage. In 2004, Quebec joined progressive provinces like Ontario and BC, and ruled in favour of same-sex marriage."read more
Alberta Gay Marriage
"Manplay.com shares how Alberta gay marriage differs from provinces around the country however, the federal civil marriage act allows gay partners to wed. Unfortunately, Ralph Klein, the premiere of Alberta, has chosen to take an opposing stance on gay marriage in the province. The good news for Albertans is that the federal law forces the province to allow same-sex couples to obtain marriage licenses."read more
Nova Scotia Gay Marriage
"The history of Nova Scotia gay marriage is a little rocky. Manplay.com explains how the province was ordered by the federal courts to change its laws. In 2004, Nova Scotia became the sixth political jurisdiction in Canada to allow same-sex couples to wed. The province was ordered to change its laws as it did not want to do so willingly."read more
Manitoba Gay Marriage
"Manitoba gay marriage laws changed in 2004. It became the 5th province to allow same-sex marriage. Manplay.com shares the story that changed the province. Chris Vogel and Richard North changed the history of the province when they went to battle with the courts to have their 32 year union recognized as marriage."read more
Saskatchewan Gay Marriage
"Get the full story on Saskatchewan gay marriage right here on Manplay.com. Saskatchewan has played a huge role in the human rights movement of the country. November 5th, 2004 was the day that same-sex marriage became available in Saskatchewan. The decision followed in the footsteps of other progressive provinces, like Ontario, in the country that were legalizing same-sex unions."read more
New Brunswick Gay Marriage
"New Brunswick was the 8th province that legalized same sex marriage, only after Parliament made same-sex legal in Canada. July 4th, 2005 was the day that the gay community in NB could successfully obtain marriage licenses and celebrate equality. New Brunswick gay marriage was hard to get until parliament made same-sex marriage legal. Manplay.com has the details on how New Brunswick got on board."read more
Newfoundland Gay Marriage
"Find out more about Newfoundland gay marriage on Manplay.com. Newfoundland became the eighth out of thirteen provinces to legalize gay marriage in 2004. Gay marriage in Newfoundland was rapidly accepted by the provincial government before the federal government enforced the law. Marriage licences were issued to same-sex couples sing December 21st, 2004, and same-sex couples were able to adopt children jointly in April, 2002."read more
PEI Gay Marriage
"Manplay.com lets you in on the delayed process of PEI gay marriage legislation. It took bill C-38 to bring the province up to the standard in marriage laws. It was one of only four provinces and territories, with Alberta, Northwest Territories, and Nunavut, where same-sex marriage had not already been legalized by court challenges prior to the passage of Bill C-38."read more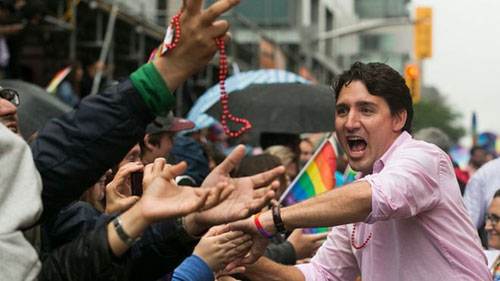 More Information On Canada Gay Marriage
There are plenty of resources if you're looking for more historical information on the country and how the laws have changed. Find out what your rights are if you're looking to get married or adopt, or find some local vendors in your area to help make your special day one to remember. There is a ton of information to help you feel comfortable with any question that you have, and there are thousands of people across the country that want to help. The most important fact is that Canada was a leader on the world stage for the equality of gay marriage , and will go down in history as a true supportive country of its people.
How Canada Led The Same-Sex Marriage Revolution
See how Canada gay marriage was as important for the rest of the world as it was for the country, and the same-sex couples living there.
Canada's A Shining Example For Other Countries
What other countries can learn from Canada's stance on gay marriage is truly inspiring.
The Breakdown Of Canadian Gay Marriage History
Get all the facts on Canada gay marriage, so that you can understand how it all came together.
Your Gay Destination Wedding
The best places in Canada for your gay marriage needs are easy to locate. Find the right place for your wedding, and make it more than just an enjoyable occasion. Spend and remember your special day the way you choose with the right people that want to help make it magical.
The Current & Future Status Of Canada Gay Marriage
The future looks bright for Canadian gay marriage, and for the same-sex couples that are looking to wed in the near and far future. Now, more than ever, is it acceptable to be yourself, even if that means having a gay wedding. There was a time when that wasn't possible and many people fought the fight that one the gay community the rights they deserve. Now couples can enjoy each other and their relationships the way that they are meant to without any worries or hesitation. That was not a tangible thing a little over 10 years ago, and couples still feel the need to make up for lost time. Many couples continue to rush to the altar to show their commitment to each other after waiting so long to be able to do so. There are thousands of couples who can now celebrate the next level in their relationships and know that they are accepted and allowed to do so.
Years ago, couples had to research heavily into provinces that may not have allowed same-sex marriage, but who would recognize a same-sex civil union as a way to protect their assets and lives together. Marriage comes with many legalities that same-sex couples were never awarded before. This was a huge stress factor in same-sex relationships, and often times cause riffs and separations between couples. Now that same-sex couples have the same rights as opposite-sex couples, the fine details have been worked out and instead of pushing couples apart, they are bringing couples closer together.
When you don't have to worry about the future because you know that your marriage has worked out the legal details of your shared life, you leave more room for the love, the adventures and the experiences. There was always a dark cloud of discourage hanging over the heads of same-sex families, and now that the sun is shining, it's a new day and a new way of life. It's hard for opposite-sex couples to fully understand what same-sex couples went through before the laws changed, and that's why the conversation continues. There are those who are still opposed to the idea of altering the 'traditional' man and wife ideal, but the more that these people are educated, the less they push back and make way for the future generations to feel and be accepted.
There might always be a group of people that want to hold onto their old religious beliefs, but the world is changing and eventually, it won't be as hard to accept that. More and more communities are changing and evolving to allow room for all people to feel included, accepted and loved, and with the new age comes new thoughts and new ways of life. 'Out with the old and in with the new' will continue to be the new thought process of the government, the people and the laws. You can't hold onto old ideals and hope for progress and change. Somethings have to be altered in order to adapt to the new world, and all of the people in it. The future of Canadian gay marriage is just that; the future. It's something that should've been accepted decades ago, but was worth the wait all the while. The gay community never stopped fighting and the supporters of the gay community never stopped fighting. Since the fight for marriage equality was won, there is nowhere to go by up from here. Same-sex couples can finally enjoy all of the things that opposite-sex couples have been enjoying for centuries. They can finally start the lives together that they choose rather than anything that is dictated to them. True happiness is finally being felt by same-sex couples all over the country.