Gay Pride Glasgow: A History
The history of gay pride Glasgow is all here at Manplay.com where you can connect to guys at pride and also learn about gay pride history in Scotland. Gay people all over Scotland have attended the festival because it has always received rave reviews, like you will find out - it is the largest festival in all of Scotland. We might envision gay pride as a massive parade with floats and dancers and plenty of music - but gay pride is about much more than that, because it represents something other than a celebration of diversity and sexuality. Instead the original pride marches were put in place to let people know that homosexuality was something that needed to faced and accepted. The first pride march was held in London in the 70s and that served more as a demonstration than anything because it was a way for gay people speak up and show that they shouldn't and wouldn't be marginalized. It was essentially the beginning of Gay Pride UK. Here at Manplay.com, you can learn everything about gay pride in Glasgow and hook up all at once. Be sure to check out some of our other articles about Gay Pride.

Gay Pride Glasgow: The Beginning
The Glasgow gay pride festival is one of the biggest in the U.K. and the largest in Scotland. It is also commonly known as Pride Scotia, due to the shifting location of the festival between Edinburgh and Glasgow until 2003. It has been in existence since 1995, when two pioneers of LGBT rights, Laura Norris and Doogie Hothersall started the first parade in Edinburgh. They were both apart of the University of Edinburgh LGBT society. The first Pride Scotia took place in Edinburgh. In 1996, the second pride festival took place in Glasgow. As we said earlier, the Pride Scotia alternated between Glasgow and Edinburgh each year until 2003, when the festivals finally split up and each headed their own respective events.
Glasgow And Edinburgh Pride
Beginning in 1996, the first pride event took place in downtown Glasgow. The festival itself took place on the famed Glasgow Green where there were plenty of supporters and some celebrities including the wild Quentin Crisp, who was a celebrity in himself. He is often regarded as one of the first gay celebrities who not only gave interviews about his life experiences, but also wrote about his criticism of gay liberation and many celebrity figures. His presence at The Glasgow gay pride festival gave it a huge boost in terms of media coverage, but it also showed that there were public figures interested in expanding the festival.
The History Continues
The second Glasgow gay pride festival was held in 1998 (the 1997 festival was held in Edinburgh). The festival started in Blythswood Square and ended with a huge fest at Glasgow Green again. The famed drum group, SheBoom were the leaders of the march. This year proved to be an important one for many reasons, due to guest stars that included some prominent public figures, which included Huffty who was prominent Lesbian TV presenter, Karen Dunbar, who is a respected TV personality, and the famed, Scottish native, Jimmy Sommerville. Prominent members of parliament such as George Galloway and Tommy Sheridan were honoured with holding up the Pride Scotland banner. These important figures gave The Glasgow gay pride festival huge media coverage and also solidified future support based on the fact that more impartial supporters were more willing to attend the festival. These figures also reflected to the liberalization of attitudes in Scotland. In 2000, the festival lost prominence and some public funding which of course delayed the event until September.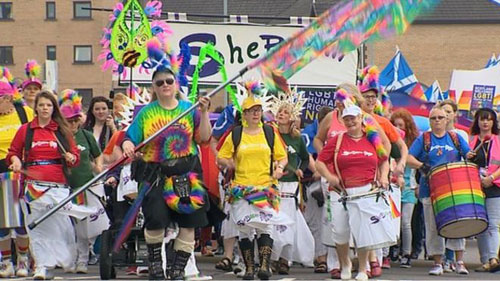 Pride Scotia
Then in 2002, the festival started in Blythswood Square and of course finished in the very fitting Glasgow Green. Rain naturally forced people to hold back from attending the fest and organizers had tor resort to charging for admission - this proved to be rather unpopular amongst attendees. Organizers managed to get Tommy Sheridan to return for a second year and other notable guest speakers that included Dorothy Grace Elder, who was a prominent member of Scottish parliament. A notable attendee and supporter included the Scottish Trade Unions Congress - this support of one of the biggest Trade Unions in the U.K. proved that the pride festival was going to be a strong feature of Glasgow's tourism and culture. However it was this year that the organization Pride Scotland lost all financial credibility and finally festivities were put together by Pride Scotia. This didn't change support for the festival, but it did change some logistics. In 2004, Glasgow's pride march took place on July 1st and Glasgow Green served as the base for the festival. Finally in 2006, there was a change in the location for the festival and thousands upon thousands attended. Several public servants however, such as firemen and a few other public service reps refused to participate or hand out pride literature.
Gay Pride Glasgow Is Reborn
In 2008, Glasgow formed its own pride council and Glasgow no longer relied on national funding, but civic funding from the city itself. The festival had over 5000 attendees. Deputy First Minister Nicola Sturgeon spoke publicly at the festival along with various Glasgow City Council members looking to speak for equality. The leader of the Green Party attended as well. Once again, the involvement of these public figures proved to be a feature of the festivals that attracted the public. The growing trend among public figures and the wide support experienced, proved that the festival was there to stay. In 2010 and the years following, Edinburgh and Glasgow held festivals simultaneously and days apart. Since 2010, the Glasgow Pride Festival has gained some tremendous notoriety and the number of attendees has increased year by year. From what we outlined before, it is obvious how much support and momentum the fest gained year after year. The public sponsorship and the worldwide interest in the festival proves that gay pride Glasgow is here to stay. Currently Pride Glasgow, accepts donations from all attendees and international supporters of pride festivals.
Statistics: Breaking Records For Gay Pride Glasgow
In 2012, the festival broke records with attendance, where more than 6,000 people attended the festivities. According to a listing more than 40% of residents have opted to have support and attend The Glasgow gay pride festival. However based on the small exponential increase of Glasgow citizens attending the festival year by year, we might imagine more support for gay pride Glasgow as time moves on. On average it seems about 3,000-5,000 people take part in the parade.
Controversy: Playing With Fire
The Glasgow gay pride festival has had some controversial moments. As we stated earlier, the original Pride organization became bankrupt. Yet some controversy that arose when there was some resistance from a group of firemen who refused to offer safety advice to people at a gay pride event. This lead to all of them receiving diversity training and a chief being demoted. The argument against attending the pride event included Christian beliefs as well as the notion of possibly being embarrassed in a firefighters uniform at a gay pride event. The disciplinary action that the men received showed that Glasgow did strive to engage in progressive and liberal courses of action.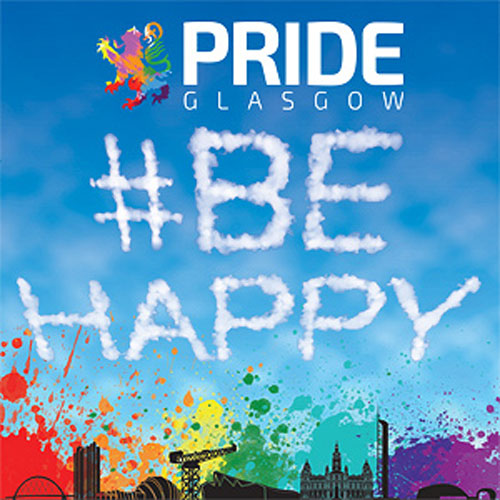 More Controversy
More recently, the Glasgow gay pride made a highly controversial decision to ban drag queens and crossdressing. This was made ahead of the event. It proved to be a near idiotic decision based on the fact that it is uniquely celebrated as it is an integral part of pride events. Despite the fact that the decision was strictly reserved to the various performances that were being put on, meaning that the organization wouldn't have any drag queen acts or performances that catered to the bicurious crowd.
Events At Glasgow Gay Pride
Over time, The Glasgow gay pride festival has had a variety of events and public speakers. As we stated earlier, Quentin Crisp, George Galloway and Nicola Sturgeon were just a few, but guest artists such as Texas and Jimmy Sommerville were just some the acts to attend the festival. The Glasgow Drumming Women groups lead the festival a few years throughout its history. During the pride march and festival, there have been a variety of events and services offered which have included family oriented activity as well as various health services and educational services that aim to create awareness for LGBT rights. Glasgow gay pride is alive and strong.
The Arena
Every year, the festival hosts notable musical acts that have included many famed bands and people such as Jimmy Sommerville and the group Texas. Some of the artists that are going to be featured include Toploader, Stooshe, Pride and Karen Harding. Other events include DJs and a rave style dance floor that has always been a hit at Glasgow pride events.
The Village Square
Glasgow gay pride may also be a celebration but it is also a place that requires its attendees learn a little more about the gay community in Glasgow as well as more about sexual health. The Village Square will offer an expo like atmosphere that will include tents for rights groups, commerce unions and much more. This expo like atmosphere offers the people of Glasgow the chance to see what the city's and country's corporations and services are doing to reach out to the LGBT community.
The Village Green
Located in the Village Square, the Green will offer families, couples and others the chance to relax and have a picnic. This will be a tamer place for those of you looking to get away from all of the wilder fun that is always happening at the festival.
The Pride Dog Show
If you love cute pups and big doggies - then you are going to love the Pride Dog show that will entertain you and make you swoon over plenty of four legged cuties. This event has proved to be especially popular with dog owners, dog lovers and everyone in between. Dogs and owners get to join in on the contest to prove your dog has what it takes to show its pride. This is an event that will get plenty of attention for years to come. Perhaps they will include our feline friends one year!
The Pride Parade Itself
The Glasgow gay pride festival is not complete without the vibrant and wild march through town. Floats from charities, support groups and politicians are always featured. Organizers love it when plenty more people can join. The march always starts at one end of the city and has ended in the past at Glasgow Green.
Awards: Past And Present
The festival has also made an award for activism. Named after Ian Dunn, the memorial award is for public LGBT rights figures who have made a mark relative to activism for gay rights in Glasgow and Scotland. This award has been given to notable members such as Tim Hopkins, Magie Meager, Patrick Harvie MSP, and Margaret Smith MSP. Organizers also created the Jackie Foster Memorial Award. Jackie Foster was a famed TV reporter who wrote and campaigned for women's rights and gay rights. The Glasgow Women's Library decides who is nominated and voted for. Notable winners of this award include public figures and various groups such as; Edwin Morgan, The List and Rachel Jury. Glasgow Pride organizers also included an Award For Health that was awarded to people and groups that had and have aimed to change the face of sexual health awareness, movements forward in medicine and so on.. The final award was granted in 2006.
External Links For Gay Pride Glasgow
The Glasgow gay pride festival is the largest in Scotland and has a huge amount going on, so why not take a look at some of the best links that can tell you everything you need to know about Glasgow pride events? This would include the best gay-friendly restaurants as well as other sites dedicated to informing you about pride events in and out of town.
1.
Some Simple Info About What's On In Glasgow
2.
The Homepage For Glasgow's Pride Festival With Links To Everything Happening In The City
3.
Visit Scotland's Homepage For Visting Glasgow During The Festival
4.
The LGBT Health Page With Listings To Upcoming Pride Events That They Sponsor
5.
All The Stuff About Glasgow When It Comes To Gay Bars, Pride And Everything In Between
Other Articles Relative To Gay Pride
GAY PRIDE GATESHEAD