History Of Gay Pride In Cleveland
Learn gay pride Cleveland facts and information here on Manplay.com. The history of gay pride in Cleveland shows just how progressive the state really is. In 1993 the city aired the first gay and lesbian talk radio show, 'The Gay 90s'. This was met with some push back as a bomb threat was called in just before the premier broadcast was set to air. The producers continued to go ahead as planned, and the first show was a success. For the following 2 weeks, just to ensure the safety of the staff, police escorts were called in to provide protection for the station's employees. That should give you a good idea of what the times were like back in the 90's, and how much the community has progressed. The goal of the show was to allow the LGBT community, and straight listeners alike, to call in about issues in the gay and lesbian community for advice on how to cope, and also allow the straight listeners a chance to ask questions. The show ran for 6 years and broke barriers for the gay, straight, and 'in between' communities to break down barriers and further understand each other. Issues such as gay relationships, gay marriage, transgender issues, and AIDS were the hot topics of the show hosted by Buck Harris, one of the first openly gay authoritative Clevelanders. This was at a time when callers were afraid to call in for fear that they would be recognized and shunned by their peers. This was also the time when Tom Hanks starred in Philadelphia, a movie raising further awareness about the national AIDS crisis. Cleveland played a huge role in providing information and support on the concerns facing the nation. The show allowed listeners a place to speak and be heard, and in-turn, feel more comfortable being who they were with the support of the community around them.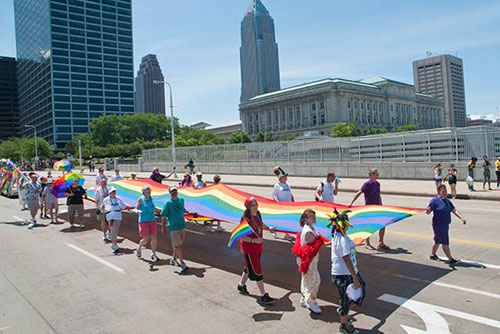 Gay pride in Cleveland was already being celebrated before 'The Gay 90s' aired. In 1989 the city celebrated its first festival, and in 1990 the first gay pride parade rolled out down West 29th street. Both events have grown over the years, and the city has since celebrated it's 25th Silver anniversary. With the help of the gay and straight communities in Cleveland, there has continued to be a need for gay pride support, and the city has stood up to create a space where everyone can join in on the celebration. There are events happening around the city throughout the year for you, your friends and loved ones to join in on. Manplay.com has all of the information you need to make sure you get the most out of what's happening around the city. In an ever growing gay city, it can be hard to keep up, but Manplay has you covered. Making sure that you get the most out of your city, and that you know where the city has come from will make your celebrations that much more fun.
Gay Pride Cleveland Statistics
In 1989 when the first gay pride festival kicked off, there were only 1,000 attendees. That number has grown to over 40,000 and participants to about half of that. Because the cost is a suggested donation, it attracts even more festival goers. More and more clubs, vendors and shows continue to pop up to meet the growing need of the community, and hundreds of new LGBT residents sign up to attend new events daily. Every month there are HIV and AIDS awareness meetings around the city, there are LGBT scholarships being handed out to qualifying individuals, there are LGBT AA meetings being held, support groups of all kinds, and social groups to introduce new residents to the community. The LGBT board is constantly working on ensuring that there are a ton of events for residents to enjoy and participate in. The goal is leaving no one behind, to raise awareness, and to advance and respect the rights of the gay community.
Cleveland isn't the biggest city on the map for gay pride numbers at only 3.7% of the population. This understandably has something to do with number of gay individuals living there, but it has been growing, and the numbers will continue to rise. Being only a 2.5 hour drive from Columbus, one of the top 15th gay pride cities in the states, both helps and hinders it. The good news is that Clevelanders can make the trek to Columbus when there is a gay community event happening there, and visa versa. Cleveland has been put on the radar for gay travelers because of its events and large mid-year pride festival. Holding the Gay Games in 2014 brought some much needed attention to the city. More than 60 nations participated with just over 10,000 athletes competing. This was another huge milestone for the city, and the state. With more happenings like this in the future, the city will continue to grow with gay awareness and celebration.
Celebrating Gay Pride In Cleveland
There is never a shortage of ways to celebrate your gay pride in Cleveland, and Clevelanders alike, as well as outside tourists are enjoying all that the city has to offer. Depending on what you're in the mood for, you can do a quick search, pick up a local newspaper, or check the links below to fill the need for some gay celebration in your area. Remember that not all events have to be strictly 'gay related' to enjoy. Cleveland is an inclusive community that reaches out to all of its residents, so enjoying events like Cinco De Mayo at TownHall or the Tequila Fest in the downtown area, can be done whether you're gay or not. If you are looking for strictly gay related events, there are a ton of those, too. Below are some of the events that draw the largest crowds, and provide the most entertainment. If you want to know what people are buzzing about around the city, below are the top events that you should get to know.

The Pride's Alive Festival
In May, The LGBT Mixer at Metropolitan 9 invites singles in the gay community to come out and meet new people in the area as part of the Pride's Alive Festival at the Huntington Convention Center of Cleveland. If you're looking to mix things up, this could be the perfect event for you. This network mixer is dedicated to facilitating and understanding and an appreciation of the strength, diversity and talent within the LGBT professional community. After meeting individuals around the city, you can enjoy workshops on financial control, learn how to plan an event, get involved in the future of education, join in on activism in the gay community, learn how to volunteer for events around the city, and of course get ready for the big gala party and 80's costume bash to wrap up the 4 day event. When you're too excited for the Cleveland Pride Event in August, Pride's Alive will keep you satisfied in the meantime.
LGBTQ Prom @ Twist Social Club
There's also the 2nd annual LGBTQ Prom happening at the Twist Social Club. It might only be in its second year, but it's already known to be the event that you have to attend when you're looking to get fancy with your friends, and re-live a special, youthful moment. Last year was a huge success and the organizers hope that it will continue to be for years to come. It's something new and different and gives people a chance to have fun and celebrate the prom they wish they had. They have contests for Prom King and Queen, Best Dressed, Worst Dressed, and much more. There will be a special host for the evening, and more details to come closer to the day. The LGBTQ Prom has been all the buzz across the city as the gay community waits in anticipation. If you had dreamed of being the best dressed drag queen, or king, and you want a chance to celebrate the prom of your dreams, this is your chance. Grab a date, or go solo if you wish, and slow dance your way to new prom memories.
Project Nunway
Project Nunway CLE is a nationwide charity fashion show where local fashion designers are paired with Sisters to create high fashion designs from recycled materials using little to no money. It's a very Avant Garde fashion show presented by Lago East Bank. The event benefits Dare2Care, a non-profit organization working to stop LGBTQ bullying in high schools by helping students engage in conversations about identity and celebrating their differences, and the Rock n Roll City Sisters of Perpetual Indulgence whose mission focuses on HIV/AIDS awareness and promoting good health. Together, both charities are working to develop LGBTQ advocates and community leaders. All proceeds are split between the Sister Community Grant Fund and Dare2Care for their leadership scholarships. It's an extremely fun event for the community, and raises money for very important needs in the community. There are special DJs that come out to spin, and VIP tickets are available. This event is full of fun, excitement, and fashion. Three of the best things to go together and keep a gay man entertained.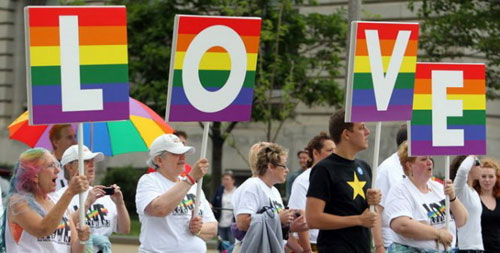 Cleveland Pride Festival
Each year, Cleveland Pride hosts an annual event to celebrate diversity in the community. What started out as a festival has grown to include a parade and high celebration. There are three stages, a food court, a beer garden, and in partnership with the Lesbian Gay Community Service Center, also includes a children's pavilion, youth zone and senior space. No one is left out of the festivals activities. Anyone can get involved as an entertainer, sponsor, volunteer, vendor or marcher. All you have to do is register in advance. The festival is all about inclusion, and wants the entire city involved as best as possible. There are a ton a big name sponsors that ensure that the celebration continues every year, and the proceeds from the festival go back into the gay community. The location can sometimes change so you want to make sure that you check the website for any and all updates. Still trying to find its permanent home, Cleveland Pride relies on support from the community.
There are year round events that happen annually, or pop up based on the needs of the gay community. You'll have to stay up-to-date so that you can celebrate all year. Don't miss out on special events in your neighborhood by checking your local listings, or doing a quick internet search to find the perfect event for you. Bars like the Leather Stallion Saloon have different gay themed nights throughout the year, so if you try one event and like what you see, there will always be another to attend. They like to switch it up to fit the needs of the gay community, and there are other bars like The Hawk and Twist that do the same. You can check out those bars for their local events, or click the links on this page to stay connected. There are plenty of ways to make sure you don't miss the next hot event happening near you.
Links To Gay Pride Cleveland Events
Click The Links To Follow The Fun In Cleveland
When you want to know what's happening in your city, click on the links below to get you started. Follow the links to fun gay events near you. These pages are updated regularly so that you never miss the next big gay celebration in Cleveland.
- Follow
gay pride
events happening month to month in Cleveland.
- Get updated information on the largest
gay pride
celebration in Cleveland. Check back for updated information on vendors and times for the festival and parade.
- The Leather Stallion loves celebrating
gay pride
and caters its events more toward gay men like you.
- The Twist Social Club offers
gay pride
themed nights, and draws in thousands of patrons monthly. It also turns into a hot techno nightclub for those that want to keep the party going after dinner.
- Aura, a.k.a. Mean Bull, attracts all the hotties in Cleveland for nightly
gay pride
celebrations. Meet the hottest hunks in your city at one of the hottest bars attached to a hotel/spa.
- Celebrate
gay pride
with high end fashion at Project Nunway.
- Get involved with the Pride's Alive festival to help raise awareness for the future of
gay pride
in the community.