Gay Pride Belfast
Gay Pride Belfast is one of the UK's biggest events, and Ireland's #1 gay pride party. There are over 100 events and attractions for you and your guests to stay entertained while you celebrate! Manplay.com has your ultimate Gay Pride Belfast guide to having the best Pride you possibly can, with more than 10 events happening over pride weekend. Gay Pride Belfast is one of the fastest growing pride events in the world, and we have all of the info of past and current Pride's to keep you up to date.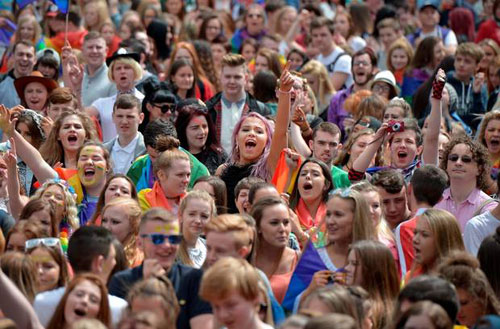 History Of Gay Pride Belfast
The very first gay pride Belfast march happened in 1991, with only 100 people participating. Since being gay in Belfast at that time wasn't ideal or fully accepted, the march more closely resembled a quick run through the city. Most of the city were somewhat hostile toward gay people at this time, but these men and women wanted to show their support and pride in being gay. From that small beginning of only 100 marchers, Belfast Pride has become a hugely successful event. 
As one of the largest festivals in all of Belfast, Pride draws in crowds of over 50,000 people to celebrate. Gay Pride Belfast is a 10-day long festival, featuring over 100 events throughout the city. Belfast Pride is now an important date in the city's annual calendar. The mayor kicks off pride festival every year at City Hall, making Pride possibly the most anticipated and essential events of the year for Belfast. The 10 day festival ends with Pride Day which is the single largest parade and party in the city. Several events take place on this day and into the night, including live music and entertainment at Custom House Square and many others. Belfast Pride is Irelands biggest LGBT festival, and could quite possibly be Ireland's biggest festival overall soon! Gay Pride Belfast is the city's largest cross-community endeavour with almost the whole city, and some surrounding areas, participating in the spectacle. Local businesses have been a huge source of support and promotion for Belfast Pride, making the whole thing more successful and inclusive than ever. The main messages behind Belfast Pride are equality, inclusion and celebration, so having the community and businesses in the area behind it is a huge step forward. 
Attendance At Belfast Gay Pride
Gay Pride Belfast is quickly growing, with an annual audience reaching roughly 50,000. Though pride and gay culture are widely accepted and celebrated presently, this wasn't always the case in Belfast. Only since 1995, with the Celtic Tiger economy came about in Ireland, did attitudes really take a drastic change in terms of acceptability. People were more willing to celebrate differences once their economy blossomed into a success, and most Irish residents saw an immense increase in their income and personal wealth. This coupled with Ireland's inclusion into the EU economy, improved pretty much everything about the atmosphere of the nation. Once an ultra-conservative and staunchly religious population, there was a noticeable shift in perspective when it came to gay people and gay culture once these economic changes took place. Most of Ireland was in fast in favour of pro-gay legislation and legalization of civil unions between same-sex couples. People were willing to be more open-minded. A poll during that time found that 73% of citizens fully supported legalized gay married. A vast majority of the previously close-minded and homophobic population now felt that gay rights were fundamental. This was taken a step further when a different survey discovered the 53% of the population supported gay adoptions. This would have been a huge controversy prior to the Celtic Tiger, but societal shifts in Ireland improved and opened attitudes toward fellow citizens more than could have ever been predicted.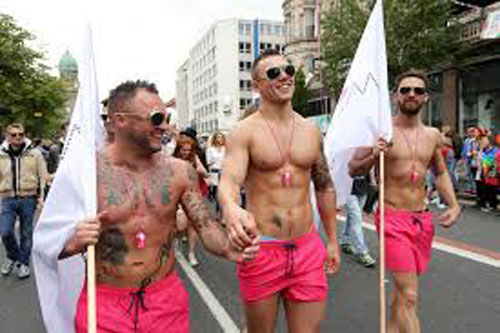 Belfast Gay Pride Events
Gay Pride Belfast is Ireland's biggest LGBT festival, and as such, has many events happening during the 10 days in the summer. 2015 was the most successful year for Belfast Pride, and it is expected to be a massive surge in attendance this year. Most of this year's event line-up has yet to be announced, but if last year is anything to go by, it will definitely be an amazing ride. These are some of last year's most popular events, and some you can expect to see again this year!
July 24th: Official Festival Launch And Annual Awards
Taking place at Belfast City Hall, the 2015 launch and awards of Pride was a massive success. It was the biggest one that Belfast had seen yet, and that is expected to be surpassed with this year's Festival Launch and Annual Awards. Dates for 2016 are to be announced, but if last year is anything to go by, it will be an amazing thing to be a part of. It's free event, but tickets are required for entry so don't miss where to get those once the dates are officially announced. 
July 26th: Big Pride Picnic
The Big Pride picnic is an annual event, so the dates for 2016 will be announced soon! The picnic takes place at Belfast City Hall for free, and is the pride event to go to if you have a family or children. City Hall grounds are littered with inflatable toys and bouncy castles, food and drink stalls, and a pop-up screen. Sing-a-longs and karaoke are featured as well for the whole family. At 15:00 last year, Frozen was screened to attendees, and Grease was shown at 18:30! There will most likely be film screenings this year as well, but the specific films are yet to be announced. 
Ulster Loves Me
The Infinite Jest presents Ulster Loves me at Black Box on Hill Street. This stand-up comedy event was a huge success last year, featuring comedians poking fun at the outdated attitudes of current politicians, while celebrating Pride and the LGBTQ community. This event started at 15:00, and cost £5 for entry. This event may be presented again this year. 
July 28th: Managing Stress Workshop
This interactive workshop was presented to help stressed out people manage their troubles in a healthy way. Presented at the LGBT Centre on Waring Street from 19:00 to 21:00, the seminar gave advice and practical methods to reducing stress in one's day to day life. The Centre for Health and Wellbeing was responsible for this event, which may be on again this year. 
Pride Comedy Night
This annual event is a night full laughs. Last year's Comedy Night was at the Sunflower Bar at 20:00 for only £7. The barrel of laughs was presented in association with Crazy Cat Comedy, and featured comedians like Conor Keys, Cris Montgomery, Sister Lacinta, and Gemma Hutton. Performers and details for this year's Pride Comedy Night have yet to be announced, but you can be sure it will be a great night. Get your tickets as soon as they become available!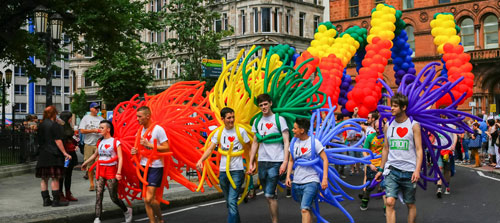 July 30th: Murder On The Drag Floor
Last year at Gay Pride Belfast, for the first time ever, was a murder mystery on the river. Taking place at Belfast Barge, Laganside starting at 20:00, audiences had the time of their lives trying to solve this crime. This whodunnit was a hilarious and wildly successful event, so it's back again this year! This event is BYOB and be responsible with it! Buffet is included in the cost of admission, which is £15. 
August 1st: Official Pride Breakfast
The Official Pride Breakfast is an annual mini-fundraiser that helps to feed hungry patrons and fund Pride while doing it. Served at The Northern Whig starting at 10:00am, diners will have 2 options for their breakfast:
The Big Breakfast
Chargrilled maple cured bacon, homemade soda, poached egg, pork sausage, roast tomato, and watercress. £6.50
or
Something A Little Lighter
Granola, natural yogurt, and fresh berries. £4.50
Add tea, coffee, or juice for £1
£1.50 from every breakfast goes to Pride, so most of the events can remain free and ongoing! 
Pride Village
Pride Village is part of the main even at Gay Pride Belfast. This yearly festival takes place in Writer's Square, Donegall Street starting at 11:00am, and it's completely free! A number of retail stalls will be available, ranging from sweets and candies to helpful advice and chats. There will be lots of food and drink available for purchase as well. Live children's entertainment will be featured, the specifics of which will be announced closer to the day. Free information and advice is available at many of the stalls. The stage will have performers putting on live acoustic music as well. More details will be release as the date approaches. 
25th Anniversary Parade
Last year, the Gay Pride Belfast Parade was the 25 year anniversary for the event! Leaving from Custom House Square at 12pm sharp, this year will mark the 26th anniversary of the Pride Parade in Belfast. The Parade is free, so bring your whole family and dress up as much as you want. Face painting, banners, colours, and costumes are all encouraged in festivities! There is no theme for this parade so use your imagination to show your support. 
Party In The Square
This annual celebration takes place directly after the parade in Custom House Square. The Square opens at 11:00am, but the party doesn't start until 14:00. This party is huge, so be prepared. The Square will be filled if last year is any indication, making this party almost an entire festival of it's own, so make sure you arrive early. Last year's performers included 911, Runaway GO!, and tons of local and national artists. Aside from music and entertainment, there will be lots of options for food and drink, a new extended bar and beer garden, and the Pride Merchandise shop so you can show your support year-round. Between music sets there are competitions and games, so there's never a dull moment! 
Bitch Please Pride Tea Dance
Bitch Please presents the Pride Tea Dance at Boombox, Donegall Street. Starting at 16:00 until 20:00 for only £8, guests get to dance their worries away and unwind in this Tea Dance. Last year featured special guest Katya, Miss Congeniality from Ru Paul Season 7, and a performance by The Queen's of the Queer Quarter. Special guests and performers for this year have yet to be announced. 
Official After Party
This is the Official Pride Afterparty, with proceeds going toward Pride itself. Last year the closing party was at Belfast's newest bar Society from 20:00 to 03:00, hosted by Hostess Contessa Maximillion Von Tramp. The afterparty generally costs £6-8. Last year's guests included DJs Kenny K and Emma Buchanan, with live acoustics taking place in the beer garden. Whether you want to relax and have a beer, or party the night away, the Official Pride After Party can provide something for everyone. Details to be announced closer to the date. 
The Kremlin Pride Ball
At Donegall Street starting at 21:00, this unofficial after party has 3 DJs in 3 different rooms to dance and vibe. Entry can be bought with a £14 weekend pride pass, which is also good for other events at this venue.
Room Service Pride Party
Another unofficial after party at Boombox from 21:00-03:00. This dance event is decadent and sensational, so it may be on again this year. Last year's guests were Sassie Longshaft, featuring DJs like Jodie Harsh, Kris di Angelis, Ciaran Moylan. 
August 2nd: Pride Flea Market
The Sunday Pride Flea Market at the Sunflower Bar on Union Street starts at 12:00, and is free for everyone. All are welcome to attend. 
For more information on what to do in Belfast during pride, or other pride events around the UK, check out these articles:
Gay Pride Belfast
Gay Pride Belfast: Pink UK
Gay Pride Blackpool