Gay Pride Newcastle
Are you looking for something to do during gay pride Newcastle? We have your ultimate guide to what's going on and what you need to do at Northern Pride. When it comes to the North, Pride in Newcastle is where you want to be this summer! Whether you're going alone, with friends, or with your family, Northern Pride in Newcastle will have something to keep everyone who attends happy and entertained. While it hasn't been around for very long, especially when compared to pride events in some other cities, Gay Pride Newcastle has become one of the biggest and best events in the North. 
Gay Pride Newcastle History
Gay pride in Newcastle was celebrated under the title of "Pride on Tyne", due to its location. Once the organization responsible ended their festivities and association with the event, there was a lull in official Pride celebrations for a few years. In July of 2008, The Northern Pride committee successfully ran their first Pride event, and officially made themselves a not for profit organization in January of the following year. Going forward, this Committee would be responsible for organizing the Pride festivals in Newcastle.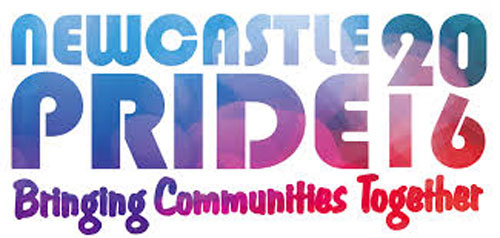 Northern Pride is the north's largest Pride festival, taking place in Newcastle. The Town Moor is the preferred location for the event, because it's just outside the city centre and fairly accessible to all. This free event has featured LGBT celebrities and performers, while installing activities and areas for various types of guests. There are generally 12 "zones" at Northern Pride: the Main Stage, Family Zone, Youth Zone, Trans Zone, Women's Zone, Steve Paske Health Zone, Cabaret Tent, Sports Zone, Bear Zone, Dance Tent, Market Stalls, and Fair ground. There is quite literally something for everyone to do, and spaces allotted for them to do it. This event celebrates and brings awareness to gay culture and history, as well as raises money for LGBT community resources and issues. 
Leading up to Northern Pride, there are usually a number of smaller events to get things started and begin the fundraising process. There is even a Pride Dog Show to gather attention of all kinds of audiences. Getting national attention to Northern Pride has been a fruitful endeavour, with visitors travelling great distances at times to attend. Gay Pride Newcastle is the largest pride event in North East England, so anyone in the surrounding area who wants to celebrate and participate comes in to do so. 
Newcastle Gay Pride Statistics
When it comes to pride, the gay people of Newcastle know how to do it. Gay Pride Newcastle has only been in place officially for a few years, but it has grown exponentially in that short time. In 2008, roughly 4,000 people attended the event, and while that may seem small comported to today's Pride numbers, it was a positive start. A year later, approximately 6,000 people attended pride, increasing the number from the previous year by 2,000 people. Word of the festival had clearly spread, and continues to do so. In 2013, Pride festival was only 1 day, and in that day over 28,000 people visited. The festival has grown in size and attraction in just a few years. The festival is now a 3-day long event, with thousands of visitors expected to attend. Attendance is estimated to triple in size, which is what the festival planners are preparing for in terms of attractions and amenities. 
Thousands of volunteers are responsible for putting on the activities and events that you experience at Pride. Roughly 2,000 unpaid volunteers helped to make Pride the spectacular event that it was last year, running Zones and monitoring guest safety and enjoyment. Pride wouldn't be possible without it's hardworking and dedicated volunteers donating their time. In fact, around 99% of Pride attendees from last year said that they would definitely return the following year to Pride. This spells massive success for those involved. In terms of the Parade march, more than 5,000 people participated in the parade itself. This is not including spectators, only people marching along the route. That's almost the entire number of attendees at Newcastle's first Pride event; Northern Pride has grown in size and popularity all around in just a few short years.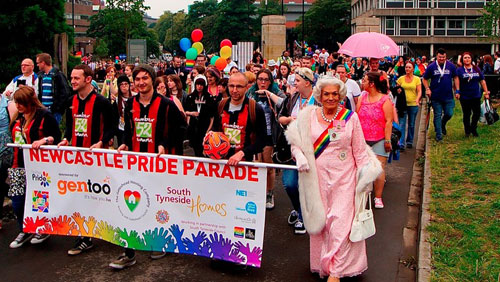 Newcastle Gay Pride Events
Gay Pride Newcastle has several events for the public. Starting in May and continuing into July, there are a variety of activities that LGBT supporters can take part in gearing up for Pride. With live shows and film screenings, to outdoor races and fancy dinners, there's something offered for everyone. 
May 17th: Oriented
IDAHOT, which stands for International Day Against Homophobia, Transphobia and Biphobia, is celebrated worldwide as a way to promote diversity and acceptance. On May 17th, the film Oriented will be shown at The Mining Institute at Neville Hall from 19:00 to 22:30. The film is a documentary that looks at how three gay Palestinian men deal with being gay in Israel's capital city. The film looks at their struggles, triumphs, and experiences as they navigate life as gay men in a religion-and-male-dominated society. 
May 24th: Rights Of Passage
Put on by Clare Summerskill, this play runs for 2 days at 19:00. This play explores how gay and lesbian men and women who have left the UK are dealing with their arrivals into new countries. Some aren't welcome, some are, and some are sent back the UK in this show that presents real-life stories of struggle and success. Debuting at Pride following rave reviews at other performers, this show has limited seating availability so tickets are a must. 
June 9th: LGBT Comedy Gala
This Comedy Gala starts at 19:00 sharp, in Baltic Square at Gateshead. Audiences should be over the age of 16. Ticket prices are £10. Some of Britain's top stand-up comics will be performing comedy gold for this Pride event. Comics include Jen Blister, Larry Dean, Bethany Black, and Jonathan Mayor. Spend the night in stitches while knowing that your money is going toward a good cause to fund future gay pride Newcastle events. 
June 16th: Northern Pride Black Tie Ball
Possible Pride's most elegant event, the Black Tie Ball features a night of dinner and entertainment while dressed to the nines. Lorraine Crosby is slated to perform, with all proceeds going to fund Newcastle Pride 2016. The Ball begins at 19:00, with tickets costing £28 per person, or £250 for a table of 10. Dinner is 3-course meal with live entertainment during. Dancing takes up the rest of the night until roughly midnight, including a raffle for prizes! The menu includes:
- Creamed Potato Soup with Shredded Leeks and Crusty Bread (v)
- Herb & Butter Roasted Breast of Chicken, Gratin Potato, Glazed Stockpot Vegetables and Sherry Jus
- Mediterranean Vegetable Strudel with Basil Cream (v)
- Profiteroles with Warm Chocolate Sauce
Get your tickets now for a decadent and delicious evening.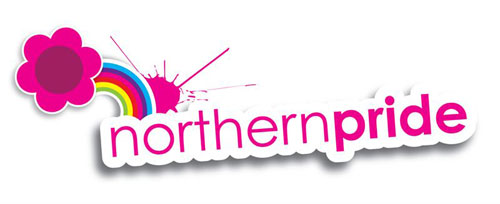 July 1st: An Audience with Ophelia Balls and the Legendary Greta La More
Another comedy event, this evening includes 2 drag plays that are sure to please. Tickets are £4 with very limited availability. Taking place at the North of England Institute of Mining and Mechanical Engineers - Neville Hall, Ophelia Balls and Greta La More have a special show for Pride. The first portion of the show is interactive, allowing audiences to ask questions to the drag legends before they perform. This is your chance to get up close and personal with them! The second portion of the show is a comedy drag play that will have you in stitches. The two do what they do best, which is entertain and involve the audience throughout the hours of the performance. There's never a dull moment with these two! 
July 10th: Dragged Through The Generations 2016
This event is back by popular demand after huge success in the past 2 years at Pride. One of the most successful fundraisers for pride, this drag show is a crowd favourite. Some of the most favourite performers from previous years will be back on stage this year, as well as some newcomers. Celebrating the best in drag and recreating some favourite memories from past Prides, this is an event you definitely want to get tickets to. 
July 15th: Northern Frontrunners LGBT 5K Race
At 18:45 the annual 5K race will commence! The race kicks-off the official Pride weekend. Details are still to come, but the race consists of a 5KM trek around the city. Costumes and banners are welcome and encouraged for spectators and participants. It's about more than the race - it's about pride! All runners are welcome, but make sure that you get the go-ahead from your health practitioner if you suffer from any kind of health issue, especially concerned your cardiac or respiratory health. 
Newcastle Pride - Friday @ Town Moor
Directly after the 5K race, the first pride fair of the weekend opens. Starting at 19:00, there will be refreshments at the bar along with retail stalls and tons of activities! Gay pride Newcastle is all about celebrating and inclusion, so make your way over the fair even if you don't want to take part in the 5K race beforehand. The fair closes Friday at 21:15. Entry is free, however donations are encouraged in order to continue to keep the festival and entry at no cost. 
July 16th: Newcastle Pride - Saturday The Parade
Saturday at noon is the big Parade! Starting at the Civic Centre, Barras Bridge, the march will continue along Northumberland and Percy Streets, finishing through Exhibition Park at the Town Moor. If you wish to take part in the actual parade, meet at the Civic Centre for 11:30am. Last year, more than 10,000 people took part in the Parade march, making it the biggest one Newcastle has seen to date! 
Newcastle Pride - Saturday @ Town Moor
Saturday afternoon is the second official day of the Gay Pride Newcastle festival. Starting at 12:15 and closing at 20:00, the day is packed with main stage performances, various zones for activities and entertainment, and a Fun Fair! Everything is open for the festival Saturday so you'll have no trouble finding something fun to do. Each zone at the festival is different, so make sure you leave time to experience and explore them all before it closes. If you don't manage to make it around to everything, the festival is open again Sunday afternoon to explore. The park closing doesn't mean the end of Pride though. The Gay Scene in Newcastle has a hopping night life where you can visit all of the attractions of bar life and dance the night away. This year, there is no outside food or drink permitted inside the festival grounds. There are 8 food stalls and 5 bars to keep you fed and watered, so no need to bring your own from home. Checks will be carried out randomly. Being caught with outside food or drink may result in your expulsion from the festival grounds. 
July 19th: Newcastle Pride Vigil @ Civic Centre
The final night of Gay Pride Newcastle ends with a candlelight vigil at 21:00. The vigil is a time of celebration for all that has been accomplished in the gay community in the city, and the triumphs overcoming struggles of the LGBT community. It's also a time for remembrance and memorial for those who have struggled and have yet to overcome their hardships, as well as those who have passed on or been affected by LGBT related health issues. This moment of reflection around candlelight is a beautiful way to finish off the weekend of celebration and awareness. 
To read more on pride and pride events in the UK and Newcastle, check here for the latest:
Pride In Newcastle
Newcastle Pride: Pink UK
Gay Pride Belfast