Gay Pride New York
Manplay.com is THE 'it' site to get all of the information you need about Gay Pride New York, the history, events and what to expect now and in the future. Choosing to celebrate gay pride at the largest event in the United States will be the best Pride experience of your life.
History Of Gay Pride In New York
Gay Pride New York had a rocky start like most gay prides across the entire US. There have been a lot of huge leaps forward for Gay Pride New York history over the past four decades. It all started on June 28, 1969, when a gay bar, the Stonewall Inn in Greenwich Village was raided by the New York City Police once again. This had become quite common for the bar. This raid was different, gay men and women decided it was time to fight back and stand up for their civil rights, thus starting the Stonewall Riots. A year later, the Christopher Street Liberation Day Committee organized the very first Gay Pride March in New York to honor and remember the riots that occurred the previous year at the Stonewall Inn. In 1973, the American Psychiatric Association finally took homosexuality out of the Diagnostic and Statistical Manual of Mental Disorders, an outstanding success for the gay movement. For the ten year anniversary of the gay and lesbian stonewall riots as well as to remember the assassination of Harvey Milk, the first national march on Washington supporting gays civil rights occurred with thousands of participants.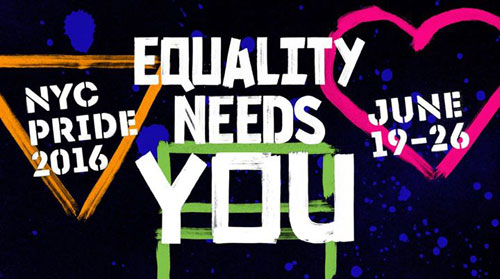 This gained national attention. It was then that straight men and women finally started to listen to what gay men and lesbian women had to say. On June 5th, 1982 the first case of AIDS was documented in the United States with anywhere from 7-14 new AIDS cases every day across the country. Heritage of Pride was formed as an LGBTQ group to help with the planning of the New York City Gay Pride events and parade. As of 1993, the Christopher Street Festival was renamed to what we now call it today, Pride Fest. New York recognized same-sex marriage in 2010. Then in 2011, New York was the sixth state to recognize same-sex marriages legally, well before the 2015 Supreme Court ruling finding same-sex marriage legal in all 50 states, just before Pride weekend, which made the victory even better. The celebrations that weekend were two-fold, to celebrate being part of the LGBT community as well as to celebrate that the LGBT community could now legally marry anywhere in the United States.
Gay Pride New York Attendance Stats
New York City has the largest gay, lesbian, bi-sexual and transgender population at an estimated 756 000 people and this number is growing rapidly each year as LGBT people move to New York and as more and more LGBT people become comfortable enough to identify themselves openly. Gay pride in the community is at an all time high and there doesn't seem to be any kind of slow down in those that are proud to be gay and willing to share their status with the world.
The first march in 1970, had a few hundred people at the start of the march and ended with several thousand by the time it reached the end of the route in Central Park. Since 2010, more than 1 million people have attended the Gay Pride New York March for Lesbian, Gay, Bi-sexual and Transgender people each year. That same year, more than 350 000 people attended some or all of the weekend celebrations of Pride Fest with 15,000 people attending Rapture on the River and the Dance on the Pier events for the weekend. Since the Supreme Court ruling that gay marriage is legal in all of the United States, there has been a significant rise in attendance each year for Gay Pride New York.
In 2015, it is estimated that more than 2 million people helped to celebrate Pride Fest 2015, whether it was a participant or as a spectator. With such high attendance, there is sure to be a lot of media coverage over the weekend. More media coverage means more awareness and that is exactly what Heritage of Pride is aiming for. The LGBT community is strongly leaning on the media to help get the word out to everyone in the United States.
What HOP is looking to do is to educate and inform. The entire LGBT community wants the rest of the world to know and understand that LOVE IS LOVE, that it doesn't matter what form it comes in or who it comes from. It looks like 2016 will again see a surge in attendance as there are more and improved events for gay, lesbian, bi-sexual and transgender people. These events are aimed at singles, married couples and married couples with children. Each year there are more events to attract those that would not have been interested in attending Pride Fest before. With the advances in social media and networking online, it has become quite easy for Heritage of Pride to spread the word and keep in touch with what the LGBT community wants to see in the event.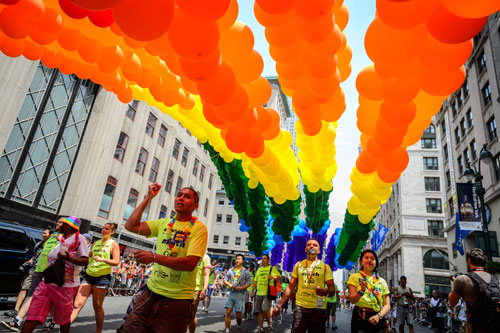 Gay Pride New York Events
Gay Pride Events Happening on Pride Fest Weekend:
Family Night(Yearly)
Location: Hudson River Park's Pier 63.
FREE Event!
Take in a family-friendly movie under the stars on Hudson River Park's Pier 63. This event is appropriate for all ages and is a FAMILY event. Once dusk hits, you'll be able to have the best movie experience with your loved ones, in the OUTDOORS!
The Rally
Location: Hudson River Park's Pier
This event has been hosted in various locations throughout the city. The New York City Pride Rally first took place in June 1969, one month after the Stonewall Riots. This first rally had approximately 500 people that gathered together in Washington Square Park to show "Gay Power", it was then followed up by a candlelight vigil in Sheridan Square. This tradition is carried on each year as an official opening to the Pride events for the weekend.
Fantasy
Location: The Diamond Horseshoe Club
This is a Friday night event to celebrate the start of the Gay Pride New York Weekend. This year you will live out your NEON fantasy in New York City's newest and hottest club that is hidden below Times Square. Come and experience the best performances with state of the art lighting, sound, and special effects around.
VIP Rooftop Party
Location: Hudson Terrace
This is the 6th annual VIP Rooftop Party brought to you by New York City Pride and Brian Rafferty. THE dance parties, of dance parties! Dance the night away on the rooftop of the Hudson Terrace on the most exciting weekend of the year. You will be dazzled by the three levels, the Hudson Terrace Rooftop, the Indoor Salon, and the Outdoor Terrace by three extremely talented DJs (2016 lineup: Paulo, Eddie Martinez, and Peter Napoli). This event is a Saturday afternoon event on New York Pride weekend.
Teaze
Location: Hudson River Park - Pier 26
Teaze (formerly known as Rapture on the River) is Gay Pride New York City's largest unique event for women. With over a decade of "rocking women's worlds", this event is being given a refresh with scads of new ways for all women, no matter where you're from or what you look like to come together in one place and celebrate Gay Pride New York City!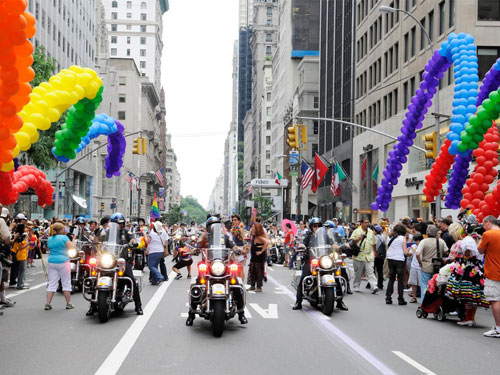 Graffiti
Location: The Hammerstein Ballroom
The Hammerstein Ballroom with its legendary production features: amazing concert sound, full-color lasers, 3D LED visuals, and is a show that is bound to leave you speechless. Join the sexiest and hottest gay women and men from all around the world at the main event for the Saturday of Gay Pride New York City.
Pride Fest
Location: Hudson Street (between Abingdon Square and W. 14th Street)
This is THE event to check out and join the Gay Pride community, after the march. This is the annual LGBT street fair with vendors, entertainers, and activities for a full day filled with fun celebrating equality. This is the event that brings local New Yorkers, their families, visitors, corporate sponsors, community leaders and business owners together all in one event. Pride Fest is where you can get some great food, listen to some amazing music and grab some Gay Pride gear!
The March
Location: Begins at 36th Street and Fifth Ave., Ends at Christopher and Greenwich Streets
The first Gay Pride New York March was in 1970 and has continued to be an annual civil rights demonstration for the LGBT community. As the years have progressed, the purpose of the March has increased to include recognition of the fight against AID and HIV as well as to remember those from our community that we have lost due to illness, violence and/or neglect. This March is a celebration of life and the LGBT community. Each year the March grows bigger and bigger, in 2015, there were over 350 individual marching contingents from non-profit organizations, community organizations, corporate sponsors, small businesses, political candidates and activists and over 80 floats! Gay Pride New York is the largest and most thrilling of all Gay Pride marches.
Dance On The Pier
Location: Hudson River Park: Pier 26
Dance from the early afternoon into the night. Dance on the Pier has been going strong for 30 years and is the largest fundraiser for New York City Pride as well as for LGBT non-profit grant winners. It promises to have only the best of the best talent from all reaches of the world. To top off an amazing dance, the longest-running LGBT fireworks display over the Hudson River will close out the night.
These are only the 'big ticket' events that take place each year at Pride Fest. There are tons of gay bars and restaurants near the march route that will welcome you with open arms, as well as LGBT, clubs that you can go to keep the celebration going late into the evening. These places usually run their own smaller events that are an extension of Gay Pride New York. Although the big events do occur on the Pride Fest weekend, there is never a dull moment in the city that never sleeps. There are hundreds and hundreds of other gay pride events that happen on a daily basis in New York City. It seems as though there is always something going on and somewhere that has a fun and exciting LGBT event that is worth checking out. Cycle for the Cause, ImageOut, NewFest and the LGBT Expo are just a few of the events that take place during the year that also help to celebrate the gay pride of New York.
Future Events Of Gay Pride New York
As Gay Pride New York, now known as Pride Fest New York, gains more and more strength due to acceptance of the LGBT community as a whole, so will the caliber and number of events that are held throughout the city for the weekend. With so many people can actually get, the only thing that may stand in the way would be something like the shortage of accommodations for those visiting from outside of the city. It is quite likely that Pride Fest New York will expand into the all of the five burrows, Manhattan, The Bronx, Queens, Brooklyn and Staten Island in the very near future to accommodate all of the supporters and participants. There are thousands of volunteers who are part of HOP (Heritage of Pride) as well as thousands and thousands of volunteers for Pride Fest who help to make it a success. These volunteers do everything in their power to make members of the LGBT community and their allies feel like they belong and that they are supported. Hats off to the people that make New York City run, the politicians, police, civil servants, firemen and women, hospital personnel and restaurant, hotel and retail business owners, without such amazing people to help support Pride Fest it wouldn't be possible. A huge pat on the back to all of these people who help to make everything run smoothly and expand. Without a community as supportive as this Pride Fest would not continue to grow or be as successful as it is today. It's refreshing that after such a long battle to get to this point people are finally free to celebrate gay love with those that accept it.
Official Gay Pride New York Event Sites
Follow these links to find all of the Gay Pride New York Events and any updated information when you get closer to the event dates. These sites are the best way to keep your planning simple and current, be sure to check in regularly to be sure that you don't miss anything!
-
Gay Pride Events
-
New York Gay Pride On Facebook
-
Gay Pride New York City Events
ivalnet.com/38329/New-York-New-York/Festivals/Pridefest">Pride Fest New York Events -
I Love New York LGBT Events
Get passionate about who you are and the gay pride movement in New York. You're gay and proud, that is absolutely okay with us! Help to share in the GayFest experience by getting involved. Like the Facebook page, follow Gay Pride New York on Instagram and Twitter. It's clear that there are tons of things to do on Pride Fest weekend and now that Manplay.com has given you all the links in one place, you can plan for the most amazing experience you could ever imagine. Get involved! Volunteering for something you believe in is a very rewarding thing to do. The best part is that you will quickly see just how accepting and welcoming New York is to the LGBT community. As an added bonus you will get to go to events for free, sure you have to work at them, but that's a great way to see a show or be part of something without having to spend a dime and you get to give back to your LGBT community too! It's time for you to really start living your life and we couldn't think of a better place to celebrate who you are than Pride Fest New York. Don't waste another minute, take the time now to start planning what's going to be the best weekend of your life!
Spread the word about gay pride New York. Tweet, Snap Chat, text everyone you know and start planning your Pride Fest experience for this year. Help to make and be part of LGBT Gay Pride New York history!
To find out about Gay Pride Cincinnati, Click HERE.