Gay Pride Vancouver Is Canada's Tropical Paradise
When you think of your dream experience at a Pride event, what do you think of? Do you think of beautiful oceanside beaches? Do you happen to imagine glorious snow-capped mountains where you can find yourself going on a relaxing ski? Of perhaps you have dreams of a lush, green, and gorgeous rainforest? Well, if any of those things tickle your interest, then Gay Pride Vancouver is definitely the place for you.
After all, we're not talking about some barren rock on the edge of the Atlantic ocean (sorry Halifax, we don't mean to offend), but Vancouver has it all! What makes Vancouver such a great place to hang out and take in the pride celebrations isn't just the incredible natural beauty it has to offer, it's also the fact that Vancouver isn't just home to one, but two incredible gay districts: the Commercial Drive area, and the West End. It doesn't matter which one of those neighbourhoods you end up, either way you'll be welcome at a variety of coffee shops, pubs, restaurants, and one-off boutiques catering to your specific lifestyle.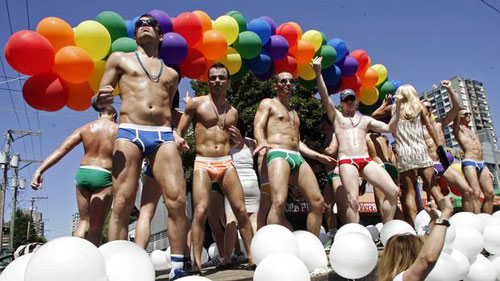 There's a reason why Hollywood chooses to shoot more films and television shows in Vancouver than any other location in Canada - because it's like finding Los Angeles in the Great White North. So relax and take the plunge and Hookup With A Special Guy in the hottest city in Canada.
Parade Your Pride All Around Vancouver
Gay Pride Vancouver isn't just the host to the largest Gay Pride parade in Western Canada - it's the host to largest parade in Western Canada, period! Kicking off the festivities of Gay Pride Vancouver, the parade takes place on the very first day at 12 noon.
Starting at the intersection of Robson and Thurlow street, marchers head west until they reach Denman Street; from there, they continue on to Pacific and Beach Avenues, eventually finishing at Sunset Beach (where the Sunset Beach festival takes place). The parade lasts for three hours, ending at 3pm.
The parade itself contains no less than 150 floats of different shapes and sizes. Some of the floats include motorized flat-beds, decorated cars, or even simply marching supporters! Regular participants in the Gay Pride Vancouver Parade include organizations such as Dykes On Bikes, PFLAG, The Vancouver Police Department, The Vancouver Fire Department, and Little Sister's Bookstore.
You'll never know what you'll find at the Gay Pride Vancouver Parade, but don't be surprised if you end up stumbling across a drag queen with hair four feet tall, a multi-coloured fire truck, or a cornucopia of other colourful costumed characters!
If you're looking to attend the parade, it's best to familiarize yourself with the streets of Vancouver. Like all events occurring in the downtown core, finding a parking spot during Gay Pride Vancouver can be difficult. Most patrons prefer to either take the bus into the festival, or catch the SkyTrain/Canada Line to Granville Station which is only a short walk to where the parade begins.
Since it's one of the largest parades in Canada (over 500,000 people are expected to attend this year), it's a good idea to get there early if you want an optimal spot to watch the celebration. Also, the crowds have a tendency to taper out near the end of the parade route, so if you don't find any luck getting a good lookout near the beginning, just start making your way to the end.

March With Gay Pride Vancouver's International Grand Marshals
Canada's gay and lesbian communities have always had their history of struggle and oppression; but with the country finally becoming more accepting toward differing lifestyles and sexualities within the last generation, we sometimes fail to acknowledge the struggle that continues within LBGTQ communities in different parts of the world. Gay Pride Vancouver remedies this issue by regularly designating the position of Grand Marshal to one or two persons from a country where people engaging in homosexual and alternative lifestyles are still persecuted. For instance, in 2010 Nikolai Alekseev - a resident of Moscow, Russia - served as Grand Marshal during the hight of Putin's anti-gay legislation.
Just because Canada is now starting to recognized that Love isn't illegal, doesn't mean that the rest of the world feels the same way; by appointing these International Gay Pride Ambassadors, Gay Pride Vancouver acknowledges that the struggle for equality continues. Until the day when every city across the globe can Celebrate Gay Pride, the Gay Pride Vancouver Parade will continue to appoint these brave and outspoken heroes.
Once The Parade Ends, The Fun Really Starts!
As much of a sight as the Gay Pride Vancouver Parade is, would you believe that it's only the start of the fun? Immediately following the end of the parade in Sunset Beach, the party kicks off and doesn't stop until the festival is over! What kind of other rollicking gay fun can be had at Gay Pride Vancouver? Read on and find out for yourself!
Dance Your Heart Out At Sunset Beach
The Sunset Beach festival is the biggest LBGTQ waterfront brouhaha you'll ever experience. Being the ending point of the Vancouver Gay Pride Parade, thousands of fun-loving guys and girls (usually around 125,000 people) gather at the beach to take in the various live acts, explore the wide selection of local vendors, or just hang back at the beer garden and enjoy the scenery!
Are You Ready For The Hottest Gay Block Party In Western Canada?
Vancouver is set to close down a portion of the city streets in Davie Village (between Burrard and Jarvis Streets) and hand it over to Gay Pride! Located in Vancouver's west end, and Widely known as the best place in the city for gay and lesbian entertainment, you can't help but have a good time at the Davie Street Block Party! With happy gay men and women dancing on the community stage on Rainbow Crosswalk, as well as a well-stocked beer garden ready to serve you exactly the refreshments you want, there is no reason for you to stay in during Gay Pride Vancouver! Celebrate with the rest of the LBGTQ community in Vancouver while meeting other fun partiers and exploring the Davie Street businesses!
And good news for anyone wanting to make Gay Pride Vancouver a family affair - those of you wanting to bring the smallest members of your family to Davie Street are welcome to do so from 4pm to 6pm when it operates under it's designated 'family time'. After 6pm however, it's time for the adults to play!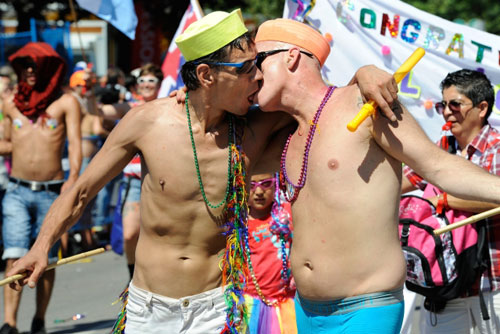 Start The Day Off With A Hearty Breakfast
Feeling worn down from all the partying? Need a bit of energy to keep your motor going? Don't worry, we've got you covered with the Terry Wallace Memorial Breakfast. Occurring at the Jim Deva Plaza in the heart of the Davie Village, the Terry Wallace Memorial Breakfast is a donation-based mean held in honour of one of the most beloved members of the Gay Pride Vancouver family, Terry Wallace.
As the manager of the Castle Pub - one of the strongholds of Pride activities during the 80's and 90's - Terry would use his establishment to help raise both money and awareness for the festival during some its more turbulent years. With out his regular lottery games or 50/50 draws, Gay Pride Vancouver wouldn't be the celebration it is today - and it definitely wouldn't be one of the biggest gay pride events in Canada.
After Terry's passing in 2004, Gay Pride Vancouver began holding a pancake breakfast in his honour - and it continues the tradition to this day.
Walk Or Run To Your Pride Fun!
For all of you sporty types, Gay Pride Vancouver is proud to host the annual Pride Walk And Run. Taking place on Sunset Beach (if you are lucky enough to be at the Sunset Beach Party after the Pride Parade, you'll remember where it is), the Walk and Run is sponsored by the Vancouver Pride Society and local running group, Vancouver Frontrunners.
The event itself encompasses two different runs. For those of you looking for a more relaxing time at the event, you can take part in the 5.5km walk/run route; anyone wanting to take the event a little more seriously can partake in the 10km running route. Although separate races, both routes take you through the breathtaking trails of Vancouver's Stanley Park.
Even though the Walk and Run is regarded as a sporting event, that doesn't mean participants and organizers don't know how to have fun. For instance, organizers didn't just place regular water stations throughout the event, they install Disco Water Stations - which is more like a party than a place to hydrate! Also, since participants in the Walk and Run still want to let their colors show, don't be surprised to see someone running around the park in an extravagant and exciting costume!
Party On The East Side Of The City
Just because Vancouver's west side is more commonly known for it's Gay Pride celebrations, doesn't mean the East Side can't party! East Side Pride is held in Grandview Park every year as a way to bring the entire city of Vancouver under the umbrella of Pride. At east side pride, there are many events for you and your LBGTQ friends and allies to enjoy. For anyone with an eye for art, the works of local artists and artisans are always on exhibition for purchase. As well, various stations and booths are set up in the park where you can learn about existing and emerging groups working with the LBGTQ community. A stage is also set up in the park where local bands perform relaxing acoustic sets to the pleasure of pride attendees. And if you stay long enough you might even be lucky enough to get a private serenade by one of the most recognized Drag Performers from Vancouver's East Side!
Like all parks in Vancouver, Grandview Park is completely accessible to anyone disabled or differently abled; and the cement pathways will be pleasantly shaded with tents to help anyone in a mobility device.
Pride Is A Great Time For A Picnic
Sometimes all you want to do is settle down and relax on the beach and take in the ocean air - thankfully, Gay Pride Vancouver offers this with their Picnic In The Park event at Sunset Beach!
Taking place as soon as the Pride Walk and Run finishes up, the Picnic In The Park is the perfect way to spend an afternoon. Kids and adults alike can take part in family games such as Drag Race and Tug Of War, while local DJs entertain attendees by spinning energetic music for the crowd. Also, a Pride Sports Bar will be up and running for anyone interested in alcoholic beverages. And Gay Pride Vancouver hasn't forgotten about your four-legged family members either; a donation-based Doggy Daycare will be available during the length of the picnic.
The Brockton Oval in Sunset Beach (where the Picnic is talking place) is completely accessible, and shade tents will be positioned throughout the area so Pride guests can take a break from the sun. And for anyone attending who happens to be a cyclist, a donation-based Bike Valet will also be on site.
In And Around Vancouver Pride
Gay Pride Vancouver aren't the only thing LBGTQ events that happen in the city during the summer. In fact, since Vancouver is home to more LBGTQ identifying people than any other city in Canada, you can expect to find events throughout the year catering specifically to gay culture. Whether you and your partner are planning on spending a romantic visit to the city, or you're a <single guy looking to have a bit of fun, you might want to consider extending your stay a little longer to check out these other events!
Get Artistic At The Queer Arts Festival
If you happen to be a more artistic type of person, you'll definitely want to arrive in town a bit earlier and take part in Vancouver's Queer Arts Festival. Running from July to August, the Queer Arts Festival is a place where LBGTQ artists get together to exhibit their works while celebrating gay culture. When attending the Queer Arts Festival, you can expect to meet fascinating artists, witness cutting-edge exhibitions, take part in various artist-run workshops, and view intriguing and erotic live performances.
Movie Lovers Get Their Fill At The Vancouver Queer Film Festival
The Vancouver Queer Film Festival started in the summer of 1989 as an incredibly small, volunteer run film festival that exhibited their films on a small screen. Since then, the film festival, and the audience for such groundbreaking works, has grown incredibly. Virtually unrecognizable from where it started, at it's current standing there isn't a larger LBGTQ arts showcase in all of Western Canada than the Vancouver Queer Film Festival! Running during the second week of August, the festival is committed to being the premiere showcase for queer cinema around the world.
Supporting Information For Your Gay Pride Vancouver Fun!
Think you might want to attend Gay Pride Vancouver this year? We don't blame you! But, before you do, you might want to take a look some of these Helpful Online Resources to aide you in planning your trip!
Gay Friendly Vancouver is the one-stop site for any kind of information on LBGTQ focused events and culture taking place in Vancouver.
If you think you might want to take part in some outdoor activities while spending time in the city, we suggest you head over to Gay Vancouver Sporting to see if there are any events happening while you're in town!
For information on what kinds of arts and culture events are happening in Vancouver at any point in time, you'll want to take a look at it's number one arts/culture magazine, Inside Vancouver Magazine
Lastly, if this is going to be your first visit to the city, be sure to visit the Tourism Vancouver Visitor Centre, where you'll be able to find information on travel, accommodations, and attractions in the city!