Gay Pride Providence
Providence, Rhode Island is home to many things: Roger Williams Park, Brown University, etc. With its artsy, left leaning colleges, you will find lots of gay-friendly activities including a vibrant social community with lots of great restaurants and clubs as well as a wealth of cultural sites to partake of. It is also the home to one of the nation's most widely sought after Gay Pride events. Providence ranks high on the list of gay-friendly places to live or visit and we are happy to give you the low down on Gay Pride in Providence. It is way more than just a college town; it is a strong and well-supported community going in to its fortieth year. We could not be more excited to bring you all the details and treats regarding the past, present and future of Gay Pride Providence.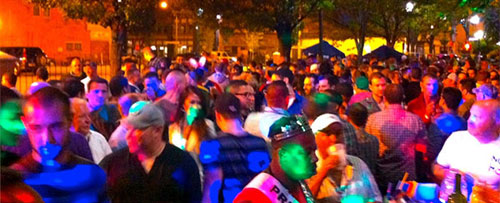 How Gay Pride Providence Came To Be
Gay Pride Providence has been very accepting of the homosexual community for a long time now. Two years ago, it hosted its very first same sex wedding. However, this does not explain how they got to where they are today. There is a long history here and we want to make sure that you get all the facts. The majority of gay history in Providence is about the state of Rhode Island as a whole. Almost a century ago in 1919, the first big gay scandal broke and it was about the U.S navy stationed in Providence. The navy enlisted several younger sailors to proposition other sailors for sex to weed out who was homosexual so that they could be ejected from the service. The major part of this scandal was that Franklin Roosevelt, the president (but also the assistant navy secretary at the time) is accused of improperly handling the situation. Later, in 1972 Bob Thibeault opened Club Gallery in Providence. The gay nightclub drew crowds every night it was open. This man single handedly broke the taboo against two men dancing together. In 1974, The American Baptist Churches of Rhode Island created a study to prove whether or not people in the gay community can lead pure Christian lives. They would come to the conclusion after studying the lifestyles and personal situations of many men including the life of Rev Robert Dreshler, who was living a secret homosexual life at that time, that they could. It turns out that "homosexuals are the persons for whom Christ died" This quote was taken from The Providence Journal.
In June 1976, Providence held their first Gay Pride Parade after a gay rights group sued and won their battle against getting denied to host a parade in Providence. The parade itself consisted of 70 people. Not too shabby for a first time parade. This was a huge step for the community. A step that has never been forgotten and set the stage for everything that followed. In 1977, Rev Robert Dreshler states "Perhaps some day we will be able to accept one another, each as a child of God, loved by God." He knew there was nothing anti-Christian about being a homosexual. God truly does love each of us equally regardless of sexual orientation. Six years later, the Rhode Island Alliance for Lesbians and Gay Civil Rights was founded and fought for the anti-discrimination protection laws that are in place today.
Finally in 1998, Rhode Island repealed its law that made sodomy a felony after 102 years of being enforced. With this wide variety of struggles, the community held strong with positivity and perseverance and finally made it. August 1, 2013 was the first day same sex marriages could take place in Rhode Island and of course, Providence. This was a big and proud first step to what would be the happiest day in Gay Pride history.
On June 26th, 2015 the U.S. Supreme court ruled that same sex couples have the right to marry anywhere in the United States of America. Hard work pays off. Which brings us to where Gay Pride Providence is today, a thriving community event that works hard and supports each other.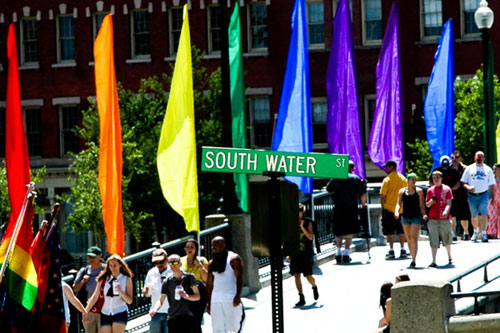 Where Does Gay Pride Providence Stand Today
Providence's former mayor David Cicilline was the first openly gay mayor of a US state capital in the history of the country. Providence is very much a proud and noble city that has 75% more gay and lesbian relationships than anywhere else in the US. When you compare that to the numbers over in San Francisco, those are pretty good odds. Today in Providence you can attend an Ivy League college during the day and party at EGO Providence at night. It is the perfect mix of culture, style and sophistication. Gay Pride Providence is proud to support its brothers and sisters within the gay community.
You will find lots of quaint neighbourhoods with things to do and see. There are several gay bars on the southern edge of downtown or in the adjoining jewelry district. With so many openly gay students, there is a constantly vibrant buzz in many Providence neighbourhoods. Although Providence has a smaller gay community than other Eastern cities, such as Boston, it still has a lively nightlife that you can enjoy when you visit here. There are also lots of outstanding restaurants and nightclubs to entertain you long into the night. Isn't this what celebrating Pride is all about?
Fun Things To Do At Gay Pride Providence
Whatever reason brings you to Gay Pride Providence, we are happy to have you visit us. In a city ripe with cultural history, beautiful forests and landscapes, and a very empowered lesbian, gay, bisexual and transgender community, you will have the best time you have ever had on the East Coast. Gay or straight, everyone knows that Providence knows that gay bars are where the party is at. If that is not your style, check out Roger Williams Zoo and feed the seals. What better way than to spend your afternoon with ultra cute creatures from the ocean. If culture is more your thing, then spend a day at the Rhode Island School of Design Museum. Gaze up at Picassos, Monets and Andy Warhol art work and be transported to a different time. There are often free talks about art and history there to enjoy.
Before you travel to Providence, you should check out their website devoted to GLBT activities, but sponsored by the local tourism association - Things To Do In Providence.
EGO Providence
One of if not the number one gay nightclub in Providence. With bumping beats every night, DJ Richie can spin the classic tunes you love with a solid mix of top 40 music. Plus free admission for everyone before 11 pm and reasonably priced drinks, you cannot beat these odds. So why not take a load off and have yourself a grand time. There is nothing better than a raging nightclub with beautiful dancers gyrating and bringing down the house.

Pizza J
This is usually the part where we would recommend some fancy restaurant, but let's skip fancy and go for comfort. Pizza J boasts 76 insanely positive reviews on Yelp, ranks 4 stars and from what we've seen they have the best pizza in town. It is a local's only hot spot that they do not mind sharing with friends from out of town. They even have a full bar and are 100% gay-friendly which makes this place the best spot for a casual date or a night out with friends.


The Stable
A local favourite because of their gigantic televisions and cheap drinks, People cannot stop raging about how amazing their red sangria is, although we are all pretty positive it is the bumping 90s music that brings in a crowd. Everything is reasonably priced. With only getting one dollar sign rating for costs, but 46 great reviews, this place is a hot spot. So grab a guy, split on a pitcher of their famous red sangria and dance the night away to 'getting jiggy with it'.
The Parade at Gay Pride Providence
The 40th annual Gay Pride Providence Parade will be held on Saturday June 28th. This year also commemorates the 40th anniversary of the Festival and Parade. It is a nighttime illuminated parade that starts downtown and wanders around the neighbourhoods. As one of the few parades held after dark, it is a sight to see. You don't want to miss this!
The Gay Pride Providence Festival
The Gay Pride Providence Festival turns 40 years old in 2016 and we plan on celebrating it the best way we can. Come visit Providence and you will witness the most epic Gay Pride Providence Festival the likes of which this town has ever seen. There will be Triple Crown performers, the Goddess Show featuring local women in the arts, the Triple Crown Pageant where we will crown Ms. Lesbian, Mr. Gay, and Miss Gay RI. This year is set to be the best year yet.Like every year the event kicks off with the raising of the Rainbow Flag at City Hall. While we may not have a national anthem for the gay community (yet), we certainly like to fly our flag!Thank you to everyone who comes out and makes Gay Pride Providence the best it can be every year. We have come a long way from the past and are moving into the future with high hopes and bright eyes. It is not just the people who attend the parties and festivals and the parade, it is the people who work nonstop every day to keep the community strong while fighting for the rights of lesbian, gay, bisexual and transgender people. With the strong support of the community, the city and the state we cannot wait to see what next year brings. Here's to another forty years!
How To Get Involved With Gay Pride Providence
Providence has been a stunning and ever growing gay community. With strong roots and a good support system, Providence is leading in connecting people together socially. Social clubs are booming in the area, networking groups are at an all time high and we have gathered up some information for you. If you are looking to relocate to Providence or just looking to meet some new people, we hope this helps.
The Southern New England Gay Men's Social Club
The whole point of this group is to spend time with very amazing and like minded people who like to go out and have fun. Gay men interested in anything from bowling, to drinks, to kayaking and hiking are welcome to join. This men's social group is the number one group to hit up if you are looking to meet some new men and get to know your city a bit better. On average they meet up about 3 times a month at different locations. Their last two outings were bar trivia and dinner at the Whiskey Republic and taking in the hit musical IF/THEN at Providence Performing Arts Centre for Rhode Island Pride.
Newport Gay Social Activities and Adventures
Just like the Southern New England Men's Social Club, this club likes to take adventures and have a good time. This is the place where you will make long lasting friendships. However, this club differs in that everyone in the gay community is welcome. While you might meet the man of your dreams here, you will also some meet some amazing lesbians, gay poly, bisexuals and transgendered people.
Rhode Island Association Gay Professionals (RIAGP)
The Rhode Island Gay Professionals is a non-profit organization that dedicates its time to professionals and owned business within the gay community both in Rhode Island as well as Massachusetts. They make it their mission to meet up every month to host networking events, luncheons, fundraisers and also have special keynote speakers. If you are starting a business or just looking to grow your network, this is the event to go to. You will not find another group like this one with 140 members who are willing to help each other out.
Providence LGBTQ Film Festival
This year marks the 2016 the 17th annual Providence LGBTQ Film Festival also known as the Flickers Rhode Island International Film Festival (RIIFF). Starting August 9th and going right through until the 14th, they have a jammed packed line up of indie and well-known directors showcasing their work. The RIIFF is now in it's 20th year and still going strong.

"One of the top 10 Short Film Festivals and Top 10 International Film Festivals in the United States. The RIIFF provides the kind of intimate festival experience that will change your life. Don't miss it. "
- Chris Gore, author of The Ultimate Film Festival Survival Guide, 2nd edition

With strong praise from all aspects of the film community they have grown substantially over the years. In 2015 alone they screened 265 films in six days, a record for most film festivals. What is even more impressive is that 66 of those films came from different countries and 34 came from different Gay Pride US states. That very year they had 73 World and North American Premieres , not to mention 5713 submissions. For all the amazing and revolutionary films that they chose, I bet there are 800 more that were just as great that did not make the cut.

We highly recommend if you like film and you happen to be around in August that you take some time out of your day and help out this groundbreaking film festival.
How You Can Get Involved With Gay Pride Providence
Helping your community and your fellow man can be very rewarding. You will meet new people, make new friends, maybe even get a date or two out of it, plus it looks great on your resume. Helping the community is reward enough though. While the social clubs listed above are a great place to start, helping them plan outings and keep track of members. It is fun and gives you a chance to meet people face to face.

If you want to help make a difference towards a brighter future than sign up to volunteer for the AIDS Project Rhode Island. Be a part of something bigger than yourself. Volunteering with the AIDS Project Rhode Island you will be on the scene at the Dining Out for Life fundraiser event, where your job will to recruit restaurants, gain some corporate sponsors and act as ambassadors to the AIDS Project. If you want to find out more information on how you can help out, shoot an email over to Christion Battey at [email protected] .
Getting involved with the community just got easier. If you would like to be a part of the parade or festival, vendor and volunteer registration can be found on their website at Volunteer Registration
For more information on gay friendly activities in Providence, check out Gay Travel
If you would like to learn more about the town of Providence and everything it has to offer click on this link Go Providence
If you want to learn about GAY PRIDE ORLANDO events, CLICK HERE