Gay Pride Austin, TX
We are very excited that in the last year same-sex marriages have become legal in Austin, Texas along with majority of other American states. Progress is getting made and with great progress should come one hell of a party. 2016 Gay Pride Austin is happening August 20-27 and we are excited to be helping you get a little history, meet some men and have a blast at one of the largest gay pride celebrations in Texas. Not partying and supporting your freedom with gay pride would be unconstitutional just like the legislator that stated same sex marriage should be illegal. So, let us get started with this article on how progressive Austin, Texas is becoming in the Gay Pride community.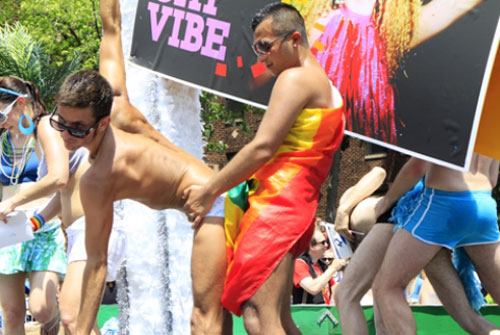 This state knows how to handle themselves with pride and dignity and an ever loving support of the gay community. Knowing where to go and what to do is just the first step in having a good time at the Gay Pride Austin festivities. You need to learn about what it took to get Gay Pride Austin established in the first place. Gay Pride Austin has been so proud and happy to have been a part of the homosexual alliance for the last 25 years. We love to be able to be a part of this festival every year. It's rewarding to see our members interact with new men. A recent study shows that Austin, Texas ranks as the fourth largest gay community and non-discriminating protections in Texas and 11th in the entire United States. That is not bad considering the history.
Do not worry. We will be discussing what kind of history Austin has gone through in order to get where we are today. Never forget that we fought tooth and nail to be treated as equals; we deserve to take Pride in what we do and love. Not every state had it as hard as Texas did to obtain the gay-friendly status they deserve. This is why we are showcasing them and all their triumphs and strength. Now we are able to live in peace, celebrate with an unabashed freedom and marry who we want. Take a closer look at the city that overcame the odds. Gay Pride Austin is a cause for celebration.

A Little Bit Of History About Gay Pride Austin
It is no secret that in Texas the homosexual community has not had it easy, but progress had been made over the last 30 years. In 1993, the Texas Legislature added a line in the Family Code stating that marriage licenses won't be issued to same sex couples. In 1997, four years later, it was officially voted that couples of the same sex could not obtain a marriage license. In 1993, the Austin Pride events went statewide as part of Texas Pride Weekend, and they crushed it in the best sense possible. The event itself included mock weddings, which were a huge success and other acts such as volleyball tournament and a lesbian kissing booth.
In 1970, Austin, Texas's gay pride community organized themselves and 20 years later in 1990 they celebrated their first Gay Pride Austin Events. In 2014, the Austin Gay Pride Parade marched down Congress Ave and featured over 3,000 patrons and over 125,000 spectators. In the last 20 years, the numbers have doubled in size and the amount of spectators that come out to just show their support have gone up increasingly, all things considered. Austin, Texas today is proud to be a part of the every growing and expanding gay pride community in Gay Pride.
If you would like to learn more about gay history in Austin we recommend the thesis written by Eric Jason Ganther titled, "From Closet to Crusade: The Struggle for Lesbian-Gay Civil Rights in Austin, Texas, 1970-1982". It may have taken longer than expected, but we have gotten to a place where we can be free to be who we are and love who we love.
If You're Looking For A Good Time At Gay Pride Austin Look No Further
In this down home country western town, also known as the capital of the fine Lone Star state of Texas, there are plenty of ways to kick the dust up and stomp your boots. We took our research very seriously in helping you find a romping stomping good time with some of the local establishments. We have compiled a list of places to adventure to, information on the parade and just some good ol' fashion fun. We want to make sure you get the best bang for your buck and meet some great new people in the process. Austin is a beautiful city and not just in the gay district.
Gay Pride Austin's List Of Things To Do While You Are Here
While we cannot plan your entire trip for you, we want to give you some well-informed information on what it means to have gay pride in Austin. It is not just partying and dressing up in drag, it is a community that has gone through so much to finally be acknowledged as one of the top gay friendly cities in Gay Pride. Now that the United States have civil union protection for same sex marriages we can breathe a little easier here in the Lone Star state of Texas. We hope you have a good time and maybe even learn a little more about who you are and where you come from as a gay man.
The WERK Fashion Show
What better way to celebrate than with a fashion show? Independent and established designers like to showcase their latest and greatest trends for your visual enjoyment.This event goes down on August 20th. Be sure to set the reminders in your phone.This year marks the 4th year of the WERK Fashion Show that is held every year at Gay Pride Austin. Starring designers from the hit television show Project Runway among other well established designers will be there. Not only will there be full runway collections from designers, there will also be live musical performances and a silent auction, not to mention a special celebrity guest emcee, so stayed tuned to find out more on this amazing, once a year spectacular event. As well this production raises money for The Austin Gay and Lesbian Pride Foundation (see below for more information on the AGLPF). This organization has tripled in size over the last three years and will continue to grow now that same sex marriage is protected by the United States constitution nationwide.
The Austin Gay and Lesbian Pride Foundation (AGLPF)
The Austin Gay and Lesbian Pride Foundation(AGLPF) is a non-profit organization 100% run by volunteers of all ages and sexual orientation. Their mission is to educate and connect the gay, lesbian, bisexual, and transgender community together, giving them the resources they need to succeed in life. They rely financially on donations from sponsors and the patrons of the festivals to help offset the costs of the festival every year. They give back to the community by discounting festival booth prices to encourage smaller organizations and vendors to come out and support the cause and spread the word. The AGLPF has also helped to recruit volunteers and help raise awareness for issues facing the LGBTQ community.
The Gay Pride Austin Festival
This is guaranteed to be the hottest event in all of Texas. It is, of course, the largest annual LGBTQ fundraising events in Central Texas with dozens of non-profit organizations in tow and multiple social clubs using the festival to inform and interact with patrons every year. Since 2011 The Austin Gay and Lesbian Pride Foundation has been able to donate over $100,000 of festival proceeds to so many thriving non-profit organizations. With this upcoming year of Austin gay pride, we hope to raise even more money to help support the non-profit organizations and the community in general.It's not all business though, with two stages featuring an amazing line up of performers. There are also vendor booths for non-profit and local establishments, face painting for children (or maybe just the child in you), and activities for people of all ages.
Gay Pride Austin is not just for those of you who are single or in a relationship. It has become a very popular family spot to bring your kids and support family members and teach the newest generation that being homosexual is not a crime and should not be looked down upon, but instead to be treated as just the same as heterosexual relationships.
The Gay Pride Austin Parade
There are probably a million different reasons why anyone comes to Austin gay pride, but we here at manplay.com can guarantee that everyone has this in common. They all want to go to the Gay Pride Austin Parade. It's the biggest and best part of Austin Pride and this year it will be featuring over 120 entries and floats.
This year the parade will have two celebrity emcees. At the Paramount the parade features emcee Alyssa Edwards from RuPaul's Drag Race. Over at the rooftop of Rain nightclub, Bobby Cook will be emceeing it up there all day. Both locations are featuring live performances and the best time you ever had. If this is not enough reason to convince you to go, then how about this piece of information pulled off the official facebook page of Gay Pride Austin? "Proceeds from Austin Pride are donated back into the community via the Austin Pride Cares program!! Since 2011, AGLPF (The Austin Gay and Lesbian Pride Foundation) has donated over $100,000! " That alone should be reason to celebrate such a thriving community of care and acceptance.
The Gay Pride Austin Community
We all know that Austin is one of the most progressive and gay-friendly towns in America. It shows throughout the city and throughout its community. With over 70,000 gay men living in Austin it's easy to think that this town embeds the ideals of a gay-friendly neighbourhood. With growing towns within Austin that are all becoming gay-friendly, it's becoming a nicer place for the homosexual community to settle down. It has often been said that when you come here, you are coming to Austin not Texas, that we are just a blue dot in an entirely red state. We help each other out and give those who are homosexual or transgendered somewhere to go and feel good about themselves. Our community is open and accepting of everyone no matter what their age might be. The Out Youth program promotes the physical, mental, social, spiritual and emotional well-being of our younger generation of teenagers figuring out their bodies. They create an environment that is very supportive and positive towards body image and becoming active in their communities. It is a safe haven for youth to get the support they need. The program is run by therapists and volunteers of all ages to help your teenagers or college student feel at home with themselves.
Greasy Ball Bingo
If you are looking for something that combines games and drinking with live performances then look no further as Greasy Ball Bingo at Gourdoughs is the place to be. Famous drag queens, prizes and a raffle benefitting Gay Pride Austin are just a few perks this bar offers. So why not drop by for a drink or two and have some of the most fun you can have? This bar supports the local community and promotes awareness for the LGBT life style choices.
Enjoy Austin Pride This Year
We are overjoyed with the constant success of Gay Pride Austin year after year. Having you there will make it a million times better. ManPlayis so happy to be one of the leading news and dating websites on the homosexual online dating scene. However, you and your friends have decided to spend your weekend or spend a vacation, we hope that you celebrate it right. Austin Pride is the place to be in the state of Texas.
If you would like to meet local men in the Austin, Texas area, check out Manplay.com. We are here to help you find that someone special both in person or online. We have a special system in the place to help you find exactly what you are looking for in your area. You can find exactly what you want and need in your life. Never spend another vacation or Gay Pride event alone. Meet that amazing partner today.
To purchase tickets to the vent going on at Gay Pride Austin please visit Austin Pride
If you're looking to meet that someone special while in Gay Pride Austin, check out ManPlayfor a wide selection of local men.
If you want to learn how to volunteer this year, please contact Gay Pride Austin
For information on the nightlife and events at Gay Pride Austin this year, check out Gay Pride Austin Nightlife
To learn About GAY PRIDE BALTIMORE events, CLICK HERE.