Gay Pride Boston
Manplay.com will give you everything you need to know about Gay Pride Boston. The history of Pride, what's happening when and where and how to find it! Keep reading to learn more and plan your next Pride experience to remember in Boston.
History Of Gay Pride In Boston
In the late 1950s and early 1960s, Park Square and the Greyhound Bus Station were a hub for gay activity. The Statler Building housed the Hayes Bickford, which was a popular after-hours gay club in the 1950s. The Punch Bowl also made its home in Park Square. It was one of the most popular gay bars of the 1950s and 1960s. The Punch Bowl entertained huge crowds. There was even a code for when the police were on their way - they would flash the emergency lights, this meant you needed to stop dancing with your gay partner and find someone of the opposite sex to dance with or sit down and wait for them to leave. There was always a line outside the Punch Bowl with people of all kinds waiting to get in, students, a few drag queens, hustlers and some professionals too. Unfortunately, the city bought the property in 1970, and the Punch Bowl was closed down.
Officially the first Gay Pride Boston March to happen, was on Saturday June 26, 1971. It as a very political event with an entire week of gay pride events following it on various issues that affect the gay community. This first march was a statement, it had four main stops that included the Bay Village bar Jacques, Boston's Berkeley Street Police Headquarters, the State House on Beacon Hill, and St. Paul's Cathedral on Tremont Street. This route was intentionally set up in this manner, a church, a gay bar, the police, and the State House, to make a very strong point, gays wanted oppression ended for themselves. Demands were presented at each stop. At the State House stop, demands were made to include gays in Civil Rights Legislation and dispose of anti-sodomy statutes that were out of date. During the first gay pride march, there were different demands read out at each of the four stops. These demands were specific to each carefully chosen location.
The first stop on the Gay Pride Boston March was at the Jacques, a gay bar since the 1940s, this stop was important because of the discrimination and poor treatment of lesbian guests to the bar. The list of demands read outside of the Jacques read as follows:
1. That the upstairs be for women only and that all men there must be accompanied by a woman.
2. There should be easily accessible fire escapes-without locks on them.
3. That conditions, especially in bathrooms, be made more sanitary.
4. That we be allowed to disseminate literature of interest to the gay community inside the bar.
5. That there be a woman bartender.
6. That we have control of the music played in Jacques; that we be allowed to choose records to go on the jukebox.
7. That Jacques recognize a negotiation committee to implement these demands and others that may come up in the future.
The second stop on the first Gay Pride Boston March was at the Boston Police Department Headquarters. The list of demands read outside of the Headquarters read as follows:
1. That all entrapment immediately cease.
2. That vague laws, such as those against loitering, disorderly conduct, and lewd and lascivious behavior not be used to harass homosexuals.
3. That the police provide protection, rather than harassment, in the areas around gay bars.
4. That representatives of the police force enter into immediate discussions with representatives of the homophile organizations to facilitate communication and understanding and implement the above demands.
The third stop, of the first Gay Pride Boston March, was at the Massachusetts State House. The list of demands read outside of the State House read as follows:
1. That all the following laws pertaining to homosexuality be repealed: Mass. Chapter 272, S. 34, S. 35, and city ordinance against same sex dancing together.
2. That legislation be enacted to end discrimination against people in employment, housing, and in the use of public facilities because of their sexual orientation.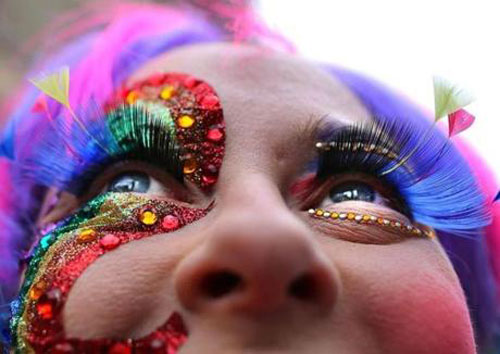 Finally, the fourth stop on the first Gay Pride Boston March in 1971 was outside of St. Paul's Cathedral. The list of demands read outside of St. Paul's read as follows:
1. That the church accept qualified gay persons for ordination and other religious work.
2. That the church include comprehensive courses on human sexuality in seminary training, and for men and women already in religious work.
3. That it develop and use curriculum material on human sexuality in Sunday School or in Church School.
4. That the church recognize and bless the love of homosexuals as it does for heterosexuals.
5. That the church lend its support to the reexamination of the institution of marriage and the family, which in its present form legally discriminates against homosexuals.
6. That the church lend its support to the reexamination of roles based on sex, with particular attention to the fact that its support of these sex roles has oppressed women and homosexuals.
It's interesting to note that St. Paul's has a long history of supporting the Boston GLBT community. The first public healing services for people with AIDS were held there. They, the episcopal faith was one of the first to recognize same-sex marriage as a Christian group. They also created one of the first same-sex marriage ceremonies and they allow their leaders to be gay.
From 1973 - 1982, The Gay Community News, a weekly leftist paper was one of the first major gay and lesbian weeklies in the country. The paper ran out of what has been dubbed as one of the 'gayest buildings in America', the Broomfield Center. The Foundation housed the site for the paper as well as programs that provided outreach to gays in prison as well as promoted gay literature.
Elaine Noble is thought to be the first openly gay American politician and GLBT activist. She served two terms in the Massachusetts House of Representatives as a representative for the Fenway-Kenmore/Back Bay Boston neighborhoods starting in January 1975. In 1978, led by gay attorney John Ward, a small group of people met at the Old West Church in the basement and began GLAD (Gay & Lesbian Advocates & Defenders). This group has since become known as the pioneering group of lawyers to represent gay interests in court. In 1980, The History Project was founded to archive and protect the gay history of the city of Boston. The History Project started in 1980, a group that was determined to preserve the gay history of the city, marched for the first time in Gay Pride Boston. The Irish/American Gay, Lesbian and Bisexual Group of Boston marched in the St. Patrick's Day Parade in 1993, even though organizers of the parade tried to stop them. Unfortunately in 1995, the US Supreme Court ruled in favor of the organizers of the St. Partick's Day Parade, allowing them to ban gay marchers.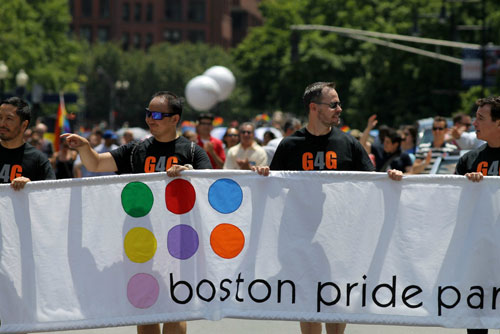 Gay Pride Boston Attendance Stats
It's estimated that about 300 people attended the first gay pride march in 1971.
The estimated numbers for the 2014 Boston Gay Pride Parade and Festival are as follows:
25, 000 marchers in the Boston Pride Parade
400, 000 spectators at the Boston Pride Parade
150, 000 guests of the Boston Pride Festival
The reported Ethnicity from the 2014 Boston Gay Pride Parade:
83% White / Caucasian
7% Hispanic / Latin
4% Black / African-American
3% Asian / Pacific Islander
2% Other ethnicities
1% Native American / American Indian
The reported Gender Identity from the 2014 Boston Gay Pride Parade:
48% Female
40% Male
5% Trans
4% Queer
2% Other
1% Intersex
The reported Sexual Orientation from the 2014 Boston Gay Pride Parade:
74% Gay/Lesbian
12% Bisexual
7% Hetero/Straight
4% Pansexual
2% Other
1% Asexual
Boston Gay Pride celebrates 46 years since it's the first march in 2016.
BAGLY (Boston Alliance of Gay, Lesbian, Bisexual, Transgender Youth) celebrates its 36th birthday in 2016.
GLSEN (Gay, Lebian, and Straight Education Network) celebrates its 36th birthday in 2016.
The History Project celebrates its 36th birthday in 2016.
The AIDS Walk Boston celebrates 31 years of walks in 2016.
The Bisexual Resource Center celebrates its 31st birthday in 2016.
The Moving Violations MC, a lesbian motorcycle club celebrates its 31st birthday in 2016.
The Boston Dyke March celebrates 21 years of marching in 2016.
Gay Pride Boston Events
Gay Pride Events:
Mister & Miss Boston Pride Pageant
This event is typically held a few weeks before Boston's Gay Pride Parade. The event is hosted/emceed by a former winner or famous drag queen. There are several special performances by the past Mr. and Miss Boston Pride winners. The pageant has contestants compete in a Creative Presentation in Theme, Talent, Evening Wear / Gown and on stage Q & A. The contestants are judged by a panel of distinguished judges with a celebrity judge as the head judge. For 2016, there is a new special award, the Ariel Maranda Gibbs Congeniality Award, in each category for the contestant who shows great Kindness, Helpfulness, and Good Sportsmanship.
Flag Raising Ceremony
Boston Pride Official Kick Off Event
Location: City Hall Plaza, Boston
To mark the start of Boston Gay Pride Week the raising of the Rainbow Flag over Boston City Hall. Members of Boston's LGBT community along with their allies gather to raise the Pride Flag, to honor the diverse community. Typically the mayor, the Pride Parade Marshals, the Grand Marchal, the Boston Pride Committee, Boston City Council members, the Boston Police Department, several other elected officials and special invited guests are all part of the festivities.
Pride Night @ Fenway Park
Location: Fenway Park, Boston
Kick-off event to Pride Week.
Started in 2013 to encourage gay, lesbian, bisexual, transgender and ally baseball fans to enjoy their favorite past time openly, at THE Fenway Park! Boston Red Sox home baseball game. Ticket proceeds go to benefit Boston Pride Organizations. There is also a special Pride Night VIP with a meet and greet with a celebrity as well as a Food and Beverage buffet. A baseball game that is completely LGBT friendly.
Pride Day @ Faneuil Hall Marketplace
Location: Boston Faneuil Hall Marketplace
The West end of the Marketplace has free live entertainment for people of all ages.
The entertainment lineup changes each year with something for everyone to enjoy. The events for 2016 begin at 11am with Mr. & Miss. Boston Pride to entertain the crowd and continues until late afternoon with various performers, bands, and even a free Zumba class!
Pride Lights
Location: BCA Plaza
BCA (Boston Center for the Arts) and GBBC (Greater Boston Business Council)
Bathe the Plaza pink in honor of Pride!A catered event night with live entertainment including the Boston Conservatory, speeches and presentations, an interesting MC to keep the night lively and on point and a tree lighting at dusk.
Queeraoke
Location: Midway Cafe, Jamaica Plain
Annual Oral Debauchery PRIDE Queeraoke
The event is open / welcoming to all.
Named Boston's Best LGBTQ Night in 2015, Best Karaoke night 2015 & Boston's Best Lesbian Night 2014. Queeraoke is full of mischief and shenanigans. Featuring a live ALL Queer Performance, Queeraoke, Drag Performance and Photo Booth. There are themed drinks, door prizes, Boston Pride Giveaways, gift cards, Queeroake goodies and more!
Boston Dyke March
Location: Boston Common, Parkman Bandstand
Started in 1995, the Boston Dyke March takes place the night before the city's Gay Pride Prade and celebrations. This march began as a way to point out the shortcoming of the large scale gay-rights march. The march is intended to be welcoming to all sexualities, genders, races, ages, ethnicities, sizes, economic backgrounds, and physical abilities. This march is to express the need and want for political and social change.
Boston Pride Festival
Location: Boston City Hall Plaza
This event is a great way to get in touch with members of the gay community and to connect with old friends and make new ones too. There are over 100 vendor booths that offer an assortment of rainbow-themed merchandise, as well as supportive community businesses and organizations. There is also a free concert with both local and internationally know artists. At the end of the Pride Prade, keep marching to the Pride Festival to continue enjoying the festivities.
Boston Pride Concert
Location: Boston City Hall Plaza
An outdoor concert in Boston City Hall Plaza. Entertainment and excitement are extended to parade spectators who would like to continue with the festivities of the day-long celebration. There are rock bands, singer/songwriters, a LGBT activist, poetry, a reggae band, jazz musician and a DJ slated to perform for 2016.
Boston Pride Parade
Location: Copley Square to Boston City Hall Plaza
This event is the heart and soul of Pride Week for Boston. It started as a political march and has now evolved into a celebration. The parade showcases colorful floats, bands, corporate companies who support the LGBT community, school groups, church and community groups and sports clubs and teams. There are always floats that will shock and impress. Plus the joint Black and [email protected] Pride community will feature great groups as well, all parading in costumes that are vivacious and in true Carnival tradition.
Boston Pride Youth Dance
Location: Boston City Hall Plaza
Under the tent. Youth Dance with DJ for all youth 21 & under. Door prizes and contests at the dance.
Back Bay Block Party
Location: Boston, St. James Street
The largest block party of Boston Pride Week. Thousands of party goers close out Pride week in the best possible way. Meet amazing people and dance like no one is watching for the last taste of Pride week.
JP Block Party
Location: Jamaica Plain, Perkins Street
An outdoor fun filled afternoon with vendors, food, cash bar and dancing! Something to do for the whole family, face painting, annual Divas, Dogs and Drag Show and dancing in the street.
Official Gay Pride Boston Event Sites
-
Boston Pride
-
Gay Cities - Boston Pride
-
Boston Pride Facebook Page
-
Boston Pride Twitter Page
-
Gay Pride Boston 2016
-
Gay Pride Boston Overview
Share Boston gay pride with everyone you know. Use social media, email, snail mail, your voice, it really doesn't matter. We want to get the word out about one of the best and and biggest events in Gay Pride history!
To find out about Gay Pride New York, Click HERE.