Gay Pride Manchester
Gay Pride Manchester hosts one of the biggest events annually, with celebrity guests and thousands of spectators. Manplay looks at the history of it all. When it comes to gay pride, Manchester is the place to be. Some of the UK's biggest LGBT celebrities are in attendance at this event. Gay Pride Manchester has been growing in number and popularity since the late 1980s, and is now an essential part of the city's culture and economy. 
History Of Gay Pride Manchester
Manchester Pride has evolved from its origins as a protest music festival. Now, Manchester Pride is a yearly summer event in the gay village of Canal Street. It features a parade and festival which attracts thousands of spectactors and participants to the city. Gay Pride Manchester is one of the UK's longest running, and has boosted awareness around the North for decades.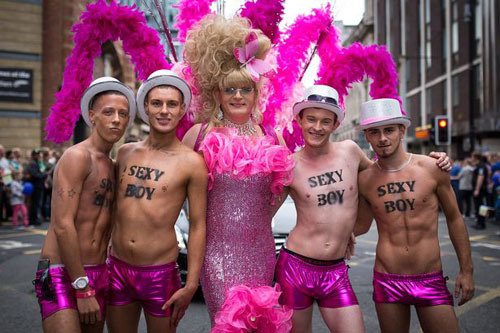 The first documented pride event was called the Northwest Campaign for Lesbian and Gay Equality, and took place in 1989. There was a concert called Love Rights which coincided with a march through the parks which ended at a rally with stalls in Albert Square. The idea behind the festival was fun and awareness, but it was also put on in opposition to Section 28 legislation. Pride took a complex move when it became a street sale with booths for charities, which were in place to raise money for gay community health organizations and raise awareness of these issues. Some of those involved at this time denied that this was part of Northern Pride, and was simply a fundraiser. This aspect of the Pride event has since moved to Sackville Park, and now includes various carnival activities and fireworks for guests and donors. 
Gay Pride Manchester will have a new feature in 2016, an ongoing art endeavour that includes the entire city of Manchester. The project is called OUT!, and debuted online in 2015 to gather archives and timelines of peoples' stories about their struggles and triumphs being gay in Manchester. Using these, users can plot their own interactive maps around the city and make their own Pride walks, and experience others' stories and memories as they go. The idea stems from the 2003 heritage trail that is marked using 19 rainbow coloured tiles plotted around historically important locations in Manchester. 
Gay Pride Attendance Statistics: Manchester
2015 was a huge year for gay pride in Manchester. There were more than 32 events put on throughout the city for Pride, with over 43,000 participants. In terms of social media attention, @manchesterpride was mentioned on Twitter 15,695 times, with 105,250 incoming messages on all social media platforms. News outlets worldwide covered the event as well. More than 800 international news articles were written about Manchester Pride. Awareness of the event has all but exploded!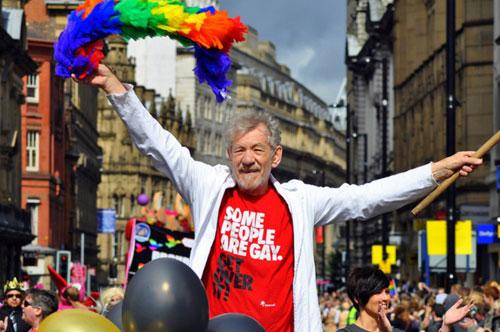 Manchester Pride had 206 volunteers last year, who put in roughly 1,398 hours unpaid. As far as funds being raised for the Community Fund, £146,000 were tallied, with 37 grants being distributed to deserving organizations. Looking at the numbers from the initial start of pride events in Manchester, it's safe to expect 2016 to have record numbers in attendance. 
Gay Pride Manchester Events
Pride events in Manchester start as early as May, and range from all kinds of activities. From marathons to the whole Big Weekend, there's bound to be something for everyone at Pride! The Big Weekend is a packed 3-day festival full of different events and activities.
May 17th: IDAHOT
Standing for International Day Against Homophobia, Biphobia and Transphobia, this day is a full day of activities geared toward fundraising and awareness. Activities range from bake-offs to a 10K run, so there's something for everyone to do while raising money for The Manchester Community Fund. 
May 22nd: Run with Pride
This fun run is a charity fundraiser in the Great Manchester Run to raise money for The Manchester Pride Community Fund. Registration is £38, and runners of all abilities are welcome to join Team Pride!
May 19th: Manchester Pride Spring Benefit
This black-tie event is a glamourous evening of rubbing elbows with business tycoons, corporate clients, and celebrities all getting together to raise money for pride. Possibly the glitziest event at Gay Pride Manchester, this is where the who's who of the LGBT community will be. Featuring a red carpet, and taking place at The Bays, Victoria, at the historic Warehouse Hotel. Doors open at 19:00. The Spring Benefit 3-course menu is a decadent as could be expected: 
First Course
:
Pressed Organic Kiln Roast Salmon and Soft Herbs, Fennel Salad, Avocado, Radish and Citrus Vinaigrette 
or
Compressed melon, torn Buffalo Mozzarella, Black Olive Dust, Wild Rocket (V)
Second Course
:
Seared Breast of Goosenargh Chicken with smoked Garlic Dauphinoise, Celeriac puree, Rainbow Carrots and Pan Jus 
or
Shiraz Poached Late Season Pear & Welsh Goats Cheese Tart with Smoked Paprika, Toasted Walnuts and Endive Salad (V)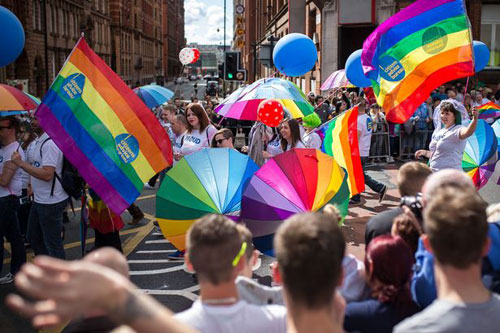 For Dessert
:
Milk Chocolate Mousse, Blood Orange sauce, Shortbread crumb and Biscuit
August 26th, 27th, 28th: The Big Weekend
This is the big event! Over the August Bank Holiday this big hurrah will take place in the Gay Village. Musicians and performers will be putting on shows for the thousands of supporters who gather to celebrate. Wrist bands are required for entry so make sure to purchase a ticket!
Will Young
One of the UK's hottest new pop stars, Will Young debuts at Pride with some of his top hits off his newest album. "85% Proof" hit number one on the Official Album Chart on it's release, and with a hugely successful tour, Will Young makes his way to Manchester for Pride!  
Judge Jules
Former law student-turned hugely successful DJ, Judge Jules is hitting the stage at Gay Pride Manchester this year! Recipient of a ton of awards, including being named at Top DJ in several radio polls. Judge Jules was ranking #3 DJ worldwide, so make sure to take in the musical magic of this DJ at Pride this year.
Heather Peace
Mostly known as an actress in some of the UK's top televisions shows like Prey, and London's Burning, she was most recently seen in the award winning film Never Let Go. Heather has recently forayed into singing and song writing, having released her debut album. The Thin Line has received rave reviews, and topped BBC Radio 2's 'Uncharted Territory'. Welcome Heather Peace to Pride 2016!  
Ben Pearce
Keeping to his roots as an underground DJ, this incredibly talented artist is at Pride for the first time this year! His extensive knowledge of music and melody of all kinds show through his unique turnstile anthems, so don't miss this party. Ben Pearce is set to be the UK's newest and most successful music producer and DJ. He has shared the stage with other names like Tensnake, Simian Mobile Disco, and Claptone. Ben Pearce has a renowned talent to mix his own music, as well as remix songs from other artists to create an entirely new sound. Do your ears and body a favour and check it out! 
Katy B
A woman of many names, Katy B (or Baby Katy, or Baby Katie) is an electro-pop artist who is the person to listen to if you want to dance! With a sound comparable to Gwen Stefani, Faith Evans, and Mary J. Blige combined, she's a star on the rise from an already successful music career. DJ NG produced her biggest 2006 hit "Tell Me", a song which will surely be rocked at Pride this year. If you want nothing more than to dance the night away to retro and electronic inspired baselines, then check this girl out! 
Fleur East
Flour East is X Factor UK season 11 runner-up and fan favourite who found huge success after the show. Simon Cowell back her from day one, and continued to do so even after she didn't officially win the show. She clearly came out on top! A few years after her season of X Factor, she signed on to Simon Cowell's record label to record her debut album. Last year she released her very first album, containing some of the best jams of the year. Taking a ton of inspiration from funk music and the King of Pop, Michael Jackson, her sound is a fun throwback to the best sounds of past era, updated to fit modern day tunes! Get your tickets early so you don't miss out on this great show. 
K-Klass Live
K-Klass are home for Pride this year! Originating in Manchester, this group of dance music engineers returns to celebrate with friends and family. This group have blown away rave parties at some of the hottest and most famous clubs around, like Ministry of Sound, Cream, and The Hacienda. Now they're here to rock your world and make you dance your ass off. The group has over a decade of performances behind them, and they get better with every one. They've had 5 of their tracks in the UK top 40 hits list and even received a Grammy Nomination for their talent. This year at Pride their show will be live dance classics themed, so come out and enjoy! 
David Dunne
Performing this year at Pride David Dunne presents the Official Paradise Factory Classics! David Dunne's career has spanned the past two decades, and he's been responsible for some of the best evolutions of sound in the dance music since the late 1980s. He's mentored some of the top DJs, being called a "DJs DJ" by his peers, and applauded by countless magazines and hit lists. No other DJ or artist has earned his place in the music industry like David Dunne, having produced or recorded roughly 2,000 dance radio shows and countless more dance tracks. Please join us all in welcoming the multi-talented artist to Gay Pride Manchester in 2016, this is a show you most certainly don't want to miss! 
DJ Paulette
Another decades-long veteran of the dance music industry, DJ Paulette has had top careers in multiple countries! She's topped the charts in three different countries, captivating the world with her unique sound. She has performed at some of Europe's biggest, hottest, and most famous clubs as a resident act, and spun in support of the best DJs and artists in the music scene, spanning multiple genres. She's helped tracks for the likes Afrojack, David Guetta, Norman Jay, Bob Sinclair, Dumont, Gilles Petersen, and Laidback, just to name a few. This year she's at Pride to spin some of the best music you've ever heard in your life, so get down and dirty at this party! 
August 27th: The Parade
The Pride Parade takes participants all over the city of Manchester. Spectators can line the street anywhere and wave to the 3,000 participants. Rainbow flags and confetti will be in abundance so dressing up festively is more than encouraged! Watching the Parade is free.
The Sackville Boutique Stage
If you're looking for a quieter getaway in park-style setting, then visit the Sackville Garden Boutique Stage. It's a place to chill out and drink a beer, have some snacks and enjoy the live entertainment. There are a number of some of the best food trucks in the country in the area, so grab some grub and hang out here. 
August 28th: The Vigil
The final event of Pride Weekend is the Candlelit Vigil. This event is in place to honour and commemorate those in the community affected by HIV and illness. It's to show support and raise awareness while trying to erase stigma around these issues.  
Do you want more information on Gay Pride Manchester or Pride events in other areas of the UK? Look no further:
-
Manchester Pride
-
Visit Manchester - Pride
-
Pride In London