Gay Pride Baltimore
When you think of Gay Pride, Baltimore isn't necessarily the first place that comes to mind but it really should be. The origin of Gay Pride Baltimore is 41 years old and dates back to 1975. In recent years, Gay Pride Baltimore has become increasingly more popular. It has grown from a small get together to the huge event it has become drawing in more than 30,000 people each year. There have been more floats, more patrons and tons more acceptance. Manplay.com is proud to give you the information you want to understand the Baltimore gay pride events in 2016.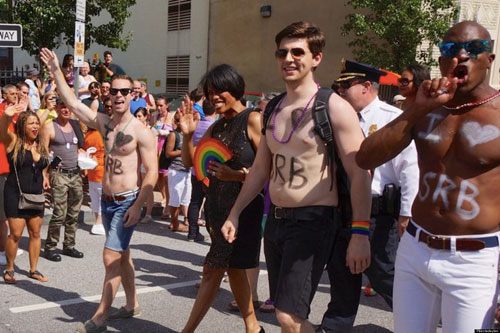 This city in Maryland has really stepped up in becoming one of the hottest places to attend Gay Pride, but also just a great location for whatever your gay pride needs might be. Connect with like-minded people like yourself and spark up new friendships and maybe even meet someone special. The journey has been long from where it started to where is at today. A journey that has embraced change, strength and positivity.
There have been lots of supporters of the Gay Pride Baltimore area, including celebrity John Waters, an openly gay man and proud Baltimore native. With his quick wit and thin mustache he is easy to spot in a crowd. He has made it his mission to film most of his movies in Baltimore and continues to raises support for the gay community. You might even be familiar with a little musical Hairspray that's written about Baltimore, featuring the hit song "Good Morning, Baltimore." He wrote and directed it and in the 1988 movie, it starred the famous drag queen Diving, whom you may have seen in a few of his cult classic films.
If you want to check out more about John Waters and his impression on Baltimore, check out the American Visionary Museum. More details on the American Visionary Museum below.
Gay Pride Baltimore Festival
While the parade itself takes place on July 23rd, the festival takes place all week. Baltimore is lit up each night in commemoration of their proud gay community. Every day there is something special happening throughout the week leading up the fabulous parade that tops itself each year. With events like a baseball outing to watch the Baltimore Orioles at Camden yard, Pride casino night and the crowning of the Pride King and Queen. Oh, and we cannot forget our personal favorite: the high heel race! Trust us, it is harder and way more fun than what it sounds like. No heels less than two inches allowed. Bring your own shoes and get out on the street and race for the win!
With easy access to public transit, a helpful community and smorgasbord cultures sites and attractions, paired with the beautiful skyline and vibrant city, this is the place to be. Baltimore boasts a great downtown to go shopping or grab a bite to eat and make some new friends. This year the parade is going to be bigger and better than ever. The city's main corporate tourism website boasts about Gay Pride Baltimore in the section on neighborhood festivals. They are expecting more than 50,000 visitors to this year's festivities. This is a city that is proud of the activities from the block party on Mount Vernon all the way to the festival in Druid Hill Park. The block party will feature the two time nominated Grammy artist, Martha Wash, the Queen of Clubland. She is known for her singing duo, the Weather Girls as well as for spurring legislation to make vocal credits mandatory on CDs after years of being denied credit herself.
Headlining the festival will be renowned "gay country artist", Steve Grand. He became famous with his hit song "All American Boy" that he released himself. Many people remember the song from the video that includes all of the usual Americana but with a little twist that celebrates the lives of gay men. Also on the agenda for the festival are many cultural events such as "The Story of My Name Project" as well as fun things like Fish Fry Drag Show at the Grand Central Nightclub. There's lot to do for everyone. You will definitely find something on the agenda that you will love!
Gay Pride Baltimore Parade
July 19th to the 24th marks the festival dates for the 41st annual Baltimore Pride. The Gay Pride Baltimore Parade will be happening on July 23rd . When it ends at 3:30 pm, then the Block Party will start and go on until 10 pm. There will be vendors, live performances and flocks of new gay and lesbians friends to meet. With even more vendors, floats and attendees this parade is sure to be the hottest spot in Baltimore this year. Do not miss out on the hottest event of the year. If you are looking to volunteer we have posted the link at the bottom of this article. Any support is always welcome. Do not forget that there will be an award following the parade to crown best vehicle, best float, best walking groups, best marching band and best overall contingent. So, if you have been debating signing up to be in the parade, get on that now and best of luck. We cannot wait to see all the players and winners this year. It is lots of fun to watch the parade, but even more fun to be in it. Go ahead and get involved. You will have such fun!
The Grand Marshall has still yet to be named but keep checking back to the Gay Pride Baltimore website for updates. We are all waiting in suspense to find out who it might be.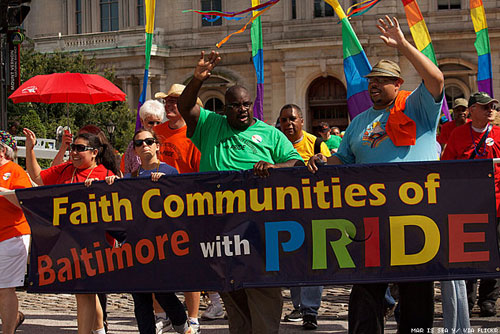 How Gay Pride Baltimore Came To Be
In 1977, almost a decade after the Stonewall riots ,The GLBT Community Center of Baltimore and Central Maryland was founded. However, Baltimore was already familiar with GLBT activism. Two years beforehand the Baltimore Gay Alliance (BGA) held their first meeting. At this point Baltimore was very much progressive towards creating equality. In 1977 BGA formed a community center and the Gay Community Center of Baltimore (GCCB) had commenced."Lesbian" was added to the name in 1985 creating the Gay and Lesbian Community Center of Baltimore, the GLCCB. They created programs and services to better serve the gay and lesbian community. Then again in 2002, they wanted to make sure they were including everyone and once again added more letters creating the GLBTCCBM, Gay Lesbian Bisexual Transgender Community Center of Baltimore and Central Maryland. It is a mouthful, but the locals just call it "The Center". While the community has gotten substantially bigger, things never got easier. They had to stand by as each bill for gay rights got turned down. However, the community was always supportive and always accepting. In 2007, Equality Maryland was founded as a Free State Legal Project, a huge movement that helps the community beyond belief. It's a legal advocacy organization that provides the help needed to get the lesbian, gay, bisexual and transgendered Marylanders to improve their low-income lives. It is one of the very few programs that helps the ones who need it most. In 2008, they even advocated to get pro bono lawyers to work with them to help assist their clientele.
In 2012, Maryland became the first state to approve same-sex marriage by voter referendum, ahead of the federal changes and setting the stage for gay friendly communities. Both the city and the state are also working towards policy changes through governmental advocacy, not to mention tons of outreach programs in the LGBT community with a strong focus on LGBT teens. They also provide educational training to lawyers and judges about the legal needs of the Lesbian, Gay, Bisexual and Transgendered people.
What It's Like There Today
In 2015, the nationwide constitution change that protects same-sex marriage in the United States gave everyone a fresh breath of air. However, in Maryland, the state has recognized gay marriage since 2013. 2016 brings another year of homosexual positivity in the world. Now that same sex marriage is protected under the constitution of the United States it means that we are free to live out our lives with whomever we choose. We are the American Dream. More recently the mayor of Baltimore, Stephanie Rawlings-Blake has banned all government travel to North Carolina and Mississippi over their states' controversial transgender laws. She joins the mayors of San Francisco, Seattle and New York who have also instituted similar bans. Mayor Rawlings-Blake is fully supportive of Gay Pride Baltimore and is very outspoken in her endorsement of same sex marriage and equal rights for all citizens. This is a forward-thinking city that embraces its LGBT community and supports their rights.
One of the remarkable things about Baltimore is how it has supported its gay youth. Gender JOY is a program from a local health center that helps transgender and gender-diverse children and youth with their questions about gender identity. There are also lots of supports for gay parents making this a very gay friendly family community. There are even spiritual supports for gay people searching for a faith that embraces who they are. Baltimore is an all round great place to visit and live.
While Baltimore knows that there will always be challenges to face and new mountains to climb, the support the community has bestowed to their fundraisers and banquets has been incredible. This is all in support of gay rights in Baltimore and the Central Maryland. Baltimore is proud to be in a state that supports the lesbian, gay, bisexual and transgender community and will continue to do so. Baltimore welcomes each and every person with open arms and safe and understanding network of people to connect with. There is no question that you will be very welcome in Baltimore and have a fantastic time during your stay.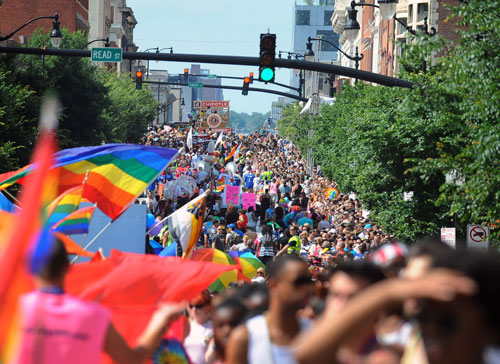 The American Visionary Art Museum
The American Visionary Art Museum was founded in 1984 as an education centre that would encourage creativity and innovation. Over the years, the museum has grown, including many unusual exhibits that fascinate all of their visitors. They are on the cutting edge of art of all kinds, but specifically what they call visionary art.
The museum near the inner harbour features many props and movie memorabilia from Baltimore native John Waters, an openly gay man working in the film industry who is not afraid of sexuality. The museum collection includes of a ten foot tall statue of drag queen Divine, a friend of his who has found her way into six of his films, proving that drag queens are more than just stage performers. As well as being active in the Gay Pride Baltimore community, he also sits on the National Advisory Board from the museum. John Waters is truly amazing.

Faidley Seafood in Lexington Market
If you are looking to get away from the crowds for a little while and enjoy top notch food at a gay friendly and reasonably priced restaurant, then we recommend this spectacular joint. They are famous for their fresh crab cakes that are very generously sized and perfect for sharing with that special someone. Trust us, you have never had seafood in Baltimore like you have had at Faidley Seafood in Lexington Market.

The Gay Pride Baltimore Community
Baltimore is a thriving community with positive people and a very exciting gay community. They have a way of bringing people together and keeping up with social and culture needs of their members. In a recent article from Huffington Post, the writer states that Baltimore is the perfect gay friendly getaway. They wrote this lovely sentiment about Baltimore "Positioned as it is between Washington D.C. and New York, Baltimore can be easily overlooked. Still, "Charm City" boasts a variety of offbeat, diverse offerings, many of them tucked away in nooks and crannies of its urban sprawl, bestowing a certain thrill of spontaneity upon its visitors. Check out this Huffington Post article.

You can check out Baltimore OUTloud, an online ezine that is a forum for everything you care about in the Baltimore area. From news to commentary to entertainment, there is a wealth of information here on how you can get involved in this vibrant community. You can also find reviews of shows and recommendations for places to go and things to do.
While you are in Baltimore, make sure that you visit some of the clubs that make this city a fun place to spend your time. We've already mentioned the Grand Central Nightclub, but make sure you also check out the many bars, nightclubs, inns and restaurants in the Mount Vernon area (considered the gay district) as well as other hot spots around the city. You can find more ideas at The Baltimore CBS Local Baltimore also has lots of other gay friendly activities including an all-male performance group, a gay bookstore, and many cultural events. While you are there, don't miss the many romantic waterfront locations. It is obvious why Baltimore is better known as "Charm City". So, take in all of its charm.
How you can help
After learning about the progressive foundations and wonderful charities and our ever growing community, there is always room for one more if you want to get more involved within the gay community. The GLCCB is always looking for volunteers to help with activities, events and programs. If you are enthusiastic and committed, they want you! As well, Gay Pride Baltimore also needs volunteers to make the events happen each year. People are always needed for activities as varied as outreach and publicity, vendor relations, corporate relations and set up/take down. Or if you can't volunteer your time, this organization can always use your support in other ways – donate funds if you can't donate time and of course, go there yourself and participate! Have fun!
Baltimore is more than just a town in Maryland; it is a growing gay community with an overwhelming amount of support. If you are looking to settle down and start a life with your partner here there are beautiful homes and communities that would be just right for your family. There are many gay friendly neighborhoods including Mount Vernon or the Charles Village area. Other places you could check out are Federal Hill, Fells Point, Canton and Harbour East. Baltimore is a liberal Democratic northeastern major city that welcomes gay families to its many beautiful neighbourhoods. Maybe you will meet someone special at Gay Pride Baltimore and want to settle down in this amazing city.

If you are still missing that special someone in your life do not forget to check ManPlayto find the hottest local single men in your area.
For more information on the housing market in gay friendly areas please check the website Gay Cities - Baltimore
Information on the 2016 Gay Pride Baltimore parade and festival visit their website at Baltimore Pride

If you are looking to volunteer at this year's gay pride parade, you can sign up here at
Baltimore Pride Volunteer Registration
If You Want To Learn More About GAY PRIDE PORTLAND events, CLICK HERE