Gay Pride Philadelphia
As summer quickly approaches, we are entering the season of Gay Pride Philadelphia celebrations. Summertime has to be the best time to celebrate Pride, not just to mark the anniversary of the Stonewall Riots, but also because there's nothing more jubilant than a rainbow other than a hot sunny summer day.
You might already be feeling that itch as the sun peers out from behind a very dreary winter. The sunshine is ready to begin shooting out those rainbows above the city in order to get the celebrations started.
If you don't know what Philly Gay Pride is as an event, Manplay.com can help you out. It's how we remind ourselves to be Out and Proud despite not conforming to the norm. Gay Pride is about celebrating the differences that comes from growing up gay in a society that still hasn't fully embraced you. It's a celebration of identity, revelry, and honesty.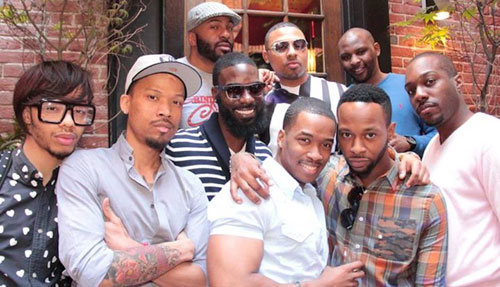 Though Philadelphia may not be the largest gay community in all of America, that doesn't mean that it doesn't get as loud or as proud as any other city. Making up for its size, Philly Pride has a lot of heart and still has the Pride of any tight knit queer community.
Philadelphia was also popularized within queer culture because of its inclusion as the setting for the hit gay TV show Queer As Folk. Join the Pride of being part of a strong community that has a lot of compassion and history.
The History Behind Gay Pride in Philadelphia
The Gayborhood
The concept of the queer neighborhood has been around for a while. Many cities are known for their large queer communities. Take San Francisco, which is practically known as an entire city of "homosexuality and sexual deviance".
Like many major metropolitan cities, Philadelphia has its own queer neighborhood, Washington Square Park, lovingly coined 'The Gayborhood' by locals. This area is a nine block neighborhood that spans between Juniper, Chestnut, Pine and 11th Sts. This community earned this nickname because of its concentration of queer owned and centered businesses.
Though it is now a bustling and thriving area, it used to be considered a red light district. The area used to be a dilapidated part of town that was in a state of decline. It was known for its popularity of gay bathhouse culture. This is where Philadelphia's gay community came together to react to the Stonewall Riots.
Stonewall Riots
Though the Stonewall Riots occurred in Manhattan, they were a reminder of the state of gay rights across the entire country. They began as a reaction to a police raid on the Stonewall Inn, one of many the gay community faced all over the country at bars and any local hotspots for the queer community. It was also called the Christopher Street Liberation, as the Stonewall Inn and several other establishments involved stood.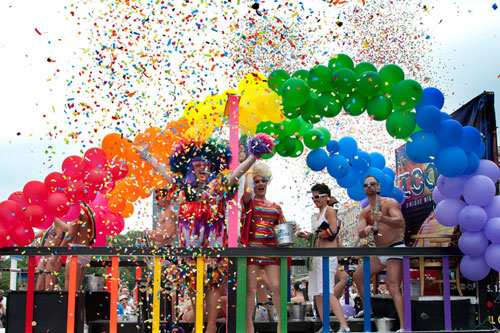 Raids were not uncommon throughout the sixties. They were how heterosexual stayed so adamantly visible while the queer community was practically banished to the dark corners of the city. Regular police raids and harassment were used as tools to try and erase gay culture from getting too large.
This particular wasn't very different from the other raids that had occurred all over the country, except that the community was tired of being bullied around. A community of gay, lesbian, bisexual and transgender people came together to fight back against the violence that ran rampant in their lives. They began to fight back against the cops, throwing what they could get their hands on and making as much noise as possible. It worked. The world heard them.
The Stonewall Riots sparked a movement and urged communities all over the country to start organizing in the name of equality. Just a few short years after the riots, Philadelphia was among those with their own Gay Pride Parade. This parade was in solidarity with gay communities all across the country for their right to live and love peacefully.
Philly's First Gay Pride
This first initial Gay Pride Philadelphia parade was incredibly well received with approximately ten thousand participants in attendance. This ushered in a time of prosperity for the queer community, bringing into fruition an LGBT community center and a gay operated newspaper.
The, now nicknamed, Gayborhood became a flourishing gay community that even had its own Gay Business Alliance and its community members now felt proud and able to let their sexuality become visible in public spaces.
It wasn't until 1988 that they had another parade, put together to coincide with a Gay & Lesbian Task Force rally. It was so successful, the organizers put together an organization to commemorate pride every June called Pride Day.
Since then, the community has been growing and becoming more inclusive than ever. In fact, in 2010, the city donated funds to officially change the street signs within the community to incorporate the rainbow colors the queer community is known for.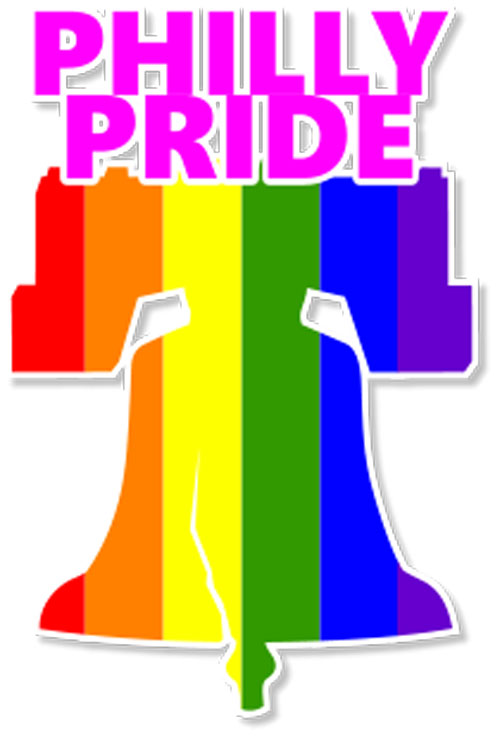 Though acceptance is growing across the United States, that doesn't change that we still need to fight for equal gay rights. That's why the Pride Parade continues on year after year, bringing together the community and its allies to relish in their love for the community.
How Big Does the Philadelphia Gay Pride Parade Get?
The parade, which will take place on June 12 this year, may be the main event but it's not the only Pride event taking place. There's a festival that precedes the parade from June 10 giving you a hot weekend of festive Gay Pride events all weekend long. The festival and parade bring in approximately twenty-five thousand visitors every year, over double the attendance of Philly's first ever Pride event.
This year, they already have seventy-nine participants for the parade and the list is growing. With such a huge turnout there are plenty of events, both official and unofficial to celebrate Pride and to commemorate a rich history of a fight for equality.
So What Events Will Be Going On to Celebrate Gay Pride Philly?
With the parade only marking the end of Pride weekend, there are plenty of events happening in the Gayborhood to get you amped up and ready to celebrate Gay Pride Philly. There are events available that touch on different parts of the queer community, and they really humanize the gay experience. You should check out at least one of these events to engage with the community and show your pride as well.
Gay Pride Philadelphia will be only one organization creating events in the name of the community, so more events are likely to pop up as Pride draws ever nearer. Let's break it down what are the official events, and what are the spin off events that will also be joining in on the celebrations.
The Official Events for Gay Pride Philadelphia
You Can Get Involved
Want to get involved in Philly Pride before June rolls around? Then you might want to join in on the conversation. Philly Pride Presents is the local group in charge of organizing Pride and their related events. They hold a monthly meeting every second Wednesday to discuss organizing, fundraising, pretty much all the fun parts of planning a huge bash like Pride.
Getting involved is just about the best way to get the most out of your Pride experience. Be there to voice opinions and make sure the events are inclusive to you and loved ones. Make sure you'll have the most fun all weekend because you'll know where all the hot parties will be. Don't be shy, head on over to the William Way LGBT Community Center and become a volunteer.
In order to create the Pride experience you think the Philadelphia gay community deserves, you need to be there in order to get your opinions heard. Though you might not think your voice doesn't matter in comparison to the rest of the community's, remember that you are a part of the community's voice. Your experience matter just as much as anyone else's.
You Can Get Partying
The Philly Pride organization is kicking off the weekend with a block party that's going to have Friday night pumping with dancing, vendors and more. You can even get yourself discounted wristbands for the parade itself. This will be the only time that discounted wristbands for Pride Day will be available so be sure to hit up the block party and get the good times rolling! You can find more information at their website, which will continue to be updated until they get to the main event.
If this year is anything like last year, it's going to be a huge hit. The streets will be closed off to allow pedestrian traffic to roam free, enjoy the DJ and patronize local vendors. Get yourself in the mood for all the Pride festivities that you are just getting started.
The streets will be cordoned off between 12th and Locust Streets, so there will plenty of room to bust those jams.
You can't expect to see some organizations there tabling and giving out some great deals. Take an opportunity to take a look around and enjoy the opportunity to get to peruse so many queer businesses in one location.
You Can Get Marching
Another annual event that is a part of Philly Gay Pride is the Philly Dyke March. Last year they took over the Gayborhood. They usually begin meeting at Kahn Park before beginning their march along Pine and 11th Sts. Afterwards they gather back at the park while rocking out to hot dyke performers on stage.
Don't be afraid to get out there and show your sisters some support as they reign in Pride for themselves as well. This is a time to celebrate the entire LGBTQ community and to support each other. Don't forget to show your support for them as well.
It's important for the smaller sub-communities within the overarching queer community to come together and offer each other support. It's important to show the world that it's possible to support one another, even if your experiences are very different.
For a very long time, gay, lesbian, bisexual and transgender communities were all lumped into one category. The smaller sub-groups couldn't band together yet because there was not enough visibility to even know what else was out there.
In order to bring the whole community into visibility and acceptance in a heterosexually dominated world, we have to support each other and raise the voices of even the quietest voices inside it.
You Can Get Brunching
If you aren't still tuckered out from the kickoff party, and you're trying to get in every last drop of Philly Pride out of your weekend, then greet the morning with the William Way Homecoming. This Homecoming event is to celebrate forty years of the William Way LGBT Community Center.
For many native Phillies, traveling back home for Pride is part of the celebratory event. Coming back to where their budding adventures started as they first came into their sexuality. The event itself is a brunch starting at 11am Saturday June 11.
Among some of the entertainment planned for the meal, there will be live music and a silent auction. It's sure to get you into the spirit to be partying the rest of the weekend away.
You Can Get Parading
If you've made it this far through the weekend and you haven't dropped from exhaustion, you will after you finish with your Sunday afternoon.
The parade is the main event the weekend will ramp up to. The parade will take place throughout most of the Gayborhood, starting at 13th and Locust Sts. It will proceed down Locust until 7th St and then towards Market. From there the parade will head to the Great Plaza.
This year, if you want to take part of the parade, your float should incorporate the year's theme: 'Are you connected?' The theme is meant to be open ended in order to incorporate all the ways that the community stays connected.
If you're just looking to be a spectator, you can expect to see some great floats coming your way with seventy-nine participants. You can expect to see some major names in the community like Philadelphia Gay News, Philly Aids Thrift, and Planned Parenthood.
There will be a cover charge of fifteen dollars if you didn't get your wrist band at the Kickoff Block Party, so be sure you take advantage of the opportunity if you're already out enjoying the night.
The parade will start at 11:30 and will make its way towards the Great Plaza, expecting to arrive by around one in the afternoon. The gates to the festival at the Great Plaza will open at noon so you can get started on the festivities if you can't wait for the parade to make it all the way to the finish line.
The Unofficial Events for Philly Gay Pride
Pride events will likely continue to pop up between now and June 12 in order to capitalize on the positive energy coming off the festival. This can not possibly be a definitive list of the expected unofficial events that will be happening. So keep your eyes peeled for all the festivities to come.
You can expect dance parties to be pumping all weekend long, including the Friday night. If the Block Party isn't your scene you can try heading over to the House of Soul & Boxers PHL. They will be hosting their own kickoff party on June 10. Among the crowds you'll find yourself dancing along to House music being spun by a live DJ and get to enjoy the views of male exotic dancers.
Other events will be taking advantage of the publicity of the Pride festivities and if you're into sports you won't be disappointed. If your interests include wrestling, there will be a Pride and Liberty Freestyle Wrestling Tournament.
There will be plenty of other events that are bound to pop up as well. Keep an eye out for Pride themed events popping up all month long.
If you're not from the city, but just visiting, maybe take a walk around the Gayborhood. If you enjoy TV you might find some of the business names familiar. The popular gay TV show hit Queer As Folk took place in Philadelphia, including locations that you can really visit such as Woody's Bar. Relive some of your favorite scenes as you take in the same neighborhood the show takes place in.
Philadelphia is proving itself among the other major queer communities across the states. Though they may not be the largest crowd out there, Philadelphia did not wait to be among the fastest to respond to the continuing fight for gay rights, but also did not let their smaller status keep them from being just as loud as any other queer community in the country. Soon Philadelphia will be joining cities like Seattle in their reputation for tolerance and acceptance.
Check out these websites for more information about official Philly Pride events:
Pride Kickoff Party
Dyke March
William Way Homecoming
Pride Parade
If you want to know about GAY PRIDE SEATTLE events, CLICK HERE.