Gay Pride Cincinnati
Manplay.com is the site to find out about Gay Pride Cincinnati. What Pride Events are going on in the city as well as where and when to find each one. There's nothing like making sure you have the time of your life and you can do that at Gay Pride Cincinnati with a little planning.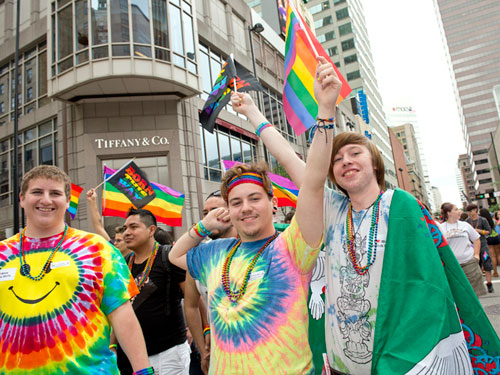 History Of Gay Pride In Cincinnati
The Cincinnati Gay Community (CGC) was formed as the first gay organization in the city by 7 gay men who saw that there was a need for a group that the gay community could turn to for support.
In 1973, the first Gay Pride Cincinnati event took place, a march for gay rights, with a small gathering of approximately 40 gay men and women at Cincinnati's Fountain Square. This was a pure sign of courage since Cincinnati was then known for its VERY conservative ways and thinking. With that, Cincinnati Pride was born and the LGBTQ community should continue to come together each year to celebrate this first public gay pride celebration.
Soon after the 1973 gay Pride rally and march in Cincinnati, the Cincinnati Gay Community group disbanded and there wasn't another Cincinnati Gay Pride Parade until 1978 when a new group known as the Greater Cincinnati Gay Coalition (GCGC) formed. In 1984, the GCGC became a group for gays and lesbians and was renamed to the Greater Cincinnati Gay and Lesbian Coalition.
Finally in 1993, the group was renamed once more to the Gay and Lesbian Community Center of Greater Cincinnati and they continued to organize the Gay Pride Parade until 2009. Cincinnati passed the anti-gay Issue 3 in 1995 and because of this support and protests for the LGBTQ community dropped and there was no longer a city-wide Pride event. The result of this was smaller events that seemed to just pop up in liberal neighborhoods throughout the metropolitan area.
From 1996 - 1999 there were much smaller festivals such s the Lunken Plafield in Mt. Washington. Then in 1999, a very brave local activist organized a small Gay Pride rally at City Hall. Then Northside, Cincinnati's first 'gayborhood' began holding their own events that included a Pride Parade, rallies, and a two-day festival. An independent committee then organized the annual Gay Pride Cincinnati Parade and Festival which was held in Northside at Hoffner Park from 2000-2004. Then from 2005-2009, the Greater Cincinnati Gay and Lesbian Community Center took care of organizing Pride and continued to have in Northside at Hoffer Park. Then in 2010, Pride organization was put in the hands of the Greater Cincinnati Gay Chamber of Commerce. They moved Pride Fest back to Fountain Square for 2010 and 2011.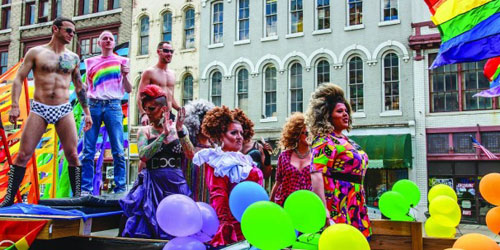 Finally as of 2012, Pride Fest is still organized by the Greater Cincinnati Gay Chamber of Commerce but it has been moved one last time to Sawyer Point.
Gay Pride Cincinnati has come a long way over the years. From the first march, it has grown into a weekend celebration known as Pride Fest today. Pride Fest typically takes place the last weekend in June each year and celebrates the diversity of the entire LGBTQ community and what it stands for. With so much uncertainty and turbulence over the years, it is hopeful that Gay Pride Cincinnati finally has some stable roots and will continue to grow and flourish into an even bigger and better event each year. It looks as though Sawyer Point will be home to Gay Pride in Cincinnati for years to come which will be a welcome decision to the LGBTQ community.
The youth of Cincinnati are also working hard to bring Gay Pride and Gay Pride issues to the forefront. With local events at the high schools and colleges to bring awareness to those who are younger so that they will be able to help fight the fight for equality. With gay marriage now being legal, it's a whole new world with tons of youth who are ready, willing and very able to spread the word that the LGBTQ community exists and that it's here to stay. If there's any one group that can bring change to the history of Gay Pride in Cincinnati it's our youth. These young people are empowered and are more likely to be able to change the public point of view on gays in the community.
It's known that youth today have a part to play here and that they are committed to bringing awareness about the gay pride movement in Cincinnati to their local communities and the entire country for that matter. Cincinnati youth have a goal to reach as many members of their straight community to spread the word and educate. In the past, we may not have listened to what our youth had to say about much but now is the time for them to make themselves be heard. Youth need to share their knowledge and get others involved as allies to the LGBTQ community. The main goal here for our youth is to increase awareness and get out there!
Gay Pride Cincinnati Attendance Stats
Gay Pride Cincinnati had its first parade in 1973 with approximately 40 gay men and women in attendance. The LGBTQ community was afraid to attend and protest for their civil rights in this conservative city for fear of the backlash and legal ramifications that they may face. Because of this, the attendance was low and the future of Gay Pride Cincinnati was uncertain.
In 2015, The Gay Pride Parade in Cincinnati had approximately 90,000 participants, community supporters and spectators. This was a record setting year for attendance. Since the Supreme Court ruling just days before on June 26, 2015, that legalized gay marriage in the entire United States many Gay, Lesbian, Bi-sexual, Transgender and Queer members of the community finally felt that they were free to support and be who they really are and Gay Pride was the place to start this new chapter in their lives.
With one of the lowest percentages of LGBTQ communities across all of the United States at 3.2 percent, it isn't any wonder that the attendance at Gay Pride Cincinnati (90,000) is significantly lower than it is when compared to New York (1,000,000+) or Chicago (1,000,000+). But this shouldn't be seen as a negative here, 2015 did see a record setting turn out and it is predicted that attendance will be on the rise for the coming years.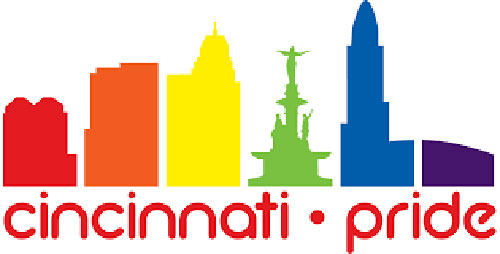 Gay Pride Cincinnati Events
Cincinnati Pride and Summer Cinema (Yearly)
Location: Washington Park
Free weekly summer movie night. Bring your popcorn a lawn chair and a blanket to watch a summer movie under the stars. Remember to wear pink to show your support for the LGBTQ community.
Pride InterFaith Service (Yearly)
Location: Christ Church Cathedral - 318 E. Fourth Street, Downtown
Evening church service blessing the LGBTQ community.
Official Rainbow Fest (Yearly)
Location: Bogart's - 2621 Vine Street, Corryville
Special local celebrity Drag Queen performances with celebrity DJs to round out the night of entertainment and dancing.
City Wide Pride Bud Light Pub Crawl
Location: Various Gay Bars across the city of Cincinnati
Kick off the Gay Pride Cincinnati weekend with a city-wide pub crawl. Meet new friends and share a few drinks and a lot of fun to start off the weekend right.
Voices from the Heart/Land (Yearly)
Cincinnati Men's Chorus
Location: Christ Church Cathedral
The Cincinnati Men's Chorus is a 100 member strong gay choir that will entertain you with entertaining joyful songs. Most songs are about gay pride and feelings. This group is one of the most prominent voices in Cincinnati's gay community.
CityBeat Pride Outing
(New for 2016) Location: Horseshoe Casino - Diamond Lounge
Kick off Pride week and enjoy music with DJ Fusemania, DJ Jess the Ripper and special performances by local Drag Queens. Really start the celebration off right and dance the night away!
Pride Kickoff with Detox
(New for 2016) Location: The Cabaret, Belwo Zero Lounge - 1122 Walnut Street.
RuPaul's Drag Race star Detox is performing and then will have a meet and greet with guests after the show. Hosted by Penny Tration, fellow Season Five queen.
CycleBar Pride Ride Location: Hyde Park - indoor cycling studio
An indoor cycle ride benefit in support of the Pride Festival with all monies raised going directly to Pride Fest. There will be a special drag performance during the benefit to keep you motivated and cycling hard!
Cincinnati Pride Parade (Yearly)
Location: Downtown Cincinnati
Celebrate Gay Pride Cincinnati, the individuals, community groups, businesses and it's allies who support the LGBTQ community with a parade through the streets of Cincinnati. The parade starts on 7th street, turns down Vine Street, next onto Freedom Way and then Main Street. More than 120 groups, colorful floats, and supporters take part in the annual Parade that will walk along the route to show their support of this event.
Cincinnati Pride Festival (Yearly)
Location: Sawyer Point and Yeatman's Cove
Check out this one-day event for the LGBTQ community that allows Gays, Lesbians, Bi-sexual, Transgender and Queer people and their supporters to showcase the gay community. There is entertainment in the form of music and shows throughout the day with food, LGBTQ friendly retail and tons of nonprofit vendors at the day-long festival to celebrate our Gay community and what it has going on.
Cincinnati Pride Community Recognition Ceremony (Yearly)
Location: Contemporary Arts Center
An annual event to honor leaders in the LGBTQ community for their outstanding contributions and countless hours of work to make the gay community a better place.
Family Fun Zone (Yearly)
Location:Sawyer Point
Many different events and things to do for families that include: The Big Show where youth can learn to juggle, a mechanical shuffleboard, inflatable jousts, youth crafts, inflatable bounce houses and water slide and yard sized Jenga and connect four. There will be entertainment throughout the day.
Northside Pride Fashion Show (Yearly)
Location: Northside Tavern
Summertime fashion with a mix of modern and vintage clothing. This is a performance based fashion show with uniquely styled models.
Pride Ball (Yearly)
Location: Diamond Palace on Elm Street
Celebrate Pride in style at the Gay Pride Cincinnati Ball. Get dressed up and show off your dancing skills at this fancy and fun night out!
Pride Brunch (Yearly)
Location: Tonic - 125 West 4th Street
Recharge your batteries from the previous day of Gay Pride Cincinnati fun with a delicious brunch that will leave you satisfied.
Fireworks Show (Yearly)
Location: Serpentine wall
Finish out an exciting weekend of Gay Pride Cincinnati events with a fireworks show to remember!
Events To Support Pride Fest Week
Candlepin Bowling Fundraiser (Yearly)
Location:Wyoming Civic Center
Candlepin Bowling a Fundraiser for Cincinnati Pride. With tow different time slots to choose from, you decide when you want to bowl and have some fun!
Official Gay Pride Cincinnati Event Sites
-
Cincinnati Pride
-
Gay Pride Festival
-
Cincinnati Pride Facebook Page
-
Cincinnati Pride Festival Facebook Page
Cincinnati gay pride is her to stay. Share everything you know and get the word out when and where it is and what events are happening with everyone you know. Spread the word about one of the best and growing Gay Pride Festivals in the United States today!