Gay Pride Brighton
Are you looking for something to do during gay pride Brighton? Look no further! Manplay breaks down the history and current pride events happening soon! In Brighton, gay pride is a huge deal, and the events are like no other. With tons of colour, costumes, and celebrations, there is something for everyone to do at Brighton Pride. Some events are adult-only, and are not appropriate for all audiences, however these shows are generally marked as such. Get started on planning your pride this year in Brighton. If you've never been before, be prepared for festivities and colour such as you've never seen before!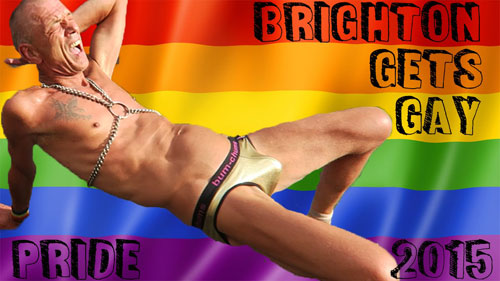 History Of Brighton Gay Pride
Brighton has historically been known as the UK's gayest city, and this is a reputation that is proudly worn by its residents. From as far back as the 1800s, gay men have been keen on Brighton. In those early days, there was easy transport to and from London, and a large number of naval men stationed in the city, so a lot of gay men were drawn to the harbour at that time. The larger number of gay men in that area helped to start a community in Brighton for other gay men who wanted a safe place to meet and mingle. This community has held up for decades. Brighton started to full-on thrive as a destination for gay pride by the 1930s, with many gay and lesbian bars popping up proudly throughout the city. Brighton was even a popular destination even for tourism surrounding its gay reputation during WWII. Soldiers had heard about the amenities and events available in Brighton, which made them look forward to being stationed there for the duration of the war. After the war, Brighton still held it's reputation as a gay destination and hot spot. Tourism has been a huge source of economic growth for the city, and gay tourism plays a big part in that. By gay tourism, we mean a desired location for gay people to visit. Brighton has the most accepting environment of any out there for gay people, so if you have felt discriminated against on past holidays to various destinations, that most certainly won't happen here.
The first official gay pride Brighton gathering didn't take place until the 1970s. The Sussex Gay Liberation Front put on a demonstration on October of 1972, gaining public awareness of gay presence and pride within the city of Brighton. In July of the following year there was the first official pride march. Publicity for Pride quieted down for a couple of decades, but people still visited Brighton for its tourism and gay-friendly atmosphere. Gay pride Brighton returned to the city in full force in the early 1990s. In 1991, people took to the streets in protest of a proposed government legislation making gay civil unions and partnerships illegal. In 1992, Gay Pride Brighton was put on as a festival style celebration, which is how it continues to this day. There was no official location for the event, but pubs and businesses participated, which made it possible for Pride to grow in popularity and size. In 1996, Preston Park became the official location for the Gay Pride Brighton festival.
Brighton Pride became an official charity in 2004, so that funds raised can go toward LGBT organizations and raise awareness of gay issues, while also getting more popularity for the event itself. Brighton Pride has been under new management since 2012, and has funded local charities and organizations over £200,000. Special focus goes to those charities that deal with gay issues, such as health and awareness support. Brighton is known throughout the UK as the gay capital of the south.
Brighton Pride Attendance
As time has gone on, pride in Brighton has almost exploded in popularity. Gay Pride Brighton is one of the most important events for the city, especially for the economy. Approximately £18 million is garnered by Pride alone, making is an essential festival to the city. Around 300,000 people travel to Brighton during Pride. In fact, Gay Pride Brighton is the biggest Pride festival in the entire United Kingdom. 2% of Brighton's annual tourism can be accounted for during one day of Pride. It's the number one way Brighton has boosted it's tourism numbers and income.
In 2015, someone had attempted to delay the pride march by leaving a mysterious package along the main route of the parade. The event was delayed for a full 90 minutes, but that didn't dampen anyone's spirits. Once the procession was given the go-ahead, more than 160,000 lined the streets to watch the Parade march on. The one was an especially memorable Parade, because it was the 25th anniversary Parade of the Gay Pride Brighton events!
It's no surprise that pride would be most popular in Brighton. The city is home to some of the biggest populations of gay people in the country. This fact was corroborated in a 2001 study, which discovered that Brighton has the highest number of gay households in the entire country, with a percentage of 1.29% of the population. That's 2,544 residents stating that they reside with a member of the same-sex. There's good reason why it's considered the gay capital of the south. A 2014 poll found that roughly 11-15% of the population of Brighton is gay, lesbian, or bisexual. Brighton also has the largest number of gay civil union in the UK; 3.1% of couples in the city are made up of legal gay unions. 2,346 couples have legally registered in Brighton, which is the highest number to date. The only exception to the number is London, who also has a large population of gay couples residing.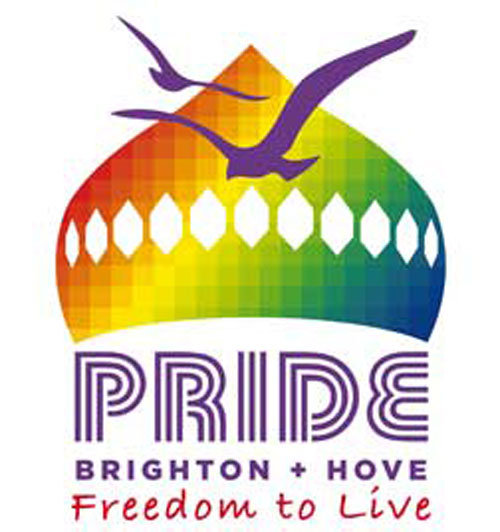 Gay Pride Brighton Events
Gay Pride Brighton essentially took off big time in this seaside city, and is definitely something to behold. There are usually several events, including a parade through the main streets in the town. Launching this year on July 23rd, Pride in Brighton is sure to be a great time! From sporting activities to dog shows, there's literally all kinds of things happening to keep you entertained.
July 23rd-24th: Pride Diversity Games
The Pride Diversity Games consist of various sporting activities like football, golf, rugby, tennis, cricket, yoga, Petanque, and the Rainbow Run, among others. This event is put on by a few organizations, such as the Brighton Pride CIC, Sussex Cricket, and TransCanSport. Participants from all over the UK are expected to attend. The Games take place at the following venues: Sussex University Sports Complex, Hollingbury Golf Course, Preston Park, and Hove Park. The 2015 games brought in a ton of participants which helped exponentially in raising money and awareness for Gay Pride Brighton.
July 31st: Pride Dog Show 2016
The Pride Dog Show is a fun and fabulous way to pamper your pet and have a great time outdoors with your pup. The Show takes place at Preston Park, and features a doggy fashion show, awards for several categories, and bar and refreshments. All are welcome to this dog-tastic event. There are retail stalls at the dog show as well.
August 5th: Pam Ann - Buckle Up Bitches
This comedy show features comedienne Pam Ann in a raunchy, saucy, and witty show that is not suitable for audiences under the age of 18. The show is at the Hilton Brighton Metropole Hotel, with 3 tiers of tickets available. First Class tickets are the first few rows in the front, reserved seating. Business Class tickets are unreserved seating but entry to the show. Meet & Greet tickets are limited, but include show entry and a meet and greet with Pam herself after the show! The show starts at 1900. Pam has performed for audiences like Madonna, Elton John, and shared a stage with Cher, so this is a show you definitely don't want to miss!
Pride Unplugged with Heather Peace and Lucy Spraggan
This year in the new Pride Pavilion, artists Heather Peace and Lucy Spraggan will be performing a kick-off show for the festival. Tickets range from £8-10, with all proceeds going toward The Rainbow Fund. Doors open at 1800, with the show starting at 1900. Food and drink are available throughout the show.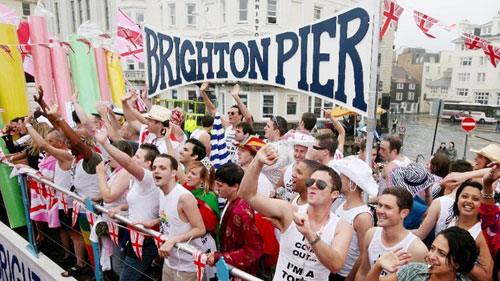 August 6th: Pride On Preston
This is the main event for Gay Pride Brighton, taking place at Preston Park festival stage. There will be performances by some of Brighton and the UK's top performers, so get your tickets early and make sure you get a spot in the audience early! Slated to perform this year are Carly Rae Jepsen, Fleur East, and DJ Fresh, among others. Last year, artists Fatboy Slim, Ms Dynamite, and Sink the Pink performed.
We Are Family: The Legendary Sister Sledge
The band Sister Sledge have been added to the pride line-up, performing on the 6th! This disco trio will be performing a charity concert for all ages to benefit the Rainbow Fund, and other charities in need of grants from Pride. Performing on the main stage, this family of international disco stars will make you look at the genre in a whole new way. Bring the whole family for a fun night of music and charity.
Pride Community Parade
The Pride Parade is the event the draws the most spectators and participants of all of the Pride events. With rainbow and coloured banners, streamers, costumes and dancing, it really is spectacle to behold. More than 200,000 participated in the parade last year, whether by watching or marching in it. The whole community of Brighton comes out to to show support for Gay Pride Brighton, making it a warm and celebrated march. The theme of this years Parade is "Uniting Nations", so make sure your costume and attitude reflects unity and love!
August 5th-7th: Pleasure Gardens
New to pride this year are the Pleasure Gardens! Entry is free, and will feature performances on a main stage and throughout. The Old Steine and Victoria Gardens are the locations for this newest area. Food stalls, drinks, and fun will be transformed from the Old Steine when it becomes the Pleasure Gardens and Pride Pavilion. The Pavilion will host food and drink, while the Gardens overall will be the site of performances and activities that are part of the Pride Festival. This area will be a reprieve from the busy and bustling festival, and gives visitors an exotic and beautiful location to take a break from the wild festivities and enjoy some food and drink. Recharge at the bar while watching the performances on the main stage. Street performers will be present as well.
August 6th-7th: Pride Village Party
The Pride Village Party is the place to be if you really want to celebrate gay pride Brighton. Taking place in the heart of the south's gay capital, the Village Party is two days of insane fun and activities. The main street is closed for pedestrians, and there are areas cordoned off for disco, cabaret, dancing, etc. Entry and participation to the Village Party requires a wristband, so make sure you get one if you want to take part. Weekend wristbands are £10, Sunday only wristbands are available as well for £8. If you're purchasing yours at the event, wristbands for the weekend are £15, with Sunday only costing £10. Availability and space is limited so don't delay in getting yours if you have your heart set on attending. Proceeds from wristband sales go toward funding the other main Pride events, as well as the Rainbow Fund and Social Impact Fund.
Are you looking for more information on gay pride Brighton or related events? Visit these sites for the most up to date news.
Brighton Gay Pride
Brighton Pride Events
Official Brighton Pride
Gay Pride Newcastle