Seattle Gay Pride
June marks an exciting month in the queer community. It's a time where the community gets together to support each other and remind the world that we are here and we are queer. The streets fill with bright rainbow flags hanging off porch roofs and hanging in storefront windows. Manplay.com knows what your Gay Pride Seattle is all about.
Seattle is no different from any major metropolitan city and has its own Pride festivities. It has a thriving gay community that can brighten up even its dreary rainy weather. Like many queer communities, Seattle has a neighborhood that constitutes major gay operated and owned businesses, but unlike most cities it's not named as though it were a separate part of the city, but embrace it into the identity of the city: Gay Seattle.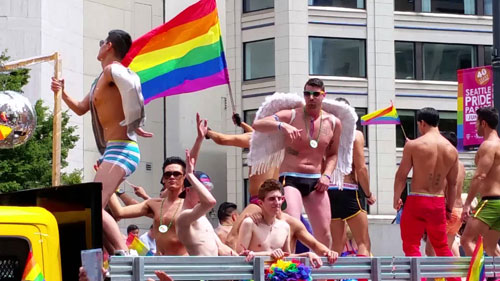 The History Behind Gay Seattle & Gay Pride Seattle
Before we can begin to look at the history behind Seattle's gay community, we have to look at the history behind Gay Pride Seattle.
The Stonewall Riots
Before the late sixties, the queer community had to live pretty much in secrecy. With laws prohibiting homosexuality, especially in men, like the Sodomy Laws that Seattle saw, the gay population across America had to operate in secrecy.
Because of the aforementioned laws, police raids were very common on gay bars and bathhouses. The gay community faced a lot of violence and discrimination before they finally had enough.
On June 28 1969, the police raided an inn in Manhattan called the Stonewall Inn. There many gay, lesbian, bisexual and transgender people gathered together to drink and socialize and to relish in their small queer community. When the raids started however, the merriment disappeared very quickly and a lot of violence began.
Unable to stand to see such violence continually being perpetuated against the gay community for wanting nothing than to have a place to have a drink together, they began to riot back. The community rioted back in the streets and took to marching because they would not stand for it anymore.
This led to the first ever Gay Pride parade and making the community visible.
The Dorian Society
Though Stonewall marks the beginning of the Gay Rights Movement for many cities, Seattle has always been a small step ahead. Just years before the unplanned riots in Manhattan, an organization was founded called The Dorian Society.
Starting in 1967, the Dorian Society was a gay rights organization thought sought to educate the city's heterosexual population against misinformation and fear. They were a part of several efforts to create a safer community for Seattle's gay population.
Some of the tasks they took on included hosting a convention for similar organizations across the country right in Seattle, opening up a community center called the Dorian House - its purpose to counsel and help employ the vulnerable gay community. This was the first ever gay specific center in the United States.
This work helped bring the gay community into visibility in Seattle even without the Stonewall riots. In fact, this work made Seattle known for its reputed tolerance for homosexuality. As that happened, mainstream society started to get uncomfortable and the community started cracking down on homosexuality.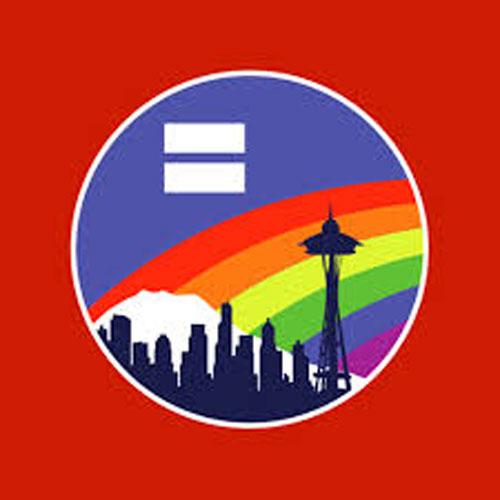 The police began working with the military to start shutting down gay establishments throughout the city. They got liquor licenses revoked and even off-duty cops would linger outside the doors of gay bars, making it unsafe to patronize them.
Despite the hard work the Dorian Society put in to make the city safer for its gay community, they still faced major discrimination, harassment and violence. Slowly more and more members began to try to distance themselves from the sexual deviancy associated with homosexuality.
Post Stonewall Seattle
Once Stonewall started the boom in the Gay Rights Movement, the entire country started paying more attention. More gay rights organizations popped up all around the world, and the gay community started to organize their fight for their rights.
After Stonewall, Seattle responded similarly and more organizations started popping up within the community. Students from the University of Washington began to get more involved politically and worked closely with the Dorian House to accommodate more gay and lesbian students.
Throughout the seventies, the students began to organize and create their own groups, the Gay Student Association and the Gay Liberation Front. By 1971 they worked together to create the first community center for LGBT people.
The students weren't the only ones who started organizing after this. More and more groups focused on the gay and lesbian men and women all throughout Seattle. Once again the community started to flourish; gay owned and operated businesses began to pop up more often.
Socially, they began to make even more progress than the Dorian Society first dreamed. People began to come out with their experiences and shared their stories. This helped more gay members of the community start to discover themselves and come out to the rest of the world. The gay community began to exist loudly and by 1976 the Sodomy laws were repealed.
Though by this point there had been several parades to commemorate the Stonewall rebellion, in 1977 the Mayor of Seattle declared that there would be a designated Gay Pride week to encourage more contributions from the gay and lesbian community.
Even so early on, Seattle made some very progressive moves to be inclusive of the city's gay community. There were even laws put in place by the mid-seventies to protect gay and lesbian people from workplace discrimination.
From this point on, Seattle would only grow more inclusive and safer for gay rights activism.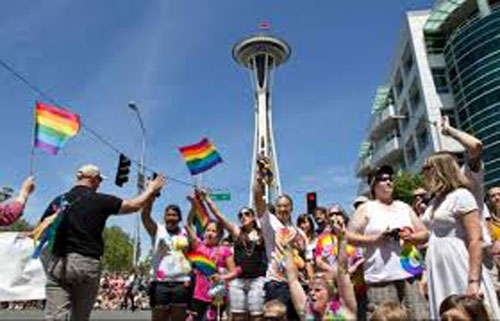 Seattle Gay Pride Parade
The first Gay Pride Seattle Week was held in 1974. This was the first major Pride event that Seattle saw. Though it started off much smaller than what you'd expect to see today, with attendees estimated at about 200.
Part of the festivities during this first Pride Week included the grand opening of the Gay Community Center, roller skating and a sing-a-long. The festival ended with a Gay-In at the Seattle Center, which featured more celebrations and festive wardrobes.
By 1977, Gay Pride Week became an officially instituted week by the mayor of Seattle. It has been celebrated annually, every June since. It has grown a lot since that first Pride Week as well. With a month long series of events planned this year and with expected tens of thousands of participants Pride has become a larger than life experience in Seattle.
What's Going to be Happening at Gay Pride Seattle This Year?
Seattle has plenty planned for Pride this year. The events are planned all throughout June. There's going to be something for everyone there so there is going to definitely be something there for you.
The Clean Sweep
Capitol Hill is a major part of Gay Seattle. So to get ready for Pride Week, volunteers (an expected 300-400 of them) are going to clean up the streets of Capitol Hill. The event will take place on Sunday June 5th starting at Cal Anderson Park. You'll need to wake up bright and early to begin at 10 am and you'll get to enjoy some of that early summer sunshine.
Even if you aren't interested in joining Pride this year, it's a good event to join to foster community and to show respect for the neighborhood that represents family for many gay members of the community.
This event was put together in part by PrideFest as well as the Capitol Hill Chamber of Commerce and has been run for a number of years now. It's an opportunity to foster good relations within the gay community, and if the environment is another important cause to you this is a fantastic way to bring those two parts of yourself together.
This event really exemplifies that being gay is not all that's important in being Proud about your sexuality. It's that it is just one facet of yourself that can bring a community together, to create more meaningful connections through common interests.
This event does require registration so be sure to sign up. You can find a link below to the registration page.
Capitol Hill Art Walk (Queer Edition)
The Capitol Hill Art Walk is a monthly event to showcase local artwork and artists in Capitol Hill. For the event, participating venues and business showcase off different artists from the community. For PrideFest, the June Art Walk taking place on Thursday June 9th, the Art Walk will shine a spotline on specifically queer local artists.
An event like this is important to remind us to prioritize the voices of the queer community as they face different trials and tribulations than their heterosexual counterparts. It creates visibility and normalizes the queer community.
The more art that is showcased through queer events such as this, the more widely accepted queer culture will become in the future. The artwork that will be shared can be used to evoke empathy for the specific issues that the queer community face, and the different issues that arise in the different subgroups within the community. This provides more opportunities to showcase the marginalized voices even within the queer community.
The artwork will be showcased within these venues between 5pm and 8pm. Another great part about this event is many smaller events will pop up for each business that showcases local talent. This means if you don't want to go to a giant event, you can still drop in to your favorite cof
fee shop in Capitol Hill and join in without getting overwhelmed by the crowds.
PrideFest Film Festival
One of the biggest contributors to culture in these modern times are films. Films help shape our culture, how we see and interact with people coming from different pasts and histories. Growing up queer can be very different than growing up straight. There are a lot more confusing messages, and within the last fifty years the views on homosexuality have been in flux.
In order to highlight these differences to get ready for Pride, PrideFest will be hosting a film festival that focuses on the LGBT genre. The event will be leading up closer to the actual Pride Week event, running from June 15th to June 19th.
Also taking place in Capitol Hill, a popular district for the queer community, this PrideFest Film Festival will be promoting a diverse set of films. Based on the event from last year, they have both free and ticketed film screenings scheduled. Some of the films will be local, and some will originate from farther away, giving a balanced perspective on queer culture both within the city and cross culturally.
Each film will highlight different aspects to queer living. Because Pride is for the entire LGBTQ community you can expect films that touch on each of those subjects, along with their corresponding obstacles. The Film Festival is bound to be informative, evocative and inclusive.
Visibility is the main concern of this film festival. PrideFest doesn't just want to celebrate the accomplishments of the creators of these films, but also to celebrate the accomplishments of every queer person who has to grow up under scrutiny or harassment, or just coming to terms with their own sexuality.
With a nearly week long schedule getting ready to be released, this film festival promises to remind you why Pride is important to the community in the first place.
PrideFest Capitol Hill
The real pride events begin with PrideFest Capitol Hill. Taking place on June 5th at Cal Anderson Park and the surrounding area, it's a huge festival filled with fun for all ages.
This event has been running for about five years now. PrideFest will be taking over the park and filling it with wholesome queer entertainment. There will be entertainment suitable for children, drag shows, vendors and plenty more happening throughout the park.
The festival will be running all afternoon starting at noon and running into the evening until eight o'clock. They are scheduling performance acts across their three stages and it's expected to be rocking all day long.
Promising to have a little something for everyone, there's bound to be something that will get you into the Pride spirit. Even if you just take a walk through to immerse yourself in the warm community spirit, watching the community band together to make themselves visible and respected.
Organizations both in the queer community and not are expected to band together to offer not just the community but their allies as well a chance to get involved and learn more about what it means to be queer. This event isn't just to remind the city that gay people exist, it's that their lives might be very different from the norm but that doesn't make it wrong.
Keep yourself updated using the links below, more businesses and performers are being added to the schedule as PrideWeek draws nearer still.
PrideFest Seattle Center
Though Capitol Hill is one of the major queer neighborhoods in Seattle, it's not enough to bring the community together inside their own neighborhoods, PrideFest Seattle wants the queer community to be visible all over the city. Pride is more than just a giant party, it's the reminder that the gay community has come a long way and that there is further yet to go.
PrideFest at the Seattle Center will take place the following Sunday June 26th at the Seattle Center following the parade. Like the PrideFest at Capitol Hill, it will run all day starting at noon and running until eight in the evening. PrideFest has been concluding at the Seattle Center for the last ten years, so this year marks a pivotal anniversary. Seattle has been a welcoming and tolerant space for the queer community for the last decade, which is truly impressive compared to some other cities within the United States.
PrideFest promises that the 2016 Pride Week will bring in a bigger and better festival than any year previously. The schedule has yet to be released but there will be plenty of performance, activities, vendors and workshops to attend. Don't be afraid to come check it out.
PrideFest at the Seattle Center will mark the end of Pride Week for Seattle, so if you can't make it out to any other event, this would be the one to attend.
Just like PrideFest, 2016 promises to bring in a lot more attention to the queer community so join in cities like Philadelphia, New York or Los Angeles in bringing positive progressive steps forward as we continue the fight for the rights of the entire LGBTQ community.
Don't forget to check out the official PrideFest events linked below. You can find all the detailed information for the events that caught your eye!
Sunday, June 5 - CLEAN SWEEP at CAL ANDERSON PARK
Thursday, June 9 - CAPITOL HILL ART WALK (QUEER EDITION)
June 15-19 - PRIDEFEST FILM FESTIVAL
Saturday, June 25 - PRIDEFEST CAPITOL HILL
SUNDAY JUNE 26 - PRIDEFEST SEATTLE CENTER
If you want to know about GAY PRIDE SALT LAKE CITY events, CLICK HERE!