A History Of Gay Pride Edinburgh At Manplay.com
If you want to celebrate gay pride Edinburgh, all you have to do is check out Manplay.com and find out what makes pride in Edinburgh such a special event. Manplay.com is perfect for both dating and learning. As much as we accept homosexuality now, and that isn't that far along, we have certainly come a long way.
Many individuals are totally unaware of how gay pride came to be nor what it originally represented. We might look at gay pride celebrations as pure displays of fun and diversity - but in the past gay pride marches and carnivals were not particularly accepted - and they represented a whole lot more than a lot of partying. There was hardly any infrastructure to support many gay couples and gay people. Many of the organizers of the first gay pride march were from The Gay Liberation Front. The group campaigned for gay rights and gay equality and soon the pride march was born to protest against the constant condescending treatment many homosexuals received in their time. The idea of pride was born out of this and has forever changed the face of cities across the world, creating diversity and acceptance as well as mutual respect. London became the second place where a pride was held outside of the United States. The UK has a special place in gay pride Edinburgh because of each festival's proximity to one another - though each festival to be just as much fun as the other and all festivals fall on different weekends. When it comes to Gay Pride UK - all you have to think about it us. If you feel like learning more about gay pride in the UK as well as in the rest of the world - take a look at our Gay Pride History index to find out more about the history gay pride events in other cities. Edinburgh has one of the richest pride festivals in the world, so why not learn more?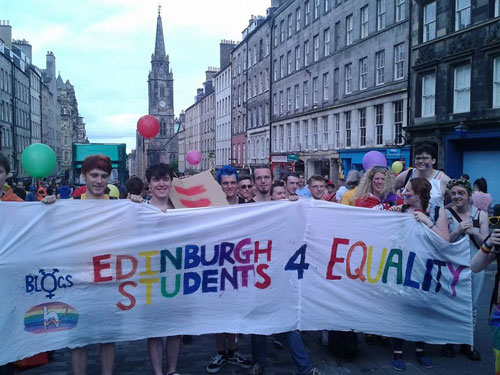 Gay Pride Edinburgh History
The Edinburgh gay pride festival inception date was in 1996 and the city was home to Scotland's first pride festival. The city shared the pride festival with Glasgow, where each city would hold the festival in alternating years. The pride festival was created by two students from the University of Edinburgh, Laura Norris and Doogie Hothersall. Both of them were members of the LGBT society. After several attempts to get a gay pride parade started, they finally succeeded in 1994 and the first pride parade was held in 1995. The very first Scottish pride parade began on Barony Street on the 17th June. Official figures suggest that there were around 3000 marchers. The crowd attracted people from all over Scotland and Northern England. It was a reflection of the changing attitudes throughout the country. There had been some controversy surrounding its inception, however government officials and councillors round the country went ahead with the pride event. It proved to be a great success, the march went all through the city and included Boughten Street, Leith Street, Princes Street, the Mound and George IV Bridge. There was rain but that didn't stop the parade ending in the famed Meadows where there were various stage acts. The following year the march took place in Glasgow.
The Pride Continues
Two years later, in 1997, Edinburgh had another pride march and once again the festival finished in The Meadows.Organizers changed the way the festival schedule and held a minute's silence for those affected by AIDS and HIV in Scotland. This was to not only raise awareness for AIDS and HIV but was also enacted because of the affect that AIDS and HIV was having in the 80s and early 90s. By this point, government funding raising awareness about AIDS and HIV had increased ten fold and the Edinburgh gay pride festival implemented as much as they could to help raise awareness and promote safe sex. This minute's silence is lead by the Sisters of Perpetual Indulgence who are a protest group that uses religious imagery and mockery to raise awareness about sexuality and gender issues. Many of their acts involve drag and also aim to show sexual intolerance.
Pride March And Protests
In 1999, the Edinburgh gay pride festival was held in June and this time began on East London Street and once again ended in the Meadows. Organizers made diversity the key theme of the festival . This year also marked a change in how the march took place and what the procession stood for. Marchers passed by the Scottish parliament and the Bank of Scotland to protest against various corporate deals that the financial sector had made, as well as new expansion that the Bank of Scotland had made into the energy sector. This manner of protesting against the establishment and the government showed a shift in what else the march could symbolize - which was an aim for the common good. Various Scottish artist and musicians joined in on the march, including a lesbian drummer band that silenced their drums as they passed the Bank of Scotland. Two years later, in 2001 the march followed a similar format and proceeded down the same route as it had in the past.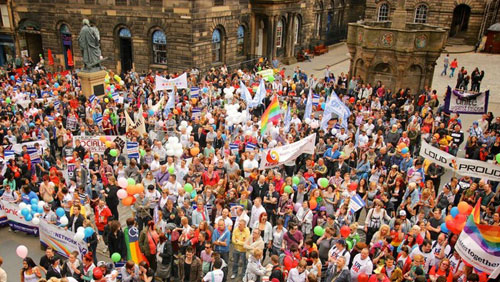 The Changing Face of Gay Pride Organizations In Scotland
Once Pride Scotland went bankrupt in 2002, a new organization was formed called Pride Scotia. Pride Scotland's bankruptcy with debts of almost sixty thousand pounds nearly forced Edinburgh gay pride organizers to scramble for funding. However, Pride Scotia was formed and continued the tradition. This became the sole gay pride festival organizer for both Glasgow and Edinburgh. In 2003, the march took place on the 19th July, and festivities took place for a few days after. The festival included sports competition which proved to be a big hit and raised awareness for gay pride in sports organization in and around Scotland and the rest of the UK. In order to continue to promote awareness for sexual health and AIDS and HIV, there was an attempt to expand the health and community arm of the festival. In 2005, the Edinburgh gay pride festival had a film festival that promoted gay filmmakers and actors, as well as an art exhibition of quilts that raised awareness for AIDS and HIV. In 2007, the march was unfortunately re-directed, but the festival itself continued to expand showcasing local Edinburgh artists and organizers aimed to reach out to the community. Youth groups and youth art groups performed and organized art shows. Finally, after more than 10 years of alternating, both Glasgow and Edinburgh had their own pride festivals 2010. This proved to be a massive accomplishment because it showed just how much the festival was expanding. Since then, both cities have had their own festivals. In 2015, the festival was relaunched as Pride Edinburgh.
Awards For Gay Heroes And Allies
Throughout the years of alternating between Glasgow and Edinburgh, the festival organizers have included a series of awards for gay heroes and allies. There is the Ian Dunn Memorial award for Activism and the Jackie Foster Memorial Award for Culture. The festival also had an award that was dedicated to promoting sexual health and as well as an award for heroes of the LGBT arts community. Then the Pride Scotia award was nominated by various festival organizers.
Gay Pride Edinburgh Statistics
The Edinburgh gay pride festival's first march had 3,000 attendees. Since then, the festival has attracted more and more people. Since its inception, gay pride Edinburgh figures have continued to soar and more than 4,000 people attend each year. Families make more than a quarter of attendees.
Gay Pride Edinburgh Events
Many of the events that have taken place at gay pride festivals are repeated each year. For example, each year the festival aims to raise awareness for HIV and AIDS. They also reach out to the community in a variety of ways, through youth arts programs to musical acts. There have been constant appearances by many Scottish MP's. Each year, organizers aim to showcase gay pride Edinburgh in versatile and moving ways:
Health And Awareness
Each year, festival organizers reach out to the community and engage in discussing the state and the history of HIV and AIDS and how it has affected the gay community in Scotland. Various notable doctors and health pioneers have discussed their engagement with understanding what research has been going into finding a cure and so on. However, there isn't just the discussion of physical sexual health, but also information about psychological health regarding sexuality. The key of these health fairs is the promotion for a positive understanding of sexual health. Reaching out to the community is the key to many of these pride parades.
The March
In the past, the march has been a way in which gay pride Edinburgh can show its presence in the city as well as promote a positive space for attendees and volunteers to promote health centres and various LGBT organizations in and around Scotland. Like we said before, the march itself has gone past some of Edinburgh's most distinguished landmarks, such as the Houses of Parliament as well as the Bank Of Scotland headquarters. These specific visits to these landmarks served as an example of the political power that the march could have and how the pride parade was more than just a way to show gay pride, but it also stood for something political.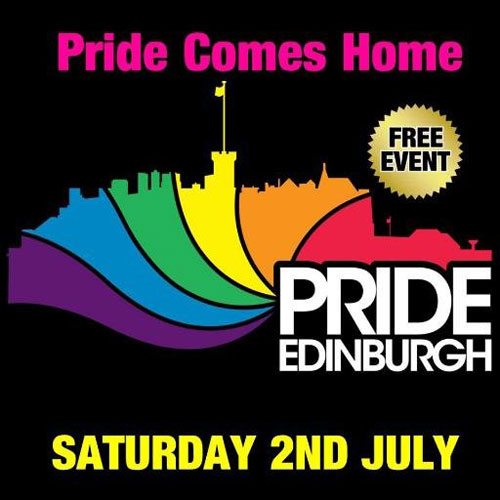 Live Music And Stage Acts
Live music has been a huge feature of gay pride Edinburgh for many years, this has attracted plenty of attendees over its twenty year period. A popular performer at the event has been the main act for 2016, The Dolls.
Trans-Space
The trans positive atmosphere of gay Edinburgh will be alive and well at the trans space that has been a staple of the festival for more than 20 years. Embracing the trans community of Scotland has been a goal of the festival organizers for years.
Family Fair
Gay pride Edinburgh has constantly welcomed families for many years and the festival itself has been a truly positive atmosphere for families. By catering to families, festival organizers have aimed to engage with the community to promote a healthy and gay friendly city. There are also many gay families in and around
The Youth Space
The Youth Space for gay pride Edinburgh is a space that is dedicated to serving young people from the ages of 13-25. There are activities and entertainment that aim to reach out to young people and engage with them on a variety of topics. The space is an alcohol free zone to promote safety.
#ThisIsMe Campaign
Organizers are reaching out through social media with the #ThisIsMe campaign that aims to promote an authentic atmosphere geared at reaching out to young people to enact positive change in the world and to promote a positive sense of identity. This has been something that many gay people have struggled with for years based on society's sometimes conservative outlook on homosexuality. This initiative aims to change that through interaction with gay youth in Edinburgh through social media.
Gay Pride Edinburgh Links
There are plenty of ways to enjoy gay pride in
1.
Gay Pride Edinburgh's Main Site For Everything About Pride
2.
A Gay Traveller's Guide To Gay Pride In Scotland
3.
LGBT Health Forum And Discussion Board With Access To Health InformationAnd Much More
4.
The Best And Most Comprehensive Gay Pride Calendar
5.
Stonewall's Information Page For Everything You Need To Know About Edinburgh Gay Pride

More About Gay Pride UK And Scotland
-
Gay Pride Bristol