Gay Pride Chicago
The only way to celebrate Gay Pride Chicago is to use all the information, statistics and history of the parade, that we have for you here on Manplay.com. Don't waste your time with any other site, we've got everything you need right here. Keep reading to start making plans now!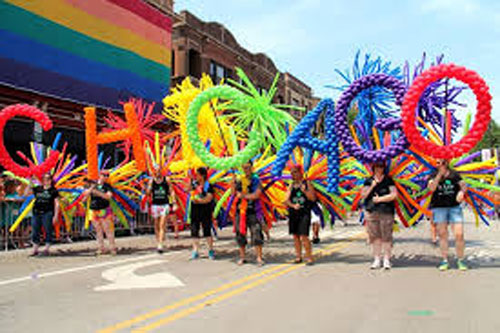 History Of Gay Pride In Chicago
Originally in the 1970's and 1980Õs, many cities including Chicago ran a pride week in June, typically ending with the Gay Pride Parade, but with the LGBTQ community growing at such a rapid pace it became evident that the week-long celebration of Pride week needed to turn into Pride Month in Chicago. Now June Pride month has over 100 social, cultural, athletic and political events put on and sponsored by community, Organizations, groups, and individuals. Pride month events take place all over Chicago. There are events for every type of person including workshops, dances, picnics, religious services, plays, religious services, plays, film screenings, several festivals, a Dyke march, just to name a few events.
The gay community existed long before Boystown was actually Boystown. The nation's first chartered LGBT rights organization was formed in 1924 in Chicago by Henry Gerber. But the first gay pride parade didn't happen until much later, in June 1970, in Chicago. At the first ever gay pride march in Chicago occurred from Clark Street and Walton Street to what was then know as the Civic Center. There were only approximately 150 participants. After the first parade, the route tended to be dependent on where the gay community was at the time. It has moved from the River North community to Broadway and Diversey for quite some time and now it's on Halsted street.
Three years after the first march the number of participants had doubled. The first gay bar, Little Jim's opened in 1975 on Halsted Street. Soon afterward several others, the Loading Dock (now the Kit Kat club), Christopher Street (now Hydrate) and Sidetrack (still in business today). Both gay social and political life in Chicago exploded with the forming of the Chicago Gay Alliance in 1970. For a short time, they had a community center on West Elm Street. Their mandate was to lobby for local gay rights for equal housing and employment opportunities. This did finally, come to fruition in 1988. In August of 1982 area businesses started an annual neighborhood street fair, that would RIVAL the Gay Pride festivities, known as the Northalsted Market Day.
Then with the 1980s, the gay community saw the increase in deaths due to Acquired Immune Deficiency Syndrome or AIDS. At this time, thousands of gay men died. With the awareness and diagnosis of this new disease came new discrimination against the LGBTQ community. In the 90s organizations like Queer Nation and the Lesbian Avengers, led protests against violence against gays as well as against police harassment. Lesbians and gays began to make their mark in the late 1980s on Chicago politics. In 1987, the mayor at the time, Harold Washington, appointed the Advisory Council on Gay and Lesbian issues. Mayor Washington employed a full-time liaison the LGBTQ community. By 1991, this group had founded the first nationally supported Gay and Lesbian Hall of Fame to honor the lives as well as the work that has been done to support LGBTQ activists and organizations.
Thomas Chiola became the first openly gay elected official in Chicago in 1994. Domestic partnerships got a big boost in 1997 when the cited voted to provide benefits to municipal employees. Then in 1996, another huge win for the lesbian community was when Nancy Katz became the first openly lesbian official.
With the legalization of gay marriage in all fifty states on June 26, 2015, the Gay Pride celebrations became about something more. 2015 Pride was a celebration of who you are, gay, lesbian, bi-sexual, transgender, queer or a straight ally, the ability to finally legally share your life with the one you love through marriage and for the freedom to express yourself without judgment or malice. It is clear that this ruling had an impact on the overall tone of the entire weekend events in 2015.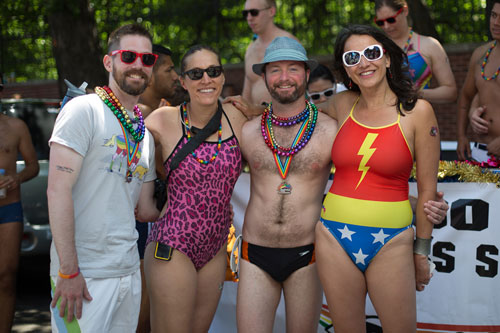 Gay Pride Chicago Attendance Stats
The gay pride parade has come a long way since it's first march. The firstGay Pride Parade in Chicago took place on June 27, 1970 and had approximately 150 participants. Although there is not a lot of data for the years between 1970 and 1990 it is clear with the stats that we do have that the parade has seen a steady increase almost every year that it has taken place. Here are the attendance stats from 1990 to 2015:
June 24, 1990: Attendance: 100,000
June 30, 1991: (22nd) Attendance: 100,000
June 28, 1992: (23rd) Attendance: 115,000
June 27, 1993: (24th) Attendance: 140,000
June 5, 1994: (25th) Attendance: 160,000
June 25, 1995: (26th) Attendance: 175,000
June 30, 1996: (27th) Attendance: 150,000
June 29, 1997: (28th) Attendance: 200,000
June 28, 1998: (29th) Attendance: 200,000
June 27, 1999: (30th) Attendance: 250,000
June 25, 2000: (31st) Attendance: 350,000
June 24, 2001: (32nd) Attendance: 350,000
June 30, 2002: (33rd) Attendance: 350,000
June 29, 2003: (34th) Attendance: 375,000
June 27, 2004: (35th) Attendance: 375,000
June 26, 2005: (36th) Attendance: 450,000
June 25, 2006: (37th) Attendance: 400,000
June 24, 2007: (38th) Attendance: 450,000
June 29, 2008: (39th) Attendance: 450,000
June 28, 2009: (40th) Attendance: 500,000
June 27, 2010: (41st) Attendance: 450,000
June 26, 2011: (42nd) Attendance: 750,000
June 24, 2012: (43rd) Attendance: 850,000
June 30, 2013, (44th) Attendance: 1,000,000
June 29, 2014, (45th) Attendance: 1,000,000
June 28, 2015, (46th) Attendance: 1,000,000+
The Gay Pride Parade in Chicago is always on the last Sunday in June. The weather it typically warm and dry. The temperature is usually quite warm and is usually somewhere around 83 degrees. The Pride parade goes rain or shine and although there is usually very good weather, 22% of the time the parade has run since it first started there had been measurable rain with the most rainfall in 1978 when it was recorded that .92 inches of rain fell. In the summer of 1983, we saw the warmest Pride Parade with a temperate of 99 degrees.
Gay Pride Chicago Events
There are close to 100 different gay pride events in Chicago in the month of June. Most of them happening during the weekend of the gay pride parade.
Gay Pride Events Happening on Pride Fest Weekend:
Chicago Pride Fest
Location: Halsted strip
Gay Pride Chicago, now known as Chicago Pride Fest, happens each year during National Pride Month, in June. Pride Fest celebrates the LGBTQ community in a two-day street festival with the grand finale being the very famous Chicago Pride Parade. LGBTQ supporters entertain the spectators and celebrate their PRIDE!
Proud To Run
Location: Montrose Harbor
Proud to Run has been part of the LGBT Pride Week since 1982. It is an annual 5K and 10K run (or walk) along the lakefront. The focus is on celebrating a healthy pride. The funds raised go to the Chicago area LGBTQ community. 2015 saw a record turnout of over 1,700 runners with more than 2,200 people who were somehow involved, either running, walking, as a sponsor or as a volunteer.
Chicago Dyke March
Location: Moves every two years
The yearly Chicago Dyke March is to focus on lesbian and queer women. With an entire weekend that is really focused on men, the Dyke march is intended to bring lesbian and queer women issues to the forefront. It's an event to promote and educate the community about issues that Dykes see and deal with on a daily basis.
Gay Pride Parade
Location: Step off - Montrose and Broadway, Finish - Lincoln Park at Diversey
Chicago's Parade is a four-mile route. The streets are lined at least 12 people deep as approximately 1 000 000 000 people cheer and enjoy the show, culture, and entire experience. With over 200 floats there is sure and the most amazing colors you will be dazzled beyond belief.
Back Lot Bash
Location: 5238 N. Clark Street
This is 'THE' place to be for women. It is the most attended outdoor women's festival. Each day has a different kind of music and entertainment for the entire Lesbian community.
Pride Run
Location: 2420 N. Cannon Drive
This is an exclusive evening for friends, music and cocktails. This run is to celebrate Pride month as well as the eve, eve, of Pride Weekend. The post party afterwards is simply the best. You don't need to be a runner to attend this party, it's open to everyone.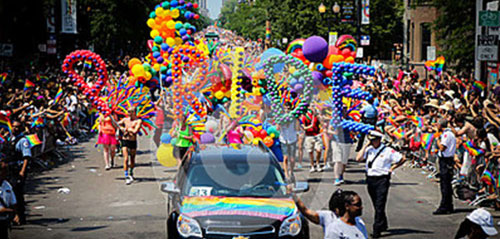 Pet Parade
Pet Pride Parade. Bring your dogs, cats or any other family pet to our festive and fun animal parade. This is a short route for our dearly loved animals where you will return to the Pride Fest grounds to receive prizes for the best participants.
Gay Pride Events Happening During Pride Month:
Midsommarfest
Location: Andersonville - on Clark Street from Foster to Catalpa
An annual summer street festival for over 50 years. The festival takes place on the second weekend in June. It is three nights and two days of music, dancing, entertainment for kids and amazing food! There are local vendors set up selling their products. Area shops and restaurants welcome spectators and participants with specials and discounts.
Zoo Pride Chicago
Location: Brookfield Zoo
During the day an LGBTQ vendor expo with both gay and gay-friendly business. There will also be family-friendly entertainment and LGBTQ speakers. In the evening, there is an LGBTQ cocktail party for those that are 21+. Part of the zoo will be open for the evening with curators and guides will be available to answer questions. There will also be an opportunity to have a special meet and greet to learn more about each one. There will be a DJ in the lounge to set the mood and a silent auction to add to the festivities.
Gay Pride Events Happening During The Year:
Pride Prom
Location: Halsted and Waveland
Now's your chance to actually go to prom with your special someone. Partnering with the Legacy Project, Pride prom is an event for those 21+. This event will be held in a large outdoor tent and boasts and evening of entertainment, prizes, togetherness, and DANCING!!!
Northalsted Market Days
Location: Halsted Street
The largest midwest street festival. This is your chance to see national talent, unique vendors, arts, crafts, and of course food and drink. With more than 180 000 people from all over the world celebrate right on Halsted Street. This year is the celebration of 35 years and promises to the best Northalsted Market Day yet.
Northalsted Halloween Parade
Location: Halsted Street
This is the 20th birthday of the Halloween Parade. This part is known for its crazy costumes, family festivities and family and pet parade.
Future Gay Pride Chicago Events
The future of Events for Gay Pride Chicago looks good! Pride is growing larger and larger each year and with that come many positives as well as some concerns. The organizers of the big events want to ensure that everything runs smoothly and safely. There has been recent talk of moving the events to a different part of the city where the increased numbers can be accommodated more easily and where the crowds of people can be more controlled. Moving Gay Pride Chicago will also allow organizers to add more events each year to the parade and the weekend overall. Although it is not ideal to move the Pride Fest because the festivities take place in the 'Gay' part of Chicago, it may be necessary. It is interesting to note the organizers of the Gay Pride Parade have decided to cut back the number of floats and entrants into the parade so that it will not take as long as there have been recent complaints about the noise and traffic congestions that have been caused on the day of the parade. Moving may also cause difficulties to find local businesses who are willing to host Gay Pride events because it would no longer in the 'gay' part of the city.
With the continued growth of Pride month comes a lot of positives as well. Each year there are more events put in place for attendees to check out and be a part of, which helps to support the LGBTQ community and helps to spread awareness of what's out there.
Official Gay Pride Chicago Event Sites
Follow these links to find all of the Gay Pride Chicago Events and any updated information when you get closer to the event dates. These sites will make your planning simple and carefree. Be sure to check in often to be sure that you don't miss a single event that is perfect for you!
-
Year Round Gay Pride Chicago Events
-
Chicago 2016 Gay Pride - Chicago Backlot Bash 2016
-
LGBTQ Year Round Events
-
Proud To Run Chicago
-
Chicago's Proudest Neighborhood Events
Tell as many of your friends and family about gay pride Chicago. Start to plan your next gay pride Chicago experience well in advance so that you won't miss out on any of the amazing events that happen in the month of June! And if you're not from Chicago, be sure to make the trip worthwhile, make the most of the time that you are in Chicago and be sure to check out just how fascinating Gay Pride Chicago can be. There really is something for everyone all packed into one short month!
To find out about Gay Pride New Orleans, Click HERE.