History Of Gay Pride In Columbus
Manplay.com celebrates gay pride, and gives you all of the information you need to get involved. Columbus gay pride is big in the nation; find out why. In 1989, protestors in downtown Columbus marched in response to a claim that two gay men were forced out of their neighborhood because of anti-gay harassment. The city ordinance had just extended residential protection to homosexuals, so this was a protest to ensure that the city held up to its movement for equality. Gay individuals in Columbus were not only standing up for their rights but were protesting for gay rights across the country. Incidences that were happing in New York were also of concern, and the Columbus gay community at the time wanted to show their support. Even during a time when it was dangerous to raise your voice about supporting gay rights, the people who lived here didn't allow fear to stop them. It was a long and drawn out fight for gay equality, and wasn't until 2015 that gay marriage was legalized and the gay community felt seen for the first time, but the fight has been worth it. Equality has always been the goal and in 1981, the first Pride march in the city was held. Only 200 people attended the march then, and now 35 years later, the parade and celebration of gay pride in Columbus continues to grow.
The gay community is intent on getting the history of the city right. There are a lot of loose ends, and people want to know where they came from, and where they're going. The Gay Ohio History Initiative was started to be an expanding resource of artifacts and oral history that represents the LGBT legacy, and it is a vast one. Columbus' aim was to be a voice for the LGBT community when there was none, and there continues to be a bit of a struggle to get it all right. There is a ton of support though, and citizens want to help. Partnering with Outlook Media, GOHI has had the opportunity to really reach out to citizens living in the area to hear and document their stories on the happenings before 2005. A lot has happened and the goal continues to be to raise awareness and give the gay community the information it craves. Knowing how people went from being shunned to being accepted, and having thousands of supporters walk alongside them during the pride parade in solidarity, is an important piece of history. There was a time when gay bars were so hidden you would need to be part of a circle that had a speakeasy-like mentality just to find out where one was. Fortunately, the city has come a long way, and is always striving to make things better for the people that live there. Every community should feel safe and welcome, and although it wasn't always like that for the gay community, there is hope that the harsh days of the past will soon be a very distant memory. That's the hope of the residents, and there are thousands of supporters working to make sure that that hope becomes a reality.
Gay Pride Columbus Statistics
The Stonewall Columbus Pride Festival (named after the famous New York Stonewall riots) and Parade began in 1981, and has grown to be the 2nd largest pride event in the Midwest. Stonewall Columbus has grown to over 300,000 participants. Columbus is a booming LGBT city due to the fact that 4.3%, or close to 4,500 of adults living there are identified as lesbian, gay, bisexual or transgender. Columbus is close to the likes of Miami for the largest gay population, and is competing with even bigger metropolises like San Francisco and Minneapolis for the title. The LGBT population holds $7.5 billion in purchasing power that has helped establish the queer community, and this is why it continues to grow, and hold lasting growth power.
With the growth of Stonewall and other events in the city, it's natural that gay neighborhoods would be expanding. Columbus is a national leader in LGBTQ equality, and it shows. The HighBall that's hosted every year is known as one of the country's coolest and most fashionable costume parties, and because of events like it, it's ranked #3 on the Fashionable Destinations list. There are tons of hip gay neighborhoods to hang out in like the Short North Arts District, German Village, the Ohio State University's campus, and many more. It's easy to see why Columbus is growing as the gay getaway location. Even the fashion district is growing to meet with the demand of tourists and entices thousands of shoppers to the downtown core.
With more than 20 gay bars to choose from in the area, there is enough room for everyone. Rotating theme nights mean that you'll never get bored, and with new residents moving into the city, there's always a new friend to meet. The city is confident in the growth of the gay community and is adapting to meet the needs of all LGBTQ individuals that live in and around the city. Thousands of patrons frequent these bars daily, so there's always a party going on. Great food, drinks and hot guys keep bar goers coming back for more. You can do a quick search online to check out the hotties in action, and see why maybe you should head out on the town this weekend, or tonight if you have time! I'm sure you can make time to check out a bar like Slammers; the hottest pizza joint with yummy men serving you yummy pizza.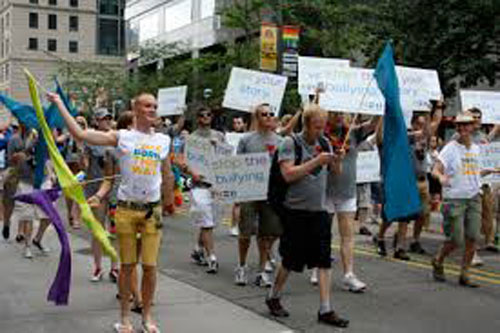 Celebrating Gay Pride In Columbus
Stonewall Columbus Pride
June is a great month for the gay community in Columbus because there are thousands of supporters to celebrate Columbus gay pride with. Tourists come from all over the world to participate in the celebration, and neighboring city dwellers make the trip to celebrate as well. There are a tonne of events that surround the festival and parade, that get updated closer to the event, from concerts to shows, food trucks to casinos, and everything in between. Everyone can find an event to satisfy their gay pride appetite. Celebrating 35 years of Pride, Stonewall Columbus continues to grow and raise awareness for the gay community in Central Ohio.
The LGBTQ Refugee Experience
The official launch of the new community collaboration between Community Refugee and Immigration services and Stonewall Columbus is happening this year. The purpose is to provide a meet and greet space for LGBT refugees to come and get to know the gay community in Columbus. There will be authentic Ugandan food, the meet and greet and then a presentation of the refugees remarkable journey to Columbus in hopes of finding safety, compassion and acceptance. There is a place for everyone in the city, and Stonewall Columbus wants to make sure everyone feels at home, no matter what their background is. Come celebrate with newcomers to the city and welcome them with open arms. You'll make new friends and enjoy sharing stories and showing support.
Pride Bicycle Ride
Stonewall Columbus is a growing festival and organizes events throughout the year that will help support the needs of Pride. The Pride Bicycle Ride will raise money for Stonewall Columbus through registration costs. The ride, a free gift, brunch and entry into pride are all included in the $20 fee, so your money/ donation is well spent. Enjoy the 2 hour ride for all skill levels with amazing people from the local community. It's a great way to get out and be active, as well as raise funds for the biggest gay pride Columbus celebration in the city.
Unity Ball & Dragapalooza
The 17th annual Unity Ball is being celebrated again at Axis Nightclub. One ticket will get you access to both events that happen inside and outside of the club. There are special guests and enough entertainment to last the weekend. All outdoor proceeds benefit Stonewall Columbus. Buy a ticket to enjoy a steamy all male revue in the cabaret. There is never a shortage of sexiness happening in the building, and you'll love all the eye-candy. Columbus is building its gay community through events like this and every bit of support helps to ensure the future of Stonewall Pride. If you're a fan of the big celebration, come out and enjoy the events that help fun it, and will help it continue to grow for years to come.

Columbus Gay Mens' Chorus
If you've ever wanted to join an all men's chorus, then CGMC was made for you. Founded in 1990, the chorus continues to be a great club for entertainment. With the support of the city, the men's chorus has performed for many events, including the Ohio Democratic Party Fundraising dinner where the governor accepted and proudly wore a Chorus pin. From gala's to performing with other arts groups like ProMusica, Ballet Met, Opera Columbus, Anna and the Annadroids, Cincinnati Chorus, and other established singing groups, the Chorus has made a name for itself. If you want to get involved, you can connect with the director to set up an informal addition. The process is very welcoming and open to all men who are interested in joining. It's a fun and celebratory environment for gay men who want to share their voice and have fun doing so. If you're looking for something different and love to share your musical talent, this could be the perfect thing for you to try. Events happen often throughout the year, so you have more than one opportunity to sign up if you miss the next show.
As you can see, there is no shortage of things to do when you're gay in Columbus. To find out what events you can attend, there are always updates on local sites and in local papers. Whether you're feeling spontaneous, or you want to plan an outing in advance, there is always something to do. You can go solo or grab some friends and see a show, or hit a bar. There are many perks to being gay in Columbus. The history of the gay movement is enough to be proud to live there, and being able to celebrate in the biggest ways now without any repercussions is unlike its ever been. It wasn't always as colorful as it is now, but the gay community continues to grow and show pride in who they are and what the city has to offer.
The supporters of Stonewall Columbus, as well as thousands of local citizens continue to fight for the equality and justice for all citizens. The goal is for social justice to apply to all, and where all people can live in a nation without fear of persecution or ridicule. The community continues to fight for understanding, acceptance and respect of all LGBT individuals. With events like the parade and Sprit Day every October, the gay community will continue to grow, and people from all over the state can join in on showing their support. There is still a ways to go for the gay community to ensure that the future looks brighter for the LGBT youth. To be able to live in a state where it is always acceptable to be yourself is the goal. Raising awareness to those that don't understand, or have questions regarding the gay community is also a continued goal.
Links To Gay Pride Columbus Events
Find The Gay Pride Columbus Events That Suit Your Needs
When you're in the mood for some gay fun in Columbus, check out the links below to plan your gay pride Columbus next outing. You'll never run out of fun things to do with the hottest gay events in town, and Manplay.com makes it easy for you to find out what's going on in the city.
-
Gay pride
events are updated daily so that you can stay up-to-date on all the gay local fun.
- Stonewall is happening soon, so celebrate
gay pride
with thousands of others from all over the nation.
- Axis nightclub celebrates
gay pride
nightly with the hottest gay men in Columbus.
- If you're up for some karaoke in a laid-back setting surrounded by other LGBT enthusiasts, Tremont Lounge celebrates gay pride daily.
- Find out about even more
gay pride
events and places to go when you're in Columbus.
- Show your
gay pride
and help raise funds for Stonewall through the Pride Bicycle Ride.