Add Some French Flair To Your Celebrations At Gay Pride Montreal
If you're looking for a pride celebration with a bit of different culture, then what you are really looking for is to attend a pride celebration in the Paris of Canada - Montreal.
Ever since its founding in Canada, Montreal has been known as a city of diverse tastes and cultures - where peoples lives, desires, and experiences are shared and explored. An area of the country that has classically been accepting of how people show their love, it is not only a favourite place for gay men and lesbian women to celebrate their freedom, after visiting there, you will easily agree that Montreal is the hottest place to celebrate Gay Pride in Canada!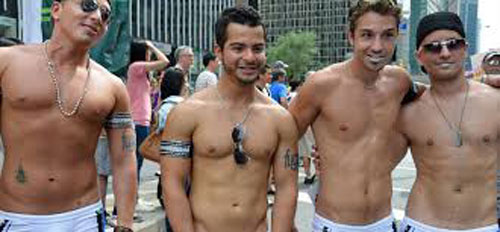 Montreal Has What Other Canadian Cities Don't
Besides being a traditionally diversified city (although all of Canada is technically bilingual, Montreal is one of the only cities where it is commonly practiced), it stands head and shoulders above other Canadian cities as well. For one thing, Montreal is a city that likes to stay a little more active than other places in Canada; with dozens of festivals taking place throughout the year, such as Montreal Jazz Fest and the Just For Laughs Montreal Comedy Festival, various cultural events, and - of course - their beloved Montreal Canadians hockey team, there is never a shortage of things to do.
And since it's a city that's a little more active than others you might pass through in Canada, it stays up a bit later than most as well. What does that mean? It means that while other provinces in Canada ensure that bars and taverns stop serving alcohol at 2am (not including special circumstances), the bars and pubs in Montreal don't have to close their taps until as late as four in the morning - that's right, 4AM! If you were to Celebrate Gay Pride In Toronto, you would only be able to order drinks till that time at specially designated bars; but you don't have to worry about those kind of crazy rules while you're in Quebec - that's just not the French Canadian way! It's the perfect place to celebrate any time you feel like it! Which, in hour humble gay opinions anyway, makes it a perfect place to pick up a feisty and fun gentleman for the night!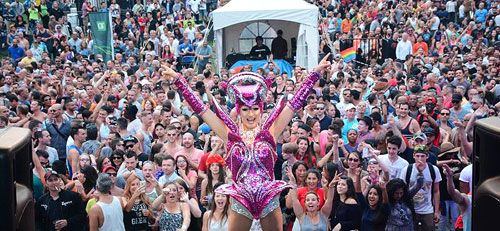 Montreal Makes Gay Pride All About Acceptance
Gay Pride Montreal is all about acceptance, and to that end they have mandated a strict non-discrimination policy that anyone wishing to either attend or participate in the festivities must adhere to at all times. This policy is very simple:
At Gay Pride Montreal, it is prohibited to discriminate against anyone on the basis of national or ethnic origin, race, political and religious beliefs, race, language, age, sexual orientation, sexual identity, income, caste, physical or mental disability, or medical illness (specifically AIDS and HIV). And to this end, the festival has the absolute control to refuse any person or organization that does not adhere to these values or beliefs. Gay Pride Montreal will refuse the participation of any persons or organizations which promote homophobia, lesbophobia, xenophobia, racism, transphobia, or any conflict which is based in a religion or geo-political area.
It's nice to know that Gay Pride Montreal is a safe place for men across the globe to let it all hang out and have a fun and sexy time!
Family Friendly Events Happen Every Day
Montreal is a city that understands the importance of family, and that goes all the way to how they celebrate Gay Pride - so if you're thinking about bringing your children to the festivities, Gay Pride Montreal says, "bring them along!" At Gay Pride Montreal, there are events happening every day for adults and children alike! Gay Pride should always be about love and family, so why wouldn't you want to bring your family along!
Children Of All Ages Love A Parade!
It is not uncommon for parents of young children to be concerned about what might be seen at the Pride Parade, and those concerns are often expressed to organizers at Gay Pride Montreal. To that end, although Gay Pride Montreal considers the Parade to be a fun place for the entire family, they requests that all parents use their own personal discretion when deciding whether to bring children along. Everybody has their own standards of what they deem acceptable viewing for children, and that extends to what might be seen at the parade as well. Some parents might think it's no big deal, while some might think it's too wild for their tastes. If you are at all concerned, feel free to watch some footage taken prior to the Parade at Gay Pride Montreal and decide for yourself! The last thing we would want is to prevent anyone from having a good time!
Let Your Kids Dance Their Socks Off At The "MÉGA Just Dance" Party!
Want a good way to get your kids active and celebrate Pride at the same time? Then why not combine two things kids love to do: dance with their friends and play video games! This is an outdoor event where a huge mass of children, teens, and adults can play one of the most popular video games in the world - Just Dance - all at the same time! By syncing their smartphones together, Pride attendees will try keep the same dance moves as the characters in the game (and each other) while sharing a few chuckles as they experience the love and laughs Gay Pride Montreal is known for!
A Special Day At Gay Pride Montreal - Just For Kids
If you are a parent who is a little hesitant about taking your kids to the Pride Parade, don't worry - they can get out all of they Gay Pride Montreal energy a day earlier at Kid's Day!
Starting at 9am the day before the Pride Parade, Gay Pride Montreal presents a jam-packed day of entertainment that will put a smile on any child's face. By turning Èmilie-Gamelin Place into a giant playground, the organizers of Gay Pride Montreal have ensured that there will be no shortage of fun inflatable games (bounce houses, etc.), cuddly mascots, mural painting, shows, free refreshments, snacks, and even celebrity autographs! This event is only available for children between the ages of 3 and 12 (and they must be accompanied by a parent or guardian), but fair warning - your kids won't want to leave!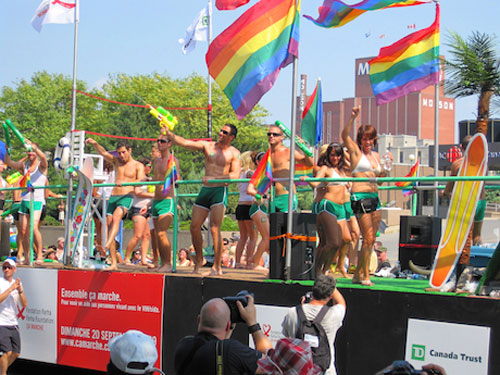 How Montreal Pride Began
Much like Pride celebrations across the country, including Gay Pride Toronto, Gay Pride Montreal (or Fierté Montréal as it's known in French), originated in the struggle for equality among Gay, Lesbian, Bisexual, and Transgendered people. In fact, Fierté Montréal isn't even the first Gay Pride celebration Montreal has ever held - that honour belongs to an event called Divers/Cité!
How Montreal Began Celebrating Divers/Cité
The gay pride celebration known as Divers/Cité began as a response to the raids by the 1990 Montreal Police on a gay after-hours club in Montreal's gay district playfully called Sex Garage. Much like the bath-house arrests in Toronto, this event was referred to as "Montreal's Stonewall". Between 32 and 40 police officers began degrading, heckling, and assaulting patrons of Sex Garage as they left the building. But the spirt of the LBGTQ community in Montreal was strong and they were not going to stand by while this injustice occurred.
A few hours after the raid on Sex Garage, the LBGTQ community and their allies staged a protest on Saint Catherine Street; and in doing so they demanded that the city of Montreal conduct a public inquiry into the arrests, as well as insisting all of the charges levelled against the patrons of Sex Garage be dropped immediately. This protest was disbanded after the group of demonstrators were promised that Alain St-Germain, Montreal's Chief of Police, would give them an audience the next day at Police Station 25. However, when the next day came, Chief St-Germain did not follow through with his promise - prompting another protest. Tensions at the protest escalated immediately, and 70 police officers began attacking the LBGTQ demonstrators and their allies. By the time the demonstration ended, one protestor was hospitalized and over 48 were arrested by the Montreal Police.
Out Of The Struggle Comes Celebration
Out of a direct response fem the protests and police conduct during and after the Sex Garage arrests of 1990, in 1993 Montreal's LBGTQ community formed Divers/Cité - a festival of music and art taking place at the end of July in Montreal's Gay Village. In an effort to promote love and acceptance, this event was open to anyone interested in attending - LBGTQ and heterosexual alike!
This also led to the formation of Lesbians and Gays Against Violence, whose members established themselves as part of the minority relations committee within the Montreal Police Force.
Divers/Cité was known as Montreal's premiere LBGTQ Pride Festival from 1993 until 2006, when it decided to concentrate more on being a festival of arts and music - which led to the creation of a specific LBGTQ Pride Festival, Fierté Montréal, that same year. Fierté Montréal continues to be the city's most well known Pride festival, and is one of the most celebrated Pride festivals in all of Canada.
What Kind Of Fun Can Be Found At Gay Pride Montreal?
Gay Pride Montreal is seven days of fun happening every year in the middle of August! If you want to dance, keep fit, watch a parade, celebrate the LBGTQ community, or revel in the arts, then Fierté Montréal is the big gay party for you!
Paint The Streets Gay At The Annual Fierté Montréal Parade
Beginning yearly around 1pm at the intersection of Guy and René-Lévesque, the annual parade at Gay Pride Montreal is three hours of unadulterated exhibition and dancing in the streets! Featuring floats from community groups, sports teams, and local businesses, this party is without a doubt the flagship event at Fierté Montréal - and brings in over 300,000 participants and spectators every year!
Each year, two prominent members of the LBGTQ community are selected to head the parade as Grand Marshals. These Grand Marshals are selected on his or her contribution to the LBGTQ community, and are announced in the weeks leading up to the parade. In the past, Grand Marshal's of the Fierté Montréal parade have included transgendered actress Candis Cayne, radio host Monique Giroux, soccer player David Testo, and poet/playwright Nicole Brossard!
Fit And Frisky
How can you have all of the fun Gay Pride Montreal has to offer if you're out of shape and tired? You can't! But thankfully the organizers have a solution for all of your exercise needs and offer complimentary Yoga and Zumba classes for anyone attending or participating in the festival. Stretch out, get sweaty, and start feeling your body they way you're supposed to with these dynamic, fun, and friendly classes!
As well, if you are a little bit more competitive in nature, you might want to enrol in the annual Pride Run. Starting at 10am in Mount Royal Park, the run is both competitive and friendly - whether you want to sprint, jog, or just walk around the track, the most important thing is that you're out there having fun!
Experience The Height Of Culture At Gay Pride Montreal
The contemporary arts scene would not be what it is today without the contribution of LBGTQ artists throughout history; so it's no surprise that a large portion of Gay Pride Montreal is dedicated to highlighting the newest and most exciting voices within various artistic disciplines.
Gay Pride Montreal has shined its spotlight on visual artists, dancers, photographers, and comedians. In the past, the festival was the exclusive exhibitor of a retrospective on the works of Horst P. Horst - a one of the 20th centuries most influential fashion and portrait photographers, and commonly regarded as a master of composition, form, and light. As well, Gay Pride Montreal has held exhibitions on the 'campy' ceramic works of Léopold L. Foulem, Paul Mathieu, and Richard Milette - who are known for using their post-modern art to bring to light contemporary attitudes within (and towards) the LBGTQ community.
One of the most attended art events at Gay Pride Montreal is the annual Café Des Arts. This event is a carefully curated exhibition of five influential LBGTQ artists who have used their creative talents to further the positive attitudes within the gay community. The works of the artists exhibited in the Café Des Arts is for sale to the public, with 100% of the sales supporting the artists directly. Past artists who have had their works displayed in the Café Des Arts include Majorie Anctil, Daniel Beaudoin, Linda Dawn Hammond, Melsa Montagne, and Bernard Rochon.
Gay Pride Montreal LITERALLY Loves Literacy
Celebrate the magic of the written word with Literary Pride! Literary Pride is a subsection of Gay Pride Montreal, and is a collection of events revolving around LBGTQ poetry, non-fiction, and fiction work. Each year, a public reading is held for a selected guest of honour, followed by a moderated discussion and question and answer period. The guest of honour in 2015 was director, actor, and author André Montmorency. Gay Pride Montreal is also host to Literary LBGTQ community are selected to give a three-minute reading of their work, which is then judge by a panel of professionals in the literary community. As well, an open-air LBGT Book Fair occurs every year during the Community Pride event.
Gay Pride Montreal - Supporting References and Resources
Have you made up your mind and decided that you're definitely going to attend Gay Pride Montreal this year? If that's the case, here are a few links that might help you plan your trip!
First off, the site you'll want to take a look at will more than likely be the Gay Pride Montreal Official Website. Updated regularly, this is the site that'll let you know exactly where and when Gay Pride Montreal events are occurring. The last thing you'd want to do is find yourself waiting on the street ready to party, only to learn the parade is happening on the next block!
Secondly, the site you're going to want to check out is a link to the Tourism Montreal Guide. If this is going to be your first trip to Montreal, you're going to want to check this out. Montreal is one of Canada's most historic and exciting cities, and I guarantee you're going to want to spend a few extra days checking out everything it has to offer. As well, this is a great resource for accommodations and restaurants in the city!
Lastly, in order to get the full experience of Gay Pride Montreal and understand what an important celebration it is for LBGTQ peoples across the country, we recommend you check out the History of Divers/Cité, the first Gay Pride Festival held in the city.