What's Hot For LA Pride
Gay Pride Los Angeles and June seem to go hand-in-hand together. June is an exciting month in the queer community. It's a time where the community gets together to support each other and remind the world that we are here and we are queer. The streets fill with bright rainbow flags hanging off porch roofs and hanging in storefront windows.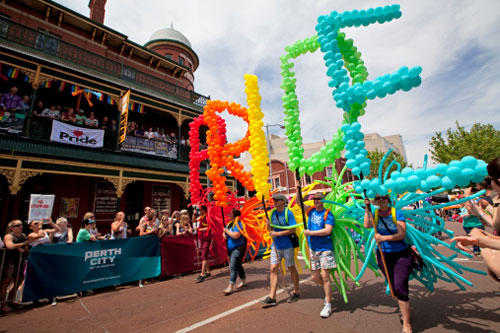 LA is practically synonymous with fabulous and the queer community fits just right in. In classic LA-style, instead of having a regular Pride parade to commemorate the anniversary of the Stonewall riots, they are throwing a weekend-long music festival. Honoring the queer community in the music industry, LA Pride is using Gay Pride to highlight queer artists and celebrate their accomplishments there in LA.
If you don't already know what Gay Pride is, Pride is a reminder to ourselves to be 'Out and Proud'despite not conforming to the norm, but embracing how we don't conform to the norm. Pride is about celebrating the differences that comes from growing up gay in a society that still hasn't fully embraced you. It's a celebration of identity, revelry, and honesty and Manplay.com has all the information you need.
The History Behind Los Angeles and Pride
Before we can begin to look at the history behind LA's gay community, we have to look at the history of Gay Pride. It isn't just rooted in pride and merriment, but a history of overcoming those feelings of shame and the oppression of having your rights taken away.
The Stonewall Riots
Before the late sixties, the queer community were basically shunned from any major spaces. If you were out, your family would either try to force religion on you in abusive ways to change you or they would disown you. The only other option was to hide it away and to never act on those feelings. With laws prohibiting homosexuality, especially in men, like the Sodomy Laws, the gay population across America had to operate in secrecy.
Because of the above laws, police raids were very common on gay bars and bathhouses. These establishments were scrutinized with undeserved severity and intensity. The gay community faced a lot of violence and discrimination before they finally had enough.
1969 was the pivotal year that changed it all. On June 28, the police raided an inn in Manhattan called the Stonewall Inn. This was a common watering hole for people in the gay, lesbian, bisexual, and trans community. This was not any special raid at the time, it was rather routine harassment. However this particular group must have just been too exhausted to tolerate it any longer. Refusing to put up with being arrested for not being able to choose the right gender to love.
porch roofs and hanging in storefront windows.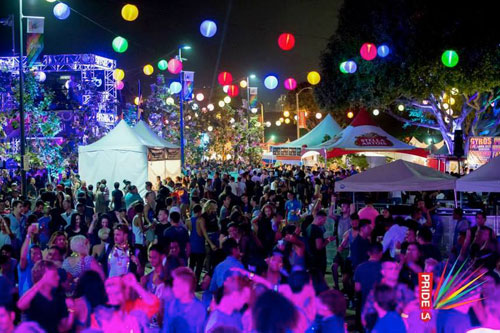 Unable to stand to see such violence continually being perpetuated against the gay community for wanting nothing than to have a place to have a drink together, they began to fight back. The community rioted back in the streets and took to marching because they would not stand for it anymore.
This led to the first ever Gay Pride parade and making the community visible. This would spark the Gay Rights Movement and enable the world to move past the blatant discrimination and begin to embrace the gay community.
LA's Reaction to Stonewall
Los Angeles was swift in its reception to the riots on Christopher Street. It was only the following year that they began to put together plans to commemorate it. The founders of the LA Pride Parade were, Reverend Bob Humphries, a United States Mission founder, Morris Kight, a Gay Liberation Front founder, and Reverend Troy Perry, a Universal Fellowship of Metropolitan Community Churches founder.
The founders faced a lot of opposition when they needed to get permits to secure permits for their plans. The resistance they faced was not only social, but also legal. Rev. Perry quoted Los Angeles Police Chief Edward M. Davis as having said, 'As far as I'm concerned, granting a permit to a group of homosexuals to parade down Hollywood Boulevard would be the same as giving a permit to a group of thieves and robbers.'
If the American Civil Liberties Union did not intervene the first ever Los Angeles Pride Parade might not have ever happened. Although they had very little time to put it together, LA managed to organize an elaborate parade, very similar to what we're familiar with today. It was typical LA fashion as back then, most cities organized rallies and marches. Looks like they were just one step ahead.
LA Pride in its Early Years
At the beginning, Gay Pride Los Angeles took place near Sunset and Cherokee, where it was a huge festival with booths, carnival rides, food and plenty more elaborate additions. However there was a continued resistance from the LAPD so they had to relocate to West Hollywood in 1984.
Throughout its lifetime, Los Angeles Pride has used the Pride Festival to boost many important messages to the gay community. They have tackled themes like sexual liberation, the reaction to HIV/AIDS, and social equality. While carrying on in true sunny LA style, on the surface it may just look like a party, but LA Pride is about tearing down the walls that lock the queer community away from the mainstream and bringing them into the conversation.
So What Is Pride Like In Its Recent Years?
Gay Pride LA has grown to certain magnitude in Los Angeles. The celebrations can have up to over four thousand participants. This might be that way as in 2010, Los Angeles Mayor Antonio Villaraigosa threw the first-ever LA Pride Garden Party, at his residence in the Getty House. The following year he declared June as LGBT Heritage Month and the Pride parade also included more than 350 students from the Los Angeles Unified School District, the largest youth group contingent ever.
porch roofs and hanging in storefront windows.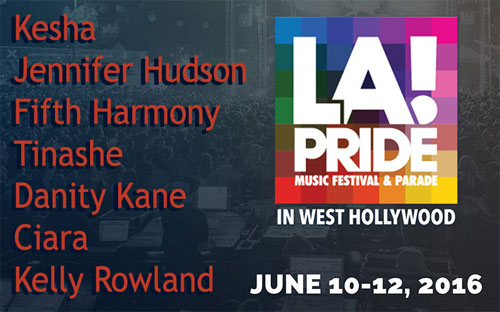 What's Going to be Happening at Gay Pride LA This Year?
Gay Pride Los Angeles has plenty planned for Pride this year. The events are planned all throughout June. There's going to be something for everyone there so there is going to definitely be something there for you.
LA Pride Music Festival
The main bulk of the Pride festivities are during the LA Pride Festival. This year, the Festival falls on the weekend of June 10-12. LA is deciding to celebrate Pride this year by paying tribute to queer and gay musical artists.
This year there are going to be many stages with tons of performances by many queer and queer-friendly artists. The line-up they have so far ranges in genre, with everything from pop to electronic to hip-hop. The line-up they have signed up so far goes:
Bebe Rexha, Big Freedia, Brayton Bowman, Carly Rae Jepsen, Charli XCX, Conrad Sewell, Da Brat, Daphne Willis, Daya, Diana Reyes, Dondria Nicole, EC Twins, Faith Evans, Gallant, Gavin Turek, Gia, Hailee Steinfeld, Inaya Day, Krewella, Le1f, Lion Babe, Mariana Seoane, Maribel Guardia, Marilyn Odessa, Michael Blume, Michell'e, Milan Christopher, Oscar y Edgar Velasquez, Rilan, Robin S., Shamir, Siya, Timeflies, Trina and Tyran Brown.
As you can see the artists range from nationally popular to smaller obscure queer artists.
Carly Rae Jepson is signed on to headline the music festival. She is a huge supporter of LGBT rights and many of her songs have been frequently interpreted to have very strong supportive tones of acceptance and pride. She has been an active advocate for queer rights, even early on in her career. She has demonstrated several times that she puts the rights of the gay community over her career. She chooses to opt out of certain performances if she discovers the organizers are in conflict with her beliefs.
For example, she was signed on to be a headliner for the Boy Scouts' annual national jamboree back in 2013, however she dropped out due to Boy Scouts policy on banning gay scouts and leaders to participate in their organization.
Another famous advocate for gay rights from the lineup is Charli XCX. She is an outspoken advocate on the issues of homophobia, and the illegality of being homosexual in Uganda. She has an invested interest in the Gay Rights Movement and sees beyond the borders of countries.
Trina is another name that stands out from the list. Trina is a rapper that openly supports the gay community. When Frank Ocean came out she publicly offered her support. She often participates in events and campaigns for LGBT rights and social equality.
This is a ticketed event and the tickets are priced at about $35 per day of the festival. This $35 includes all the performances for that day and access to the festival areas. Slight more expensive tickets will give you exclusive access to VIP areas.
The LA Pride Parade
As with all LGBTQ Pride Festivals, it always ends in the iconic elaborate parade. The parade is free to the public and can be enjoyed by all. You'll want to wake up early on the final day of the festival, June 12. There will be floats, men dressed in all states of dress and undress. Vendors and businesses will be out promoting their businesses and offering deals.
One City One Pride LGBTQ Arts Festival
Celebrating queer culture in the arts is a recurring theme for LA Pride this year. Throughout May 22 - June 30, all throughout LA there will be events to celebrate different forms of arts in the queer community. It covers many different forms of art, some of which are often forgotten in discussions of gayness and art.
Some notable events that will be coming up are:
OutFest - OutFest is an organization that promotes and shares LGBT themed films and movies. Throughout the One City One Pride Festival, there will be several OutFest screenings. Some of these screenings will also include workshops to foster more expression through art in the LGBTQ community.
On June 25 and June 26 the ALAP Pride Play Reading Festival will showcase different plays that revolve around queer and gay themes. It's a free event and will include several short play readings and one full length play reading. This is a great event to start to get into queer culture and see how other people express their sexuality through art.
QueerWise "Selfies: Exploring Our Multitudinous Selves" is a spoken word event where older LGBTQ performers express how they explore and reveal themselves to the world. This is a great opportunity to get a peek into the often unseen world of older queer life. When the majority of queer media involves young cruising gay men only, it's hard to see what your future can offer. This can give you the solid ground of knowing what your future can possibly look like. This event takes place on June 21.
If you want to learn more about any of the events mentioned above, check out the links below. Be sure to check in regularly as Pride approaches, as more events are likely to pop up, some by smaller spin-off events hosted by other organizations.
LA Pride Music Festival and Parade
OutFest
One City One Pride LGBTQ Arts Festival
If you want to know about GAY PRIDE ORLANDO events, CLICK HERE.