Gay Pride Whistler Keeps You Partying In The Off Season
What makes Gay Pride Whistler different from any other Gay Pride event around the world? It's the only Gay Pride Winter Ski Festival as well! And it's all nestled in the middle of a quaint and stylish gay-friendly community, jam-packed full of hotels, restaurants, boutiques, and happy smiles. But that's not even the best part - Gay Pride Whistler takes place only a short distance away from Whistler Blackcomb, one of the biggest and thrilling ski resorts in the world!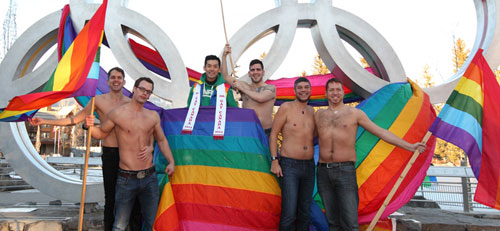 The town of Whistler itself follows the template of a charming European pedestrian village - which means no two places are too far from each other and it's quiet easy for visitors to find out where they are going. But Whistler sure manages to cram a lot into a small space; a quick tour around the city will illustrate for you that Whistler contains all of the amenities of a larger city, and more. Centred, of course, around its prime location for winter sports, Whistler offers a large array of activities including Dog Sledding, Bungee Jumping, A Zipline Run, Inner Tube Sliding, Snow Mobile Tours, and last but not least, Skiing. As well, within the city you will find world-famous art galleries, spas, shopping, and a chic restaurant scene.
But things get even better when you start to bring the events offered by Gay Pride Whistler into the forefront. Beyond the actives mentioned above, during the pride celebrations you'll find professionally guided group snowboarding and skiing tours, unique entertainment events (film screenings, comedy shows, drag shows, etc), female-centric programming, genre specific fun (for lesbians, bears, party boys, and more), and exclusive Pride Parties like the Cowboy Party and Gay Pride Whistler's World-Famous Snowball Party! As well, you will also find restorative yoga classes and a specially designed 'chill space' from the team at the Health Initiative for Men (HIM) available to any attendees who have partied a little bit too hard!
In reality, if you were so inclined, you could make British Columbia your year-round Gay Pride destination; just spend your winters in Whistler and your summers at Gay Pride Vancouver!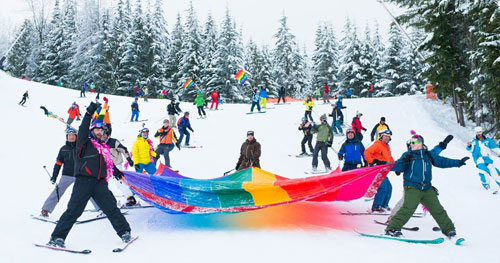 What Makes Whistler Stand Out?
Not a lot of people in the world like the cold weather - so what makes people come from around the world every year to celebrate Gay Pride on the top of a mountain? Because thanks to places like Whistler, Canada has been regarded by the World Pride community as one of the most accepting countries in the world. Sure, it was a struggle to get where we're at, but with giant leaps forward like legalizing same-sex marriage over 10 years ago, the community recognizes that Canada is a country that cherishes and promotes equality, acceptance, and love. And it's that full acceptance which lets over 3000 gays and lesbians from across the globe party their faces off at Gay Pride Whistler! And with regulars returning year after year, the word is spreading - which means the festival is only growing.
Lead With Olympic Spirit
One of the most prominent figures behind Gay Pride Whistler is the leader itself - Dean L. Nelson. Dean's many accomplishments include being an LBGTQ Activist, a social media engineer, a philanthropist, an event producer, a travel writer, a board member of various LBGTQ organizations (such as Travel Gay Canada, InterPride Vancouver, the OutGames, and the Vancouver Pride Society), the founder of Mr. Gay Canada, the co-founder of Mr. Gay World, and he was also the recipient of the Human Rights Leadership Award from Thompson Rivers University.
And still, with all of those accomplishments under his belt, the thing Dean is most well known for is being the the founder and executive producer of the Pride House at the 2010 Olympic and Paralympic Winder Games in Whistler/Vancouver. Pride house was an openly gay LBGTQ-focused pavilion that served as a safe-space for all gay, lesbian, transgendered, bisexual, and gender-queer athletes, volunteers, and allies during the games. Seeing as it took place in Vancouver, the location of Pride House was able to highlight Vancouver and Whistler's long history of acceptance of LBGTQ peoples, and provided insight into the community there. As well, Pride House provided information to non-Canadian athletes from less tolerant countries about gaining asylum and immigrating to Canada, which included information on the International Lesbian, Gay, Bisexual, Trans, and Intersex Association and legal resources such as representatives from Egale Canada.
A groundbreaking venue at it's time, Pride House quickly became a hot spot for media and celebrities at the 2010 Winter Olympic games. In fact, as the games were taking place, Pride House and the topic of homophobia in the world of sport because the third most mentioned piece of news. During the events themselves, a number of celebrities and notable figures visited and supported Pride House, including visitors such as Mayor of Vancouver Gregor Robertson, Olympians Mark Tweksbury and Marion Jay, and current house of Late Night, Stephen Colbert!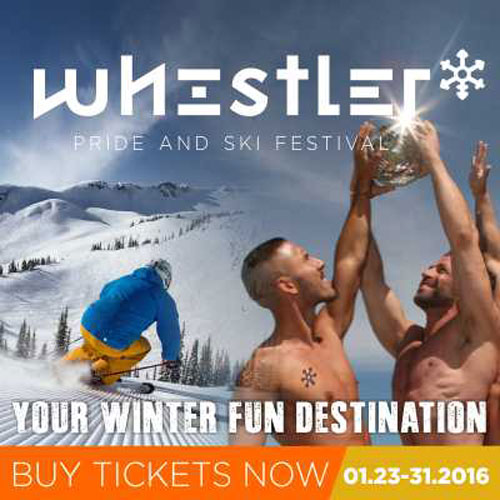 What Kind Of Fun Can You Expect At Gay Pride Whistler
There is no better way for any guy looking to beat the winter blues with another hot stud than to head down to the top of Blackcomb Resort at the end of January for Gay Pride Whistler. The celebration contains a wide array of indoor and out events (both sporting and leisure) that are sure to keep you busy for the duration of your stay.
Do you like to party every night? Gay Pride Whistler is the place for you! Do you like to laugh? With Gay Pride Whistler's Comedy and Drag events, you're sure to be in for some side-splitting nights. Are you someone that needs to relax after a long day on the trails? Gay Pride Whistler can take care of that too! Do you have a few lesbian friends that might need a break from all of the sexy Polar Bears? Gay Pride Whistler has a wide variety of Ladies Only" events waiting for them! But most of all, Gay Pride Whistler's actual title is the Whistler Pride and Ski Festival - so you can expect that skiing is going to be a big part of the celebrations! But if skiing isn't really your thing, don't worry - Gay Pride Whistler has more than one alternative outdoor activity for you, like Snowshoeing, Zipline riding, and more!
Hit The Slopes At Gay Pride Whistler
Without a doubt, the biggest attraction to Gay Pride Whistler (besides all of the hot guys is the fact it's home to the best skiing location in all of Canada. But if you haven't skied before, don't be intimidated - Gay Pride Whistler offers beginner, intermediate, and expert skiing for anyone interested in taking part through their Whistler Ski Guiding events. Through this event, expert guides will take you through all of the beauty the mountains have to offer according to your abilities. Just meet up every morning by 9:45am and be ready to leave on your skiing adventure by 10:00am! A group lunch happens every day at 11:45 in the Roundhouse Lodge.
As well, you can take part in a Blackcomb specific skiing excursion with the Blackcomb Ski Guiding event. Much like the Whistler skiing event, groups meet up at 9:45 and must be ready to leave by 10am for their journey along Blackcomb mountain. If you're new to Gay Pride Whistler, this is guaranteed to be a great way to meet new friends at Gay Pride Whistler
More Than Just Skiing At Gay Pride Whistler
Beyond skiing, there are plenty of other outdoor activities available at Gay Pride Whistler to keep your days busy. If you love the mountain but aren't a fan of skiing, you might enjoy the Pride Slide Inner Tube Park on Blackcomb. Tonnes of fun for anyone attending, this event lets you fly down the face of Blackcomb mountain on the back of a special inner tube - just like when you were a kid! Or, if you're not up to flying down the side of Blackcomb mountain on an inner tube, why not fly through the sky hanging off of a hipline at the Superfly Zipline event - see the glory of Whistler/Blackcomb like nobody else as you run along a wire above the trees and snowy landscape! And unlike skiing, you don't need to have any experience to ride the hipline - gravity does all the work for you. If you are someone who wants to take things a little slower and really enjoy the beauty of the natural environment, you can partake in Gay Pride Whistler's Snowmobile Fresh Track BC Tour, Natural Mystic Snowshoe Tour, or Nordic (cross-country) Skiing Tour. Have fun and stay active every day at Gay Pride Whistler!
A Variety Of Night Time Entertainment Is Waiting For You At Gay Pride Whistler
After your outdoor fun ends, but before the late-night excitement begins, Gay Pride Whistler has different ways to entertain you every night. Daily Apres Ski events are a relaxing ways cool down before the night starts and meet new friends you're sure to bump into later. Fans of comedy will appreciate Gay Pride Whister's comedy and drag shows, including the Oh Snow She Didn't comedy and drag show, the Purrlesque ladies-only burlesque show, or the annual Whistler Pride Comedy Night where popular comedians (past guests have included Margaret Cho) come to the mountain to entertain an energetic audience. And for all of you cinephiles out there, Gay Pride Whistler also regularly screens thoughtful and fun movies that always have an appeal to the LBGTQ community - such as the 2015 selection Jesus Meets The Gay Man. Gay Pride Whistler knows that their LBGTQ audience is full of people with different tastes, but as you can see from the vast list of events offered, they sure do try to please everyone!
Nobody Can Party Like Gay Pride Whistler!
If skiing isn't really your thing and you're planning on going to Gay Pride Whistler exclusively for the party experience, you won't be disappointed! There is a party happening every day at Gay Pride Whistler, most days there's more than one! Men and women enjoying the event can put on their best nightwear and head over to the CABN for some cocktails and dancing at the Long John Party. If you want to unleash your inner jock, then the Varsity Party is the place where you can show your team spirit and dress up like a jock, cheerleader, or fan and dance the night away. Or maybe you're a little sick of the snow (hey, it happens), then you'll love the Splash Pool Party. Does a man in uniform turn you on? If so that's the case, then nothing will turn you on more than the Furrocious - Gay Pride Whistler's Military Ball - dress up like a hot cop or sexy soldier and howl at the moon. If Dudes are your thing, then strap on your chaps and rope yourself a stud at Gay Pride Whistler's Cowboy Party. If you happen to be partying with a few lesbian friends and who want to go out on their own, they've got their own party too - Gay Pride Whistler's Snow Belles is a ladies-only event of sexy bass beats that happens right before the closing night party. And what is the closing night party? It could very well be the high point of Gay Pride Whistler; the Snowball Party is the party to end all parties during the week-long event. Gay Pride Whistler knows how to go out with a bang, and the Snowball party is an audio/visual experience full of sexy guys and girls, hot sounds, and international DJ's who are there to keep your body moving all night long!.
Continued Support For Brother And Sister Organizations Across The Country
Another reason Gay Pride Whistler is an important figure in the LBGTQ Community is their exclusive support of other gay and lesbian organizations across the globe. For over 25 years now (since it first began), Gay Pride Whistler has been a leader in economic sustainability for LGBTQ businesses. Some of the organizations they have partnered up with and help to promote include Travel Gay Canada, InterPride, GLISA (Gay and Lesbian International Sports Association) OutGames, and the IGLTA (International Gay and Lesbian Travel Association).
Three Resources You Might Need
When you plan your trip to Gay Pride Whistler, one thing to keep in mind at all times is that whether Pride events are going on or not, Whistler is a prime tourist destination 365 days a year. Tourists are flocking to Whistler all of the time, so you're going to want to get in front of the pack and plan ahead. Book in advance and don't worry about wait times to get into clubs or hop aboard ski lifts!
If you want the inside track on how to plan you Whistler escape, the first site you'll want to stop by is the Whistler Tourism Website. This site has any information you could ask for with regards to a vacation in this snowy paradise. Get a good deal of knowledge on the most affordable hotels, chalets, and restaurants before you even get there!
But beyond regular tourist stuff, we know why you really want to go there - you want to party and play at Gay Pride Whistler! Since that's what you'll be spending most of your time doing, you'll want to have a look at the Gay Whistler website and destination guide. Gay Whistler will keep you informed as to all of the hot events at Whistler Pride, and any schedule of venue changes that might occur. After all, how are you going to Meet You Cuddly Polar Bear if you end up missing the party?
Finally, we advise that you also take a look at some history on the guy who runs the whole thing, Dean Nelson. Dean is an incredibly interesting and inspirational man, and if you want to really know about Whistler Pride, you should know a little bit about the man behind it.