Ottawa's Gay Pride Gets ManPlay Feeling Patriotic!
Canada's Capital City, Gay Pride Ottawa celebrations, known by the city as Ottawa Capital Pride runs from Monday, August 15th until Sunday, August 21st. The events happen around the city, but have a focus around the city's Gay Village that is located on Bank Street, between Somerset Street and Gladstone Avenue. This year it is projected to have over 100,000 attendees at the festivities this year. There are plenty other Gay Pride celebrations to look at, one of which is the  Quebec City Pride Festival, or otherwise known as Fête Arc-en-ciel (Rainbow Festival), which started way back in 2002, and has been running every year for the past fourteen years, you can read more about this Gay Pridehere on ManPlay. Another Gay Pride celebration that has a fair amount of ties with Gay Pride Ottawa is also theGay PrideCalgary celebrations, which you could also read about here, and many other articles about Gay Pride all over Canadahere, only on ManPlay.com.

History and Statistics of Ottawa Gay Pride (Ottawa Capital Pride)
Ottawa's first gay pride celebration was a picnic in Strathcona Park, a park located in central Ottawa in June 1986. The park's address is 25 Range Road, and lies on the west bank of the Rideau River and marks the eastern edge of the Sandy Hill neighbourhood. There were about 50 people who attended the picnic. with an estimated population of 600,000 people in 1986, the event represented a very small percentage of Ottawa's population. It was a small, intimate affair, arranged by local members of Ottawa's growing gay community.
It wasn't until 1989 that Ottawa's Gay Pride celebration became a week long event, fill with activities like dances, exhibits, films, sporting events, and receptions. The annual Gay Pride celebrations were held at Festival Plaza, which is located just outside of City Hall (110 Laurier Avenue West), where a lot of the city's festivities begin. It was moved to Bank Street in 2002, which is now where Ottawa'sGay Village stands. Then, shortly after, in 2005, the festival was moved from Bank Street back to Festival Plaza and the dates of the festival were changed from July to August.In 2008 the festivities evolved into a city-wide 10-day festival of over 20 events, complete with a Pride Parade and other events.
Troubles with Gay Pride Ottawa
In 2014, Capital Pride, the organization that ran Gay Pride Ottawa celebrations, filled for bankruptcy after running into financial troubles. Capital Pride's board of directors said that after 29 years of running the Gay Pride Ottawa festivities, the festival had "found itself in a financial situation beyond its ability to alter or repair and is now forced to declare bankruptcy."(Seymour, 2014) It had been reported that they had somewhere near $100,000 owing to venues and individuals, the issue was allegedly due to "accounting irregularities." There were quite a number of venders were fuming about how much money the organizers had owed them. One of the venders who supplied stages, tents, portable toilets, tables, chairs and other infrastructure for the festival was owed about $42,000, a crazy amount of money.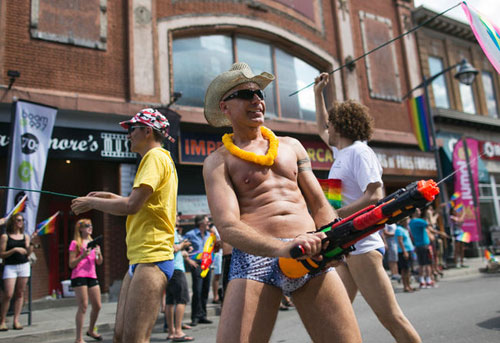 Early in 2015, a new organization, Ottawa Capital Pride, formed to save the festival and ensure there would be a celebration for the 30th year in Ottawa. The new event had it's issues, but ran as smoothly as one would hope it would. There had been some talk about Gay Pride Ottawa having issues with people not feeling safe or comfortable at the Gay Pride festivities, especially those in the Lesbian, Gay, Bisexual, Transgender, Queer plus (LGBTQ+) community. There has always been some issue in Ottawa with equality, and discrimination towards the homosexual community. 1971, marked the first gay protest in Canada. A group of about 200 gays and lesbians gathered on Parliament Hill in Ottawa to read a list of demands, this was the first time that Canadians had protested publicly for gay rights. The organizers of the gay rights protest chose Parliament Hill deliberately because they wanted to target federal, and not the provincial, lawmakers. This stood a better chance to gain rights for the entirety of Canada, and not just Ontario, in which houses Canada's Parliament. It was also the second anniversary of the Criminal Code, Bill C-150, amendment that decriminalized same-sex relationships for people over the age of 21.
Ottawa Capital Pride has been since working with the community, reaching with surveys to better serve the community, and make the celebrations more welcoming and safe for all participants. If you participated in the 2015 Gay Pride Ottawa celebrations, you can fill out the survey on their website. The purpose of the survey is to gather feedback on programming for the 2015 festival season, and to get a better idea of what the Gay Pride Ottawa communities would like to see in the 2016 season. This anonymous survey may have an effect on future programming for Capital Pride, the Gay Pride Ottawa celebrations. The survey breaks down each of the events from last year, and asks you to evaluate the event on topics such as the value of the event, the openness, accessibility, and the location of the event.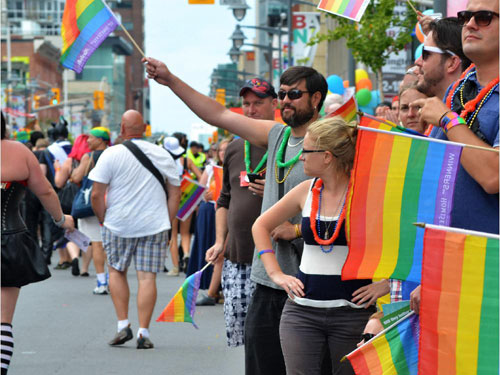 What to Expect at This Year's Ottawa Capital Pride; Gay Pride Ottawa
All of the following events were taken from Ottawa Capital Gay Pridewebsite. This is a summary of the events that will be happening, when they are happening, and if it is available, where the event will be taking place. You may have to wait until closer to the event to see if the Gay Pride organizers will post any more information about the events happening this year, 2016.
Monday, August 15th, 2016
8:00 AM to 1:00 PMOttawa City Hall- Flag Raising
Ottawa Capital Pride is started off with the inaugural raise Pride Flag in celebration of equality in the work place. Ottawa's City Hall is located 110 Laurier Avenue West, just across the Rideau Canal from Ottawa University. You can join city officials, and members of the community to a symbolic gesture of equality throughout the city. Stand in the warm morning sun and watch the flag of red, orange, yellow, green, blue and purple, slowly raising up the pole, as symbol of the slow, but steady rise of gay rights in Ottawa.
10:00 PM to 1:00 AMTBD- Alt-Queer Pride
This is an opportunity to bring in those items of clothes you never wear, or art projects you've been working on for Capital Pride's Art/Fashion swap. If you have some clothes that you can't fit in, or never seem to have the time to wear, they would be perfect to bring to this event. If you have been working on art or craft projects at home or in your studio, this would also be a good event to bring them to.  There will be refreshments, music and you could leave with a new wardrobe and one-of-a-kind decor pieces, and full of Gay Pride. This year's location is still to be determined, but check out  Gay Pride Ottawa(Ottawa Capital Pride)'s website for updates on where it will take place this year.
Tuesday, August 16th, 2016
5:00 PM to 7:00 PMTBD- Youth Cafe
An event just for youth 18 years old and under, but don't worry those of you 19 years old and older, there will be plenty more events for you to do. It is a chance to tell coming out stories which are anonymously submitted over social media, that will be presented by volunteers, sharing the stories of Ottawa's LGBTQ youth. The stories are anonymous, but inspiring, and can give you hope that it in fact does get better. This year's location is still to be determined, but check out Gay Pride Ottawa(Ottawa Capital Pride)'s website for updates on where it will take place this year.
Wednesday, August 17th, 2016
3:00 PM to 6:00 PMHintonburg Park- Hintonburg Family Picnic and Healthy Pride
There will be a barbecue for LGBTQ families along with family friendly Gay Pride activities. You and your family can come and get your face painted, join in on making crafts, and have fun playing a variety of outdoor games.
8:00 PMCanadian Tribute to Human Rights Monument- Human Right's Vigil
Everyone is invited to join in to show your Gay Pride at this year's Human Right's Vigil in solidarity of all those who are still struggling with human rights all around the world.  The monument sits on the corner of Lisgar Street and Elgin Street in Ottawa, just down the street from Ottawa's City Hall.
8:00 PM to 10:00 PMArts Court- Rainbow Youth Movie Night
In partnership with the Ottawa International Animation Festival(OIAF) is presenting a movie for LGBTQ youth and their allies. The Arts Court is in a former courthouse, it is an arts venue that hosts multiple galleries and innovative live performances, which is located at  2 Daly Avenue. This event free to attend, and all drinks and popcorn was donated by grocery store chain, Loblaws.
Thursday, August 18th, 2016
7:00 PM to 9:00 PMTBD- Mr. and Miss Ottawa Capital Pride Pageant 
It is a do not miss event where anyone can participate in the pageant (sign up in advance) for the title of Mr. and Miss Ottawa Capital Pride 2016. This year's location is still to be determined, but check out  Gay Pride Ottawa(Ottawa Capital Pride)'s website for updates on where it will take place this year.
Friday, August 19th, 2016
10:00 PM to 2:00 AMBarrymore's Music Hall - Rainbow Party
It is just as it says, a party. Come and dance to the beats of guest DJ's, and party with members of the LGBTQ community and their allies. Barrymore's Music Hall was once Ottawa'sImperial Theatre, but in 1978 was revived into a concert hall and nightclub, which is located at 323 Bank Street, almost right in the art of Ottawa's Gay Village.
Saturday, August 20th, 2016
8:00 PM to 12:00 AMTBD- Pride Social
This is an all ages event that takes place both inside and outside. This event will have funky retro furniture, dancing, glowing lanterns, entertainment, delicious food, and a cash bar. The social will also include a presentation of images from the Pride Archives and contributions from the community showing some of the history of Ottawa's Gay Pride experiences. This year's location is still to be determined, but check out  Gay Pride Ottawa(Ottawa Capital Pride)'s website for updates on where it will take place this year.
Sunday, August 21st, 2016
1:00 PM to 3:00 PMBank Street- 2016 Pride Parade
You can watch the parade with the other estimated 100,000 attendees. The route starts at Bank Street and Gladstone Avenue, goes up Kent Street to Laurier Avenue West, then south on Bank Street, and ending on Somerset Street West. Do not take too long watching the Gay Pride Ottawa Parade, because as the parade starts, so does many other events, all of which are listed below.
1:00 PM to 7:00 PMBank Street in The Village- Community Fair
There will be a Community Fair between Somerset Street West and James Street. The Community Fair will be featuring a variety of booths and activities. Ottawa's Gay Village is located on Bank Street, between Somerset Street and Gladstone Avenue.
2:00 PM to 11:00 PMBank Street and Gilmour Street- Main Stage
The Main Stage continues the party from the parade. Join in on the the Beer Garden, supplied by Clocktower Brewery, along with the best LGBTQ entertainers, and Ottawa's best food trucks, so party on!
2:00 PM to 11:00 PMBank Street and Florence Street- Fresh Zone Stage
The Fresh Zone Stage is a family friendly safe space, with music played by DJ's, dancing, and body painting. There will also be a number of family friendly performances happening all day for attendees of all ages to enjoy. It is a great place to go with kids, or people who are kids at heart, just keep in mind that no alcohol will be served at this event.
Gay Pride Ottawa Resources
If you would like to check out any of the sources used in this article, below are all sources used in the order found in this article:
Ottawa Gay Pride- http://ottawacapitalpride.ca/
SORTIE Archives- http://www.arcencielquebec.ca/activites/journal-sortie/archives/
CBC News- http://www.cbc.ca/news/canada/ottawa/capital-pride-festival-to-declare-bankruptcy-1.2806083
Ottawa Citizen- http://ottawacitizen.com/news/local-news/capital-pride-declares-bankruptcy
Ottawa International Animation Festival- https://www.animationfestival.ca/
Ottawa Capital Pride Survey - https://docs.google.com/forms/d/1vcke8fI3p6nmzO9kkOKiTPSui45X7gBhMT9aXyyfGyE/viewform?edit_requested=true&fbzx=2667131274898933169