Gay Marriage In Rhode Island
Manplay.com is the site to get current information, history and stats on Rhode Island gay marriage. Read more to see how gay marriage became legal here. Gay marriage in Rhode Island has been legal since August of 2013. It has been dubbed by many as a refreshing state to live as a gay man with your husband and family if you desire to have one, as it is gay-friendly and welcomes gay marriage as well as gay families and the dynamics that go along with both.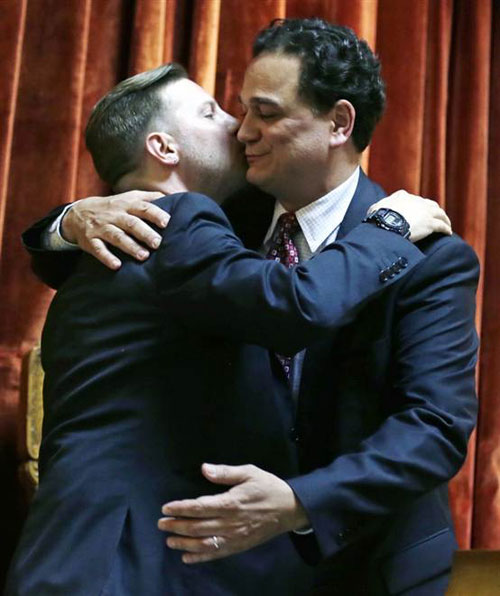 Rhode Island Gay Marriage History
In 2002, Rhode Island allowed unregistered domestic partnerships for the first time. A few benefits came from this for spouses. For example, if a spouse dies, the other receives their death benefit. Couples who were in a domestic partnership were allowed to make adjustments to their taxes to account for the cost of health insurance premiums. They were also allowed to plan the funeral of their spouse. When civil unions were adopted and domestic partnerships went to the wayside. Attorney General Patrick C. Lynch issued an opinion in February of 2007, stating that same-sex gay marriages performed in Massachusetts were to be recognized in Rhode Island. He realized that this being his opinion he did not have a lot to back him up legally at this point. Lynch fully expected that this decision would be fought in court.Massachusetts Superior Court Justice Thomas E. Connolly ruled in September 2006, that same-sex gay couples who reside in Rhode Island can marry in Massachusetts. This ruling was huge. No court was able to make a decision on divorces for same-sex marriage and how same-sex couples would go about getting one if they needed to. Marriage statuses in Rhode Island have not been affected by this ruling.
The Rhode Island Supreme Court in December 2007, decided finally that the Rhode Island Family Court was the court that would hear the divorce case for a Massachusetts same-sex gay couple, although everyone knew that this was not the right court for the case to be heard. So, the Family Court became responsible for all cases that involved same-sex couples who were looking to file and obtain a divorce.
A bill was introduced that offered civil unions, rather than same-sex marriages, as a way to appease gay couples who were looking to get married. This way Rhode Island gay marriage did not have to be ruled as legal, instead gay couples could enter into a civil union. Civil unions were made official and legal in May 2011. The Rhode Island Senate worked hard to ensure that the bill to legalize civil unions was supported and passed in a timely manner. This was done and signed by the Governor on July 2, 2011, and made retroactive to July 1, 2011.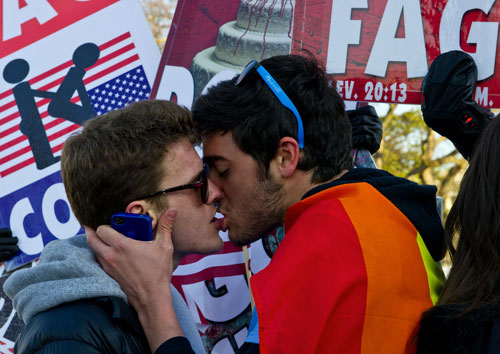 Since civil unions have become legal there have been very few, of these relationships that have been established. Only 46 civil unions with same-sex gay couples have entered into a civil union as of February 2012. Civil unions are now no longer available since August 1, 2013, when same-sex marriage became legal in Rhode Island. All previous civil unions that were completed are still recognized and considered legitimate.
Legislation to legalize same-sex gay and lesbian marriage was introduced in early 2011. Governor Lincoln Chafee previously said he would support and sign the legislation if the state legislature approved it. The legislation to make same-sex gay marriage legal stalled because there was not enough support for it within the legislature. Governor Chafee signed an order to recognize same-sex marriages that were performed outside of the state. Arthur Handy and Donna Nesselbush on January 3, 2013, introduced legislation to legalize same-sex gay and lesbian marriage in Rhode Island.
There was little support to make same-sex gay marriage legal, so this did not go very far. It was surprising when all 5 Republican State Senators supported the same-sex legislation. Finally, the house passed the legislation on May 2 and Governor Lincoln Chafee signed the legislation, as he had promised the same day.
On August 1, 2013, marriage was defined in Rhode Island as any person who otherwise meets the eligibility requirements of chapters 15-1 and 15-2, may marry any other eligible person regardless of gender.
Rhode Island Gay Marriage Statistics
In May 2009, 60% of Rhode Islanders supported legalizing gay marriage, while 31% opposed legalizing same-sex marriage according to a poll conducted by Brown University. In January 2013, Public Policy Polling reported that 57% of Rhode Island voters were in support of legal recognition of gay marriage and 36% of the voters do not support gay marriage. A study by the Williams Institute at UCLA found that same-sex gay couples are represented by 99% of counties across the United States.
According to the 2010 U.S. Census numbers, the number of people willing to identify that they are gay is increasing at a very steady pace. Rhode Island is ranked 14th for most gay and lesbian couples per household with 3,664 same-sex couples. Many long time Rhode Island residents have commented that Rhode Island has changed into a gay-friendly place to be and live in. There are approximately 8.9 same-sex gay couples per 1,000 households in Rhode Island, with most couples living within Providence. 38 percent of these couples are males. It appears that more same-sex couples than ever are comfortable with 'coming out' in Rhode Island as they finally feel safe to live their lives how they have chosen to do.
There is a majority of gay couples who are not raising children, but 19 percent (6,693) of gay couples do have families and are raising children in a same-sex gay household. Same-sex families who are raising children are far more common in the southern and western part of the United States. Often these children are from first marriages/relationships that were straight relationships who have since formed a gay relationship with a partner and the couple is raising one of their children from their heterosexual relationship together as a new family unit. That is not to say that married gay couples are not having children together, they are, and that also comes in many different forms. Some couples use the sperm or egg of one of the partners' and then find a surrogate while other gay couples legally adopt children and raise them as their own.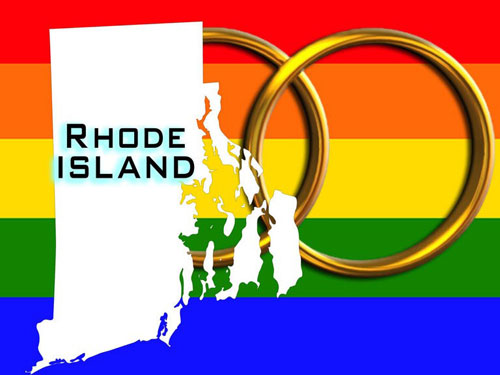 Current Status Of Rhode Island Gay Marriage
The U.S. Supreme Court sent down a ruling on June 26, 2015, to make all gay marriage legal in every U.S. state. This ruling supersedes all other laws, rulings, opinions, etc. that have been independently developed by lawmakers in each individual state. Gay people in Rhode Island currently have the same legal rights and protections as all heterosexuals residents. There are also discrimination laws that protect all gay Rhode Islanders based on sexual orientation, that has been in effect since 1995, and then employment, credit, housing and public accommodations that have been in effect since 2001. Now that gay marriage is legal as well, Rhode Island has become a gay-friendly state for all couples who are looking to get married and build a life together.
Future Status Of Rhode Island Gay Marriage
Since the 2015 ruling by the Supreme Court to legalize same-sex gay marriage across all of the United States of America, same-sex marriage is on the rise in Rhode Island. It is quite likely that it will continue to rise over the next decade as gay couples should finally feel comfortable 'coming out' and living as an 'out' couple. Another key factor with gay marriage finally being legalized is gay divorce. It has been very difficult for gay couples to get a divorce in any state including Rhode Island in the past. Now that gay marriage is legal in many states including Rhode Island couples who have been legally married in the state of Rhode Island can also get divorced there.
To learn more about gay marriage in Rhode Island, visit any of the following:
- Rhode Island Becomes 10th State To Legalize Gay Marriage
- Gay And Lesbian History In Rhode Island, And Nationally
To find out about gay marriage statistics in South Carolina, Click HERE.