Pennsylvania Gay Marriage History & Facts
Pennsylvania gay marriage history, statistics, current and future status of these relationships are available at Manplay.com. Have a read to learn more. The Pennsylvania House of Representatives approved Allan Egolf's (Representative) amendment in September 1996, to ban the recognition and performance of gay marriage, but it was not ruled unconstitutional when voted on. The Republican party always had a majority in either the State Senate or House of Representatives, therefore, there were many unsuccessful attempts to have gay marriage recognized.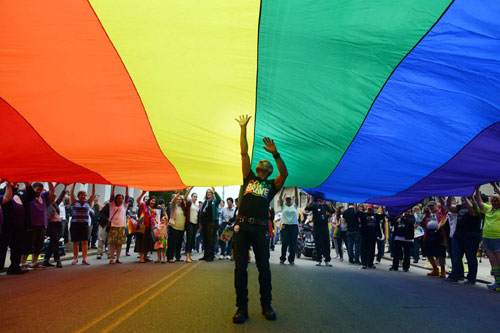 In 2006, state representatives, with Scott W. Boyd leading the way, introduced Bill 2381, to amend the Pennsylvania constitution to define marriage as the union of one man and one woman. The bill was supported by a lot of cosponsors and was approved on June 6, 2006. As part of the process, the bill had to be taken to House or Representatives. This happened on June 22, 2006, and nothing else ever came of this bill as no further action was taken. Hospital visitation by a same-sex partner and employer health benefits would also have not been recognized for gay couples. It didn't go any further because it was not considered in a timely manner.
Pennsylvania first began to revoke its sodomy statutes slowly in small parts over time. First, consensual sodomy for heterosexual married couples was legalized in 1972. Then finally in 1995, Pennsylvania repealed all remaining sodomy laws.
Gay marriage has been legal in Pennsylvania since May 20, 2014. It was on this day that a U.S. Federal District Court Judge, John E. Jones III ruled that the Commonwealth's ban from 1996 recognizing same-sex marriage was unconstitutional and discriminates against gay men and women. This was to be sure that the commonwealth allow same-sex couples to marry as well as to recognize same-sex gay marriages from out-of-state. Pennsylvania had not recognized same-sex, gay marriages since 1996. The ban was never added to Pennsylvania's constitution. Pennsylvania simply did not and never had recognized both civil unions as well as domestic partnerships in the state. It was also the last state in the Northeast region that did not allow same-sex couples to marry legally. This is interesting because typically, states tend to follow suit with each other, if one state is pushing for a new law or ruling, another state usually isn't far behind.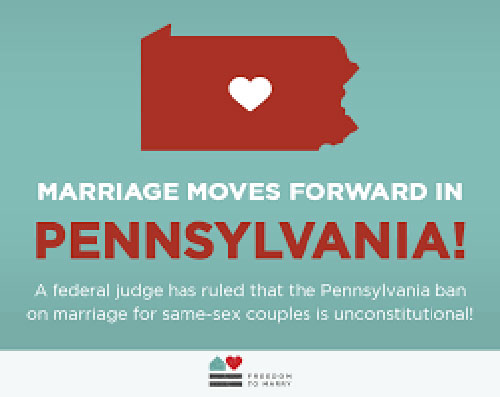 Pennsylvania Gay Marriage Statistics
In Allegheny County, they issued 213 marriage licenses in one day to all same-sex couples who had completed the application process the first three days. It was possible to legally be married as a gay couple within Pennsylvania. The previous week, there were only 99 marriage licenses issued within the entire county. It is clear that there are a good number of same-sex couples that have chosen to get legally get married in the first week that gay marriage had been legal. This proves that many gay couples have been waiting a long time for this ruling. UCLA completed a study that found that allowing same-sex couples from Pennsylvania to marry will add approximately $100 million to the economy in the state, by having ceremonies that are what we would consider a traditional wedding for any heterosexual today. In the first three years, the total spending that will be related to gay wedding and wedding-related tourism is forecasted to be as high as 92 million dollars. Even more beneficial itself is that the state can expect to see increased tax revenues up to $5 million. One final positive note is that all of this activity will also introduce 1,142 new full and part-time jobs to the state of Pennsylvania. There seem to be a lot of positives to gay marriage in Pennsylvania and with that, it makes it even more difficult to fight against having gay marriage be legal.
Public opinion has come a long way in just a matter of a few short years. In April 2011, a Public Policy Polling Survey found that 30% of Pennsylvania voters supported gay marriages, 33% supported civil unions, 35% did not support any legal recognition, while 2% of voters were not sure what they would support. A year later, in May of 2012, the same survey found that now 39% of Pennsylvania voters supported same-sex gay marriages, while 48% thought it should be illegal and 13% were unsure if they supported gay marriage. Yet another year later, in March of 2013, a PPP survey found that 45% of Pennsylvania voters supported gay marriages and 47% did not support legal recognition of them. Finally in May 2014, a Public Policy Polling Survey found that 48% of Pennsylvania voters supported gay marriages, while 44% did not support any legal recognition and 9% of the voters were unsure. Today, 6 in 10 Americans, 61% of Pennsylvania residents support same-sex marriage.
It is clear that the supporters of same-sex gay marriage also really depend on age. Millennials are far more open to the idea of accepting gay marriage openly into the world in which they live. It looks like as new and younger generations age, the support for same-sex marriage in Pennsylvania increases vastly. If trends continue the way that they are now, it won't take long for same-sex gay marriage to have a heavy percentage of supporters with very few that do not support gay marriage. It is becoming evident as well that more churches are also accepting of gay men who are married and in committed relationships in Pennsylvania. Although there will always be those that are strongly opposed to same-sex marriage, the trend points to strongly favor support for all couples who want to marry.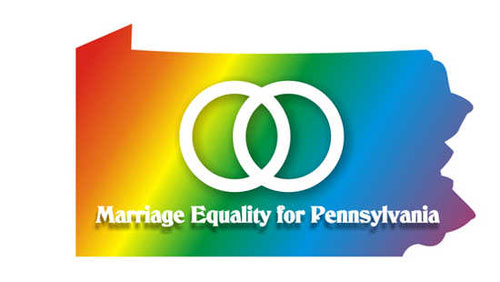 The Current Status Of Pennsylvania Gay Marriage
Gay marriage is now legal in Pennsylvania and has been since May 20, 2014. So now that you can get married in Pennsylvania, you would think that life would get easier for gay couples in all parts of their lives, but this is not the case. In Pennsylvania, you can still be fired, be denied accommodations or evicted for being gay. It's obvious that there is still a lot of work to be done to make all men or women equal, no matter what their sexual orientation or who it is that they marry. Right now in Pennsylvania, there are 34 municipalities which include Harrisburg, Philadelphia and Pittsburgh that have implemented policies to put an end to discrimination based on sexual orientation and gender identity. Unfortunately, those that are part of the Pennsylvania LGBT spectrum are not protected across the entire state from discrimination concerning employment, public accommodations and credit and lending. But all Pennsylvania state employees are protected from such discrimination.
The Future Status Of Pennsylvania Gay Marriage
Judge John E. Jones III believes that the word 'separate' is no longer important. But he also believes that 'equal' is still used too often, that everything that happens on a daily basis should be equal rights from the start without having to use the word to make sure that everything happens this way. He hopes that in the future the same-sex marriage label will become a thing of the past and that all marriages will be replaced with simply the word 'marriage'. He sees people today as further developed than some of these laws, and that it's time to throw the laws out.
All documentation and evidence points to the fact that there will continue to be more support from all Americans including residents from Pennsylvania for gay marriage. It looks like gay marriage will continue to rise as more gay residents from Pennsylvania are comfortable with their relationships, 'coming out' to the world around them and seeing that the laws are only going to continue to change for the better. With more public support and legal rights that are inline with straight couples who choose to get married, we are bound to see same-sex marriages become commonplace in Pennsylvania and all of the United States in the next decade.
To learn more about gay marriage in Pennsylvania, visit any of the following:
- Federal Judge Strikes Down Same-Sex Marriage Ban
- After Gay Marriage In Pennsylvania, What's Next
To find out about gay marriage statistics in Rhode Island, Click HERE.