Gay Marriage In Northern Ireland
Irish people are notoriously stubborn, so maybe it isn't too hard to believe that achieving legal gay marriage in Northern Ireland has been a bit of a journey. Manplay.com states why Northern Ireland has historically been one of the more resistant countries in Europe whenlegalizing Northern Ireland gay marriage.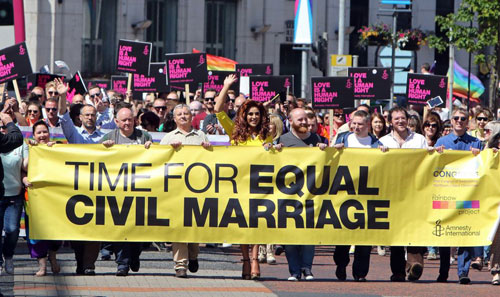 History Of Gay Marriage In Northern Ireland
The road to having gay marriage legalized in Northern Ireland has been a rocky one. Gay couples do have recognition in the region as civil partnerships, but are not legally allowed to marry. The decision on the matter is not currently final, but as of now gay couples don't have equal marital rights. Legislation for the legalization of gay marriage in Northern Ireland was first proposed to the Northern Ireland Assembly in 2012. It wasn't successful at the time, and has been debated over five times since then. However, attitudes in the Assembly seem to be changing. Most recently, in a November 2015, debate over gay marriage legislation, a majority actually voted in favour of gay marriage. The motion was unable to take an sort of legal effect, because the Democratic Unionist Party strongly opposed it and tabled a motion of concern.
Gay couples in Northern Ireland have been turning to the courts to fight their battle for legal marriage equality. In January of 2015, a gay couple who married out of the country are suing the country to have their marriage legally recognized. Lawsuits are even going as high up the legal rungs as the High Court on the issue of gay marriage. At the end of 2015, two gay couples filed a lawsuit against Northern Ireland on the grounds that banning gay marriage was a breach of human rights. This included refusing to recognize gay marriages performed in other countries where it is legal. A ruling on the cases has yet to be made, but hopes are high that the court will rule in favour of the gay couples.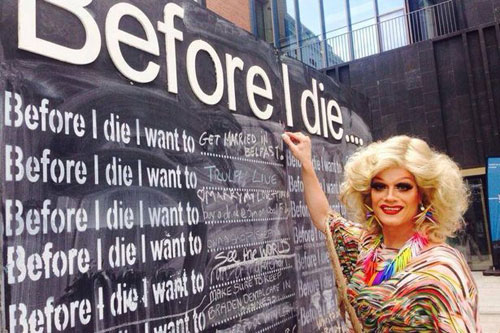 Northern Ireland Gay Marriage Statistics
In Northern Ireland, gay couples can only have legal recognition as civil partnerships. This isn't marriage, but it's a step in the right direction. For this reason, and the heavy religious beliefs prevalent in the region, gay couples are reluctant to openly register their unions. For example. In 2013, there were a total of 8,126 marriages registered, and only 100 civil partnerships. At the same time, marriage rates in general seem to be decreasing in Northern Ireland. The number of recorded marriages went down 4.2% from the previous year, 2012, when 8,480 marriages were registered. As far as civil ceremonies, the number is noticeably higher. These ceremonies made up roughly 31% of all 2013 marriages, at 2,499 performed. This number is a slight decrease as well, with 101 gay civil partnerships being registered in North Ireland in 2012. The average number of civil partnerships between gay couples in the frame of 2006 to 2013 was 102. In 2013, 46 male couples registered their union as civil partnerships with the government, while 54 female couples did the same again, the reason for the low number is likely staunch religious attitude in the region, and a normally steadfast resistance to drastic societal change. Things are changing in Northern Ireland though.
In terms of a person's prior marital status at the time they registered as a civil relationship, the majority of individuals had never been legally partnered or married before. In 2013, 88% of those people hadn't been married. For gay male partnerships, 91% of partners had never had such a relationship before, while that number is only 65% for lesbian civil partners. Of the male civil partnerships, 8.7% had been in prior similar situations or married. The number of lesbian partners that had been married before their civil partnership was remarkably higher than their male counterparts, at 35%.
The age at which gay couples are most likely to enter civil partnerships or marriages has gone up and down since 2000. On an interesting note, up until 2009, gay males in civil partnerships were on average only 3 years older than females. The average age of civil partnerships between male and female gay couples has evened out since 2010. In 2013, the average age for entering into civil partnerships are marriages for both sexes was 35.
Public attitudes on legalizing gay marriage in Northern Ireland has definitely improved in recent years. A September 2014 poll indicated that 40.1% of the population were in favour of Northern Ireland gay marriage, while 39.4% were opposed; 20.5% had no opinion on the matter. This large number of undecided voters is a good thing, because there's room and a willingness to change their mind in favour of gay marriage. Of the people who gave their opinion in the poll, 50.5% were in favour of have gay marriage legalized in Northern Ireland, and 49.5% opposed the idea. The numbers are close, but it's important that there is a majority in support. That number keeps growing as time goes as well. A May 2015 public opinion poll showed that the percentage of supporters of legal gay marriage increased to 68%; in Belfast that number was a whopping 75%. It's clear from these numbers that the overwhelming majority of Northern Ireland citizens are in favour of having gay marriage legal in their country. This will go a long way when it comes to convincing legislative assembly that public opinion does, in fact, support the idea of married gay couples. Public favour is an extremely important thing to have when it comes to election time, so it would also be in an officials interest to get behind gay marriage legislation. The numbers can't be any clearer that the people of Northern Ireland want gay marriage to be legalized. This will be undeniable come election time if candidates truly want to win.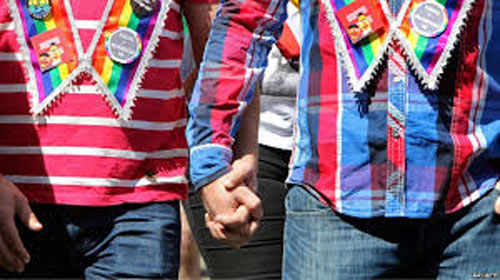 Current Status Of Gay Marriage In Northern Ireland
At the moment, gay marriage is not legal in Northern Ireland. It had looked like it might finally go through at the Northern Ireland Assembly in 2015, however the motion to draft legislature to legalize gay marriage was stalled by the opposition. The motion will be revisited by government officials, it's just a matter of putting pressure them to do so at the moment. Some of those in charge just don't see gay marriage legislation in Northern Ireland as top priority, which unfortunately sets back the progress to legalization.
There are a number of LGBT activist groups in Northern Ireland who are continuing to remind Assembly officials to review the motion to have a law passed legalizing gay marriage. Groups like these are crucial to act as watchdogs on behalf of "the little guy", in this case being gay couples who want to be able to marry legally in their home country, and have their out of country marriages recognized. These people won't quit fighting to have gay marriage legalized, and with them in the picture there will be no end to the gay marriage debate that isn't positive. With a great number of the public in support of legal gay marriage, there's no way government officials can continue to defend the current legislation. Change will come to Northern Ireland when it comes to legal gay marriage.
Future Status Of Gay Marriage In Northern Ireland
Chances are high that gay marriage will be legalized in Northern Ireland, and likely soon. With public support of the legalization growing each year, the government will have no choice but to address the public's concern in a formal manner. If they want to keep their residents happy, they will be smart and vote for some form of legislature making it legal for gay couples to wed in the country, or recognizing gay marriages performed out of country. There are a number of gay rights groups and activists in Northern Ireland who are constantly challenging the government to change their policy on gay marriage. As long as people like these are fighting for equality, and being a voice for the public, then positive change is likely to happen. Officials can only ignore the desires of their citizens for so long before they're forced to make a change. This will likely be the case in Northern Ireland when it comes to gay marriage becoming legal.
Looking for more information on gay marriage in Northern Ireland? Find it here:
Gay Marriage Statistics In Wales
Gay Marriage Has Overwhelming Support In Northern Ireland
Northern Ireland Gay Marriage Minister News
Same-Sex Marriage Equality In Northern Ireland
<