Manplay.com's History Of Montana Gay Marriage
Manplay.com is the place to stay connected to hotties just like you, but it's also the perfect place to stock up on some knowledge on things like Montana gay marriage. If you're a resident of the state, maybe you have some ideas about what was going on in when it came to the debate about gay marriage. Right here at Manplay.com, you will be able to learn more about how it came to be and what were the lawsuits that challenged the state's constitution. Thankfully, Montana has not faced the same opposition that somewhere like Kentucky had. Learn everything there is to know about gay marriage through our website and while you're at it, don't forget to find a hookup! Manplay.com is not only a place that can connect you, but it is also a place that can teach you everything you need to know about Montana gay marriage.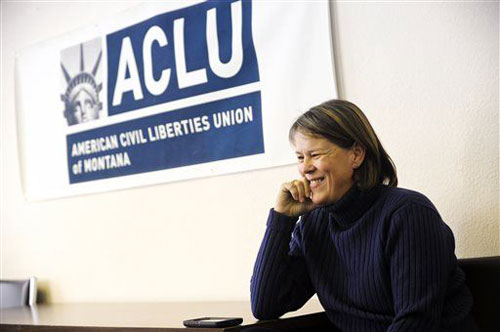 An Overview Of Montana Gay Marriage
The history of Montana gay marriage is similar to that of many other states, however it was one of the few states that did legalize gay marriage before the Supreme Court's decision in 2015. Montana gay marriage has been legal since November 19th, 2014. There have been many battles that were fought in order make gay marriage legal in the state because there was also some severe opposition. Like we have said in the past and like so many people have said before, gay marriage is about equal rights. It is a battle for idealism, but also a battle for practicality. The road to Montana gay marriage unfortunately suffered some setbacks regarding some of the state's constitutional amendments in the nineties and early 2000s.
Gay Marriage Setbacks
In 1997, the state legislature banned same-sex marriage. This also included any attempts at a civil partnership or civil union, which was the most many gay people could ask for. Then came Initiative 96, which was approved by Montana voters in 2004. It was a constitutional amendment that strictly defined marriage as being between a man and a woman. More importantly, they passed a law that essentially allowed the state to refuse recognition of a gay marriage. This meant that marriage licenses from other states were essentially null and void. This meant that many gay couples could not receive the same benefits as straight couples. Gay marriage is not only a representation of equal rights and freedom of choice, but it is also has some practical applications as well as benefits. For example, should a gay couple in a civil union from out of the state be eligible for spousal insurance benefits from their workplaces? How do these gay couples in civil partnerships (from out of state) file a tax return legally? These are some of the questions that come with gay marriage. These are some of the rights that homosexuals all around the world are aiming to achieve. Gay marriage isn't simply about two people getting married, it is a partnership that comes with joint bank accounts, joint car loans, joint mortgages. And of course there is the question of inheritance. Many of us forget that marriage carries these benefits (or burdens) and these rights were unavailable to many gay couple throughout the United States, but more importantly they were unavailable to gay couples in Montana. Many gay couples had to face this reality of living without a chance of being able to have a life that is offered to others simply because they made a "non-traditional choice".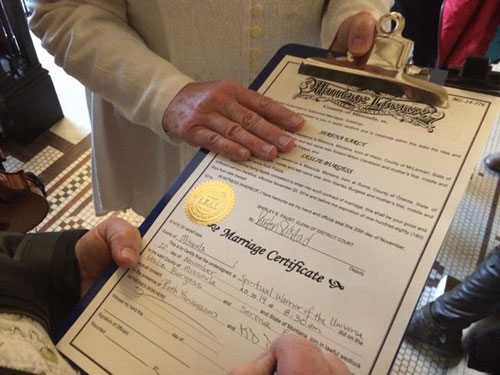 Equal Rights Through Gay Marriage
A huge feature of gay marriage is the idea of equal rights. Montana gay marriage had several lawsuits that aimed to change the law. In essence, denying a same sex couple equal rights would end up being unconstitutional. Equal rights and equal protection was what the United States was founded on and denying these rights was a violation. Finally in 2004, in the Snetsinger v. Montana University lawsuit, the Judge ruled that not providing insurance to a same-sex domestic couple was not a feature of equal rights or equal protection. In 2005, the state began to provide benefits to government employees who had same-sex partners. This was a step in the right direction, but it did not go far enough to include every gay couple. In 2009, there was an attempt to pass a bill that would offer benefits and some equal rights to same sex couples, however the bill was never passed.
Lawsuits To Challenge The State Constitution
In 2010, several gay couples filed a lawsuit against the state of Montana with the claim that denying gay couples any sort of rights was totally unconstitutional and did not meet the state's law of equal protection. This was an argument that was used in many lawsuits and is an example of the practical and logistical lengths marriage represents. Unfortunately, in this case, the state ruled against the plaintiffs. This was a major blow to the campaign to legalize Montana gay marriage. In the Rolando v. Fox lawsuit in 2014, lead by the ACLU, four couples aimed to challenge the Montana constitution and make the claim that denying gay marriage was totally unconstitutional. The Governor of Montana supported the plaintiffs and agreed that challenging the state constitution was their right. The case aimed to question the terms of marriage being specifically between a man and a woman. The lawsuit used examples from other states, including Idaho and Nevada, in which the ban on gay marriage had been lifted. Finally, on November 19, 2014, Judge Brian Morris ruled that the ban on same-sex marriage would be lifted and marriage licenses were to be issued to gay couples.
Montana Gay Marriage Statistics
The support for gay marriage is often summarized in polls conducted by leading newspapers as well, as public service corporations. More often than not these voters are either unregistered or simply readers. Polls conducted in 2013, by the New York Times determined that there was 45% support for gay marriage in the state. A Public Policy Poll of registered voters determined that there was approximately only 42% of support for gay marriage in the state. Taking polls of registered voters is often a more realistic interpretation of what support margins are like in the state. Despite this 3% difference in numbers, it goes to show what the state is geared towards regarding the topic. There are approximately 674 married couples in Montana who have brought in over $4.5 million for the state. These are positive numbers for Montana's economy.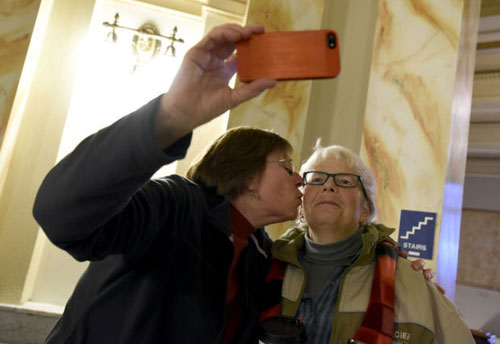 The Current And Future Status Of Gay Marriage In Montana
It is clear that Montana gay marriage is here to stay. This is not only due to the decision by the Supreme Court, but it also has to do with the fact that it was legalized before 2015. It is clear that denying a gay couple the right to marry is essentially a violation of human rights. Like we mentioned before, gay couples couldn't receive the same treatment, legally, financially and economically until gay marriage was legalized. Gay marriage is not only a battle of ideals, but also a battle that ensures the same benefits that society and government can offer. In fact, gay marriage has offered many benefits to governments where it is legal. Like we said before, economists estimate that gay marriage will inject $4.5 million dollars into the state economy. The bureaucratic hurdles that gay couples had to face in many states throughout the United States no longer exist thanks to the Supreme Court ruling and some of the better lawmakers in the state of Montana. Gay couples will no longer have to face the concept of not being able to see their partners in hospital or be able to file tax claims with their partners name on the return. Consider these aspects of gay marriage and why the debate is so important for many other countries to follow suit.
Some External Links For More Info About Montana Gay Marriage
There are plenty of places to go in Montana and if you're looking for some more info on gay marriage in the state or if you want to find some gay wedding vendors, all you need to do is take a look at the list we have prepared for you:
1. The Purple Unions Directory of Gay-Friendly Wedding Vendors
2. EnGayged.com's Listing Of The Hottest And Best Gay-Friendly Wedding Vendors In Montana
3. Officiants For Gay Marriage In Montana
4. Some Basic Information About How To Get Your Wedding License In Montana