Gay Marriage In Utah
Find out how Utah gay marriage laws and legislation have changed over the years up to when it was made legal in 2015 by the Supreme Court at Manplay.com. On June 26, 2015, the U.S. Supreme Court ruled that same-sex marriage is legal and ordered states to accept this law over all other previous laws that were created independently by the state. This new law is of little consequence to Utah as gay marriage is already legal in the state and has been for well over a year.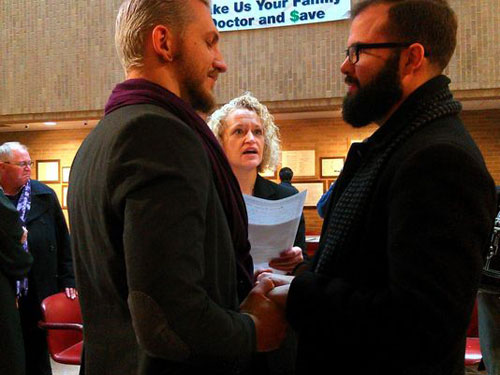 Utah Gay Marriage History
Before the Supreme Court ruling in 2015, Utah had its own state views on gay marriage. Like most other states, Utah, stringently defined marriage as a union between one man and one woman. The state of Utah did not legally recognize any rights concerning gay relationships, this is straight from the Defense of Marriage Act. Utah has also passed constitutional amendments that forbid gay marriage. Until this was overturned with the Supreme Court ruling on June 26, 2015. The ruling stated that all gay marriage is now legal across the entire country. Many residents of Utah claimed that the ban is violated their constitutional rights. The marriage ban that was in effect until June 26, 2015, violates an individuals rights in many ways. One of these was that the state denied same-sex couples access to the right to marry. Another rights violation was that same-sex couples were not entitled to any rights within their relationship that you would get when you marry an opposite sex partner.
The Church of Jesus Christ of Latter-day Saints religion has made it that Utah has an uncommon marriage history. Beginning in 1835, polygamy was practiced by Mormon members, leaders, and some communities. From 1852 to 1890, Latter-day Saints leaders supported it members, particularly leaders in the community to marry more than one woman. Many believe that polygamy was no longer supported due to pressure from the federal government. There are still polygamists who live in Utah today. There are others who practice polygamy, but are not tied to the Church of Latter-day Saints.
That being said, today one of the choice arguments that is used to oppose marriage equality is that there will be more polygamy in the state.
In 2005, a bill was brought forward to allow same-sex couples to enter into a reciprocal benefits agreement in Utah. The idea was to allow gay couples to be in an agreement that would offer the same benefits as a legal marriage, unfortunately, this bill was defeated by the Senate.
There are approximately 55,000 LGBT (lesbian, gay, bisexual, and transgender) people in Utah who are looking to have their civil rights protected by an Anti-discrimination and Fair Housing Act that was introduced on March 4, 2015. The bill is to protect individuals from discrimination against sexual orientation and gender identity. It would make it illegal for employers and landlords to discriminate against anyone because of their sexual orientation or gender identity.
Gay marriage has been legal in Utah since December 20, 2013, made so by Judge Robert J. Shelby's ruling in the case of Kitchen v. Herbert. This is when the state began to allow gay couples to apply for a marriage license after a ruling that stated that keeping gay couples from the right to marry was a violation of the U.S. Constitution. The Attorney General for Utah on January 8, 2014, stated that the 2720 gay individuals who were married to their same-sex partner from December 20, 2013, to January 6, 2014, may not, in fact, have a legally binding marriage. He said that the case was going to be put forth to the U.S. Court of Appeals in 2014 and then possibly the U.S. Supreme Court in 2015. Then the next day, Utah's Attorney General stated that all of these marriage certificates were to be completed for each marriage that was performed prior to when the stay was issued. It was confirmed that these marriages are legal and will stand up in court. During the first six days after the ruling, there were more than 900 gay couples who were issued marriage licenses.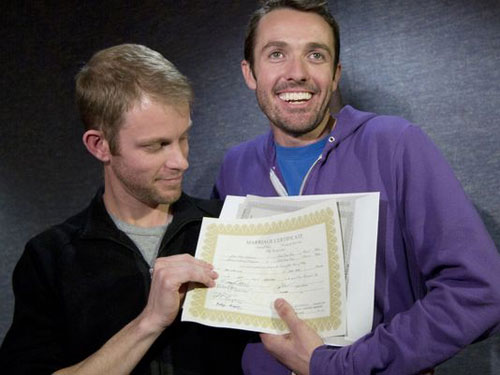 A Utah State Senator, Jim Dabakis, was one of the first to get married. The mayor of Salt Lake City, Ralph Becker, where the senator got married, was the official to perform Jim Dabakis's ceremony. Salt Lake County, which has the highest population, started to issue marriage licenses right after the ruling. There was even one county, Weber County that planned to open on a Saturday, the day right after the ruling, to process gay marriage licenses. This was later canceled for to security requirements. Some of the counties clerks for Utah first declined to grant marriage licenses to gay couples, using that they needed to review the ruling and speak with the county attorneys.
A 3 judge panel of the Tenth Circuit Court of Appeals agreed with the lower court ruling that the state of Utah's ban on marriage is not only unconstitutional but that it violates the Fourteenth Amendment.
As of November 26, 2014, gay couples legally have the opportunity to be foster parents as well in Utah. Gay couples were previously not entitled to be foster parents, because fostering was only for married couples, but with the Governor ordering all state agencies to recognize same-sex marriage, it gives these couples the ability to foster children.
LGBT (lesbian, gay, bisexual, and transgender) residents from Utah began to feel more like they had a choice in their personal lives to decide if they wanted to marry their same-sex partner. Gay residents started to feel empowered after the ruling to allow gay marriage as well as the ruling in their favor statewide concerning anti-discrimination laws that now covered sexual orientation and gender identity.
Utah Gay Marriage Statistics
In July 2011, the Public Policy Polling survey found that 27% of Utah's residents support legalizing gay marriage while 66% did not support the legalization of gay marriage. In September 2014, the Benension Strategy Group performed a poll to find that 49% of Utah's residents support legalizing gay marriage while 48% did not support the legalization of gay marriage.
It is clear with a new poll conducted for The Salt Lake Tribune, that Utah residents views on gay marriage have shifted quite a bit in the past decade since voters amended Utah's constitution to ban gay couples from legally getting married in the state. It is literally now an even split for and against gay marriage. Those polled believe that gay couples should be legally allowed to receive marriage licenses with 48% for and 48% against. An even better note is that 72% said that gay couples should be allowed to have civil unions or domestic partnerships at the very least.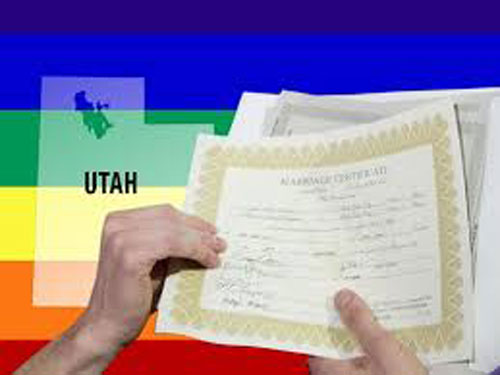 Current Status Of Utah Gay Marriage
Currently in Utah, gay marriage is legal as of December 20, 2013. Regardless of all other laws that are in effect, it was deemed legal across all states in the United States of America. This is after a ruling that was sent down from the U.S. Supreme Court on June 26, 2015. A marriage license can not be refused to any gay persons in any part of the U.S.
Future Status Of Utah Gay Marriage
It looks like Utah has always been a bit ahead of the times when it comes to gay marriage in the state. Although there will always be those that oppose the law and there will always be someone who is trying to have the law reversed to make it so that gay marriage is illegal again, it doesn't look like it will happen anytime soon. It's also very promising to note that there is a lot of support for gay marriage in the state and that this support is continuing to grow quite quickly.
To learn more about gay marriage in Utah, visit any of the following:
- Poll: Utahns Evenly Split On Same-Sex Marriage
To find out about gay marriage in Vermont, Click HERE.