Hawaii Gay Marriage
Manplay.com has all the information you need to keep you updated with the most recent and interesting info concerning same-sex marriage in Hawaii. We start at the past and end with the future. Things are getting better and you will soon see why. Minds are opening and the states are becoming more comfortable for everyone, including gay couples!
Hawaii Gay Marriage History
Hawaii is one of the few gay marriage capitals of the United States today. Manplay is here to let you know the history and stats of gay marriage in Hawaii. Marriage licenses were first challenged in 1991, and at that point there was a small amount of success until some Hawaii voters realized that the idea of same-sex marriage went against the constitution. It was said that granting same-sex couples marriage licenses was "discriminatory". In 1999, the Supreme Court of Hawaii considered lifting the ban on gay marriage, which ended up being put down. In 2009, there were bills considering civil unions, but committees did not approve. In 2010, Hawaii's House Bill 444 was passed, which created civil unions for same and opposite sex couples alike. Same-sex marriage has been legal in the state of Hawaii since December 2nd, 2013. On October 28th, 2013, the Hawaii Marriage Equality Act legalizing gay marriage was passed. Same-sex couples began getting married on December 2nd. Throughout the United States, gay marriage was always looked down upon until just recently.
Surprisingly, the things that happened in Hawaii concerning homosexuality weren't quite as bad as the rest of the country. This probably has to do with the slower paced, island feel. People were more accepting than others, seeing how there were lynchings and burnings in other parts of the country. Since homosexuals were uncomfortable coming out then, a lot of the time in Hawaii, gay couples would have to constantly go behind their family and friends' backs to love the people they wanted to love. Heartbreaking, really. To most gay couples, getting married wasn't even a thought for the government would think of them as jokes. Marriage was only for one man and one woman. Hawaii was the 16th state to legalize gay marriage in the United States.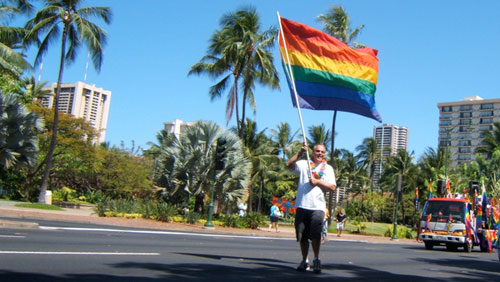 Hawaii Gay Marriage Statistics
In the state of Hawaii, there have been many same-sex couples who have gotten married since gay marriage has been legalized. In 2013, 4,000 same-sex couples were wed. In 2014, 4,500 gay couples were married and in 2015 that number doubles to 9,000 gay weddings. There are not many same-sex older couples. Most of the gay couples in Hawaii are under the age of 45, which make the island a great place to vacation or even get married for young, excited couples. When same-sex marriage was first legalized, 107 couples were wed. 2,500 same-sex couples who were married elsewhere have come to Hawaii to begin their lives and reside. 2,000 gay couples have gone to Hawaii for a destination wedding. 15 couples have ended up staying and never going home.
Hawaii Gay Marriage - Love Story
In 1990, three separate same-sex couples were refused marriage licenses and weren't helped by any national gay-rights group when trying to file a lawsuit. During those trying times, Ninia and Genora (residents of Hawaii) were introduced and soon fell in love. Genora hadn't met anyone like Ninia and wanted to be with her forever which lead Genora to give Ninia an engagement ring. For years and years, the two couldn't get married and fought and fought for their love until eventually the government and the people realized that they were wrong and that everyone deserves to be married if they are in love. The law passed in 2011 and the two (Genora and Ninia) are still married today. Hawaii is one of the gay marriage capitals of the U.S.A today. Hawaii gay marriage is so popular to gay Americans and that's not only because of the view. There are many reasons why the LGBT community go to Hawaii to be married and also why so many couples fall in love there!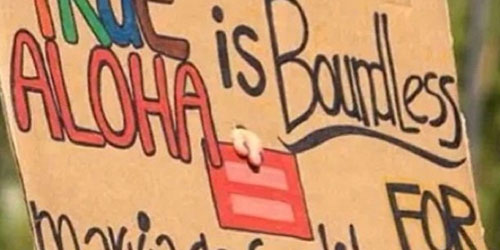 The Current Status Of Hawaii Gay Marriage
Now, gay marriage in Hawaii is legal and accepted. Hawaii has come a long way since even 10 years ago! It's sad that people haven't been very open to the idea of gay dating and gay marriage, but now things are changing. It's a very exciting time for the gay population in Hawaii. There are mass amounts of activities put on by the LGBT community. There are gay beaches, bars, clubs, resorts, and a lot more. With such a huge population of homosexuals, it is easy to feel comfortable in this state and on this island. It is easy to fall in and stay in love on this warm, slow paced paradise. In the state of Hawaii on December 2nd, 2013, the law was passed saying that same-sex marriage was a go. Since that date until March 2nd, 2014, 444 same-sex couples were wed. 60% of those couples came from outside of Hawaii meaning tons of extra money for the charming island. Weddings in Hawaii average at $30,000, which isn't bad considering what some couples and families pay for large weddings.
The Man Who Made It Possible
In office when gay marriage became legal sat Barack Obama who was born on this beautiful island! He was always taught from his parents to treat everyone as equals. Growing up, he always supported same-sex couples and marriage and when he was put into power, he made it a main priority to make sure that he would do what he could to ensure that same-sex marriage became legal. He pushed and pushed and in the end and made millions of dreams come true. He felt very connected to the gay community and felt that it was just extremely unfair that two people who were in love couldn't be married because of a LAW. He understood that even with the law people were still going to be together - why not make it legal?
The Future Status Of Hawaii Gay Marriage
The future status of gay marriage in Hawaii looks like it will stay the same for a while. Things are going better than ever thought possible. Locals are still going to continue getting married, and out-of-state same-sex couples will continue to commute to the beautiful island for their dream destination weddings. Since more and more same-sex couples have been getting married in Hawaii, the number will continue growing each and every year.
To read up on the other gay friendly states, click here!The following links will help on your search to find out more about Hawaii Gay Marriage
3.Plan your perfect Hawaiian wedding here!