Oregon Gay Marriage
Oregon gay marriage statistics and pertinent information are available at Manplay.com. Keep reading to learn about current gay marriage status in Oregon. Gay marriages have been recognized as legal in Oregon from other jurisdictions since October 2013. Domestic partnerships have been considered legal since 2008. Gay marriage became legal in Oregon, on May 19, 2014, when a U.S. federal district court judge ruled that a previous amendment that banned gay marriages was discriminatory to all gay individuals and that this was not acceptable any longer.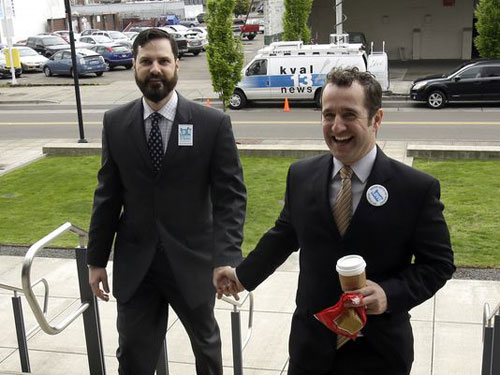 History Of Gay Marriage In Oregon
Multnomah County issued 3 000 plus marriage licenses to gay couples in March and April 2004 and then they were forced to stop doing so by a state judge. On March 3, 2004, alone, there were 422 marriage licenses completed on this one day. This is a huge increase from the average of 68 marriage licenses that are normally issued on any given day across Oregon. On March 9, 2004, there was a hearing, afterwards there were a whopping 1700 marriage licenses to straight and gay couples issued. Judge Dale Kock decided to stay out of the debate and would not issue an injunction to the county for continuing to grant these licenses. Then in November, voters in Oregon approved an amendment to Oregon's state constitution that only marriages between a man and a woman were valid. All of the previously issued marriage licenses to gay couples were disputed. Then the Oregon Supreme Court ruled in favor of these licenses being invalid.
Gay couples who were issued a marriage license in March or April 2004 were now left wondering if their marriage was legal, banned or valid. One county, Multhomah County decided to continue to offer to issue marriage licenses to gay couples on March 24, 2004. Unfortunately, the county received letters from the attorney general and a phone call to tell Muthomah county officals that they would arrest the county clerk for issuing marriage licenses to gay couples. So they ceased issuing marriage licenses to gay couples until there was clearer understanding of the law. Benton County decided to wait to see what decision was made by the Multnomah County Court. It was clear that the state of Oregon was standing behind their decision to allow gay marriage and to issue marriage licenses to those gay couples that applied for them, but were feeling push back from the attorney general. Then with the blessing of the state of Oregon, three same-sex couples sued the state in Multnomah County Court. The hearing of Li and Kennedy v. State of Oregon took place on April 16, 2004 in front of Judge Frank Bearden. He ordered the county to stop issuing same-sex marriage licenses and also ordered the state to recognize the 3,022 same-sex marriage licenses already issued to gay couples. This was a big win for gay couples married, but had been sitting in limbo wondering if their union was legitimate or not. The state registrar had been holding on to them and had not entered them into the record system yet, which they now needed to do. Bearden also ruled that the Legislature must decide on the issue on gay marriage within 90 days of the start of the next session. He said that if the legislature did not address the issue, he would allow Multnomah County to begin issuing marriage licenses to gay couples once again.
The Court of Appeals then had to lift the temporary ban that was blocking the marriage license registration issued by Multnomah County, so that they could issue all of the back log of marriage licenses. There was an understanding that this would take some time to complete, approximately a week to complete. Fast forward ten years, finally, on May 19, 2014 Oregon became the 18th state to make gay marriage legal. Judge Michael McShane of the United States District Court for the District of Oregon was the judge to overturn the marriage ban. It was at this time that Gay rights groups claimed to have enough signatures to force a statewide vote on gay marriage in November 2014, but the gay rights groups said that they would discard the signatures and not pursue the vote if the court ruled in their favor by May 23, 2014.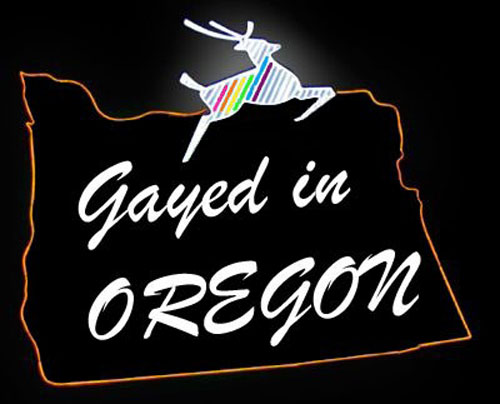 Oregon Gay Marriage Statistics
The second highest percentage of gay residents of any metropolitan area in the nation is Portland, Oregon. Approximately 5.5 % of adults identify as gay up from 1990 when portland was ranked 11th. There were 8.8% or 35 413 households in Oregon reported as being gay households in 2000. This is a huge increase from 1990 when only 2.3 of 1000 households identified as gay. Most gay couples reside in the metro area, which makes up approximately 60% of Oregon's gay community. The most recent stats have 14980 Oregonians living in gay couple households up from 8900, which is a 68% increase from the 2000 stats.
Gay couples have been allowed to be part of an Oregon Registered Domestic Partnership since February 1, 2008. One of the two men in the gay relationship must be from Oregon to apply and complete the forms when a couple wants to be in a formal registered domestic relationship. Oregon also provides spousal rights to these unmarried gay couples that are in domestic partnerships.
The Current Status Of Oregon Gay Marriage
Gay marriage is currently legally allowed in Oregon, as of May 19, 2014, after U.S. District Court Judge Michael McShane made a ruling that Oregon's 2004 constitutional amendment banning gay marriages was unconstitutional when related to the Equal Protection Clause of the federal constitution. Domestic partnerships have been legal for gay couples since February 4, 2008, when the Oregon Family Fairness Act took effect and these partnerships are still legal now. Oregon provides gay couples who work for the state with benefits and has been doing so since 1998 as part of their equal rights movement within state employment. Gay marriages from other jurisdictions have been recognized as legal since 2013 and are still seen this way today.
It looks as though gay marriage is legal and it's here to stay. The only time that this could be shot down in the courts is if there are any appeals against this judgment, which, at this point, is not the case for Oregon. Most of the lawmakers here seem to support gay marriage and their legal marriages. Those that are not in support of gay marriage have not made an attempt to appeal this decision as of yet.
It's encouraging to see that an Oregon Catholic School modified its employment policy to allow employees who are married to the same sex continue to work for them as well as hire such prospective employees in the future. This obviously places the school at odds with the Catholic Church in the U.S., especially when the church is taking steps to strengthen its identity. The board of directors from the school voted on August 26, 2015 to add sexual orientation to its equal employment policy. The directors wanted to bring it in line with the school's mission and beliefs. Moves like this are encouraging for gay married employees everywhere. It's promising to see that things seem to be turning in the right direction to make employment standards and human rights more current in today's society.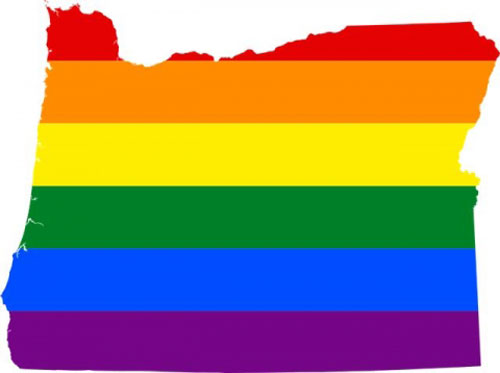 The Future Status Of Oregon Gay Marriage
With the ruling by Judge Michael McShane, it seems that gay marriage is now firmly established in Oregon. No one has the legal standing to appeal his ruling. But it's not looking promising for the National Organization for Marriage as the appeals court dismissed their request for a stay from McShane making his ruling unlike several other states where federal judges have made similar rulings. Judge McShane constructed his decision very precisely so that it would easily survive future rulings by the U.S. Supreme Court to reverse decisions made by federal judges.
Although there may be some legal issues for gay marriage in the near future in Oregon. The National Organization for Marriage, which is an anti-gay marriage group, is trying to get involved in the case enough to reverse the decision made by judge Mc Shane. It looks like this will be another issue that is headed back to the Supreme Court.
To learn more about gay marriage in Oregon, visit any of the following:
- Number Of Oregon Same-Sex Households Grow
- Facts About Same-Sex Marriage
-How To Reconcile Views Over Gay Marriage In Oregon
To find out about gay marriage statistics in Pennsylvania, Click HERE.