Find The Best Gay Bars Near You!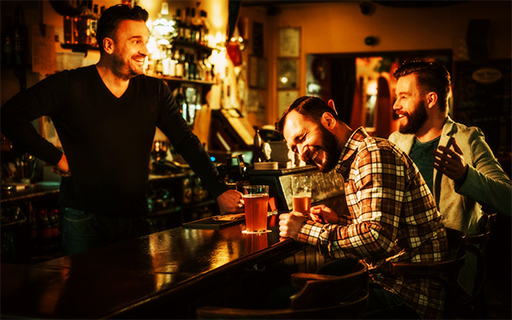 Living, Moving, Or Travelling—Find Your New Watering Hole!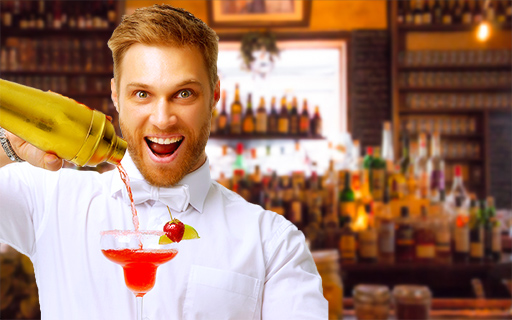 This ManPlay gay bar directory can tell you everything you need to know about the best gay bars in dozens of cities worldwide! It's as simple as checking out the countries and cities we have listed below, clicking on the one you want, and finding room in your brain for all the new information that is waiting for you.
Gay Bars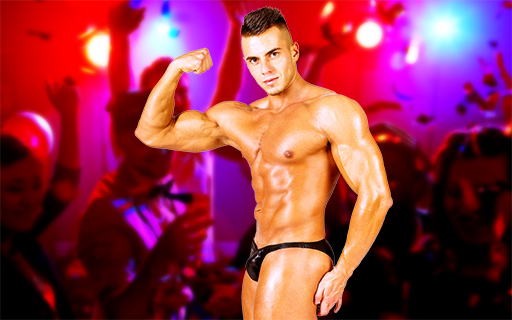 No matter where you go in the Western world, there's a gay area full of gay bars to drink and dance in. There are so many gay bars out there, that it can be a gamble when looking for a good one. You no longer have to take the chance! Wherever you might be traveling, Manplay has the info on the best gay bar scene in countries around the world. Have the best night out wherever you are! There are gay bars and a gay nightlife scene from sea to shining sea throughout the United States, in the United Kingdom, and Canada. Whatever continent you're on, chances are there's a gay bar or two.
Evolution Of Gay Bar And Gay Club Scene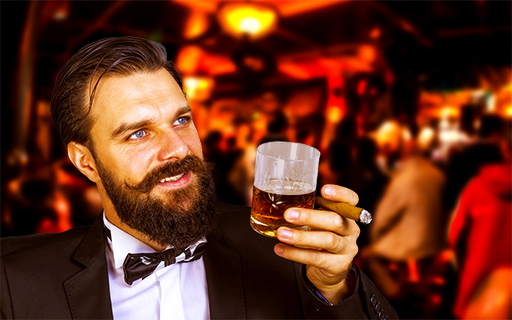 Gay bars have been around for as long as there have been gay people, but for centuries these places were secret. The earliest recorded gay bar was operating in the 17th Century. These bars were located in a few of the larger metropolitan areas in Europe, and some of these bars merely tolerated gay patrons in their establishments. This was still a big progressive step in the 17th Century. Many of these early gay bars weren't strictly that, but they were places where gay clientele favored and gathered regularly. Nobody knows which was the very first gay bar, at least under the definition that we know gay bars to be today. There was a gay bar open in Cannes in 1885, and lots around Berlin in 1900. These countries were likely the site of the earliest, and possibly the first, gay bars in existence, but there were lots popping up in the UK and the Netherlands throughout the beginning of the 20th Century. The event that paved the way for gay bars and clubs to open and operate publicly were the Stonewall Riots in New York City. The Stonewall Inn was the site of the biggest civil rights riot, and engaged discussions to enact change in society. This allowed gay men and women to find other places of business where they could gather together and socialize, and eventually, these places became the norm. If it wasn't for the people at the Stonewall Inn protesting against the police, the gay scene may not be what it is today.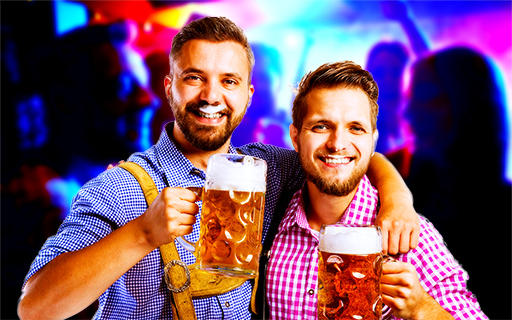 Gay bars range in all sizes and styles; some are clubs and some are pub style, but the one thing that makes them what they are are the people inside. Gay bars are just that because of who the establishments cater to, and who the clientele is. Really, the only other thing that makes a bar a gay bar is that it serves alcohol. Gay bars themselves were started as places that gay men and women could go and be themselves without fear of judgement or persecution. Nowadays, being gay is widely accepted in many areas of the world, so more and more public spaces and bars for gay men are cropping up and thriving.
Even still, the broad appeal of gay clubs and gay bars as a locale and place to hang out is it's underground nature. They were never commercialized places, so visiting a gay bar over any other place was more appealing. This is still the case, with many of bars purposely aiming toward an underground style or feel. This is especially evident in Vauxhall, London in the UK. The gay clubbing area there, locally known as "Voho", is located mainly in a literal "underground" space. Many of these gay clubs are located in or under railway arches. Scotland has a massive gay population, with some of the most accepting and welcoming attitudes toward gay culture in the country.
Edinburgh has tons of gay bars, and a lively gay scene, so bar-hopping is easy and fun in this gay village. You can even find gay bars in Ireland, which has notoriously been a staunch and religious country in the past. These are some promising examples of changing attitudes toward equality in the UK, which will hopefully be mirrored worldwide. This has already started happening, with gay marriage being legalized in many countries around the world. Where there are gay communities, there is a gay nightlife, and gay bars are an essential component of that scene.
Many gay bars are discreet in nature, even now, but this is less true of gay dance clubs. These locations are often campy and wild, incorporating live drag shows and DJs, with extensive lighting and sound systems. Patrons go wild at these places, dressing up in costume or drag, and sometimes even coming in only their underwear! Freedom and fun are the important factors at places like these gay clubs. Most of the oldest gay bars, especially designated historical ones, are a little more low-key, but still lively. Drag shows and cabaret are popular at these places, and all are welcome. There are gay pubs, which cater to everyone, but are considered 'straight-friendly'. These gay bars are frequented by gay men and women, but all kinds of people come to these places to drink and dine because of the welcoming atmosphere. Some bars are geared toward men or women specifically, but these places are usually obvious in their marketing. There are fetish bars and events in lots of gay clubs around the world if you know where to find them. Gay bars featuring live sex shows are popular as well, but these are usually gay men only entry with strict dress codes. This is just one example of the many different sub-categories of gay bars that are out there; there's something for everyone no matter where you are.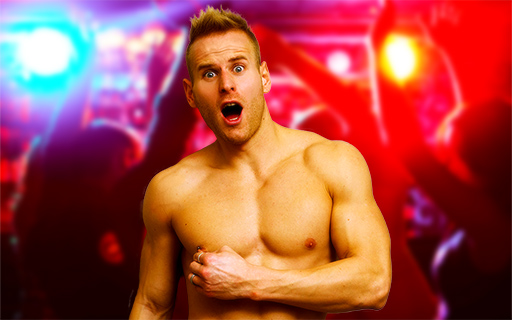 From the simple, discreet, and often secretive, beginnings, gay bars have evolved into their own unique cultures. Once used as hidden places to meet and gather with other gay men and women, gay bars have become many different things. There are several different sub-cultures or categories of gay bar now, all catering to different kinds of gay audience. There are gay clubs, and not just dance clubs, although there are many of those. Gay bars can be pubs, or lounges, even cocktail bars, as long as the majority of the people in them are gay. It doesn't hurt that the majority of these gay bars host special gay events as well, mainly on weekends.
Gay clubs can be so many things - fetish, dance, cabaret, drag - and those are just few possibilities. There are bars that aim to cater to mostly working-class gay men, others which gear their business toward upscale gay clientele, and still others that just aim to serve any and all gay patrons. Leather bars are popular with bears and twinks, drag bars are frequented by queens and straight clientele, but the only thing that's really enforced at any of these specialized gay bars is dress code. Before visiting any of these gay bars make sure you check to make sure they don't have specific attire requirements. Fetish clubs, for example, require that you only wear leather, boots, underwear only, or fetish gear. If you showed up to a fetish club in a suit you'd be turned away at the door. Some gay clubs are more upscale, and cater to a more well-dressed clientele. This are the bars to wear your suit to. There are several gay clubs, the majority in fact, that don't require special dress, and only require that you wear shoes.
Gay Bars By Country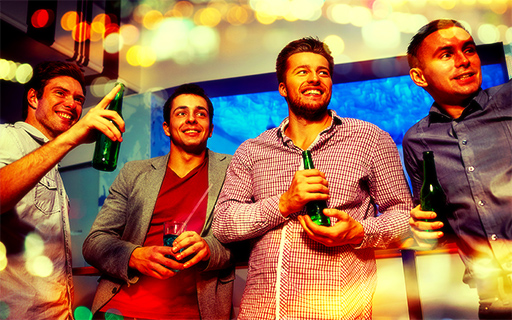 There are gay bars and clubs in virtually every country in the Western world, and many more worldwide. From Tokyo to Vancouver, you'll find a gay nightlife scene. North America and the United Kingdom have some of the most progressive gay bars and gay nightlife scene around. Scotland is known to have the most progressive attitudes when it comes to gay rights and culture, so it's no surprise that they have some of the greatest gay bars in the country. North America is home to some of the loudest controversy surrounding gay rights, but is also the location of some of the absolute best gay nightlife scenes in the world. Some of the greatest experience top-notch gay bars are below.
Canada: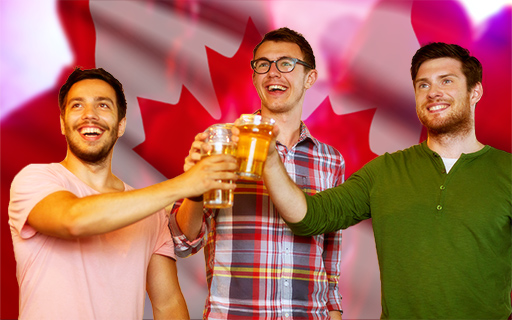 Canada has some of the best and most lively gay bars and clubs in North America. The cities with the best gay nightlife are Toronto, Montreal, and Vancouver, so you can find a great time coast to coast! Every province in Canada has a city with a gay bar, whether it's discreet and underground, or popular and commercialized. Everyone you go in Canada, there is a large and welcoming gay scene, but the ones mentioned above are known to the largest out of them all. This is mostly because they are big, metropolitan areas, so the gay population is much bigger. Quebec City and Halifax are some smaller areas with a great gay nightlife, with a few gay bars that are worth a visit. These cities have some of the most welcoming attitudes towards the gay community, so a thriving nightlife is guaranteed. Still, there are all styles of gay bar and club to visit while you're in Canada.
United Kingdom: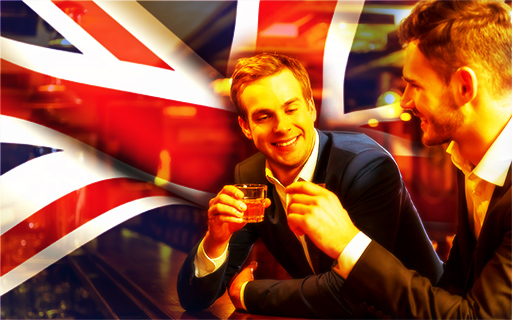 The first gay bar in England happened to be a night club, which opened in London. This was called the Golden Calf, and became a popular hang out for rich clientele, as well as the lower-class artsy crowd. This was in 1912. Once "gay activities" were no longer criminal in 1967, gay bars and club grew substantially and became exceptionally more visible than it was in the past. The gay epicentre of the city became Soho, and the gay community firmly established itself in London by the 1990s. Hundreds of gay bars and clubs opened around the country, many of which are still in business today. London was just one of the many cities across the UK with a thriving gay scene, and gay district. Manchester, Brighton and Birmingham are some other gay capitals as far as nightlife and gay bars. The gay community in these cities are huge and growing, making the bar scene all the more exciting and evolving.
United States: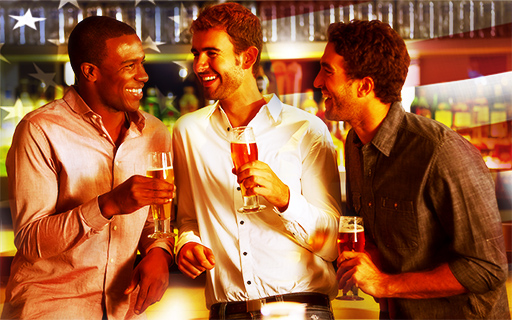 The US is a melting pot of so many different cultures, it definitely doesn't skimp on gay culture! There are gay bars in every city across the country, with the most popular and thriving gay scenes being in New York, Los Angeles, and San Francisco. These are just a few of the many cities across the US with big gay communities and gay night scene. There are gay bars all over the United States, in every major city, though places like New York City have substantially more in terms of types and populations. New York City was the site of the first riot that changed everything when it came to gay rights, the Stonewall Riots. Police raided the bar because it was popular with gay clientele, and they were hoping to arrest people for committing gay acts. This backfired on the police, however, when the gay community within the bar, and spectators outside, decided that enough was enough. They revolted, and chased away the cops. These riots lasted for a week, and gained national attention. This was the catalyst that changed how the world viewed gay people, and paved the way for gay bars and clubs to open and operate without fear of being raided or shut down. Gay bars are everywhere in New York now, and there is a gay village that's become a travel destination, where tourists visit to experience some gay culture while they're in the city.
To read more on gay bars in these countries or others, check out: