Gay Pride UK: Your Complete Guide
The Gay Pride movement was born at a time when LGBT (Lesbian, Gay, Bisexual, Transexual) rights where at an impass: a change needed to happen from within the community because the world was never going to do it on its own. Gay Pride means exactly that: being proud of your homosexuality and yourself. Gay Pride means celebrating who you are and where you fit in your community. Gay Pride means fighting against injustices against LGBT people and pushing for the acceptance of all genders and sexualities. The United Kingdom has not always had a proud history of supporting their LGBT community, but now there are Gay Pride UK attitudes that they can be proud of.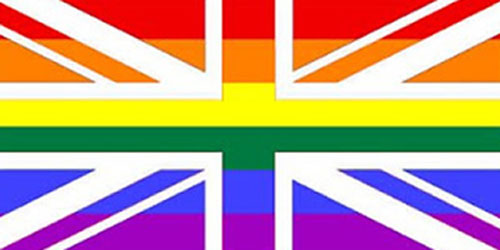 Here on ManPlay.com, we have all you need to know about the history of Gay Pride UK, the statistics of Gay Pride UK, and Gay Pride UK around the country!
Gay Pride UK: History 101
Way back before the phrase "Gay Pride" even came into existence, there was LGBT history being made in the UK. Why, there has been evidence of homosexuality since as early as the year 117 in the United Kingdom, when Roman Emperor Hadrian ruled Britain as an openly gay man. From emperors to kings, UK history is full of men embracing and banishing homosexuality and the acts that go with it. By 1533, being gay was touted as the sin of all sins. Sodomy became illegal. Over 8921 men were prosecuted for disobeying the "Buggery Act" between 1806 and 1861, with 404 being sentenced to death. That's just how life was in the United Kingdom.
There is a lot of history behind all of the Gay Pride UK events that exist, but there is even more history when it comes to just simply "Gay Pride UK". If we define Gay Pride UK as an event in history that celebrates LGBT individuals and the LGBT community and/or perpetuates positive representation and acceptance of the LGBT people of the United Kingdom, then that's when it starts to get more interesting.
Way before there were Gay Pride UK festivals and parades, there were small steps towards the Gay Pride UK movement: gay bars and gay books and gay movies and so many more gay things! Here are a few examples:
Way back in 1912, London got its very first "gay pub": Madam Strindgberg's The Cave Of The Golden Calf.
In 1928, The Well Of Loneliness is published, although it is suppressed soon after and only two editions were ever printed
In 1936, Mark Weston, a respected British athlete, transitioned from female to male. Reporting on the event was respectful, accurate, and sensitive.
In 1963, the UK's first lesbian social and political organization, the Minorities Research Group, was formed. They also published their own lesbian magazine called Arena Three.
In 1970, the Gay Liberation Front (GLF) was formed in response to the way gay men and lesbians were being treated in Britain.
In 1972, Britain's first gay newspaper, "Gay News", was founded.
In 1975, The Naked Civil Servant premieres on the television channel ITV. It depicts the life of homosexual icon Quentin Crisp, a writer and storyteller.
In 1978, the International Lesbian and Gay Association (ILGA) is formed.
In 1980, the British documentary A Change In Sex premieres on the television channel BBC2. This same year, the Self Help Association for Transsexuals (SHAFT) as well as the first Black Gay and Lesbian Group were formed in the UK.
1989, famous actor Sir Ian McKellen came out as gay in response to the controversial proposal of Section 28 in the British Parliament.
In July of 1990, OutRage is formed to pressure police into protecting gay men instead of arresting them. In September, the Lesbian and Gay Police Association is formed. The same year, Jeanette Winterson's screenplay Oranges Are Not The Only Fruit, a semi-autobiographical tale of her lesbian life, was shown on BBC television.
1991, the early 1950s play Edward II is turned into a movie by gay activist Derek Jarman. The film made overt references to the Gay Pride Uk movement and the Stonewall riots of the United States.
In 2002, Brian Dowling becomes the first openly gay children's television personality, performing on the show SMTV Live.
When it come to the formation of Gay Pride UK festivals and parades, it gets a bit simpler. The first official Gay Pride UK march occurred in November of 1970 with approximately 150 men walking through Highbury Fields in North London. The first official Gay Pride UK rally occurred on July 1st, 1972 in London, England. It was chosen as the closest Saturday to the 1969 Stonewall Riots of the United States, which many believe was the turning point of the Gay Pride movement. This first event had approximately 2,000 participants. In 1983, the Gay Pride UK march and rally were combined and named "Lesbian and Gay Pride". Through the 1990s, the event became more of the carnival event and parade that we are used to today.
Gay Pride UK: Statistics & Figures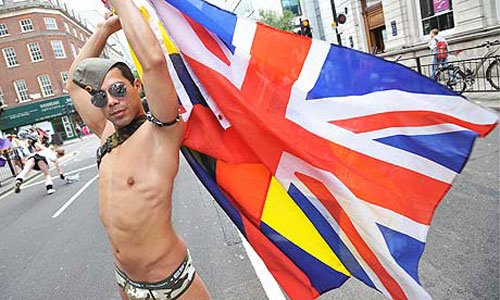 Pride Glasgow is the largest Gay Pride UK event in Scotland and has been since 1995. It is held over a two-day weekend and draws in crowds of anywhere between 5,000 and 10,000 attendees annually. Gay Pride Glasgow includes live performances, a community expo, a dog show, and a parade. In 2016, the theme of Gay Pride Glasgow will be "Be Yourself".
Belfast Pride is the largest Gay Pride UK event in Northern Ireland with a growing attendance of each year. In 2015, they had their most popular Gay Pride UK event thus far, with over 40,000 people attending the festival. Gay Pride Belfast features over 100 events across 10 days, including live performances, film screenings, trivia nights, comedy shows, workshops, seminars, parties, markets, and a parade.
Founded in 1972, Pride In London is, by far, the longest running Gay Pride UK event in the United Kingdom. It is also the largest Gay Pride UK event, with its sixteen-day festival drawing a grand total of over ONE MILLION participants in 2015! In 1992, Pride In London held the world's first EuroPride festival and had an attendance of over 100,000 people! In 2006, Pride In London held EuroPride for a second time, with an attendance of an estimated 600,000 people. In 2012, Pride In London also held the UK's first ever World Pride event, which was only the third World Pride event ever. Shortly after the World Pride 2012 event, however, the managing organization of Pride In London, Pride London dissolved, and a new group, London LGBT + Community Pride took over. In 2014, Pride In London had one of its biggest parades ever: over 30,000 people and more than 150 organizations and groups participated. That same year, the festival received the G3 Awards' Event Of The Year Award, Stonewall's Advert Of The Year Award, and Love Content's Digital Out of Home Planning & Best Digital Campaign Award. Pride In London includes live performances, trivia nights, film screenings, panel discussions, themed city tours, parties, dinners, and a massive parade which is the only event in London to annually close the iconic Oxford Street. Throughout the years, Pride In London has run several advertising campaigns using catchy hashtags, such as "#NoFilter", "#PrideHeroes", and "#FreedomTo".
Other noteworthy Gay Pride UK events include: Bear Pride London, BFI Flare: London LGBT Film Festival, Birmingham Pride Ball, Cardiff Mardi Gras, The London Drag Olympics, Glasgay! LGBT Arts Festival, Homotopia, Huddersfield Pink Picnic, Cardiff Lesbian & Gay Ball, Mr. Gay UK, Mr. Gay Wales, Outsiders LGBT Film Festival, Cambridge Pink Festival, Queer Contact, Queer Spirit, Rainbow Lesbian and Gay Film Festival, Sparkle, National Student Pride, UK Black Pride, GayWise LGBT Arts Festival, Winter Pride, 11and We Are: Proud..
Gay Pride UK: From Sea To Sparkling Sea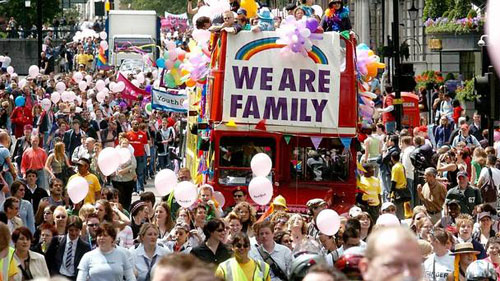 The United Kingdom of Great Britain and Northern Ireland, to use its full name, has Gay Pride UK events across all four of its countries: England, Wales, Scotland, and Northern Ireland. From their capital cities and major metropolises (including Belfast, Cardiff, Glasgow, Edinburgh, Birmingham, Brighton, Bristol, Leeds, Liverpool, Manchester, London, Newcastle, etc.) to their small town and rural communities (including Hampshire, Exeter, Burnley, Durham, Coventry, Exmouth, Rotherham, Luton, Chesterfield, Hereford, Norwich, Weston, Margate, Wiltshire, Doncaster, Swindon, Foyle, Cornwall, Walsall, Leicester, Totnes, Bolton, Preston, etc.), the countries that make up the United Kingdom have some of the biggest and most successful Gay Pride events anywhere in the world. It would take years and years to be able to experience all of these Gay Pride UK celebrations in person, but we have tried our best to collect all the information you could need on some of the most popular ones.
Check out our Gay Pride UK city listings below and discover the best and biggest Gay Pride UK events the United Kingdom has to offer:
ENGLAND: Gay Pride Birmingham
Gay pride Birmingham has had the prestigious history of being amongst the first gay pride parades outside the United States. Organizers from the Gay Liberation Front aimed to parallel London's first gay parade and pride week. The first pride parade took place in 1972 and has had one or two… Read more.
ENGLAND: Gay Pride Blackpool
Blackpool pride is the biggest festival and event in the North, and has a shorter history than some other UK cities. This is strange considering Blackpool is the gay capital of the North, but pride has always been present in this seaside city! Gay Pride Blackpool has only been around… Read more.
ENGLAND: Gay Pride Brighton
In Brighton, gay pride is a huge deal, and the events are like no other. With tons of colour, costumes, and celebrations, there is something for everyone to do at Brighton Pride. Some events are adult-only, and are not appropriate for all audiences, however these shows are generally marked as… Read more.
ENGLAND: Gay Pride Bristol
There are so many things that happen for pride in Bristol and after perusing some of our info, you will find out what makes Bristol such a perfect place to celebrate pride. It has been voted one of the best festivals in the country and millions from around the country… Read more.
ENGLAND: Gay Pride Gateshead
With Gateshead being right across the river from Newcastle, it shares its Northern Pride festival with many other towns and municipalities in the area. Gateshead has the pleasure of joining in on all the festivities across the river in Newcastle - considering it's right there. It is the second biggest… Read more.
ENGLAND: Gay Pride Leeds
Leeds is a city of variety of different people and that is what makes it such a special place for gay pride events. Often we imagine that gay pride festivals are more a celebration and a wild party with drag queens, drinking, parades, sexy men and loud music. That is… Read more.
ENGLAND: Gay Pride Liverpool
The first ever recorded gay pride Liverpool event took place June 22, 1979. The one-off event was a week long celebration in remembrance of the New York stonewall riots, which took place 10 years earlier. The event was one of the first recorded gay pride United Kingdom events, the… Read more.
ENGLAND: Gay Pride London
People in London have been celebrating gay pride for decades. This UK city has been ahead of the game when it comes to gay pride. Marches and pride events have been taking place in London since the 1970s, even gaining official recognition in 1972. Pride In London is about more… Read more.
ENGLAND: Gay Pride Manchester
Gay Pride Manchester hosts one of the biggest events annually, with celebrity guests and thousands of spectators. Manplay looks at the history of it all. When it comes to gay pride, Manchester is the place to be. Some of the UK's biggest LGBT celebrities are in attendance at this event… Read more.
ENGLAND: Gay Pride Newcastle
Gay pride in Newcastle was celebrated under the title of "Pride on Tyne", due to its location. Once the organization responsible ended their festivities and association with the event, there was a lull in official Pride celebrations for a few years. In July of 2008, The Northern Pride committee successfully… Read more.
NORTHERN IRELAND: Gay Pride Belfast
The very first gay pride Belfast march happened in 1991, with only 100 people participating. Since being gay in Belfast at that time wasn't ideal or fully accepted, the march more closely resembled a quick run through the city. Most of the city were somewhat hostile toward gay people at… Read more.
SCOTLAND: Gay Pride Edinburgh
Many individuals are totally unaware of how gay pride came to be nor what it originally represented. We might look at gay pride celebrations as pure displays of fun and diversity - but in the past gay pride marches and carnivals were not particularly accepted - and they represented a whole lot… Read more.
SCOTLAND: Gay Pride Glasgow
Gay people all over Scotland have attended the festival because it has always received rave reviews, like you will find out - it is the largest festival in all of Scotland. We might envision gay pride as a massive parade with floats and dancers and plenty of music - but gay pride… Read more.
WALES: Gay Pride Cardiff
The first gay pride march was held in Cardiff in 1985. At that time, gay pride wasn't as celebrated as it is now, and the city has grown with events being held at different times each year. What started out with a handful of attendees has risen to over 20,000... Read more.
The Gay Pride UK events listed above certainly are not the only ones that exist in the United Kingdom, but the links that go along with them are a great place to start if you are looking to explore and learn more about the best and most popular Gay Pride UK celebrations. Through these links you will find deeper and more in-depth research on each and every city, their history in Gay Pride UK, the statistics of their Gay Pride UK event(s), and other resources you can check out to learn more. We worked hard to cover everything that we could find, so we are sure you can find all the information you are looking for.
Gay Pride UK: Resources
Still searching for more information on Gay Pride UK and Gay Pride UK celebrations? Why not check out some of the official Gay Pride event websites. Here's a collection of links to resources you can check out
Pride In London: Official Website
Pride Glasgow: Official Website
Belfast Pride: Official Website
Learn more about gay pride around the world! Check out ManPlay.com's guides on Gay Pride US and Gay Pride Canada and find out everything you never knew you never knew about Gay Pride in different countries!