Gay Bars Manchester
If you're going to Manchester and need to know where the gay bars are, Manplay.com can help you. We present the definitive list of gay bars in the city. Whether you're in the mood for a wild party night or a chill, laid back evening of drinks with some friends, the Manchester gay bars in the Gay Quarter has a place for everyone to have their perfect night out.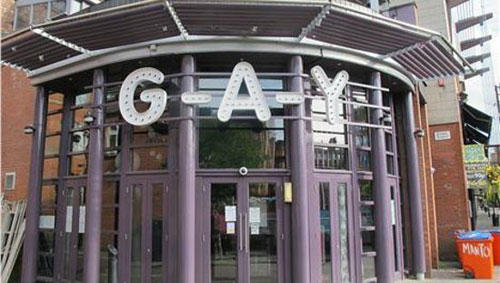 History Of Manchester Gay Bars
Most Manchester gay bars are located on or around Canal Street, which is the centre of the city's Gay Village. This street runs along the Rochdale Canal, hence its name. The area is an extremely popular tourist destination nowadays, with its multiple gay bars and shops welcoming everyone. It's closed to traffic and completely pedestrianized to accommodate visitors and improve the nightlife safety and convenience. Warmer summertime months and Pride are the busiest times in the gay district, with hundreds of people travelling or just having a outing in the area. Lots of the gay bars have patios as well so it's a great summertime afternoon spending it at a gay bar in Manchester.
Canal Street was first developed way back in 1804, but not originally as a designated gay area. There were pubs and stores back then, but that was to entice trades people and sailors to stop in at their dock. The street was intended as a trade hub, which it was for a large portion of the century, until the 20th century, when gay men began to use the area as a popular meeting place. Canal Street started to become associated with gay people because they were drawn to the location and the businesses, so there was a large, albeit quiet at the time, presence.
Trading via the Canal slowed significantly by the 1960s, so it allowed for a transition into an area for more shops and bars. The area was popular for cotton, and was in fact the key location for the cotton industry in Northern England, until the industry collapsed. This left Canal Street in a situation of urban decay, which made it a perfect spot for gay men to meet secretly at the bars that were still running. The location is close to railway stations, so even then it was easy to get to and from the district for men who wanted to visit.
vWith the rise in the number of gay men frequenting the Canal Street area after the trade business had collapsed, the police took notice and began patrolling the area more. Even in the 1980s, gay activity was illegal in Manchester, and police focused on the known area which was popular with gay men in order to catch people "in the act". The Chief Constable of the time was accused to homophobia for instructing his men to target the canal and the street to try and catch gay men engaged in sexual activity. The Chief Constable refuted the claims that he was targeting gay people, and insisted he was simply enforcing the law. The Constable retired in 1991, and Canal Street has seen some major changes and expansion since that time.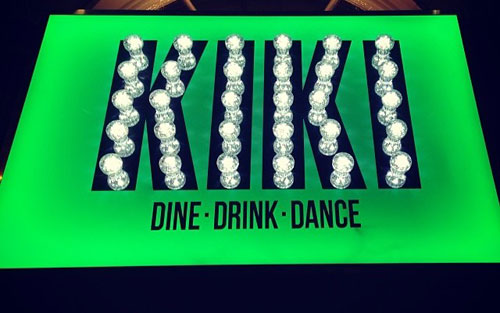 While there were bars in the area that discreetly hosted and served gay men, the first was to openly exist as a gay bar in Manchester at the time was Manto.Manto opened in 1990, and can be toted as the inspiration for the rest of the gay bars and clubs opening up all along Canal street and surrounding roads. Business was tough for the first year because gay people were afraid of being seen publicly, and being outed for visiting a gay bar. Prior to Manto, they had to operate with secret codes and knocks, which became demeaning and tiring. The owner of Manto, Carol Ainscow, was sick of having to live in secret, so she wanted to provide a safe space for gay men and women to get together. Eventually, Manto became an icon of gay bars Manchester. This was possible partly because the same year the bar opened, Manchester City Council officially recognized the Canal Street Quarter as a gay district. The council wanted to further gay and lesbian rights, and expand on the non-discrimination policies that were started in the late 1980s. A lot of effort went into strengthening and advancing the community in the Village, and the gay bars acting as safe places for gay men and women to enjoy was a big help. Manchester City Council was also the first in the UK to support civil partnerships and gay marriage in the country.
Opposition of Section 28 and other infringements on gay issues led to a real strengthening of the gay community, and led to the creation of the gay village to what it is today. Gay men and women wanted a place that more than a gay bar or a club to gather and share their frustrations and oppositions. A gay labour councillor says that the village was willed into existence by the gay men and women who wanted the area. From this, tons of gay bars have popped up all over the village and Canal Street, making it the Gay Quarter that Manchester knows and loves today.
Best Times And Days To Go Out To Manchester Gay Bars
Manchester gay bars are typically open late into the night - or early into the morning, depending how you look at it. Most of the gay bars and clubs in Manchester are open Thursday through Sunday, but some of the pub style bars are open all week starting around noon. For the ones that are open through the weekend, these are normally open and very busy until 3 or 4am. Each night would typically consist of a different venue event, like DJ Saturdays or Karaoke Thursdays, which some Manchester gay bars do actually have.
List Of Manchester Gay Bars And Clubs
THE EAGLE
Type:
Gay bar
Space:
Basement bar venue, relaxed. Black Eagle in back, darker and more of a Euro-feel
Crowd:
Men only, all ages
Address:
15 Bloom Street
Website:
www.eaglemanchester.com
Any Notes:Brief Description:
This is a men only gay bar, so no ladies or hen parties allowed. The Eagle is a cruising spot for many men. It's a cozy cocktail bar/pub mix located in a basement venue so there's lots of privacy to be had.
COMPANY BAR
Type:
Gay bar
Space:
Small, relaxed and laid back. Modern decor. Seating and dining.
Crowd:
Older crowd, 30+
Address:
28 Richmond Street
Website:
www.companybarmanchester.co.uk
Any Notes:Brief Description:
Company is a relaxed gay bar, hosting many happy hours and theme nights. A great place for drinks before the club, or a laid back evening with pals.
VIA FOSSA
Type:
Bar
Space:
Cozy, atmospheric and charming. Open space.
Crowd:
Mixed
Address:
28 Canal Street
Website:
www.viamanchester.co.uk
Any Notes:Brief Description:
A restaurant and bar hosting live entertainment almost every night. It's exposed brick walls add old charm. Lots of options for food and cocktails, with a newly expanded cocktail menu.
G-A-Y MANCHESTER
Type:
Nightclub
Space:
Large dance floor with a stage for live shows
Crowd:
Mixed, mostly younger.
Address:
10 Canal Street
Website:
www.g-a-y.co.uk
Any Notes:Brief Description:
The most popular gay club in Manchester, this was is always busy. Packed with people of all ages, this super club is open late into the night. A great place to meet new people and dance the night away.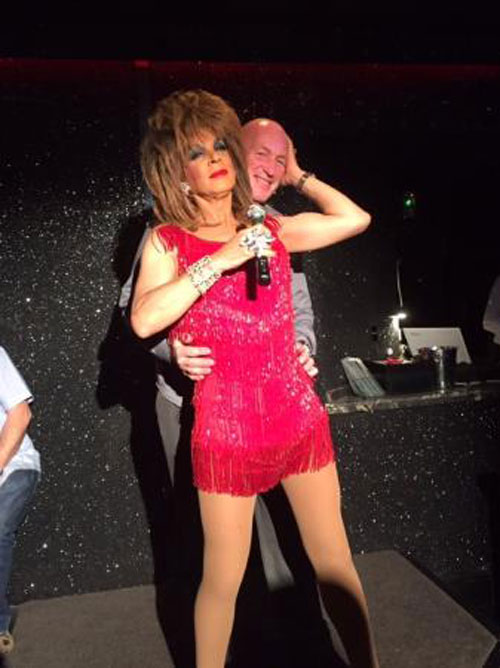 KIKI'S
Type:
Bar
Space:
Low-key, large and airy.
Crowd:
Gay only, mixed genders, 18+. Smart but casual attire.
Address:
4 Canal Street
Website:
www.kikimanchester.com
Any Notes:Brief Description:
A restaurant during the day, and a hot party spot at night, this is a diverse gay bar. You can come for dinner and stay late into the night dancing and drinking with friends.
CRUZ 101
Type:
Club
Space:
Large main dance floor
Crowd:
Campy, mixed but mostly men, ages 18-45
Address:
101 Princess Street
Website:
www.cruz101.com
Any Notes:Brief Description:
This is a popular cruising spot for older gay men, it's one of the most popular clubs in the area. Located in an old warehouse space, the club is open late playing house and dance music all night.
NEW YORK NEW YORK
Type:
"Glam Queen bar"
Space:
Large space, booths and tables for seating. Main stage for live acts, like cabaret and drag shows
Crowd:
Mostly 30+, queens and young guys
Address:
98 Bloom Street
Website:
www.newyorknewyorkmcr.com
Any Notes:Brief Description:
This bar is a drag bar that hosts live shows while serving food and drink. Weekly cabaret shows and drag shows are happening here, so come see, eat, drink and enjoy!
BAA BAR
Type:
Gay bar
Space:
Open space, lounging areas and dance floor with large bar
Crowd:
Diverse, young. 18-25, trendy
Address:
27 Sackville Street
Website:
www.baabar.co.uk
Any Notes:Brief Description:
This location of a chain of clubs boasts a new cocktail menu and renovated space. There's a younger and trendy crowd mostly, but lots of room to dance. A large bar allows lots of people to be served at once, making wait times for drinks shorter.
CHURCHILLS
Type:
Bar/pub
Space:
Large pub, outdoor patio. Stage for drag shows, karaoke, and live DJs
Crowd:
Mixed, all ages, relaxed and casual vibes
Address:
37 Chorlton Street
Website:
www.facebook.com/Churchills-Manchester-The-Official-Group
Any Notes:
Traditional pub with a gay twist
Brief Description:
This is a pub in the gay village, with a very casual vibe. This is place to come to have something to eat and drink a pint or two with friends in the afternoon or before going out dancing. The pub hosts karaoke, live DJs, and drag shows, so this can be a one stop for a great night out as well.
OSCARS
Type:
Musical Theatre Bar
Space:
Theatre-style; big screen with audience seating. Booths available. Upscale decor
Crowd:
Mixed crowd, mostly older; 25+
Address:
34 Canal Street
Website:
oscarsbarcanalstreet.co.uk
Any Notes:Brief Description:
This is a unique bar, set up theatre-style and playing old screen classics on a big screen. Drinks are served at the bar or at your seat on a lit-up serving tray. Movie clips playing include some from old famous musicals, and classics as well.
VIEW ON THE CANAL
Type:
Gay club
Space:
Large bar, huge dance space in basement
Crowd:
Older, 25+
Address:
40 Chorlton Street
Website:
www.facebook.com/view.manchester
Any Notes:Brief Description:
View is a dance club with a big bar, and a huge open downstairs dance space. Mixed crowds make up the clientele but a lot are closer to the 25+ range.
CHARLIE'S K BAR
Type:
Karaoke bar
Space:
Large main room with karaoke stage and audience seating. Casual and lively
Crowd:
Mixed, upbeat, casual and easy going
Address:
2 Harter Street
Website:
charlieskbar.co.uk
Any Notes:Brief Description:
This popular karaoke bar is a fun and upbeat place to go out with friends. Sing your cares away while having some drinks; a great place to relax and have fun.
RETOX MANCHESTER
Type:
Nightclub
Space:
3 levels, 3 dance floors - the loft space has bass, garage, and trap music playing. Middle has hip hop, classic and funk, and the basement area has deep house and tech music playing.
Crowd:
Young, rowdy. Grungy and hipster types
Address:
116 Manchester Street, Oldham
Website:
RetoxManchester
Any Notes:Brief Description:
This huge nightclub has tons of space and 3 different dance areas hosting different styles of music. Mostly grungier crowd, hard partying types.
Gay Bars Manchester Summary
The gay bars Manchester scene is for all kinds of people, so whatever you fancy for your evening out, the Canal Street Quarter can provide it.
To find out more about gay bars in Manchester, or other areas of the UK, check out:
Gay Bars Vauxhall
Manchester Gay Bars