Manplay.com's Listing Of The Best Gay Bars Montreal Style
If you want to know about the best gay bars Montreal has to offer, all you have to do is look us up here at Manplay.com to find all the info you need. Manplay.com wants to tell you everything you need to know about gay bars Montreal style. When we say Montreal style - what do we mean? If anyone thought about your typical Montreal man, they would think cultured, proud and downright sexual. Gay men in Montreal come in all shapes and sizes. When you think Montreal style, you might be thinking of poutine or you might be thinking of a melting pot of culture, a battle between English and French, as well as the hotness of some local French guys. We will give you one of the best listings for gay bars throughout the city. You will also tickle your curiosity by learning about how gay bars came to prominence and what gay bars are like these days. Manplay.com has it all. If you'd like to know more about gay bar information all you need is us. Are you travelling to Vancouver anytime soon? Because there is plenty going on in town there. It's never too late to get in on the action somewhere in Canada.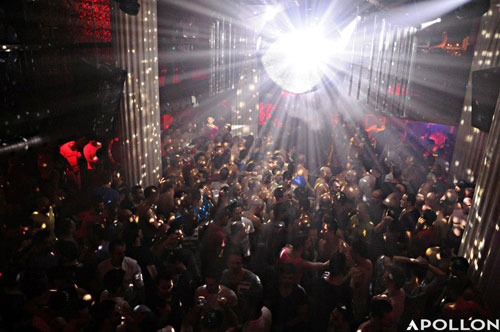 Gay Bars Montreal: History
We know you have been wanting to experience some gay bars Montreal spots, so why not learn a little about what makes the gay bar scene in Montreal so distinct and special? Montreal has had a wild gay history and was home to one of the first gay hangouts in North America; Moise Tellier's cake boutique happened to be the first recorded gay establishment in 1869. In the 1950s, Dorchester Square (formerly Dominion square) was a place where gay men could mingle and cruise. This was largely a discreet area, yet oddly at the same time it was openly known that gay men would hang out there. There were not many openly gay businesses or bars until the 1970s and 80s. With consideration of how Montreal English speakers and French speakers are usually hanging amongst themselves - the same goes for gay Montrealers - so there were originally two places where you could find gay bars in the city. Originally, the West End of Montreal that centered on Drummond and Stanley Street was a big hangout for English speaking gay men. The businesses located along St. Catherine Street catered mostly to French gay men, and was dubbed the Red Light district.
The City Intervenes and Loses
There was a massive crackdown that was reflective of the conservative views throughout much of Canada. These crackdowns took place in the late 1960s and early 1970s. In an attempt to 'clean' up the city, Montreal police raided many gay establishments that included not only bathhouses, but bars and taverns as well. As late as the 1970s, gay establishments were being raided, business owners were forced to close based on witch-hunt like accusations that centered around drugs and being purveyors of the sex trade, as well as simple taverns that catered to a gay clientele. Business owners and customers of many of these gay establishments were arrested. There was an outcry in the gay community. Many asked why so many people were being arrested for having a place to hang out and meet people. As a result of the city wide crackdown, there was a massive demonstration. On July 19th 1976, the Comite Homosexual Anti-Repression (the Gay Coalition Against Repression) held the largest gay demonstration in Canada. It was a massive event that ensured that people knew that many gay people sought equal rights. The demonstration aimed to uncover police oppression and discrimination in the police force. These types of closures, raids and accusations continued until the 1980s. For this reason, gay bars were hard to come by in Montreal. Many gay bars needed a community and or in other words a gay village.
Montreal's Gay Scene Begins To Flourish
Finally the gay bars Montreal scene began to flourish in the late 80s and early 90s.When the University of Quebec in Montreal opened in what was titled the Latin Quarter - there was a massive influx of gay men from all round the country and Quebec. Many bars and businesses opened up around this time. This was when the gay village and gay bars Montreal spots began to pop up. Soon, the West End gay village essentially merged with the East gay village. Residential blocks popped up that catered to gay men and soon more gay bars began to open up, with clubs dedicated to being open places for gay men in Montreal to hangout.
The Expansion Of Gay Culture
Due to advent of the internet however, the necessity for gay bars has fallen drastically. Due to our new ways of thinking, progressive gay people in Montreal don't feel the need to stick to just the gay village. Montreal's gay village doesn't need to exist anymore, because so many other gay bars have opened up around the city. The idea of a separate village has ceased almost ceased to exist. The prevalence of gay friendly bars and bars that are just more preferable to a gay clientele are flourishing city wide. Internet dating has also changed this whole dynamic and cruising is now simply done online on sites like Manplay.com. Gay bars and gay establishments are city wide now, whether you near either University or any part of town, you will find plenty of gay bars Montreal establishments.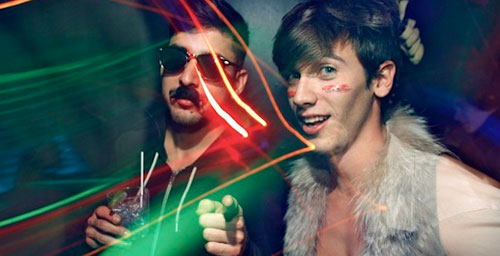 The Best Times For A Night Out In Montreal
Some of the best times to go out Montreal are on Tuesdays, Thursdays and the Weekends. Many bars throughout the gay village and in other parts of town stay open late (Montreal style) and have cheap drink specials on Tuesdays. We all like to think that this has a lot to do with fact that we all need to take the edge off after an overwhelming Monday. Tuesdays often have bars that have drinks for as low as 3 dollars. Thursday has often been called the new Friday, with food deals and happy hours happening in the post work rush from 6 - 8. Cheap eats with cheap drinks is a way that many Montrealers like to operate and gay guys are no different. Thursday is the buildup to the Weekend, so plenty of gay bars and clubs are open. Many smaller gay bars in the city open up for Weekend business on Thursdays. Though they may not be too crowded - the chances of being able to attend a live musical act in one bar or club is more than possible. Fridays and Saturdays goes without saying. Music specials, theme nights and cheap drinks are always happening at every bar on the Weekend. Sundays are brunch days and hair of the dog that bit me days. You will find that most of the action starts at about 5 o'clock when people are heading out. Like many things in Canada - music and other types of shows don't get started until close to 9. So think about grabbing a bite and a drink before hitting up one of the many bars where you can meet your date you find on Manplay.com.
Gay Bars Montreal: Directory
These are some of the hottest gay bars Montreal has to offer. Check them out to find out where you could go on a hot date.
Bar Le Stud
Type:
A relaxing DJ bar and club with plenty of dancing.
Space:
easy going dance floor. Bar space and lounge tables.
Crowd:
Pool players, dancers and locals. Hunky guys. It's a staple of the gay scene in Montreal.
Address:
1812 Rue Sainte-Catherine E
Website:
Bar Le Stud Homepage
Any Notes:
A perfect place to go on a date and watch the hunky eye candy roll by.
BRIEF DESCRIPTION:
Bar Le Stud is one of Montreal's mostly study venues where you can find hairy and beefy guys grabbing drinks and grabbing butts. There are plenty of cheap drink nights and lots of DJs compete for a night of fun in the club. You won't find a bar that screams Montreal's gay scene better than Bar Le Stud.
Club Unity
Type:
Nightclub with DJs and bar.
Space:
Perfect for dancing and lounging around. Outdoor space.
Crowd:
Bustling crowd. Those who love to dance and DJ enthusiasts. Geared more to English speakers in the city.
Address:
1171 Rue Sainte-Catherine E,
Website:
Club Unity Montreal Homepage
Any Notes:
A relaxing atmosphere with theme nights. Open to many from all round Montreal.
BRIEF DESCRIPTION
Club Unity, like it's name says, is a perfect place for a relaxing night out with dancing and much more. It caters to both the English and French speaking crowd. On a night out, you would find plenty to dance to and plenty to drink with its world class bartenders and hot local DJs who spin some serious tunes. There is an outdoor patio so you can get away from the throbbing beats echoing through the club.
Stock Bar
Type:
Bar and Strip Club.
Space:
Lounge Area, bar and stage.
Crowd:
Gay men looking to watch hot hunk dance and get naughty on stage. Women looking admire the adonis on stage.
Address:
1171 Rue Sainte-Catherine E
Website:
Stock Bar Homepage
Any Notes
Features an interactive website space dedicated to live streaming performances going on in the club.
BRIEF DESCRIPTION:
One of Montreal's premier gay strip clubs. If you're looking to kick back and watch hunky, muscle guy beat it on stage then this is the place. One of the best places to go on a date and admire the male form. It's one of the only
gay clubs
in the world that has an interactive website dedicated to live streaming any and all performances. Oh and there are plenty of happy endings.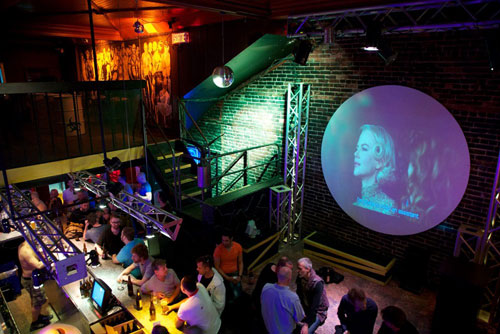 Bar Aigle Noir
Type:
cozy bar and dance floor with DJs and an outdoor space
Space:
small dance floor, lounge seating and an outdoor patio
Crowd:
Eclectic mix of regulars, locals and visitors.
Address:
1315 Rue Sainte-Catherine E
Website:
Aigle Noir Homepage
Any Notes:
Cozy.
BRIEF DESCRIPTION:
Bar Aigle Noir is a perfect date spot, with a quaint DJ and a dance floor where you can dance without judgement - it's the best place to go an have a cocktail and people watch or chat. The outdoor place makes the bar open up and not feel quite as stuffy.
Bar Le Cocktail
Type:
club, bar and karaoke destination
Space:
plenty of levelled space with a dance floor, karaoke booths and DJ booths.
Crowd:
gay students and travellers looking for a fun mindless night of drinking and karaoke. Drag queen and crossdressers frequent this space.
Address:
1669 Rue Sainte-Catherine E
Website:
Bar Le Cocktail Homepage
Any Notes:
Into drag queens and drag shows? This is your place.
BRIEF DESCRIPTION:
A perfect date night location or simply the best place to grab a drink and have some fun with karaoke. Bar Le Cocktail has been one of Montreal's staple locations for drinks and drag shows. Weekly events and theme nights mean that if you're a regular, you will never get bored. It's the ultimate destination for some relaxing fun.
Gay Bars Montreal: Concluding Thoughts
As you can see there is plenty that gay bars Montreal have to offer. As you can see Montreal's cosmopolitan roots have made the gay bar scene cater to all walks of life. If you're looking for a night out or a way to blow off some steam, Manlplay.com's listings for gay bars in the city will keep you coming back for more. There is always something to do in Montreal and when it comes to some of the gay bars in the city - you won't find anything better than here.