Gay Bars New Orleans
The gay bars New Orleans scene has a southern twist that can only be found here. The community is very open to going out to gay bars (unlike other areas in the south) and are treated exactly like other bars. Everyone goes to these bars whether they are just looking for a drink, or want to dance, straight or gay. New Orleans have some great bars near the ocean which could lead to a good time at the beach afterwards if you know what I mean. With the beautiful weather that New Orleans has to offer, every night is beautiful and waiting for adventure, and thats where we come in. We have all the info on the absolute best gay bars in New Orleans and are excited to share them.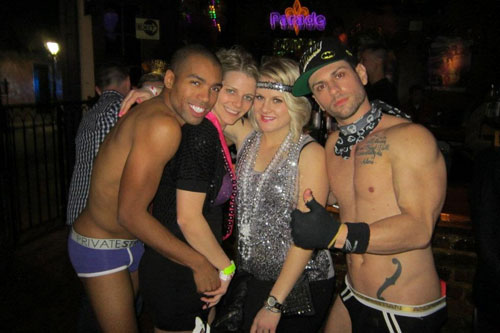 Gay Bars New Orleans: History
In the late 50's, there were no gay bars at all. None. The gay community decided that it was time to change that. One day, a huge group of gay men decided to take over a bar called Café Lafitte in Exile. They started going every Saturday, and then every Friday and Saturday, and they became such regulars that it just became a gay bar because there were so many gay regulars. They started contributing to events, having drag performers come in, and even adult entertainment! Before moving into this bar, a few men had gone there before to check out if the owners were alright with the idea that they were going to bring all of their friends in. The owners had no issues with this and were actually excited that they were going to be a part of this transition from there being no gay bars in New Orleans, to one. Theirs. From then on, gay bars began popping up all over the city and they still haven't stopped opening up today.
Gay Bars New Orleans: Best Times and Dates
If you have been going out for a long time to gay bars and gay clubs in New Orleans, you probably know what the best days are to go out. For anyone who is new to the scene, the prime days and times to go out in New Orleans are Wednesday-Sunday from 9pm-3am.
Gay Bars New Orleans : Directory
Bars in New Orleans are easy to find, they are simply everywhere! Finding exceptional bars are a little harder which means it's a good thing that manplay.com has all of the best gay bars New Orleans guide listed below with details so you know exactly what to expect when you go out.
Old Point Bar
Type:
Gay Bar, Dive Bar
Space:
Large Room, patio
Crowd:
21+ (after 9pm), Mixed
Address:
545 Patterson Dr, New Orleans
Website:
oldpointbarnola.com
Brief Description: Old Point gay bar is family friendly during the day, but once night hits, there is definitely a party to be had. Facing the ocean, Old Point Bar is one of New Orleans most loved gay bars and it's easy to see why. The whole staff is friendly and welcoming to old and new comers, which makes people want to come back. The atmosphere is very laid back and relaxing. No one ever rushes you to leave and you are always welcome to stay as long as you please. Since the noise level isn't too high, it is easy to go in, hang out and talk with friends. If you are coming to dance the level is just high enough that you can hear the music and get your groove on. On occasion, there is live music that always pulls in people who are just walking by. All of the talent are unbelievable at what they do. Every day this gay bar is open from 11:00am until 2:00am. With exceptionally cheap and delicious drinks and great music, your night will always be a blast at Old Point Bar New Orleans.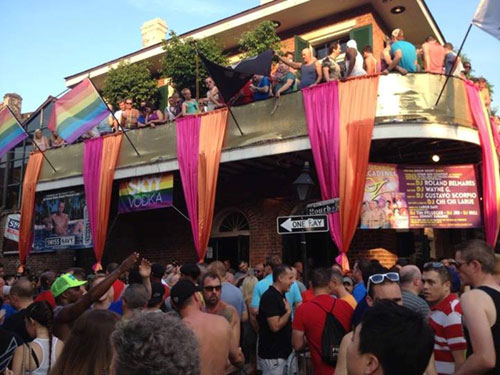 The Golden Lantern
Type:
Gay Bar
Space:
Large Room
Crowd:
21+, Mixed
Address:
1239 Royal St, New Orleans
Website:
tubbysbarneworleans.com
Brief Description: First and foremost, this gay bar is different than most bars in the world for one reason. It is open 24 hours from Monday-Saturday. Sundays are closed so the staff can sleep! Though this bar is open what seems like all the time, the best nights to come here are Fridays and Saturdays. This is a good bar to get your dance on or just get into a conversation with someone new. Unless you have a great time alone, bringing a friend with you is a must! Even if you plan on going just for a few drinks, you'll most likely end up staying half or the whole night. The music is great and the atmosphere is fantastic. If you're looking to get away from Bourbon St, this is the place to go. The food here at The Golden Lantern is also good. Regular pub food.
Napoleon's Itch
Type:
Gay Bar, Dance Club
Space:
Small room, Patio
Crowd:
21+, Mixed
Address:
734 Bourbon St, New Orleans
Website:
napoleonsitch.com
Brief Description: Do you love mojitos and are you looking for the best one in New Orleans? Head over to Napoleon's Itch bar and club and order one. They are reasonably priced and are incredible. The bartenders are very personable and interesting to have conversions with and WILL remember what you had to drink the last time you came by. Napoleon's Itch is said to be one of the loudest bars on Bourbon St, so if you are looking for a quite chill night, it is not recommended to come here, but if you are looking to get wasted and dance the night away, this place is perfect! They are open from 5pm until 2am from Friday-Saturday and are open until 12 on weekdays. Every day they have different music. One night it could be 80's music and the next it could be electronic house. Check out their website to figure out which night is playing which type of music, or just walk by - you'll be able to hear from outside.
Good Friends Bar
Type:
Gay Bar, Sports Bar
Space:
Large Room, Patio
Crowd:
21+ (after 9pm), Mixed
Address:
740 Dauphine St, New Orleans
Website:
goodfriendsbar.com
Brief Description: From Monday-Thursday Good Friends Bar is open from 1pm until 2am. On Friday, it also opens at 1pm and closes at 6am, on Saturday it opens at 6pm closes at 6am, and on Sundays Good Friends Bar opens at 6pm and closes at 2am. The hours of operation are quite random, so make sure that before you go in, check out the times. Since this gay bar can get a bit loud, the upstairs is an appropriate option in order to get some quiet time. Good Friends Bar has a very local and friendly atmosphere. Everyone knows everyone which gives it a very family vibe. When visiting this bar for sports games, there are tons of fans from around the area to come and watch, since this bar is known for having such a good welcoming feel, people are attracted to it, and whatever chance they get to come by, they take. There is really good pub food and Thursday nights have half price wings all day and night until 6am, who doesn't want wings at 6 in the morning?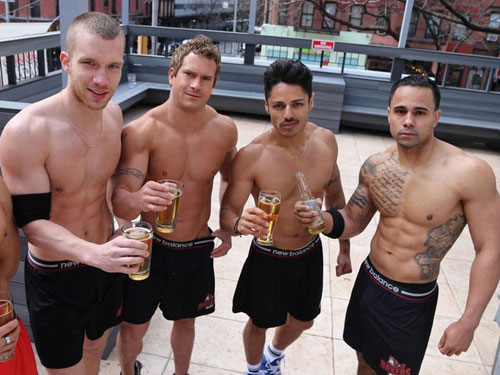 Cafe Lafitte In Exile
Type:
Gay Bar, Lounge
Space:
Large Room, Patio.
Crowd:
21+, Mixed
Address:
901 Bourbon St, New Orleans
Website:
lafittes.com
Brief Description:Cafe Laffite in Exile was the first gay bar in New Orleans. Statistics show that the first bars in certain cities usually go out of business or become ran down. This goes for first straight bars and clubs as well. This gay bar has definitely beaten the odds and has stayed open and is better than ever - the appearance is still beautiful and has only gotten better over the years, and the clientele has only grown more and more. This bar isn't going to go out of business anytime soon, that's for sure. This IS the best gay bar/club in New Orleans. The hours of oppression are; Monday from 5am until Saturday at 5am, that's right, this bar is open for 24 hours everyday except Sunday. If a bar can afford to be open every single day, all day, you know that they are giving and getting good business. The food you can purchase here is regular pub food, but cheaper than a regular bar or pub, and the drinks are also extremely inexpensive. With multiple drink specials every day you will always like at least one thing that is on special which means that you will usually be drinking cheaper than cheap. The atmosphere and vibe of Cafe Laffite in Exile is energetic and pure. In some bars (especially 24 hour bars), sometimes things can be uncomfortable and strange with the people there, but here, the security and bouncers are all very good at picking out the trouble makers (people looking for fights, etc.) from the good - this way, everything and everyone stay happy and keep coming back for more. There is a lot of fun music to be heard and lots of great people to be around, it's always a fun time when you come to Cafe Laffite in Exile.
Rawhide 2010
Type:
Gay Bar, Lounge
Space:
Large Room, Patio.
Crowd:
21+, Mixed
Address:
901 Bourbon St, New Orleans
Website:
rawhide2010
Brief Description:Rawhide2010 is definitely the kind of bar you have to be in the mood for. With gay porn playing on all of the TVs in the bar and in the washrooms, you have to be in a very open mindset in order to enjoy yourself. If you are a more conservative person, this isn't the bar for you. The music is always blaring and since you can't hear what anyone around you is saying, the only thing left to do is dance with the stranger beside you. If you are looking to get laid, this is 100% the bar to go to, most people who go here are looking for a one-night-stand. The club is open Monday-Tuesday from 1pm until 5am, and Wednesday until Saturday 24 hours. On Sundays, Rawhide2010 is closed. During the day, you can head into the bar for a drink or a snack, and at night the bar turns over into a gay club. This is the most intense gay club in all of New Orleans so if you are looking for a really good time, head over here. The staff is great, the music is great and this bar is just an all around good time.
700 Club
Type:
Gay Bar
Space:
Large Room
Crowd:
21+, Mixed
Address:
700 Burgundy St, New Orleans
Website:
700clubneworleans
Brief Description: One of the most accepting bars in the whole city is 700club. Here you will see everyone from the LGBT community. There are cheap drinks, cheap food and tons of laughs. This is a very refreshing bar if you are coming in for the first time because it shows how well everyone can really get along. You can be transgender, gay, a lesbian or anything and you will feel no one judging you or making you feel uncomfortable. With southern foods and sports games on all of the televisions, there is no way you will have a bad time here. There is space to dance if you don't feel like watching the game, and also a patio if you want to get some fresh air. Every staff member is so friendly and accepting and will make you feel welcome even if you are a new guest. It is guaranteed that they will remember your name and drink the next time you go in. Coming to 700club is a must if you are visiting New Orleans or if you live there and have never gone. This club will make for a perfect and fun night out.
Gay Bars New Orleans: Concluding Thoughts
Now that you have learnt all the information you need about gay bars New Orlean and gay clubs New Orleans, it's time to go out and and score! The next time you have a night off or are feeling down, hit up Manplay.com and then your best friends and go out to one of these awesome venues!
To learn about different bars in Seattle, click here