Gay Marriage In Wyoming
What do you think of when you hear Wyoming and LGBT in the same sentence? It might be a young face that comes to mind. Matthew Sheppard, perhaps? Wyoming seems to be a place of highly split opinions when it comes to gay rights and gay marriage. While there have been several instances of Wyoming officials attempting to enact bills in favor of gay marriage rights, they have almost habitually been shot down by the State Senate. So how did Wyoming come to accept gay marriage? Manplay.com has all you need know about Wyoming gay marriage. Read this article to learn how Wyoming became one of the states to legalize gay marriage.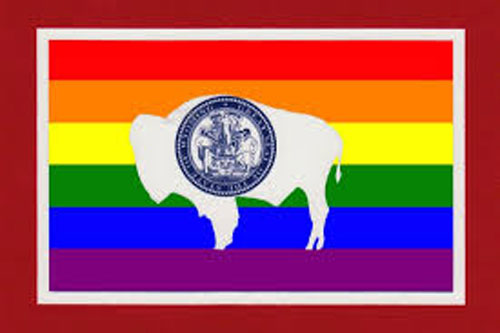 History of Gay Marriage In Wyoming
The ban on same-sex marriage goes back to 1977. While the Sodomy law had been lifted that year, the Wyoming State Legislature passed a ban on marriage or any other union between two persons of the same gender. The same ban was revisited with a stronger grip in 2003 where legislation read that the legal marriage in Wyoming was to be restricted to the union between one man and one woman.
However, within the State Statutes, there was another law which read that any marriage performed outside of Wyoming under valid laws of the state are to be valid within Wyoming. This very law is what began the revolution toward gay marriage. As expected, several LGBT couples married outside of Wyoming and when their marriage was not legally recognized, they used this legislation to claim their rights in court.
In 2007, a bill was introduced which would ban any marriage performed outside of Wyoming to be invalid. It looked as though some state officials were beginning to change their opinions on gay marriage as early as then when the bill was defeated by a single vote in a committee of the Wyoming House of Representatives.
The House considered amending the state constitution in 2009. House Joint Resolution 17, also known as the Defense of Marriage resolution, would define marriage as a union between one man and one woman effectively removing any acknowledgement of a same-sex union, regardless where it was performed and under what law. The amendment was debated at length and on February 6th it was defeated with 35 against the amendment and 25 for it.
Many from the House was determined to get their way. In 2011, they again passed a law which would prohibit recognition of Wyoming gay marriage from outside the state. When HB 74 first came to the Senate, it was declined by 16-14. Another House Bill (HB 150) came to Senate, which would define civil unions and restrict them to unions between one man and one woman. The bill was voted down for revisions and never seen again.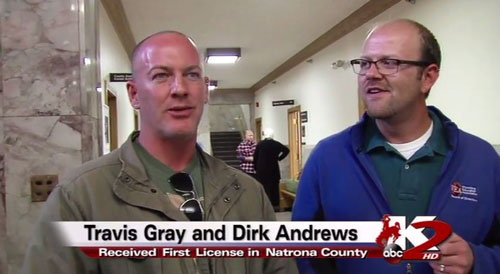 The first move toward legalizing gay marriage was in Early 2013. Legislators proposed a bill which would define marriage as a contract between two natural persons. A House Committee defeated the bill by a small margin of 5-4. The full House considered the bill, but defeated it shortly after.
By this time in America, several states had already legalized gay marriage and enacted several rights and privileges as well as anti-discrimination laws. A series of court cases in Wyoming state was proof enough that the public demands for freedom and LGBT equality rights was becoming louder.
Guzzo v. Mead was a federal case filed in October 2014 after the Supreme Court refused two appeals issued from the Tenth Circuit Court of Appeals, which would tie decisions made in the Circuit Court toward the removal of same-sex bans be applied to law in Wyoming. Wyoming Equality along with four same-sex couples opened the case with a request that the state's ban on same-sex marriage be ended. Three out of the four same-sex couples had been in previous cases and the fourth was recently denied their marriage license.
The judge of this case, US District Judge Scott Skavdahl, ruled for the plaintiffs and gave the state six days to notify the court whether they would appeal or not. Four days later, Governor Matt Mead released a statement that Wyoming State would decline appealing the ruling. The judge lifted his stay and gay marriage in Wyoming was finally legal.
Wyoming Gay Marriage Statistics
While the bureaucratic support of gay marriage has been incredibly lacking, the public support of gay marriage and gay rights has been impressively good and continues to grow.
In 2013, a Public Policy Poll revealed that 57% of Wyoming voters supported the legalization of gay marriage, while only 32% of voters thought it should be illegal and 11% were unsure. In the same survey, an incredibly positive 64% of respondents supported legal recognition of same-sex couples, 36% supported domestic partnerships, and 3% were unsure.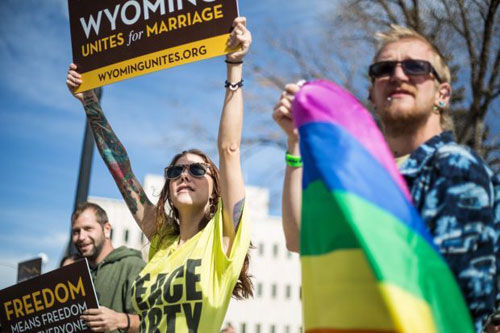 In April 2015, studies gathered data which showed the public opinion of gay marriage had moved up to 61% with the largest group of voters who support gay marriage being between 18 – 29 (78%). 70% of people aged 30 – 39 support gay marriage, 61% of people aged 40 – 49, 52% of people aged 50 – 64 and support from people aged 65+ came in at 46%. The same data gathered broke down political stances and found of the people who support gay marriage 76% were democrats, 66% independents, and 34% were Republicans.
According to data gathered by the Equality Federation and Wyoming Equality, 12,787 adults of the Wyoming population identify as LGBT, that's 2.9% of the population. Of those people, 25% of them are raising children.
Current Status Of Wyoming Gay Marriage
Wyoming Gay marriage has been legal in the State since late 2014 by court decision. It definitely took quite a lot of legal maneuvering from the public to get there, but it doesn't look like it's going to go away anytime soon.
Wyoming State officials seem to love to fight for what they believe in with a ferocity, however. Many attempts of enacting some kind of legislation, which would protect LBTG individuals had to go through the same gruelling process as gay marriage and several protections have still yet to be in place for LGBT individuals.
Nevertheless, the public's support and the organizations in place that fight back for equality in Wyoming the state's growing positivity for equality is truly astounding. Even though gay marriage continues to get legislations proposed to abolish it to this day, the chances of it succeeding are low.
Future Status Of Wyoming Gay Marriage
While State Officials continue to debate the law on rights and freedoms allotted to LGBT couples outside of gay marriage, the public opinion of gay marriage and gay rights is steadily increasing. With the aid of several LGBT and Equal Rights organizations, Wyoming's opinion on gay marriage is destined to change for the better.
To learn more about gay marriage in Wyoming, visit any of the following:
- First Anniversary of Gay Marriage in Wyoming
To find out about gay marriage in Alabama, Click HERE.