Gay Marriage In Vermont
Vermont gay marriage history and statistics are available at Manplay.com. Read on to find out about the current status of gay marriage in Vermont today. This state is one of the most progressive state in all of the United States when it comes to gay marriage and the laws that go with it. Vermont is a state that has truly paved the way for same-sex couples and same-sex marriage throughout the entire country. Many states could take a lesson from Vermont, what to do and what not to do regarding gay couples and gay marriage.
After the Supreme Courts' ruling to legalize gay marriage in the United States on June 26, 2015, it looks as though gay couples will be more willing to live as the people that they are, rather than hide from the public eye. Vermont is definitely a gay-friendly state and it has been for quite some time. Although gay marriage is now legal everywhere, Vermont really was at the forefront of the battle to ensure that all residents gay or straight had equal rights, including the right to marry the man or woman of their choosing.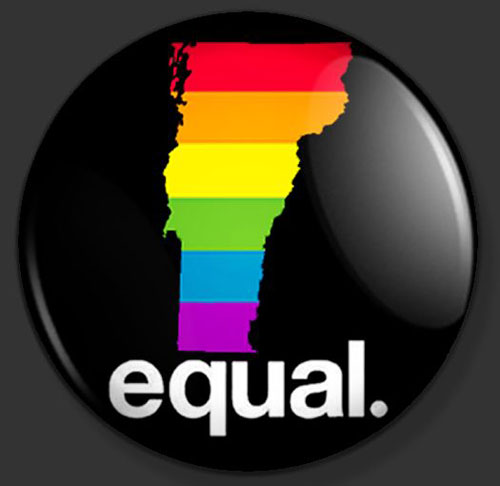 Vermont Gay Marriage History
Vermont has always been a leader when it comes to the rights of gays and lesbians and this was true right from the start in the 1990s. It was one of the first states to instate hate crimes legislation, including in the legislation of sexual orientation. Two years later, Vermont also added sexual orientation to the anti-discrimination statute. Then in 1993, in an unanimous ruling by the Vermont Supreme Court, they gave second-parent adoption rights that allowed a partner in a same-sex relationship to legally adopt their partner's biological child(ren). In 1995, gay couples were legally allowed to adopt after the Vermont's adoption statute was reformed in such a way that adoption not only became possible for same-sex couples, but it was going to be easy to pursue.
The Supreme Court ruled that the Vermont Constitution designates gay couples to all of the same benefits and protections that are the law for married heterosexual couples. The court did not force the state of Vermont to allow gay marriage at this time, but instead asked the state legislature to come up with a suitable solution.
Vermont was the first state in July 2000, to legally allow gay civil unions after responding to the Baker decision. This legislation took effect on July 1, 2000. At this time, the definition of marriage was the union or a man and a woman, a statement that was not previously in the marriage statute. Vermont made same-sex marriage legal on September 1, 2009. It was also the first U.S. state to legally recognize and allow gay marriage without being forced to do so via a court decision. With the new marriage law that came into effect in September 2009, Civil unions are no longer needed since marriage is now legal in Vermont. Previous civil unions that were seen as legal in Vermont will not have to change their status and civil unions that were performed outside of the state are also still legally recognized in Vermont.
If a gay couple from Vermont, who has previously entered a civil union wants to now get married, it is easy to do so as long as both parties are the same ones that entered the civil union together. If the gay couple has a civil union from another state, they too can legally get married in Vermont.
Couples who have a civil union and a civil marriage and decide to split up and get a divorce, do not need to get a separate dissolution of the civil union and then a divorce (from the marriage). Both could be set at the same time and the family court would issue one order for both unions. Divorce for same-sex couples used to be a tricky thing in any state that did not recognize same-sex marriage, but with Vermont being a state that has always been at the forefront of gay marriage it is actually quite easy. The only real stipulations are: 1) You must live in the state. 2) One of you must have lived in the state for at least a year by the time the divorce has been finalized. 3) It takes a minimum of 6 months of living separate lives for you to schedule a divorce hearing. 4) Only one party has to want the divorce. It isn't required that both parties agree to the divorce. When all of these steps can be followed, divorce is much easier to obtain than it has been in the past.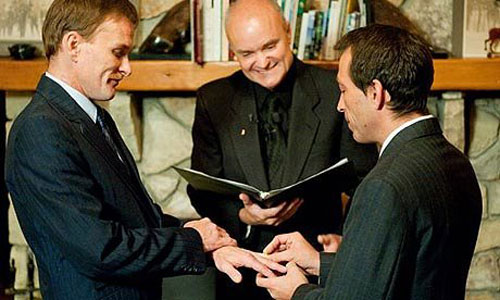 Vermont Gay Marriage Statistics
According to a study conducted in March of 2009 by UCLA, making gay marriage legal in Vermont will boost the economy of the state by over $30.6 million over three years. This will then also increase state and local government sales taxes and revenues by $3.3 million and create about 700 new jobs.
A Public Policy Polling Survey conducted in July 2011 found that 58% of the voters in Vermont were in support of gay marriage and 33% of the voters in Vermont thought gay marriage should be illegal. 79% of voters in Vermont agreed that there should be legal recognition of gay couples, 55% of these voters were in favor of supporting gay marriage and 24% of the voters were in favor of supporting same-sex civil unions BUT not marriage.
A separate poll by the Castleton Polling Institute completed between June 3 and June 20, 2013, two years later found that 66% of voters in Vermont were in support of legal gay marriages, while only 13% of voters in Vermont were against legal gay marriage and 21% of voters in Vermont had no opinion regarding the issue.
According to the 2013 Census Bureau, there is 750,000 gay couples nationwide and 2,881 of them can be found in Vermont. The total household count in the state of Vermont is 250,000. Almost half of the same-sex households are married and the rest are co-habitating. It's interesting to note that there are actually less heterosexual married couple households at 121,000.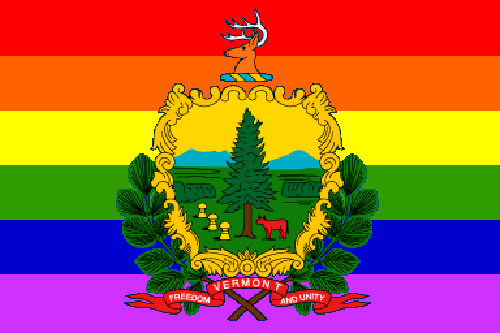 Current Status Of Vermont Gay Marriage
Gay marriage is 100% legal in the state of Vermont. It was actually one of the first states to allow gay marriage without a court order, in 2009, unlike most other states.
Currently, Vermont recognizes same-sex civil unions and marriages that were performed in another state as well. A marriage or union will be respected and accepted if you were married in another state. Gay couples do NOT need to re-marry their spouses Vermont, as it will have no legal significance. These couples are already married and the state of Vermont sees it that way as well. These couples may actually run into an instance where the county office asks them why they want to marry their spouse again and then the county official will let the couple know that this is not necessary.
Future Status Of Vermont Gay Marriage
It looks like the future status of Vermont gay marriage will remain as it is now, legal and easy to obtain. The only thing that can improve is the acceptance by others in the community of gay marriage, although there already is a large percentage of acceptance and support from straight residents. Again, this is something that doesn't have a far way to go. Vermont is considered a gay-friendly state with good reason. It isn't difficult to find support for a same-sex marriage in a state where there are more gay households than there are straight households. Since gay marriage is legal in Vermont and all of the United States of America it's unlikely that there will be many successful appeals to the Supreme Court ruling.
To learn more about gay marriage in Vermont, visit any of the following:
- Vermont Legislature Legalizes Same-Sex Marriage
- Marriage Equality In Vermont
- Same-Sex Marriage In Vermont
- Vermont Tops For Percentage Of Gay Households
To find out about gay marriage in Oklahoma, Click HERE.