Gay Marriage In Virginia
The road to the legalization of gay marriage and equal rights for gay couples in Virginia has been long and hard. While some states were making progressive acts toward the support of Virginia gay marriage and gay rights since the late 1970's, Virginia was content to hold their ground on traditional customs. How did Virginia finally come to legalize gay marriage? Manplay.com has all you need to know about gay marriage in Virginia. Read this article to learn more about the history, statistics, and status of Virginia gay marriage.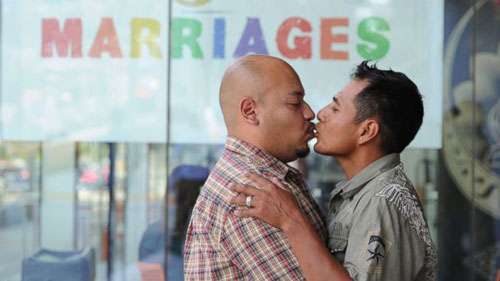 Virginia Gay Marriage History
The Code of Virginia was amended to prohibit marriage between gay couples in 1975. In 1997, the State Senate banned the legal recognition of out of state gay marriage. In 2004, Virginia ruled in the prohibition of civil unions between same-sex individuals or any other similar contract. In 2006, the State approved a constitutional amendment that defined marriage as a union between one man and one woman.
Virginia seemed like a tough state to change the political opinions of when it came to gay marriage and gay rights and for many who were fighting for it, it looked as though gay marriage was not on the horizon anytime soon. However, while the state officials had a strong hold on traditional marriage values, there were several instances that marked a desire for change and equality within the state far before official court rulings came into favor over it.
The first attempt at rights for gay couples began in Arlington County in 1997. The county announced its plan to change their employee health insurance so that it would include coverage for same-sex couples. In 1998, three local taxpayers revolted against the decision and asked the County Circuit Court to prohibit the country from administering the change. Unfortunately, the court agreed. On appeal, the Supreme Court of Virginia's decision in the Arlington County v. White case solidified the restriction of health insurance toward same-sex couples and added one more set back for gay rights in Virginia State.
For some, this seemed like just another let down for equality and justice, but others saw it as an opportunity to fight harder and louder. The legalization of consented sexual activity gave the gay community something to celebrate. Thanks to the 2003 Landmark Decision of Lawrence v. Texas in US Supreme Courts, the Sodomy law was officially abolished in 13 States, Virginia included.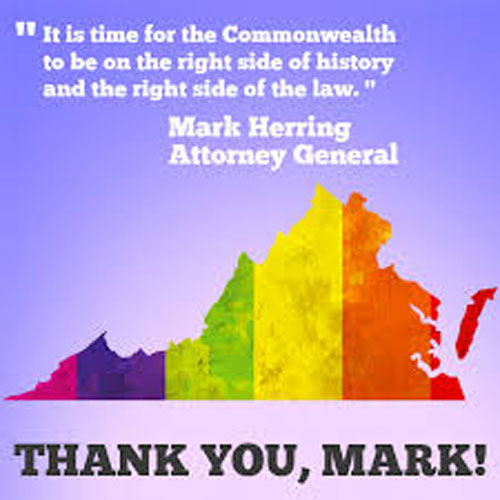 While circumstances still seemed dim for gay marriage in Virginia, the gay community had at least one man in office who was on their side. He first reared his head into gay rights issues in 2005, publicly stating that while he believed adoption should be only permitted for married couples, gay individuals should be able to adopt as well. The comment seemed mild, but it was the first in his long chain of gay rights support.
In 2009, the same man, Governor Tim Kaine, attempted to extend health benefits to include Same sex couples working in Virginia state. Unfortunately, his work was undone in 2010 when he was succeeded by Governor McDonnell. McDonnell sought the legal advice of the new Attorney General Ken Cuccinelli over the policy and Cuccinelli later issued a legal opinion that caused the administration process to come to a halt.
The State's first act in support of what would become the inevitable legalization of Virginia Gay Marriage was in 2007. The Virginia House of Delegates voted in a bill that would permit Same-sex couples hospital visitation rights. Unsurprisingly, it was Tim Kaine who signed the bill on March 26th and the bill went into effect on July 1st.
Hopes were high for the beginning of change in Virginia, While the topic of gay rights and gay marriage was becoming more and more relevant in American politics as a whole, Virginia lost another battle in 2012 when House Bill 189 was voted in 71-28. The bill stated that adoption agencies were permitted to refuse participation in the placement of children given that it violates written moral, religious beliefs, or policies. Perhaps this was the last straw for the public's gay couples seeking equality in their home state.
In 2013, two gay men - Timothy Bostic and Tony London - filed a lawsuit in federal court that challenged the state's ban on gay marriage naming Bob McDonnell as principle defendant. The case was restyled after McDonnell left office to name the state registrar of vital records, Janet Rainey, as lead defendant in 2014.
Another gay couple joined the plaintiff's team as well as two American Foundation for Equal Rights attorneys, Theodore Olson and David Boies. In less than two weeks after taking office, Virginia Attorney General Mark Herring announced he and his office would be supporting the plaintiff instead of the defendants. Governor Terry McAuliffe also supported the Attorney General and joined the plantiff's legal team. At long last, was this the moment Virginia's gay community had been waiting for?
Yes! February 13th, 2014 it was ruled that the ban on gay marriage was unconstitutional. On July 28th, it was ruled 2-1 in favor of striking down the ban on gay marriage, and on October 6th it finally happened. Gay marriage became legal in Virginia State.
On October 10th, Governor Terry McAuliffe issued a statement throughout Virginia that, following the legalization of gay marriage, adoption between Same-sex couples was now legal and valid. While there are several states that are more progressive when it comes to gay politics in America, Virginia continues to push forward with multiple supports from the governing office as well as several organizations including Equality Virginia.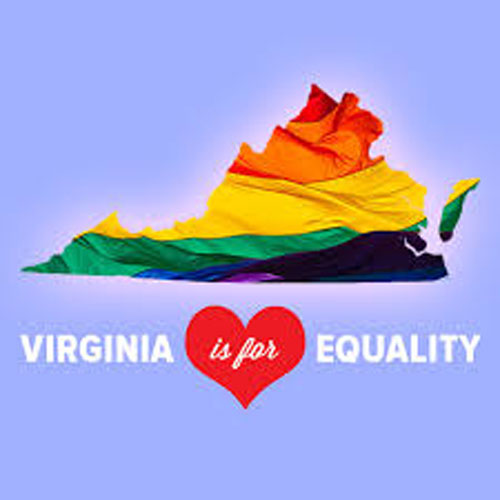 Virginia Gay Marriage Statistics
gay marriage remains a controversial topic in Virginia. However, the opinions from the public on Virginia gay marriage and gay rights is changing. A study conducted in August of 2015 showed a total of 3,598 marriages in Virginia were between Same-sex couples since its legalization. That's 5.27% of marriages in Virginia that were gay marriages.
Statistical support for gay marriage trails back to 2011. In a Washington Post poll, it was discovered that 47% of people living in Virginia were in support of gay marriage while 43% voted against it and 10% had no opinion either way. The same poll also found that 55% of Virginians were supportive toward same-sex couples being able to adopt children. 35% opposed the idea and 10% had no opinion.
The same surveyors discovered that an astounding 64% of residents living in Arlington County, Alexandria, Fairfax County and Fairfax were in support of gay marriage. 63% of people living in the counties of Loudoun, Fauquier, Prince William, Stafford, Culpeper, Rappahannock, Madison, Clarke, and Frederick support gay marriage as well as the cities of Winchester, Manassas, and Manassas Park.
A 2011 Public Policing Poll found some interesting results when conducting its survey. In regards to same-sex marriages being legal, the survey found 34% of voters in Virginia felt that gay marriage should be legal, 53% thought it should be illegal, and 13% were not sure. Seemingly dim and declining, but the same survey asked voters for their opinion on legal recognition of gay marriage and found that 59% of Virginia's voters supported legal recognition, 28% were in favor of civil unions but not marriage, 38% were against legal recognition of any kind ,and 3% were not sure.
During the time of the lawsuit against Virginia's gay marriage ban, a Marist poll discovered that 55% of Virginia respondents were in favor of gay marriage and only 37% oppose it. Later in 2013, a Public Religion Research Institute survey found that 52% of Virginian supported Same-sex marriage, 42% opposed, and 6% had no opinion or refused to answer.
In 2015, a Quinnipiac poll found that the legalization of gay marriage hasn't changed the public opinion on it all too wildly. 49% were found to be in favor of gay marriage and 43% against it.
Recent data gathered discovered that the population of people in Virginia who identify as gay is 2.9%.
Current Status Of Virginia Gay Marriage
Gay Marriage became legal after state officials refused to defend the state's constitutional bans on Same-sex marriage in the case of Bostic v. McDonnell (later known as Bostic v. Rainey and then Bostic v. Schaefer). After the Plaintiff's win in favor of gay marriage in July 2014, the ban was removed on October 6th, 2014.
While gay marriage is legal in Virginia State, it is still a highly controversial topic and several rights and protections belonging to heterosexual couples are not enforced or granted to Same-sex couples. However, the public desire for change and equality is growing.
Future Status Of Virginia Gay Marriage
Virginia gay marriage remains a difficult topic for many of Virginia's residents and stays a hot topic in Virginian politics. While the LGBT community has support from a few of its politicians and a handful of Gay Activist and Support groups, the state has a long way to go in regards to fully accepting gay marriage and gay rights.
There is currently no anti-discrimination laws in place for Virginian gay couples or LGBT people and the hate crime laws in place address religion, race, and nationality, but not sexual orientation or gender identity.
There is plenty of work to be done, but efforts are underway. The polls continue to show that public support for gay marriage is on the rise, albeit a slow one.
To learn more about gay marriage in Virginia, visit any of the following:
- Virginia Gay Marriage News in the Huffington Post
To find out about gay marriage in Washington, Click HERE.