Gay Marriage In New Mexico
Manplay.com has everything you need to know about New Mexico gay marriage. Find out about the history, statistics & status of gay marriage in New Mexico in this article. As we already know, The United States has had a tumultuous relationship with gay couples, and gay marriage has upped the ante in the debate on same-sex rights. Gay couples have had to fight to have their relationships recognized by the government, and finally the governments are starting to respond positively in their favor.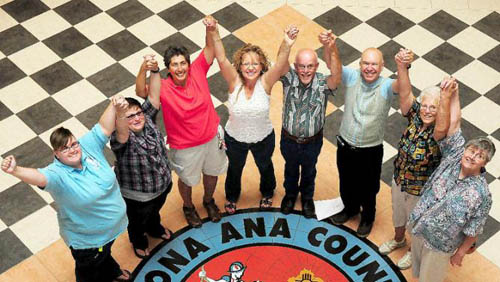 New Mexico Gay Marriage History
New Mexico has always been a gay-friendly state, and their progressive attitude toward gay marriage in the 21st century has roots going back to the 1970s. "Gay activity" was legal in all of New Mexico in 1975, so nobody was legally punished for living their own lifestyle how they wanted. It's true that gay couples couldn't marry yet at the time, but being able to be openly gay without fear of legal repercussion was a big deal back then.
It might be legally supported now, but gay marriage in New Mexico was possible in some areas even before the state Supreme Court ruled in favor of it. There were some counties in the state that would issue licences to same-sex couples, allowing them to become legally married in New Mexico. Of the 33 counties in the state, it was possible to obtain a marriage licence prior to state-wide legalization in the following 8 counties:
-
Sandoval
-
Dona Ana
-
Santa Fe
-
Bernalillo
-
San Miguel
-
Valencia
-
Taos
Gay couples were able to get a marriage licence in Sandoval county since 2004, so some areas of New Mexico were ahead of others when it came to updating their gay marriage policies. In fact, New Mexico is the only US state without any kind of statute or constitutional provision that addresses gay marriage. This means that decisions on whether or not gay marriage applications were approved came down to a county level. Because New Mexico had some states that already allowed them to obtain their licences to wed, gay couples could still marry legally in their home state, if not their home county. The 2013 case Griego v. Oliver ultimately decided new legislature to legalize gay marriage throughout New Mexico.
A group of lesbian couples, led by Rose Griego, filed a motion in State District Court to have gay marriage legalized. On March 21, 2013, the group filed a lawsuit in challenging the refusal of their marriage licences by a county clerk. On August 26th of that year, the State District judge ruled in favor of the plaintiffs on the grounds that refusing marriage licences based on gender was unconstitutional. He ordered district county clerks to start issuing gay marriage licenses to same-sex couples. The New Mexico Association of Counties sought to have the case reopened, so they filed a motion to do so. A different judge responded by re-opening the case in September of 2013. The case eventually came before the New Mexico Supreme Court, where it was ruled that the state's constitution must be updated to include same-sex marriage rights. The legal battle to have gay marriage be fully and officially recognized by the state of New Mexico had been in an out of the state court systems since 2008.
It all started when governor Bill Richardson advocated for a bill allowing domestic partnership was passed and sent on to the state senate, where nothing happened with it. In 2009, legislation that would give gay and straight couples many of the same rights found in a state marriage was brought before the state senate, where it was unfortunately voted down by a majority. Advocates and supporters of that legislation planned to bring up the issue sometime later in the year, but that didn't happen right away. Almost a full year later, in February of 2010, a domestic partnership bill which had proposed a constitutional amendment that would have restricted marriage to being between a man and woman was struck down.
Officials in New Mexico were starting to really advocate for legislative change at this time, but seemed hesitant to put anything into action once the issue was voted on. Nothing seemed to happen regarding New Mexico gay marriage legislature for some time, until a few years later. In January of 2013, a state representative proposed a resolution to the state's constitution that would amend things to allow gay marriage legally throughout New Mexico. The proposal passed, but the state senate failed to do anything as far as taking action to induce change by the deadline, so a year later, nothing actually happened with this approved legislation.
A case was brought before a New Mexico district court in 2013, wherein a couple, Alexander Hanna and Yon Hudson, seeking a way to guarantee that New Mexico citizens can enjoy the same equal marriage rights, regardless of gender or sexual orientation. It was argued by the state that the court doesn't have the proper authority necessary to demand that all county clerks issue marriage licences to all couples as requested. The court argued that an action like that would need to be done at the state's executive level. The judge at that level declined to hear the case, but stated that the plaintiffs (the couple) could have their case fast-tracked for review in district court. The District judge in charge of the decision ordered the county clerk to issue a gay marriage licence to all qualifying couples, which the clerk agreed to do without issue. After this ruling, roughly a dozen gay couples were married in a combined ceremony in county court chambers.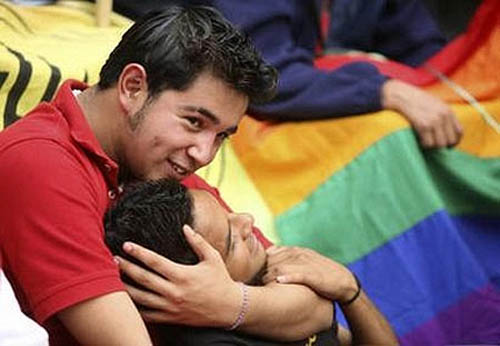 Some gay couples in other states of the country are fighting for the right to marry their partner, have the same benefits as straight married couples, and the ability to adopt or start a family. In New Mexico, gay couples have identical rights as heterosexual couples, and it was one of the first states that allow gay marriage.
New Mexico Gay Marriage Statistics
Gay marriage has been present in New Mexico for years, so the concept wasn't as controversial as it is in some states. For instance, a 2005 study estimated that 68,411 gay, lesbian and bi people were living in New Mexico that year. Gay couples comprise 1.2% of coupled households in New Mexico, and 0.7% of all households in the state. While the number may not be high, it shows that gay couples are present and recognized. As far as public opinion on the subject, resident voters of the state seemed to have come around in terms of supporting same-sex marriage.
A 2011 Public Policy Polling discovered that roughly 42% of people in New Mexico thought that gay marriage should be legal, while about 48% thought that it shouldn't be. Of this group of surveyors, 10% were unsure about their opinion on the topic. Interestingly, in the same survey, researchers found that the majority of people polled thought that gay marriage should be legal; 68% supported legal recognition of gay couples, and 31% supported civil unions. So even if residents of New Mexico were split on their official verdict on how they felt about gay marriage, the vast majority did feel that the state should legally recognize gay unions. The poll also found that 30% of participants were against all types of gay union, while 2% weren't sure how they felt. Unsure numbers are a good thing to have in a controversial survey, because it means that minds are changing. Someone who may have been against gay marriage initially may have changed their minds more recently, and they aren't fully in support, but are starting to open their minds to the ideas of gay marriage. This is just as important of a concept as certainty. Progressive and open attitudes about gay marriage only mean positive changes.
A similar survey done just 4 years later shows that attitudes have definitely changed in New Mexico toward gay marriage. In 2015, a Public Religion Research poll found that most people in New Mexico supported same-sex marriage; 58% were in favor, while 34% remained opposed. This is indicative of a positive trend toward positive public attitude changes in favor of New Mexico gay marriage. Even before the official New Mexico Supreme Court ruling in favor of gay marriage in New Mexico, same-sex couples could get married in areas covering 58% of the population of the state. It's safe to say that the majority of New Mexico residents support gay marriage rights, which isn't surprising as they've been exposed to the concept for years. New Mexico has always been a sort of haven for openly gay people, both singles and couples, at least in the metropolitan areas. Gay households have been steadily growing in New Mexico; in the decade between 2000-2010 the number of gay homes increased 25.56%! It was estimated that, at the end of that decade, in 2010, the number of gay households in New Mexico was approximately 5,825. Another census done in 2012 estimated that gay coupled homes comprise roughly 2.9% of the total state household population. While this official number may seem small, it's important to note that this study was done prior to state-wide gay marriage legalization. What this means is that many people who wanted to be a gay married household were unable to be, and they likely wouldn't respond to a census survey on the topic if they felt they didn't qualify.
Current Status Of New Mexico Gay Marriage
The state of New Mexico legally allows gay marriage, as of December 19th, 2013. The New Mexico Supreme Court ruled in favor of the plaintiffs in the case of Griego v. Oliver that same-sex marriage should be legally allowed in all counties in the state. The judge ruled that all county clerks are to issue gay marriage licences to qualified couples, regardless of gender. New Mexico is one of the country's most progressive and open states when it comes to the controversial issue of gay marriage. They've allowed thei gay residents to obtain legal marriage licences in many parts of the state even before they were required to by the US Supreme Court. This made it possible for gay couples to marry in their home state, which is something many have been fighting toward for decades. With current legislation supporting same-sex marriage and equality to all residents of New Mexico, in all counties, this state could be one of the leading ones in the country when it comes to opening the doors for further equality. New Mexico currently extends employment benefits to their employee's spouses, and not just to state employees. Restricting employee spousal benefits to state employees only is a common practice in many states, even in states that allow gay marriage.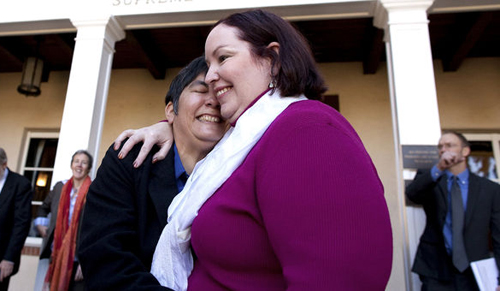 Future Status Of New Mexico Gay Marriage
As of right now, the future of gay marriage in New Mexico looks overwhelmingly positive. It's legal and there aren't currently plans to change that any time soon. New Mexico has been one of the most progressive states when it comes to gay rights and marriage, so now that the State Supreme Court has deemed it be legal it's most likely here to stay. This is one state where the US Supreme Court decision of allowing gay marriage country-wide only reinforced a legislative decision that had already been made within the state's own judicial system. The population of gay married couples living in New Mexico is increasing steadily as well. As long as gay people are living in the state and wanting to obtain marriage licences, they're going to allow them to marry. Not only are gay couples now allowed to marry in all areas of New Mexico, but they also enjoy equal rights to their straight counterparts. Most states don't offer employment benefits to the spouses of gay employees on a state-wide level, but New Mexico offers all benefits to all of their residents.
To learn more about gay marriage in New Mexico, visit any of the following:
-
New Mexico Gay Marriage License Laws
-
New Mexico Gay Marriage Revolution
To find out about gay marriage in New York, Click HERE.