History Of Gay Pride In Miami
Gay pride Miami is something to celebrate. Find out more about gay pride in the city, and where the first rainbow street sign topper is, on Manplay.com. Like every other city in the United States, being gay was frowned upon in the early years. In the 1930s, there was a boisterous existence of gay nightlife and other forms of gay entertainment around the state of Florida, but by the 1950s, the government shut down most gay bars and made homosexuality and cross-dressing illegal. The years following weren't easy for those who lived an alternate lifestyle, and many gay men were forced to lie about their sexuality, or try and forget about it altogether. Thankfully, 1969 spurred a gay rights movement that would begin the necessary fight for equality that was so badly needed. From New York across the nation, nearly 40 cities in the U.S. passed ordinances outlawing discrimination against gay men and lesbians. The fight was far from over and it wasn't until 2003 that laws really began to change for same-sex couples. After set back upon set back, same-sex adoption was made legal in 2010, and on January 6, 2015, same-sax marriage was also legalized after a 33-year ban. Finally, there was some progress being made. It has been a long overdue wait, but same-sex couples can finally start to breathe and know that the world is changing to reflect the rights of every person, alternate lifestyle or otherwise.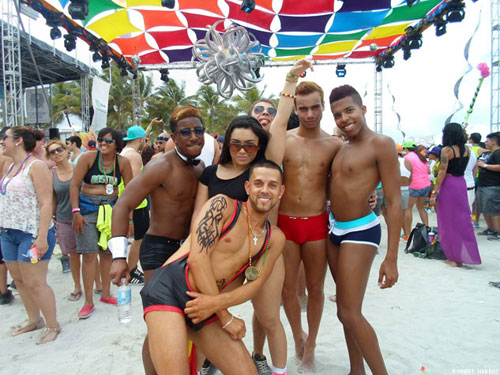 Miami suffered decades of economic and social decline before the 1980s. From 1980 to the mid-1990s, there was an influx of gays and lesbians moving to South Beach that contributed to the complete revitalization of the area. The area become increasing popular and extremely gay friendly, and continues to draw in gay tourists from all over the world. In 2009, Miami Beach held its first gay pride parade ever. The mission of Miami gay pride, taken from their website, is "...to bring together members of the LGBTQ community, their friends, allies, and supporters in celebration of the unique spirit and culture of the LGBTQ community." The first year brought 15,000 spectators, and today the parade has seen an estimated 130,000 attendees. The parade/ festival spreads itself over 3 days with an amazing line up of celebrities and performers to keep the crowds entertained. There are beach parties, festival booths, dozens of floats, hundreds of vendors and a ton of fun things to do. The event has always drawn a number of gay and straight attendees, and forecasts even more interest in the years to come.
A historical move was made in April, 2016 when pride weekend kicked off with a ceremonial flag raising at City Hall, and the unveiling of a new rainbow street sign at 12th Street and Ocean Drive. This was a huge breakthrough in acceptance and recognition of the gay community, and all that it's done for Miami. The people are finally getting the kudos that they so deserve, and although the appreciation won't make up for years of lost time and tortuous disappointment, it does help with the progression of gay rights and equality in the community.
Gay Pride Miami Statistics
4.3% of South Florida residents are LGBT. That makes it the 21st highest in the nation. This might seem low, but statistics show that there is a huge elderly population that lives in the area that is far less likely to identify as LGBT, and that could be throwing off the numbers. Only 1.9% of those 65 and older were willing to identify as LGBT, compared to 6.4% of those between 18 and 29. That means that the numbers will continue to rise as the population shifts to a younger demographic in the coming years, or maybe when being gay becomes more of an everyday acceptance, it will be easier and more natural to admit to living an alternate lifestyle.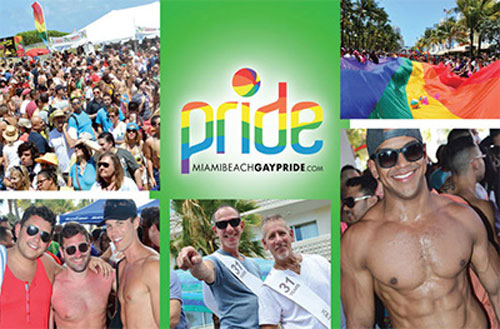 Celebrating Gay Pride In Miami
There's never a shortage of things to see and do if you're looking to celebrate gay pride in Miami. Are you in the mood for bars, clubs, shows, cruises, or workshops? Whatever peaks your interest, you'll find it easily in the city. There are art shows, fundraisers and even food & wine festivals that all cater to the LGBTQ community and draw in visitors from around the globe. If you've been to Miami you know that it's a diverse place full of different kinds of people from all over. Everyone is looking to have some fun in the sun, and wants to make the most out of their time there. If you live in Miami then you're familiar with the Cuban population, and it's well known that Cubans love to party. You can find hispanic parties around the city as well as the Carnaval festival. Carnaval is made for art, music and food lovers who want to celebrate the hispanic culture. The culture has some pretty big sponsors, so really anyone can enjoy the fun. It's not a strictly gay event, but like other celebrations that happen in Miami, it's something for everyone to enjoy, and does draw in a large gay crowd. The gay community is so big in Miami that it makes an impact throughout the city all year round.
During the cooler months, 10,000 party-goers from around the world celebrate the Winter Party Festival that brings amazing celebrity DJ performances. It's one of the largest beach parties of the year that raises money for gay and lesbian organizations. There's a film festival in April that enriches the viewers understanding and perspective of the LGBT community through on-screen presentations, documentaries and movies. If you're looking for something to do in May, Sizzle Miami brings out the hottest guys in the area out for a five day festival to celebrate life and pride. It's a high energy party that is extremely popular year after year with local gay hotties. The Summer is always booming with events because that's when people from around the world vacation the most and can come to Miami to celebrate pride with the fun and sexy residents. The party doesn't stop in the Summer though, and when the cooler weather strikes, the legendary White Party Week kicks off and15,000 people gather to enjoy six days and nights of nonstop entertainment, all while raising awareness of the fight against HIV/AIDS. While there might be some serious conversations happening, there's no shortage of fun with the World Out Games, and other cool events to keep you busy.
As you can see, there are plenty of ideas on the Miami hot spot list to get you started when you're looking for things to do. Manplay.com loves to celebrate gay pride Miami and wants to give you a good foundation to help you on your way to attending some amazing parties. There are many ways that you can keep up-to-date on Miami events. One being right here on Manplay.com, another would be to do a quick search for fun happenings in your area, and lastly, you could always subscribe to local mailing lists that will update you on new events that come up. Either way, sticking with one of those methods will ensure that you'll never be bored.
Links To Gay Pride Miami Events
When You Need Your Gay Pride Fix, Check These Links
As you've already read above, there's tons to do in Miami. All you have to do is follow the links to see what's happening in your area. There's always lots to do, so check back often for updates on upcoming events.
-The Miami Beach newsletter gives you the inside scoop on gay pride events happening month-to-month.
-Gay pride in the city is booming! See the hottest listings from Gay Miami events.
-Stay up to date on the gay pride festival. Know what vendors are coming and what events are happening around the city around the festival weekend.
-The Miami gay community loves to celebrate gay pride.
-Interested in getting married, or want to know where the best gay-friendly beaches are? Click here for the info you need.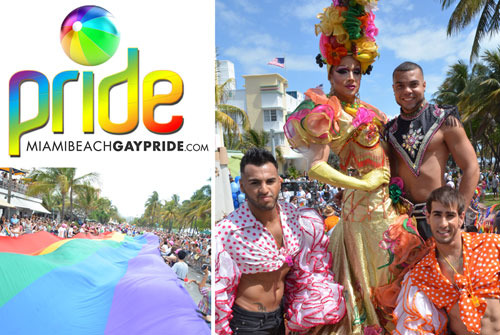 The Future Of Miami Gay Pride
Gay Pride Miami has rapidly shifted gears into being an accepting place when it comes to alternate lifestyles, and celebrating gay pride and equality. The gay community has been supporting the city for years, and in turn has built a great city of diversity and acceptance. As we enter a future of adjusting to new gay marriage laws, there will naturally be some minor glitches. More so, it's about narrowing the spectrum of understand to those who are stuck in a previous anti-homosexual mind state. Gay marriage is a new territory for some, and those people that are having a harder time adapting, will need support to understand better.
The gay community is doing a great job of informing the public of its needs. Multiple organizations are raising funds and awareness, and spreading the necessary information to educate the rest of the community. Tolerance is the main goal, and that means being tolerant of all alternate choices and lifestyles. Miami is a happening place full of nightlife, real estate, parties, parades, and culture. When sexuality is removed from each of those things, only then will true tolerance exist. The future of gay pride Miami depends on the people and how much every community, be it straight or gay, can come together. Miami is a gay hotspot, and tourists from across the nation, from Columbus to Phoenix, tour to Miami to enjoy the gay pride and to celebrate with gay men and women who are comfortable with who they are and where they come from. It hasn't always been easy to fit in in the U.S. if you're a gay man, but times are changing and it's time to concentrate more on the celebration and less on the old ideals that once were.
Miami's population continues to increase, and with the normalization of the relationship between Cuba and the U.S., even more Cubans are travelling up the sea and moving across the boarder. This is a welcomed thing for some, and for others that are looking for a little more peace and quiet, moving up the coast to Fort Lauderdale is the new trend. Same sex couples average about 140 per every thousand in what some are calling the 'up and coming gay capital'. This isn't to say that Miami doesn't still carry it's gay charm, and what it does have to offer is a bigger cultural movement than its Northern neighbor. Fort Lauderdale might be a fun place to party in, or a nice city to escape from the everyday craziness that is Miami, but Miami has a culture that is unwavering. Miami is heavily influenced by Latin culture, and has been nicknamed the 'Capital of Latin America' for a reason. The Spanish-speaking culture gives Miami its flair. The party never stops, the energy is high, and everyone who has visited, or is planning to visit, is guaranteed to have a great time.
Miami is a gay mecca that attracts more than LGBT visitors a year, not counting the thousands that already reside there. The drag community is one of the largest in the world, and if you're interested, there are lots of drag hotspots that you can visit locally. The Palace has been drag central for years. If you're looking to celebrate some gay Miami history, you should add it to your list of places to visit. Aside from its entertainment Miami has been a pioneer for cities all over the country with openly gay elected officials and services for LGBT youth, seniors, and the homeless. The people of Miami fought against the same-sex marriage ban before the laws were changed. The challenges that face Miami sit with the transgendered community. The gay community actively supports the movement to have transgendered persons recognized for the sex that they identify with. Small battles continue in court as the city tries to ban laws that prohibit transgendered persons from doing simple things like using their preferred bathroom.
Your Part In Miami Gay Pride
Your role in Gay pride Miami is simple if you're living in Miami - continue to enjoy the fun city you live in. The gay community thrives here, and your place matters. If you have a voice, use it, and if you want to get involved, there are thousands of ways to spread awareness. The good news is that the gay community has been established for years, so now the mission is to preserve what has already been built. There are peaks and valleys when it comes to tolerance because there will always be people who don't understand, and keep in mind that gay marriage laws just changed, so the country is still going through an adjustment period. The adjustment period won't last forever and eventuality things will settle. In a melting pot like Miami that is constantly adjusting to a changing population and shift in demographics, nothing is guaranteed to last or be easy. The job of the gay community in Miami is to celebrate gay pride and bring awareness where it's needed. The city recognizes that gay pride matters and has taken steps to ensure that residents feel comfortable being themselves. Recognition can change perception when it's celebrated in a city that is as full of gay residents as Miami is. When people start to see what gay pride is positively doing for the city, acceptance will come.
Enjoy the balmy tropical weather, the easy transportation systems that help you get from one gay celebration to the next, and the different gay neighborhoods that will welcome you with open arms. South beach is where it's at when you're looking for the hottest gay scene. You'll never run out of things to do, and you'll love meeting so many new men from the city, or travelling in from out of town. You can take gay tours if you want to relax, take a siesta and then head back out for some nightlife fun. The role you play in Miami gay pride is whatever you can imagine. You could visit a different bar each and every night if you wanted to keep things exciting, or you can take it easy and enjoy the sexy views and wonderful beach weather. Gay pride is what you make it, and how you celebrate it is up to you. You are part of a thriving community that only wants to grow. If you can imagine a more thriving community, then you can actively participate in making that thought a reality. Invest your time, money and energy into the goals of the gay community, and you will only see faster progress. You play a role in keeping gay Miami striving. It might not solely be your responsibility, and you might not think that one person can make all the difference, but you are not alone in wanting to preserve the gay pride in Miami, and every little bit that you do, helps.