History Of Gay Pride New Orleans
In the early history of Gay Pride in the city of New Orleans, it was known that there were gay people living in the city, but they were not seen or spoken of. When Prohibition ended in 1933, the gay social world that had existed for many years in an almost underground state, became more prominent and was seen more by the public eye. Lafitte Blacksmith Shop opened in 1936 on Bourbon Street, this was the first bar that openly welcomed gay men and women. Unfortunately, it closed in 1953, because the owners of the bar lost their lease. But they were not down for the count, though, they moved down the street and reopened their bar calling it, Cafe Lafitte in Exile. Today, it is now one of the oldest gay bars in the country of the United States. The Fat Monday Luncheon began in 1949, it is the oldest, longest running gay event in New Orleans.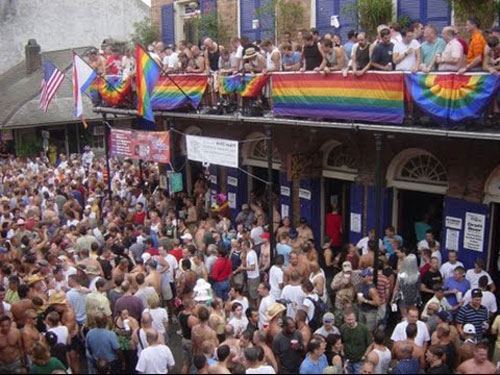 The Steamboat Club started in 1953, is the oldest gay social organization of New Orleans. Then in 1958, the Krewe of Yuga opened as the first gay Carnival club soon followed by Krewe of Petronius in 1961. Local politics played a big part in the slow development of the Gay Liberation Movement in the 1960s and 1970s. In late 1970, a small group of activists founded the Gay Liberation Front of New Orleans, but it dissolved within a year. However, these participants then organized a Metropolitan Community Church congregation. These members then, in turn, started a local chapter of the National Lesbian Organization - Daughters of Bilitis. The Gay Liberation Front then organized a "Gay In" picnic in February in New Orleans City Park. This event was hugely controversial and it is what turned into what we know as the Gay Pride New Orleans or the Gay Pride Festival New Orleans. This brings us to the first Gay Pride New Orleans street Parade which first occurred in 1980.
The following year, in 1981, the parade was emceed by Ellen DeGeneres a New Orleans native, in Armstrong Park. Ellen brought a lot of publicity to the Gay Pride Parade in New Orleans as well as to the gay pride movement. She was one of the first celebrities to really put herself out there and speak for the equality and fair treatment of all LGBT people in New Orleans and the country for that matter. As a celebrity, she used her status to share her thoughts and views on the LGBT community and she continues to do so today. She wanted to make it clear to everyone that equality is the most important thing out there and she was willing to stand behind Gay Pride New Orleans to be sure that it was a successful event for everyone that attended, gay or straight.
Since 1980, there has been a gay pride parade almost every year, but in 1995, the event was celebrated in the fall, rather than the typical time in June. New Orleans Pride, started as an organization in 2011, and since then the New Orleans Gay Pride Parade has become the fastest growing celebration in the country. The organization was started to create a place where all LGBT people can be proud of who they are and who they love. With the recent rulings to change the laws so that gay marriage is now legal in all of the United States of America, a clear shift in the communities across the country has been noted.
Although Gay Pride New Orleans is one event that has turned into something quite large in a short amount of time, it isn't the main festival that the New Orleans LGBT community is known for, it almost acts as an extension to Southern Decadence also known as 'the Gay Mardi Gras'. What started out as a simple going-away party in 1972 has grown into 'THE' event in New Orleans.
The first street parade was held in 1980. In 1981, the event moved to Armstrong Park and was emceed by New Orleans native Ellen DeGeneres. Having Ellen as the emcee for the event helped to make attendance skyrocket in just a few short years. An event of some nature has been held almost every year since, with a few changes here and there to make things work and run more smoothly. The Gay Pride Parade isn't just about a parade anymore, it's a weekend Pride Festival with events specifically for the LGBT community and their allies. With the word spreading through local media, LGBT advocates, and social media the parade has grown into an event that is larger than anyone could have imagined. It's refreshing to see that so many people embraced and accepted the LGBT community. It's about time that everyone in the world is treated as equals, no matter if you identify as gay, straight, lesbian, transgender, bisexual, queer or otherwise and Gay Pride New Orleans is the place to live life simply. You don't have to hide who you really are, because there is no judgment. There's finally a forum to celebrate that LOVE is LOVE and there are no exceptions to this rule.

Gay Pride Attendance Stats In New Orleans
The Gay Pride New Orleans celebrations that happen today have blown up in attendance in a few short years. The entire Gay Pride New Orleans Festival weekend now encompasses thousands and thousands of gay, lesbian, bisexual and transgender participants, not to mention the straight allies who also join in the festivities. When gay pride New Orleans first started out the first few years in the early 2000s the numbers were low, it was hard to believe that with such a great venue as New Orleans the turnout was so weak, numbers were in the low thousands at approximately 4 000 participants and spectators for the entire weekend. Now the attendance is just huge, with more than 100 000 total participants, volunteers and supporters of Gay Pride New Orleans. Organizers are working continuously to attract as many gay and straight allies to New Orleans to really put Gay Pride in the city on the map. With higher attendance each year, the continued increase in revenue will be seen for weeks following the event. This boost to the local economy is good for everyone. It's a great way to support your local Gay Pride organization and has a little fun while doing so. There has definitely been a notable increase in attendance since the laws concerning gay marriage changed in 2013.
Gay Pride New Orleans Events
Gay New Orleans Walking Tour - Very Popular for Gay Pride Festival
Location: 638 St. Ann Street
New Orleans gay walking tour explores the history of the gay culture and the current status of the LGBT community.You will learn about where Southern Decadence comes from, the transformation of the gay pride parade and the tale of the Upstairs Lounge Fire. You will visit Cafe Lafitte in Exile, one of the oldest gay bars in the country and have a chance to see first hand what the parade route is like.
Gay Pride New Orleans Karaoke
Location: Joann's Kajun's Pub
Joann's Kajun's Pub is open 24/7/365 and has karaoke every day. During Gay Pride New Orleans weekend, Joann gears the karaoke to the LGBT community to start the weekend festivities off right and really liven things up!
An Evening with Bianca Del Rio
Location: The Joy Theater
Enjoy an evening with Bianca Del Rio, the winner of RuPaul's season 6 Drag Race. She has been dubbed the 'Queen of Mean' and returns to Gay Pride New Orleans weekend with Mrs. Kasha Davis, Darienne Lake and Aggy Dune. This promises to be a fun-filled and interactive show for gay adults and their allies to let loose.
Block Party and Pre-Parade Bash
Location: Rampart Street from Elysian Fields to Marigny Street and Marigny Street from Rampart Street to St. Claude Ave.
Start the party before the parade with a block party. Dancing in the street and performances by local celebrities.
The New Orleans Pride Parade
Location: French Quarter
The New Orleans Pride Parade makes its way through the French Quarter. Start time is 7pm sharp! This is the largest LGBT Parade in Louisiana, it's free and is something that you don't want to miss. There is a family viewing area at Jackson Square or you can watch from the balcony at either the Oz or the Bourbon Pub. Anyone and everyone are welcome in the parade. You may enter as a group or walk individually with the rainbow flag.
New Orleans Pride Parade After Party
Location: Various Dance Clubs (OZ, The Bourbon Pub, The Phoenix)
Several dance clubs host after parties to keep the party going. This is the opportunity for parade goers to socialize with the parade participants, grand marshals, and other celebrities. It's the place to let loose and live life!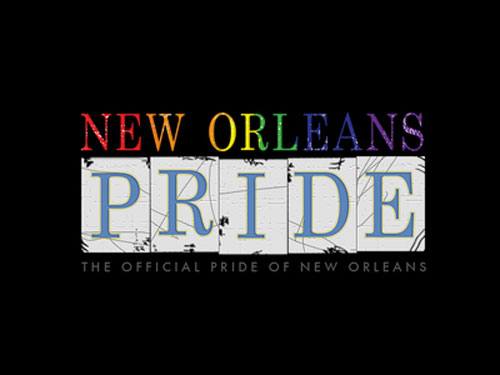 Pridefest on Bourbon Street
Location: Bourbon Street
The corner of Bourbon and St. Ann streets become a stage for music and much more. The stage will feature local male and female impersonators, local bands and the celebrity Grand Marshals. It doesn't matter what events you choose to attend, you are sure to have a great time. You will be surrounded by amazing people who are so accepting of everything that you are or that you want to be. People who are looking to celebrate that they are gay and not afraid for the world to know, they are happy and welcoming, you just can't go wrong. Gay Pride New Orleans is growing popularity with each passing year, as there is always tons of events to check out, see and participate in. The LGBT community has already done a great job at expanding what Gay Pride New Orleans started out as in 1981 when there was only a few thousand people in attendance. Gay Pride New Orleans is always accepting new ideas for events and people who are looking to volunteer and help out in any way that they can.
The Future Of Gay Pride New Orleans Events
As the gay community grows in New Orleans, so will the Gay Pride Festival. Each year there will be bigger and better events with support from the LGBT community as well as the growing number of allies within the city. The entire event has already blossomed from a one day parade to a weekend Festival and each year there are more supporters, volunteers, and entertainment.
Official Gay Pride New Orleans Event Sites
-
Gay Pride New Orleans
-
Gay New Orleans
-
Events For Gay Pride New Orleans
-
Gay Pride New Orleans Facebook Page
-
Gay Pride New Orleans - Pride Watch ... The Whole Gay Weekend
Do your part and tell everyone you know about New Orleans gay pride. Don't be afraid to stand up for who you are and what it is that you believe in. Now, let's celebrate it!
To find out about Gay Pride Boston, Click HERE.