Gay Pride London
If you're looking for something fun to do and celebrate gay pride London, then look no further! Manplay has a breakdown of pride events around the city! People in London have been celebrating gay pride for decades. This UK city has been ahead of the game when it comes to gay pride. Marches and pride events have been taking place in London since the 1970s, even gaining official recognition in 1972. Pride In London is about more than celebrating gay culture. It's about nurturing acceptance and fostering awareness of the issues faced by gay men and women in London. Nowadays, it's a massively public celebration and awareness campaign like no other! Here's some history and information on pride events in London.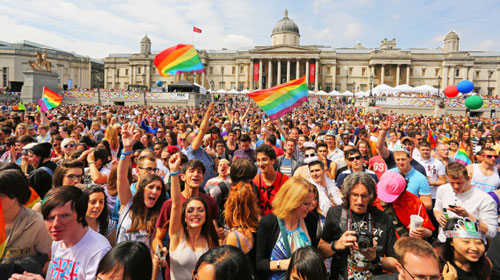 History Of Gay Pride London
The first official UK Gay Pride Rally took place in London in July of 1972. During that first gay pride event, roughly 2,000 people attended and participated. Gay marches followed not long after. In November of 1970, 150 men marched through Highbury Fields. The date was chosen because it commemorates the date of the Stonewall Riots. Members of the gay community rioted in protest of a police raid that had done at The Stonewall Inn. Gay men were arrested during the raid for performing "gay activities", which community members strongly felt wa against civil rights. And so the march was formed to gain visibility for the gay community. There was never much, if any, publicity or media coverage of the first pride marches, which reflected the opinion toward gay people and their rights during this time. People couldn't ignore the men and women marching loudly for their cause through the park though! This tradition continued unofficially until 1983, when it was named Lesbian and Gay Pride.
By the 1990s, these events had become a spectacular parade and a massive party. In fact, in 1992, London was chosen to host the first Europride event. Roughly 100,000 people attended Europride in London that year. Until 2003, post-march gatherings in large parks were common, but the following year Pride London was formed. Since its inception, Pride London has evolved into a political and celebratory event. Directly after the pride march, a rally is held at Trafalgar Square. There are also many other fair-type and entertainment events throughout the city on Pride Day. London was the host city to Europride again in 2006, where approximately 600,000 people came. 
In 2012, London LGBT+ Community Pride was formed by members of the LGBTQ community. This organization took over the planning and organisation of Pride in London festival and parade, starting in 2013. People from all walks of life take part in the Pride march to show their support of the LGBTQ community. Whole families of LGBTQ-friendly people wave rainbow flags and walk in celebration. The pride march takes place down Regent and Oxford Streets, and has since 2006. The streets are officially closed off to let the March continue, which is seen by many as a sign of official acceptance of gay culture. This is because the March took the route down Oxford Street in protest of discrimination against gay people in the 1980s. Nowadays, officials help to March to continue smoothly. In 2014, the Pride March was the biggest one London had ever seen. The march started at Baker Street and continued along Oxford and Regent Streets as usual, then passed through Piccadilly Circus before finally coming to end at Whitehall. This march had more than 30,000 participants, which made it the largest one so far.
Gay Pride London Attendance Statistics
Pride in London is an opportunity for companies, charities and various other groups to show their support and acceptance of gay culture. With the growing public acceptance of gay rights, it's a good move for businesses to show their support in a public way. In 2013, there were more than 30 separate organizations that participated in Pride. This means more than 15,000 attended just as participants! This was huge compared the numbers in the first official Pride March in 1972. At that time, only 700 people participated in the March. These kinds of tactics to protest do work though. In 2005, 100 people marched in an impromptu march to protest Bromley's opposition to gay civil unions. Bromley did eventually back down, so solidarity in numbers really works!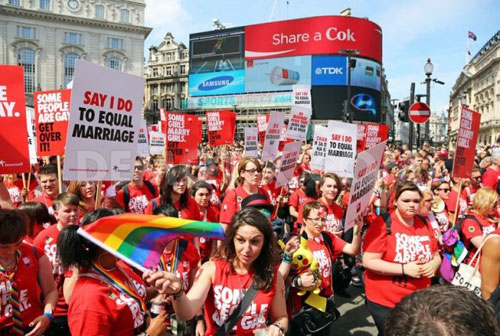 Big name companies are getting involved now as well. ASDA, Stonewall and London Ambulance Service took part in the 2014 Pride March. 2014 was a big year for Pride in attendees as well. A record-making 30,000 people marched in the parade that year. As for volunteers, over 600 unpaid volunteers took part in helping make Pride happen. The numbers keep growing as time has gone on. In 2015, over 750,000 people attended Pride In London to show their support and celebrate. In that particular Parade, over 250 different groups participated and showed their support. The number of participants isn't the only thing increasing each year at Pride. More and more people are lining the streets with their families and friends to watch the Parade and celebrate gay culture with everyone. Last year this number surpassed 30,000 spectators lining the streets. 
This year, more than 180 vendors, performers, and organizations will meet at 1300 at Baker Street before the Parade begins. Over 1,000 unpaid volunteers are expected to help in the various Pride events. In addition to the help, visibility is important to Pride and it's causes. 8 different Routemaster busses have been painted rainbow and will spread the word on Pride throughout London. One of the busses is in operation all year as well, so year-long publicity is fantastic for Pride. Last year, 130 LGBT members of the British Navy, Army, and Airforce participated in the Pride march. Gay pride is everywhere, even within our nation's Guard. 
Gay Pride London Events
There are several pride events taking place for Gay Pride London starting soon! With so many options to choose from there's something to make everyone happy and entertained. Many of these events are family friendly, and are a great way to introduce your children to gay culture and have them learn acceptance young. However, some of these events are for more mature audiences of 16+ so use your discretion when planning your Pride activities.
May 2nd: The Light Lounge
The newest cocktail bar in Soho, is hosting a Pride Fundraising Quiz. The cost is £5 per person for entry, and all proceeds go toward funding Pride in London. 
May 13th: Social Club
A free gathering at Starbucks on Vigo Street on the first Friday of every month. This is An open space event where everyone is welcome to make connections and meet people in the LGBT+ community. All are welcome to this social gathering; it's a place for networking and connecting. 
May 15th: Pride's Got Talent - Grand Final
Takes place at Charing Cross. Hundreds of applicants went through five rounds of auditions leading up to the event. On Saturday June 25, the winner will perform in Trafalgar Square. The cost is under £20.
May 24th: Pride in London Open Meeting
The open meeting at City Hall is free, taking place at London Bridge. This open meeting will discuss plans for Pride coming up and gives audiences an opportunity to voice any questions or concerns. Doors open at 1800, and the event will start at 1830 sharp. 
June 7th - July 2nd: This Much
This Much is a play about love, risk and marriage. The performances will take place in Soho at 1915, with a Saturday matinée at 1600 every week. Tickets range from £10-£17.50 each.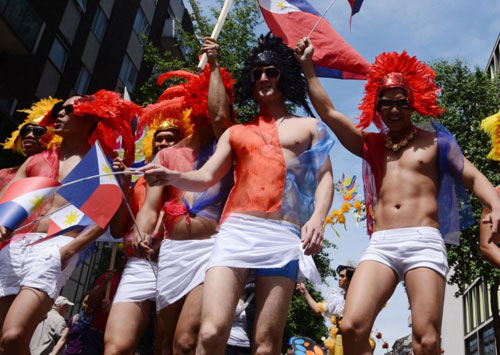 June 9th - 26th: Heels Of Glory: A Drag Action Musical
Heels Of Glory is a comedy action that's a throwback to old Bond movies, but with queens! Full of laughs and seat-gripping adventure, Heels Of Glory is a play you should definitely make time for. Performances are on Wednesday evenings at 8pm in Chelsea for £15. 
June 13th: The Pride in London 2016 Spectacular
The Spectacular will be put on for the first time at Southbank Centre. The evening will be full of music and special guests. Tickets are £15. 
June 17th: Pride Ride
Pride Ride is a fun and fabulous bike ride through London. Riders will meet underneath Waterloo Bridge at 1830. The free event will feature music on the ride, and costume attire is encouraged!
June 18th - 26th: The Ghost Bus Tours
Ghost Bus Tours in Westminster takes riders around London's famous sites while recounting the haunting tales of each of the areas. Stories of murder and execution await you on the Ghost Bus Tours. Discounts available for Pride with the promo code PRIDENOFILTER. Discount tickets £19. Tours take place on Friday and Saturday nights.
June 20th - 26th: Secret Soho Saucy Tours
Saucy Tours takes place in London's most flamboyant area, and features guides to tour you around the district and it's hottest spots. The tour costs £12, and a stop in at a pub is included! The tour starts at 1300 and 1830
June 21st - July 3rd: We R Exhibition
We R is an exhibition at Bethnal Green celebrating the struggles and wonders of being "different" in today's society. The exhibit opens at 1800, and is free!
June 21st - 24th: Without Borders LGBTQ+ Conference
Without Borders discusses LGBTQ+ history and cultures. The Conference takes place at Spitalfields, and is a bit pricey but worth the dialogue that is generated inside. Admission costs £120 if you're paying for yourself, £220 if your firm wants to attend. Ticket prices include entry into an evening reception, and three days of Conference events.  
Beautiful Thing 20th Anniversary Screening
Beautiful Thing at Convent Garden is under £20. It's a screening of the 1996 film about coming out and being in love in London. There are two screenings of the film, one at 1815 and the other at 2045. 
June 22nd: Gala Dinner
The Gala is another pricey event, but worth the entry. The Gala hosts high-profile guests like celebrities and politicians. Sir Ian McKellen attended in the past. Three-course meal and a reception after the speakers are included in ticket prices. Seats are £330, or £3,000 for a table of ten. This event takes place at Mansion House.
June 23rd: Queer'Say
Queer'Say is a spoken-word piece by South London radio star Rosie Wilby. It will be recorded and played on Resonance FM. This event is under £10, and takes place at Hackney Central.
June 24th: How Gay Were Laurel and Hardy?
How Gay Were Laurel and Hardy? is screening of a Laurel and Hardy film, as well as a discussion and celebration about the bond between the two. A night of fun and laughs at the Cinema Museum at Elephant and Castle. Tickets are £8.50 with £6.50 concessions.
June 25th: Soho Square Community Village
Soho Square Community Village is a massive charity event, where 30 groups will have stalls and displays along Old Compton Street and Wardour Street in Soho. It's free to browse!
Pride In London Parade
The Parade is free and takes place from 1300-1600 in the West End. Thousands of people will walk and dance through some of the busiest streets in London to showcase their pride for Pride!
Pride In Trafalgar
Pride in Trafalgar is the main even for Pride and takes place directly after the Parade. There are hundreds of stalls set up in Trafalgar Square and live performances throughout the day. There is no official entry fee but donations of £3 is asked. 
Smirnoff Pride at Night - the Official Pride in London
The After Party is the place to be after a day of Pride. Details will be announced closer to the date, but some of the top LGBT+ djs will be performing. Be prepared for amazing visual effects, dancing, and full-on stage productions. Booking fees are applicable to ticket prices, which range from £12-18.
For more information Official gay pride London events, check out:
Plan Your Pride
Pride In London
Pride In Manchester