History Of Gay Pride In Cardiff
The first gay pride march was held in Cardiff in 1985. At that time, gay pride wasn't as celebrated as it is now, and the city has grown with events being held at different times each year. What started out with a handful of attendees has risen to over 20,000, and has attracted tourists from all over the country. Celebrating gay pride is amazing in Cardiff. Gay pride Cardiff events are being held throughout the year near you, and Manplay.com has the info you need. Although February is the month to celebrate LGBT citizens of Cardiff, the celebration continues into the Summer with Pride Cymru. Pride Cymru started in 1999 with a Mardi Gras themed celebration that attracted just 5,000 people. The event has grown dramatically over the years and now attracts over 20,000. That number will continue to grow as the festival has made their events accessible for the deaf and blind gay community as well. Cymru is a charity that uses its event money to put back into building a strong LGBT community, and fighting issues associated with it. From combating hate crimes and raising awareness to providing support for LGBT youth, the board of directors in Cardiff have their priorities straight. Many event goers come back year after year because the fight for equality is an ongoing battle, and although gay marriage has been legal since 2014, there are still barriers to break through. Equality is important, especially when you're the largest city in Wales, and the citizens will continue to showcase their pride, and grow as a community as progress is made.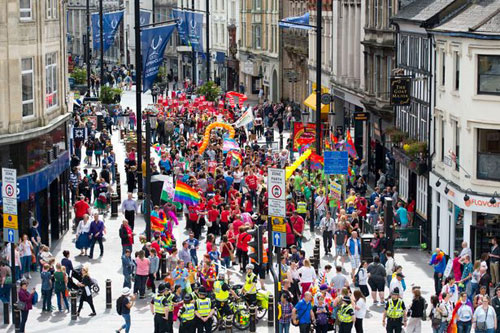 The history of any community is incredibly important to its sense of self, and self-esteem. Cymru commemorating the 30th anniversary of the first Pride march in Cardiff, and the nation also celebrating the 50th anniversary of the Sexual Offences Act, which partially decriminalized gay sex, were both huge milestones for the UK. Celebrations lately have included the life of David Bowie and his influence on gender identity and sexuality. There were many things that inspired the community to open up about their sexuality and embrace the changes in society. Cardiff was a big supporter in all things gay pride, and has shifted it's focus on the inclusion of the people through multiple events and celebrations. Learning about the history of the city is a great way to understand how far it's come, and where it will be heading in the future.
Gay Pride Cardiff Statistics
As the largest city in Wales continues to grow, so does the LGBT community. When Cymru brought awareness to gay pride in the community, there was understandably a smaller attendance record. As the years went on, the events continued to grow, and today continue to draw in larger crowds. From 5,000 to over 20,000 in the course of a weekend in August, the numbers are surprising the event planners. With the addition of PugFest, the festival might even draw those outside of the gay community, and continue to inadvertently bring awareness to the gay equality subject matter. The organizers are doing what's right for the city to attract as many people as possible with the message intended to be 'less hate and more acceptance'. With a higher attendance than ever before this year, there is always a great opportunity that equality will be on the forefront of everyone's minds, and continue to become commonplace. There has always been an adjustment period when it comes to same sex laws, but there has been significant progress since the laws were changed to reflect the needs of the gay community. The board for Cymru, and all of its supporters, hope that that the gay community will eventually be accepted as any other community in the country, and won't have to fight forever to have the same rights and freedoms. Progress is being made, but there's some room to grow.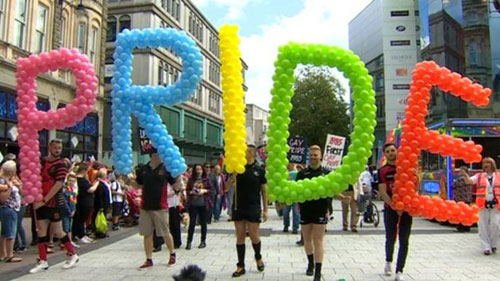 Celebrating Gay Pride In Cardiff
There are many events, gay bars and shows that you can attend when in Cardiff, and every small event seems to centre around the main event, Cymru's pride parade in August. The parade and main events are huge celebrations in the area that draw a lot of attendees year after year. Here's a breakdown of what you can expect this year in Cardiff:
Wedding Fayre For All
In May, there's a 'Wedding Fayre for All' event that invites everyone in the gay community to come celebrate everything gay wedding related. There are fashion shows, vendors, contests and fundraising events running all day. It's a great place to celebrate gay marriage equality, and get everything you need for your big day. It's a Pride Cymru & Cardiff Marriott sponsored event that was a huge success in 2015, it's first year showcasing at Pride. You can enjoy a catwalk show and a fundraising raffle, and all are welcome. A 2 pound donation is asked at the door that will get you a glass of champagne and a good bag for the first 50 people. There's something for anyone who is interested in doing their special day the right way.
PugFest At Cymru
During the Cymru Pride Celebrations, you can celebrate PugFest, which is the first of its kind in the city. It will draw attendees from all over the country from both straight and gay communities. Whether you have a cute little pug to sign up, or you just want to go drool over all of the pug cuteness, this is the perfect event for you. Cute little pugs dressed up in cute little pug outfits? Yes please. You can bring your fur baby for instant access to walk in the pug parade, and sometimes you'll see celebrities roaming the streets with their little fur babies. It's a cute way to have fun with the family and enjoy a number of stage acts and entertainment.
Celebrating Cymru - Cardiff's Mardi Gras
August is, of course, the month for the Cymru Pride event. You can join in on the enormous celebration that celebrates the LBGT community and welcomes everyone with open arms. The event that has grown year after year and continues to attract more and more people, will be the biggest it's ever been this year. Go and have some fun with other gay members of your community, and assist in raising awareness and funds for the development and education of the gay community. When you're around so many others that mirror the life you live, you'll have no other feeling but pure bliss. There are bars and restaurants near the parade that will hold themed style dinners, and clubs that you can go to when you want to continue the celebration into the night. The biggest event in the country is one that you don't want to miss. The Mardi Gras themed event has booked many celebrity performers and actors to support the event, and since 1999 it's become one of the biggest pride events in the UK. To end off the big celebration is the Pride Cymru Parade. The parade is best described as a melting pot of colour, offering fun, entertainment, friendship and unity. Families, individuals, groups and organizations are all welcome to showcase true diversity and equality across Wales. The whole celebration is for singles, spouses, and families alike that want to do gay pride proud, and celebrate with thousands of other attendees.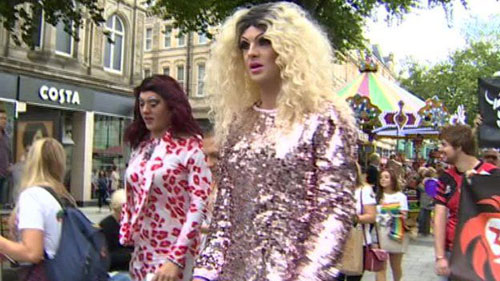 The Iris Prize Festival
After the Cymru celebration is over and the gay community is coming off of the festival high, there are still other events to attend. The Iris Prize Festival in September celebrates film makers in the gay community. It's Cardiff's queer alternative to Cannes, and is guaranteed to be a great time. The movies are about LGBT issues and the winner receives a hefty prize. You can opt in for 1 of the 4 days, or make it a plan to attend screenings of all 30 films being showcased. The Iris Festival has been around for 10 years, and has been identified as one of the top 50 film festivals in the world. The goal of the festival is to bring attention to the LGBT community, and offer awards to aspiring movie makers. It's another way to get involved in the community and to support your local gay filmmakers.
Cardiff Castle Grounds
Cardiff Castle is one of Wales' leading heritage attractions and a site of international significance. During the year, the castle is booming with events for the gay community. To wind down the Summer and wrap up a great year of gay celebrations, people flock to the castle to take in some great special events. Medieval jousting, midsummer Shakespeare evenings, the August Medieval Mêlée and Victorian Christmas are an example of the special events that draw in the gay crowds. The workers are dress in period attire and perform everyday tasks of the Victorian era through cooking, weaving, and knights battling. There are falconry displays, a sword fighting school, archer, armour try-ons, and juggling classes. Escape from the ordinary and try something new and exciting.
Wow Bar
The hottest gay bar in Cardiff has been the hot spot for dinner, cocktails and after hours fun and excitement. It's packed with people every day of the week, that have either come from another event, or are coming for one of the themed nights that it hold. With a mixture of stage shows, happy hour specials, showgirls, drag shows, karaoke, and cabarets, there's something for every gay man in town. The shows are usually free entry with the expectation of purchased drinks, but that's not a problem with the cocktails they have on their menu. This year Wow Bar is also hosting Miss Transgender UK. Held at the hottest spots in Wales, it's a big deal that Wow Bar is the host this year. Thousands of spectators are anticipated to attend this event to crown the next Miss Transsexual Wales 2016.
As the community grows, so do the events in the city, so make sure that you check out some of your local newspapers to get the latest scoop on local happenings. You never know when another hot event for the gay community will pop up, so it's a great way to stay on top of what's new and exciting in your area. The community is always growing and that means that you will never run out of things to do, people to see, and events to attend. If you're passionate about supporting the LGBT community, then you will always find the latest and hottest spots to check out. Bring your friends, your partner and your family and continue to grow the support system needed to move forward with a new movement of equality.
Links To Upcoming & Future Gay Pride Cardiff Events
When you need a little help to guide you on your gay pride event tour, Manplay.com has the directory to get you started!
Follow the links below for all of your gay pride event needs and be sure to check the sites for updated information closer to the events. You might see some secret pop ups that you have to attend. Stay in the know!
-
Cymru
is the event that you HAVE to attend
-
Gay Travel Info
- Check out the hottest
Drag Shows
- Stop by Pulse, the
Hottest Gay Bar
- Meet hot local men at
The Kings
- Explore other
Gay Attractions
in Cardiff
- Explore daily events at
Cardiff Castle
.
- Start planning your
Iris Prize Festival
weekend.
- Visit
Wow Bar
nightly or weekly to wind down after a gay pride event in your area.
No matter what you choose to do, you'll have a great time. When you're surrounded by great people who just want to celebrate their pride, you can't go wrong. Cardiff is growing in popularity and population, so there will always be places to go and shows to see. There is a need for more attractions to meet the growing community, and the gay committees are working on satisfying the needs of the people. If you have suggestions on things that you would like to see in the area, or you would like to throw an event, contact the Cymru board and see what you can do. There are possibilities to grow even more, and it takes people from the city to help out. There are volunteer opportunities as well if you're feeling helpful. Join in on any event, lend a hand, and support your community in any way you can. Your efforts will always be appreciated.