ManPlay.com Takes Time To Talk About Gay Pride Whitehorse
When you hear the words Gay Pride in Canada uttered, you may think of some cities like Vancouver Gay Pride, which has the largest Gay Pride Parade in Western Canada, it is considered the biggest because it attracts about 750, 000 people to each day of the celebrations.  Another Gay Pride celebrations one might think of is the Montreal which had the first official Gay Pride in Canada, a significant historical reference. Another one that one wouldn't want to neglect to mention the host of the 2014 World Pride, Toronto which attracts an estimated 1.3 million in visitors each year, making about $135 million in revenue for the city. The Quebec City Pride Festival , or otherwise known as Fête Arc-en-ciel (Rainbow Festival), which started way back in 2002, and has been running every year for the past fourteen years, you can read more about this Gay Pridehere on ManPlay.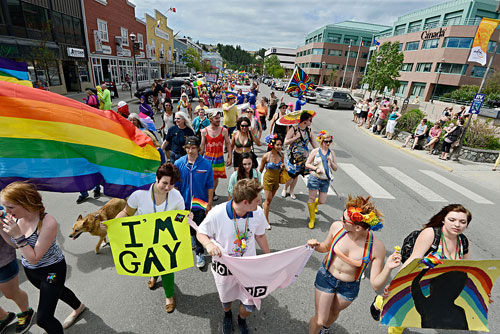 What city might not come to mind is the capital of the Yukon Territory, Whitehorse. The city is located on the southern side of the Territory, and holds most of the Territory's population. Something that you might not know about Canada's Great White North is that most of the year the sun doesn't go down, hence the name Gay Pride Whitehorse is given for their celebrations 24 Hours of Gaylight which is a pretty clever name if you think about it. In this article ManPlay will be looking into Canada's Gay Pride history, along with touching on the homosexual community's struggle for civil rights, and of course discussing the exciting activities planned for the Yukon Pride 2016: 24+ Hours of Gaylight! The celebrations of Gay Pride Whitehorse are fairly new, that is to say, this year will only be the city's fourth year of having Gay Pride celebrations.
Gay Pride Whitehorse History
For years before the 24 Hours of Gaylight Yukon Pride began, which is Gay Pride Whitehorse celebrations, a small group of people from the Lesbian, Gay, Bisexual, Transgender, Queer plus (LGBTQ+) community would meet up together in the park and have a small picnic, but for the most part the community was quiet and not as open as they are today. The community largely kept to themselves, and although there had not been major confrontations or incidences regarding Whitehorse's gay community, they were not without their struggles. Whitehorse and Yukon's LGBTQ+ community in general has had struggles with political issues, and have worked hard to changed certain laws and restrictions of the LGBTQ+ community in Yukon. Issues such as same-sex parents, whether that be adoption or otherwise, as well as changing gender markers on government issued pieces of identification.
It wasn't until Vanier Catholic High School published the Living with Hope document, a 25-page policy that supports the Catholic Church's official position on homosexuality numerous times, calling it "intrinsically disordered and contrary to the natural law." Even unexpressed same-sex urges are considered a disorder and are described as a "strong tendency ordered toward an intrinsic moral evil." (Yukon News, 2013) The document also discouraged teachers from even mentions the words gay, lesbian, bisexual, transgender, queer etc. as it promoted 'an unfavourable lifestyle.' It also goes without saying that the Catholic High School wasn't allowed to host a Gay Straight Alliance club within the school, which left student, and their parents outraged and distort. One could only imagine how Yukon queer youth could feel when growing up in a community, school, neighbourhood that seem to only share such small minded ideas. How could queer youth feel safe in such an environment, and statistically speaking could lead to suicide in young people.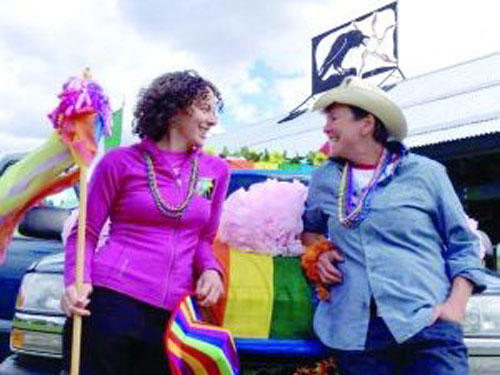 The Need For Gay Pride Whitehorse
Yukon Pride coordinators Stephanie Hammond and her friend Fi saw a need within the Whitehorse community, and it was time for the LGBTQ+ to come into the light, and take more of a public stand within Yukon to foster and express to those who may not know how accepting of a place Yukon can be.  In an interview with ManPlay, Hammond states "We want to be that really visible show of support, because not everyone feels it." Stephanie Hammond's goal was to show Whitehorse's LGBTQ+ youth that their community does support them, and that they are not alone. It was because of the outrage, support and actions of people like Hammond and her friends did the Living with Hope document was repealed and the bishop that wrote the document was asked to resign, and he no longer lives in the community. Which is a wonderful display on how strong the community support is within Whitehorse.
Queering Up Canada's Northwest; Gay Pride Whitehorse Past Celebrations
In the past years of 24 Hours of Gaylight Yukon Pride,the events have been focused over one weekend, usually having the parade down Main Street in Whitehorse, then a picnic with a barbecue at Rotary Park. The picnic being the oldest tradition Whitehorse Gay Pride was, as it was the original way Whitehorse's LGBTQ+ community celebrated. The picnic in the park would feature family friendly activities like music, storytelling, conversations, face painting, dancing etc.
The past few years of Whitehorse Gay Pride they have also thrown in a fun competition called The Butch and Bear Bake Off, where anyone can enter a baked good for a chance to win prizes. The entry list could range from cakes, to cookies, to pies, to brownies, basically anything that could be considered a baked good. It was a delicious annual event, but unfortunately this year they will be going into a different direction, but what the event may be has yet to be announced.
Queering Up Canada's Northwest; Gay Pride Whitehorse Current Celebrations
Stephanie Hammond states that she will be expecting about 400-800 attendees for this year's 24 Hours of Gaylight Yukon Pride. There will hopefully be more activities this year, but won't be announced until closer to the actual Gay Pride festival in June, and will be posted on the Queer Yukon website. What is posted is that the Gay Pride Whitehorse parade will be taking place along Whitehorse's Main Street, which is also home to great shopping and local eateries that are worth checking out.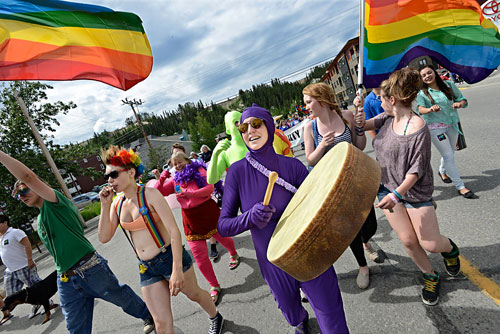 On the Sunday, following the festivities, there will be Pride Paddle, where you have the opportunity to canoe and/or kayak along the Yukon River. Gay Pride Whitehorse organizer Stephanie Hammond told ManPlay that in the past some participants would have trouble with the canoes or kayaks, which was a fun and funny thing to see, as they have never used either a canoe or kayak before. Do not worry though, if you wish to participate in this event, Stephanie Hammond says they will pair beginners with more experienced people. It is worth the experience if you are not sure if you want to participate, the Yukon River is a beautiful river surrounded by history, wildlife and stunning, awestruck worthy landscapes.
Then to finish the celebrations there usually is a dance party with local DJ's and bands that play, but this year they are having a Vancouver band come in called Queer as Funk. The Vancouver based band Queer as Funk brings together some of Vancouver's hottest musicians in an explosive, high-energy dance band. Their repertoire ranges from much beloved funk, soul and motown classics of the 1960's and 1970's (Aretha Franklin, Otis Redding, Stevie Wonder) to contemporary favourites (Amy Winehouse, Justin Timberlake, Bruno Mars), Queer as Funk is said to be the sharpest-dressed suit-and-tie band in Vancouver. The dance party will be taking place in the Kwanlin Dün Cultural Centre at the end of the festivities, which a lot of people in Whitehorse are excited about. The Kwanlin Dün Cultural Centre is located on the banks of the Yukon River, and is a place where people from all over Yukon come celebrate the heritage and contemporary way of life of the Kwanlin Dün First Nations People. It is also a gathering place for people of all cultures. The vision of the Cultural Centre is to revive, preserve, and demonstrate the Kwanlin Dün language, practices, values and traditional way of life for the benefit of the Kwanlin Dün people. This also gives them the chance to share their culture with other First Nations and people from around the world.
Statistics of Whitehorse Gay Pride; Yukon Pride 2016: 24+ Hours of Gaylight!
The population of Whitehorse according to a 2012 census study was 27,678 people and Yukon's total population according to the same 2012 census study was 36,402 people. Which means that over 76 percent of the total Yukon population lives in the community of Whitehorse. Now in 2016, an educated guess of the population of Whitehorse would be roughly 29,000 people, as it is projected by 2021 to be about 35,000 people. To find more population statistics of Yukon you can check out the link here.
This year, 2016, will only be Whitehorse's 4th (fourth) Gay Pride Celebrations! With an estimate 200 people attending their first 24 hour event called 24 Hours of Gaylight Yukon Pride 2013, the event featured a Gay Pride Parade, a picnic with a barbecue, and a dance. With Whitehorse the capital of Canada's Yukon Territory, having the roughly estimated population of 28,000 people in 2013, just over 200 people seems like a very respectable turn out, just as some of Canada's largest Gay Pride celebrations have started.
The Women Behind Gay Pride Whitehorse
Stephanie Hammond is one of the two women running Gay Pride Whitehorse celebrations, the other being her friend Fi, as mentioned above, just in case you missed that part. Stephanie Hammond states that she will be expecting about 400-800 attendees for this year's 24 Hours of Gaylight Yukon Pride. She is hoping for about 400 people or at least up to that amount of people to attend the Yukon Gay Pride, otherwise known in Whitehorse as 24+ Hours of Gaylight!'s parade this year. She is hoping that at least 400 people, or around that number will be going in at the barbecue picnic at the Rotary Park. Stephanie Hammond also stated that the estimated number of guested attending the dance party, hosted in Whitehorse's Kwanlin Dün Cultural Centre, will be about 400 to 800 guests or so. She suspects that not all who attend to watch the Gay Pride parade will attend the barbecue, and doesn't expect everyone who is planning on attending the barbecue would have attended the Gay Pride parade, the same could be said about the dance party. Stephanie Hammond says that the events are pretty fluid, and any one is welcome to come in and out of the festivities as they please.
Raising Money at Gay Pride Whitehorse
Although Gay Pride Whitehorse's celebrations, 24+ Hours of Gaylight!, are not run by a registered organization, Stephanie Hammond and her friend Fi work closely with local registered organizations to help them meet their fundraising goals during the Yukon Pride celebrations. Celebrations organizers decided that it would be best to not become a registered organization, as it does take some effort to do so, and their efforts would be best spent helping the already well established registered organizations.
Although exact numbers have never been released, with attendee numbers ranging from an estimated 200-800 people, one could have an educated guess of thousands of dollars could be made for participating registered organizations, which is great for them. Things are a fair amount more expensive in Whitehorse, so if each attending person spends about $100 total at the event it could raise a fair amount of money. Lets say about 400 people attend throughout the entire Gay Pride Whitehorse, then the registered organizations involved with 24+ Hours of Gaylight! could stand to make $40,000 between all of them, which is nothing to sneeze at. Of course this is a pretty conservative estimate to say the least. The money raised could help local youth groups, cultural groups, as well as local restaurants, bars and hotels. The Gay Pride Whitehorse is able to help the entire community of Whitehorse, one year at a time.
Gay Pride Whitehorse Resources
If you would like to check out any of the sources used in this article, below are all sources used in the order found in this article:
ManPlay- //www.manplay.com
ManPlay Gay Pride- //www.manplay.com/gay-pride/
Queer Yukon- http://www.queeryukon.com/
Yukon News- http://www.yukon-news.com/news/catholic-schools-same-sex-policy-raises-parents-ire
Yukon Population- http://www.yukoncommunities.yk.ca/whitehorse/whitehorse-population-labour-force 
Kwanlin Dün Cultural Centre- http://www.kwanlindunculturalcentre.com/