The Hottest Gay Sex Erotic Stories
GaySexStories.com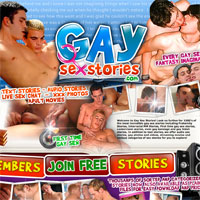 GaySexStories.com is a gay porn site for male erotica and erotic stories. The site provides mostly written and audio stories with access to live video feeds of men telling their stories and having a bit of erotic fun. They claim to have stories for every gay sex fantasy imaginable. They also pride themselves on being discreet since a lot of straight men wanting to experiment with homosexuality will come to the site.
Unlimited Audio Stories
Unlimited Live Video Feeds
Discreet and Secure Billing Process
YourGayErotica.com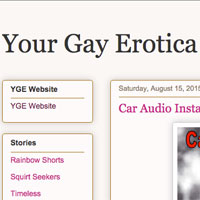 YourGaySexErotica.com is a gay porn blog dedicated to providing real life gay sex erotic stories. The site is free and updated semi-regularly with posts from regular professional contributors. The sites is rather simple and doesn't offer anything outside of gay male erotic stories, if thats what you are looking for though, they have some greatly written erotic stories.
Regular Contributors Who Are Professional Writers
100% Free Gay Male Erotic Stories Blog
Free Access To "How To Have An Affair, And Not Get Caught" by Lauren Tallman
Male-OEP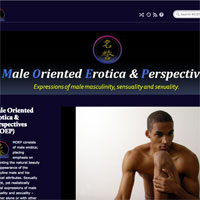 Male-OEP or Male Oriented Erotica & Perspectives is a free tumblr blog for male erotica. The site is free, so it's pretty basic in what it offers as most of the posts are gay porn images and not much else. The site does have some very hot guys on display and they provide expressions of male masculinity, sensuality and sexuality.
100% Free To Use
Pages Dedicated To Specific Types Of Male Erotica
Regularly Updated
MatureGayStories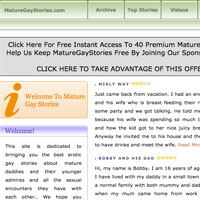 MatureGayStories.com is a male erotic stories gay porn blog focusing on mature daddies and they're younger admirers and all the sexual encounters they have with each other. The site is free, so its offerings are limited since they only provide written blog type style posts of erotic stories. The site has very limited in terms of visuals, but they do provide lots of really hot stories of older men with younger guys.
100% Male Erotica Site
Emphasis On Older Daddies With Their Younger Boys
Rated Posts
GayFictionStories.com
GayFictionStories.com is a hub for all things male erotica and male erotic stories. The main page is a directory style since they have lots of site for different types of specific male erotic gay porn stories. From here, you can find pretty much any kind of gay sex male stories you could think of. They also have links to site where you yourself can contribute.
100% Free Site With Access To Loads Of Other Male Erotica Stories
Posts From Professional Writers And Real Life Encounters From Real Guys
FreeGayPix.com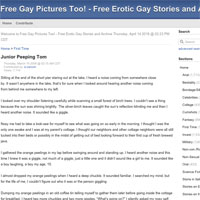 FreeGayPix.com is a free gay porn blog with a great page dedicated to male erotic stories. The site doesn't cater specifically to written erotica, but they have a lot of it! They also have a lot of gay sex images, the site is called FreeGayPix after all, so that what most of the site is.
Free Porn Site With Lots Of Free Male Erotic Stories
Loads Of Free Gay Porn Pics
Regularly Updated With New Stories
OnlyGayStories.com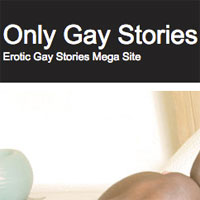 OnlyGayStories describes itself as a erotic gay sex stories mega site. Which it might have been at some point, but it doesn't seem like it has been updated for a few years. They do however have some great male erotic stories though. Just don't expect any new ones any time soon.
Thousands Of Gay Sex Stories In Many Different Categories
No Recent Updates
"Being Read Now" Shows The Most Popular Stories
HotGayStories.com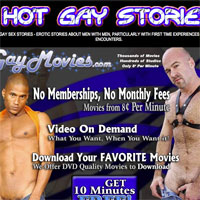 HotGayStories.com is a gay porn site with a focus on male erotic stories of first time experiences and bisexual encounters. They provides a lot of free erotic gay sex stories, but they also have others offerings. You can watch gay porn without a membership for $0.08/minute. They also give you the first 10 minutes free and let you download your favorite gay tube movies to watch whenever you want.
Stack Of Studs On Live Gay Cams
Man on Man Erotica and Hot Gay Stories
No Memberships, No Monthly Fees
ATrialOfStrength.com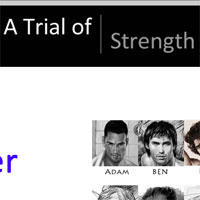 ATrialOfStrength.com is a unique offering in the world of gay male erotica. Instead of individual one off gay sex stories, the stories on this site all follow the same linear story that that they update regularly. The stories check in with the same characters and follows the lusts, loves and labors of the beautiful men as they go through their lives and the gay sex that they have.
"Our Story" is updated regularly and you can go back and read all past chapters
The site is 100% Free
New posts every week between Wednesday at 6pm PST and Thursday at Noon
PrettyVacantBoys.com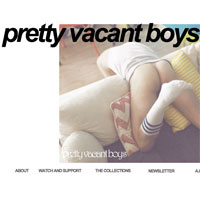 PrettyVacantBoys.com is a gay porn site with offering of gay male erotica with a very specific payment structure that gives you the amount of access that you pay for. For example, you can get $4.90 and then you can get a sneak peek at their collections and for $7.90, you can get 1 whole gay sex story collection.
Packages Ranging From $4.90 to $100 for access to the sites entire library of gay porn
Subscribe To The Newsletter For Priority Access When Content Is Released