Get The Best Gay Celebrity Blog News
PerezHilton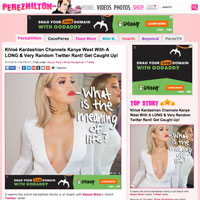 PerezHilton.com is one of the best known gay celebrity blogs on the internet with over 300 million hits a month! The owner of PerezHilton.com, Perez Hilton himself, has been named Forbes Magazine's #1 Web Celeb for 2007, 2008, and 2009, as well as Hispanic Magazine's 2009 Hispanic of the Year. The L.A. Times says he is "like US Weekly, the Star, the Enquirer and Life & Style all rolled into one sweet yet snarky, sagacious yet salacious gay man".
Tons of gay celebrity blog content to look at
Several new gay celebrity blog posts added every day!
Featured in/on the L.A. Times, The View, The Wall Street Journal, CNN, LIFE, Howard Stern, US Weekly, and more!
GayPopBuzz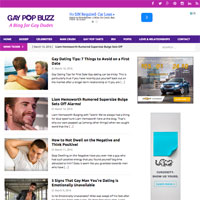 GayPopBuzz is the #1 gay celebrity blog for pop culture and other fun topics. Find out which of your favorite celebs are gay or straight, and whether they are homophobic or homo-supportive. Check out celebrity gay blog sections such as gay movie scenes, gay movie stars, gay television personalities, gay vocalists, and gay athletes.
100% free with no registration required
Become a contributor and write your own gay celebrity blog articles
Follow GayPopBuzz on Twitter, Facebook, Pinterest, Instagram, and LinkedIn
GregInHollywood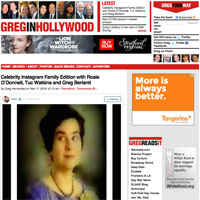 GregInHollywood.com was launched in 2009 by longtime gay journalist Greg Hernandez, and very quickly became one of the go-to gay celebrity blogs for all celebrity news and gossip. This gay celebrity blog brings you fly-on-the-wall accounts of Hollywood events, interviews with celebrities, and keeps you up to date on entertainment, LGBT, and political news.
Updated with new gay celebrity blog content every day
Has been featured on ABC News, People.com, US Weekly, New York Post, Gawker, DListed, TV Guide, and more!
Follow GregInHollywood on Twitter, Facebook, and Flickr
TheBananaBlog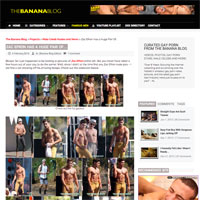 TheBananaBlog.com is a gay celebrity blog site of the highest order! Not only do they have an amazing selection of gay videos and photos, but they always have the latest news and content when it comes to gay porn stars and male celebrities. It is a gay celebrity blog dedicated to searching for and curating only the best and/or unique gay celebrity blog content.
New gay celebrity blog posts every day
See gay sex & celebrity dick pics and full frontal nudity!
Be the first to know when gay celebrities come out
OMGBlog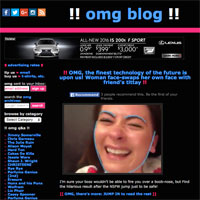 OMGBlog.com is not just a gay celebrity blog, but a celebrity blog for all celebrities—gay, straight, bi, or whatever! OMGBlog.com has been online for several years, accumulating hundreds of straight and gay celebrity blog posts!
New straight and gay celebrity blog posts daily
Browse straight and gay celebrity blog posts by over 20 categories
Sign up for OMGBlog's newsletter to get gay sex celebrity blog news and so much more to you inbox
Visit the OMGBlog shop to buy top-notch celebrity blog swag
Follow OMGBlog on Twitter, Facebook, and Instagram